Jun
28
Inspiration to Illumination: Bruce Munro's dramatic installation art
When designing a statement piece for a dramatic entrance to a special event  nothing is more spectacular than wonderful lighting installations. Today, again, I am awe inspired by Bruce Munro's work of lighting and environment installations. He not only works with interiors creating interesting focal points and scultpures with his creations,  but is a daring fine artist in the world of installation art.
Exploring scale and repetition (such as the Tara Donavon exhibit seen here) through lighting and light reflective elements such as cd's and bottles of water (a must see!), Bruce creates wonderlands of illumination and shine that transport you into another world.
In the event design world, such installations such as these may seem like an impossible fete to accomplish for a single events, but don't let that stop you from dreaming big!
Jun
13
Cheese and Wine Filled Modern Rustic Wedding Inspiration
We recently collaborated on designing a modern rustic wedding inspiration shoot with Enchanted Dream Weddings and Isari Flower Studio and the results were delicious, literally! When Naomi of Enchanted Dream Weddings told me about wanting to bring cheese into the concept I immediately thought of Venissimo Cheese, one of my favorite cheese shops located in Del Mar. My passion for cheese runs deep and long and I couldn't wait to see what kind of aromatic delights Venissimo could bring to the table, literally! From super aged goat cheese goudas to soft goats milk medallions, the smells of tart cheese mingled with honey and flowers in the air for truly an aromatic delight.
With a combination of rustic woods, simple white china and some raw silverware we layered elements of modern rustic charm together along with textures and smells to tempt the senses. Tam of Isari concocted crisp clean white and black anemones along with plush delphiniums and fresh herbs that were featured in over-sized terracotta pots.
To bring even more of a rustic modern edge and tie in the blacks of the anemones I hand dip dyed flax colored napkins in black die to be featured under fresh goat cheese medallions topped with honeycomb and fresh pomegranate seeds.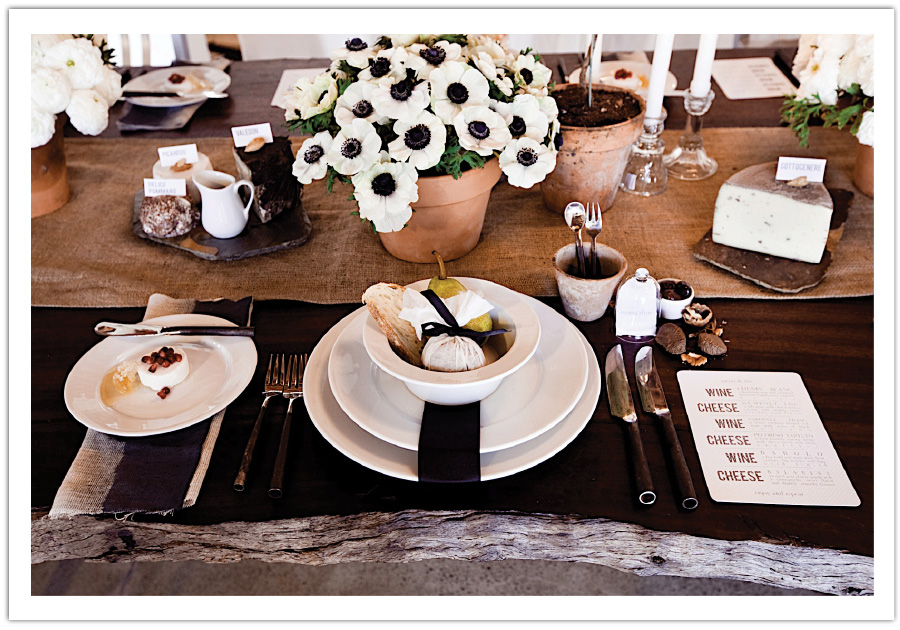 Modern fonts and bistro style typography was used to create these modern rustic wedding invitations that featured inky black envelope liners, thick textured cotton paper and a dip-dyed edge. To emphasize  the culinary bistro aspect I created a dip-dyed belly band out of cheese cloth itself.
For a unique presentation of a place setting I created place cards that fit inside mini-glass domes featured at each plate.
Guest's seating cards featured square cut outs and were hung on branches of herbs in mini terracotta pots.The bridal bouquet was designed with fragrant white lilacs, nerine lilies intermingled with scabiosa pods, and fun viburnum clusters. The stems were tied with jute twine, to complement the groom's elegant scabiosa pod boutonniere.
Design & Styling by Alchemy Fine Events & Enchanted Dream Weddings
Invitation, Stationery & Custom Dyed Linens by Alchemy Fine Events & Invitations
Venue, Floral Design & Model Styling by Isari Flower Studio
Photography by Christine Chang
Cheese by Vennissimo
Stools by Form Decor
Jun
9
We are so ridiculously excited about our first feature in The Knot magazine! The Fall/Winter 2011 Southern California edition features a Royal Wedding inspiration shoot that we designed along with Isari Flower Studio shot by the talented Luna Photography. Go pick up your own copy on stands now. The Knot is a must-read for all brides to be in our opinion! More beautiful shots of this inspiration shoot coming soon…
Special thanks to Rebecca from the Knot!
Design, styling & invitation design by Alchemy Fine Events & Invitations
Flowers & model styling by Isari Flower Studio
Photography by Luna Photography
Furniture by Concepts Event Furniture
Cake by Sweetcheeks Baking Company
China by Bloomingdales
Jun
1
Bohemian Modern Beach Party Inspiration for your Summer Fete
Summer is here! The weather is warm and it's time to start planning for your summer affairs. Inspired by the warmth of the golden sun and cool shades of the sea mixed with some mid century glam and boho character, I dreamed up this inspiration board for a Bohemian Modern Beach Party or even rehearsal dinner. Start with some cool white modern furniture, rough natural woods, shiny silver metals and amber glassware. Throw in some luxurious printed fabrics in the form of plush pillows and cozy throws, mix in a Dark n' Stormy and Fete Accompli!
Invitation featured by Alchemy Fine Events & Invitations and is featured on our site here. The chic and eclectic furniture by Form Decor.
Here are some great summer recipes to beat the heat. Fresh herbs, spice and a few cool treats!    
Chile Rubbed Shrimp, Avocado & Corn Cocktail
Peas, Mint & Parmasean Crostini