Sep
15
Alchemy Fine Events designs the Mike Larson Tuscany Wedding Styleshop!
Back in May I hopped on a plane back to Italia to design and style the Mike Larson Tuscany Wedding Photography Workshop [Style Shop]. I was thrilled to say the least! I completed my masters in graphic design in Florence, Italy and a large part of my heart has remained there ever since. Not only was I lucky enough to live and be immersed into such a culturally rich and historic city,  I was also working part-time coordinating luxury travel tours and events at wineries, castles and villas throughout Tuscany. With these wonderful contacts I knew that I had to find someway to come back and bring my passion for design and weddings with me. Designing weddings in Tuscany has been on my list of goals and hopefully this is the just the beginning of making that dream come true!
Here is a preview of some of the photos that Mike Larson took during our workshop which was recently featured on Style Me Pretty and some of my inspirations and Tuscan treasures that I found for the Styleshop:
After being asked to join the team for this amazing opportunity I immediately got some of my favorite American vendors on board such as Small Masterpieces, known for their gorgeous estate china, pressed glass and silveware collections, and Erica O'Brien, known for her deliciously designed cakes. Throw in a ruffly sparkly number from BHLDN and an architectural Angel Sanchez gown from M Bride and I was on my way. This was in addition to some of my own vintage pieces, needless to say I wasn't traveling light! After my arrival into Firenze is when the real design process began as I wanted to get inspiration from the streets and markets themselves. My vision was to combine rustic Tuscan elements such as farm tables and rough hand woven linens and combine them with modern and glamorous elements for a fun and playful juxtaposition of styles. After meeting with the talented florist Simona of Floralia and showing her my ideas and designs we were off and running! Her treasures alone including vintage chandeliers worthy of large scale castles and hand painted golden goblets was enough to make me fall in love. She is truly a gem and I can't wait to work with her again! We wanted to infuse a blend of soft purples and peaches that would gently fade from hue to hue in different shades and tones and combine mixed metals and crystals for lots of shine and texture.
For the Italian wedding invitation design, I wanted a look that captured the feeling that I wanted to accomplish for the entire shoot: glamorous, yet modern with a few exotic surprises, such as the copper glitter envelope liners. I created a trifold invitations that featured the silhouette of the cypress trees Tuscany is known for and created a custom geometrical pattern and icons to blend the styles together. The outside of the trifold featured an ombre of purple behind the geometrical pattern and a glittery copper belly band.
I fell head over heels in love with the color palette of this hand marbled paper I found in Florence. It would also make a gorgeous envelope liner or even fabric print for linens!
We set off the romance and sparkle of this BHLDN dress with beautiful baubles by Rachel Leigh. I also found this hand painted gold tray on a small side street in Florence to display her gorgeous gems.
For the ceremony site I had Floralia create a romantic and breezy draped gazebo and then hang a candlelit crystal chandelier from it and place crystal candelabras under it. Big lush arrangements of peonies were offset by clusters of smaller arrangements of purple sweetpeas, lisianthus and peach spray roses. For a clean and modern twist we used Louis Ghost Chairs for guest seating as to not take away any of the focus from the views and ceremony. Definitely not your standard wedding in Tuscany!
Our handsome groom Walter and our gorgeous bride.

For the dinner setting I brought in a rustic wooden farm table to build our lush tablescape upon. I started by laying down the couture silk Valentino fabric I found at a luxury textile store in Florence that I just couldn't pass up. I combined modern mirrored cube risers with cut crystal, hand painted golden goblets, lucite cube votive holders and vintage silver cups I brought over myself for a luxurious yet eclectic fusion of styles.
To blend the modern and Tuscan styles together further, I had square glass plates cut and found the talented Tina of Calligraphy by Durante to work her magic on for place cards before I traveled abroad. Her details and flourishes are so reminiscent of a Renaissance style!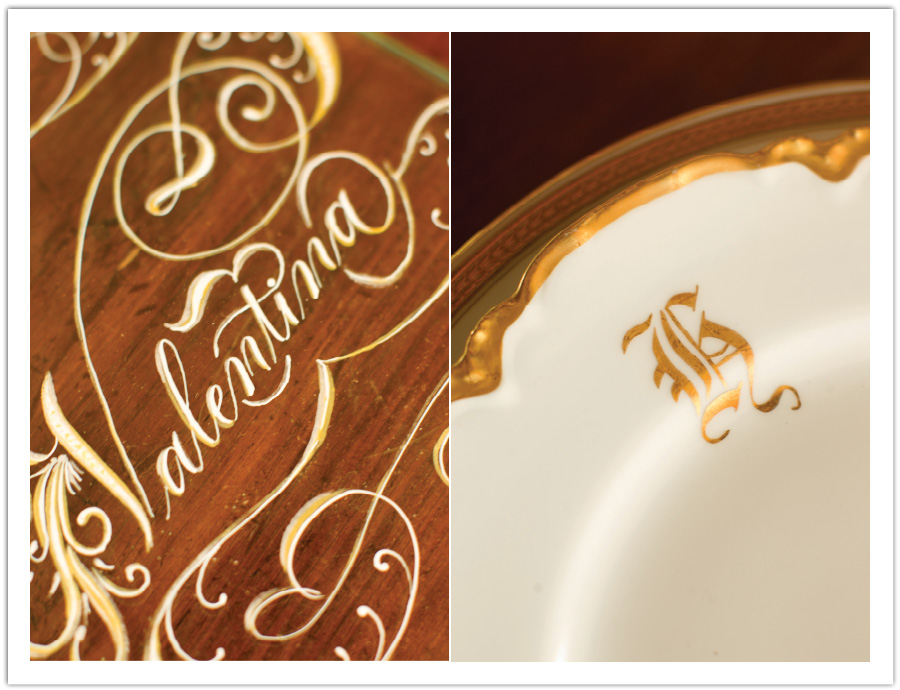 I found these woven scarves in the markets and wanted their bold splashes of purple and magenta's on the table to tie in the Valentino silk and flowers. I bought several of these inexpensive scarves and turned them into our napkins. The vintage silver napkin rings by Small Masterpiece worked perfectly to polish up the look!I love the texture of these velvety violet lisianthus flowers tucked tightly inside a vintage golden goblet by Floralia.
It wouldn't be Tuscany without an elaborate cheese and wine bar for the guests to indulge in. Large scale ceramics, a 15 foot wooden table and an abundance of Villa la Selva's own wine, cheese, fruits and breads were styled together with my vintage silver goblet and crystal decanter collection for an over the top luxe look.
Erica OBrien created this texturally rich cake with lace style appliques and violet silk trim. I love the contrast of this rich terracotta wall as the background!I love how dramatic and romantic this evening ceremony location would be glowing with natural candlelight against the cypress trees and silhouette of the Tuscan hillsides. Che bellissima! These morning after shots from Mike make my heart swoon. The light in Tuscany is like nothing other.
Much more wonderful work to come in the next few days by the talented students that attended the workshop. Stay tuned for even more creative shots, new angles and details. It's amazing to see how the same designs can be translated so differently in each photographers' eyes showcasing what an artform photography truly is!
Grazie a tutti!
Photography: Mike Larson Photographers, Inc. / Design, Styling + Coordination: Alchemy Fine Events & Invitations / Invitation + Stationery Design: Alchemy Fine Events & Invitations / Floral Design + Furniture Rentals: Floralia / Table Settings: Small Masterpiece [ We Set The Table ] / Wedding Cake: Erica OBrien Cake Design / Venue: Villa La Selva / Bridal Gown (white): Angel Sanchez via M Bride Salon / Bridal Gown (cream ruffle): BHLDN / Jewelry: Rachel Leigh Jewelry / Calligraphy: Calligraphy by Durante
Jun
13
Cheese and Wine Filled Modern Rustic Wedding Inspiration
We recently collaborated on designing a modern rustic wedding inspiration shoot with Enchanted Dream Weddings and Isari Flower Studio and the results were delicious, literally! When Naomi of Enchanted Dream Weddings told me about wanting to bring cheese into the concept I immediately thought of Venissimo Cheese, one of my favorite cheese shops located in Del Mar. My passion for cheese runs deep and long and I couldn't wait to see what kind of aromatic delights Venissimo could bring to the table, literally! From super aged goat cheese goudas to soft goats milk medallions, the smells of tart cheese mingled with honey and flowers in the air for truly an aromatic delight.
With a combination of rustic woods, simple white china and some raw silverware we layered elements of modern rustic charm together along with textures and smells to tempt the senses. Tam of Isari concocted crisp clean white and black anemones along with plush delphiniums and fresh herbs that were featured in over-sized terracotta pots.
To bring even more of a rustic modern edge and tie in the blacks of the anemones I hand dip dyed flax colored napkins in black die to be featured under fresh goat cheese medallions topped with honeycomb and fresh pomegranate seeds.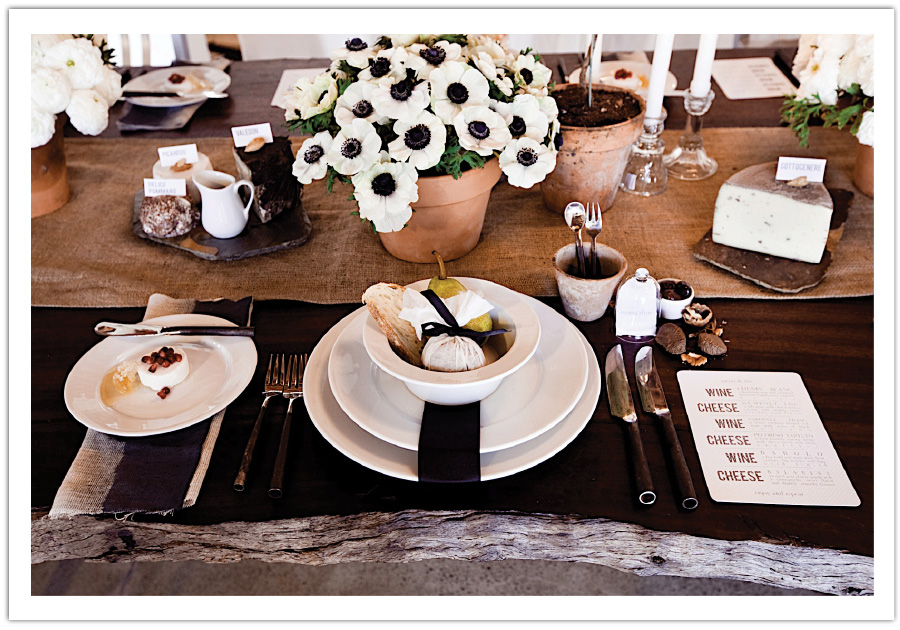 Modern fonts and bistro style typography was used to create these modern rustic wedding invitations that featured inky black envelope liners, thick textured cotton paper and a dip-dyed edge. To emphasize  the culinary bistro aspect I created a dip-dyed belly band out of cheese cloth itself.
For a unique presentation of a place setting I created place cards that fit inside mini-glass domes featured at each plate.
Guest's seating cards featured square cut outs and were hung on branches of herbs in mini terracotta pots.The bridal bouquet was designed with fragrant white lilacs, nerine lilies intermingled with scabiosa pods, and fun viburnum clusters. The stems were tied with jute twine, to complement the groom's elegant scabiosa pod boutonniere.
Design & Styling by Alchemy Fine Events & Enchanted Dream Weddings
Invitation, Stationery & Custom Dyed Linens by Alchemy Fine Events & Invitations
Venue, Floral Design & Model Styling by Isari Flower Studio
Photography by Christine Chang
Cheese by Vennissimo
Stools by Form Decor
Jun
1
Bohemian Modern Beach Party Inspiration for your Summer Fete
Summer is here! The weather is warm and it's time to start planning for your summer affairs. Inspired by the warmth of the golden sun and cool shades of the sea mixed with some mid century glam and boho character, I dreamed up this inspiration board for a Bohemian Modern Beach Party or even rehearsal dinner. Start with some cool white modern furniture, rough natural woods, shiny silver metals and amber glassware. Throw in some luxurious printed fabrics in the form of plush pillows and cozy throws, mix in a Dark n' Stormy and Fete Accompli!
Invitation featured by Alchemy Fine Events & Invitations and is featured on our site here. The chic and eclectic furniture by Form Decor.
Here are some great summer recipes to beat the heat. Fresh herbs, spice and a few cool treats!    
Chile Rubbed Shrimp, Avocado & Corn Cocktail
Peas, Mint & Parmasean Crostini
Apr
11
A Wine Country Style Cheese and Dessert Bar
With the dessert bar rage sweeping the wedding world it's easy to overlook some of the other delicious dessert ideas such as savory cheeses and fresh sweet fruits.  I'm definitely more of a 'cheese plate for dessert' kind of girl myself and thought how wonderful it would be if the sweet tooths and the cheese heads of the world could celebrate in unison. With this Wine Country Style Cheese and Dessert bar we accomplished just that. Fresh Greek pastries were offered along side crisp, sweet summer red fruit and creamy delectable cheeses.
To play in tune of the fresh cheeses being offered we used simple strips of cheese cloth for a sheer and breezy table linen.
Red summer fruits including watermelon, strawberries and cherries were among some of the sweet treats offered along side homemade Greek cheeses and pastries.
Vintage urns from Found Vintage Rentals were used as risers for the Greek doughnuts and Baklava by Petros. We also found vintage milk bottles and carrying crate for a fun twist and side offering,.
This rustic style of cheese, fruit and dessert bar would be a wonderful alternative for a farewell brunch as well!
Dessert & Cheese Bar Design, Styling & Dessert Bar Tags by Alchemy Fine Events & Invitations
Photography by Cameron Ingalls
Props by Found Vintage Rentals
Venue Fess Parker Inn
Catering by Petros
Apr
8
A Food-Friendly Table Design for this Family-Style Served Wine Country Wedding in Los Olivos
California chic meets rustic Greek in this Modern Wine Country Wedding shoot that took place at the Fess Parker Inn in Los Olivos, the heart of Santa Barbra's wine country. Recently featured in Santa Barbara's Wedding Issue, this cool and contemporary take on Mediterranean modern included family-style served gourmet Greek food by the famed Petros restaurant which lives inside of the Los Olivos Inn as well as a second location in Los Angeles' Manhattan Beach.
When designing a wedding tablescape for family-style served catering it's important to keep in mind the space that you will need once the food is served. I found that by using creative risers and smaller clusters of vases and decor, you can easily transform the look from flowers to food with a few small tweaks. I'm fortunate enough to have yet another wedding at the Fess Parker Inn this fall and I'm reusing this same concept but with a much more modern take of glass cube vases that will be used instead of the boxes seen below.
A cool color palette of green and white combined with aqua sea glass, rattan and breezy cheesecloth gave this Wine Country Wedding table design a modern feel inside of the lush courtyard. We combined this earthy palette with crisp white and dark wood for added contrast.
Cows, sheeps & goats were icons used on the tags tied around the napkins with aqua ribbon. This clued each guest into which type of cheeses they were about to be treated to. To keep in line with the gourmet cheeses that were to be served, a simple cheesecloth runner was used for a fun and sheer linen option on top of the heavy wood table.
In lieu of all flowers, fig branches, rosemary and bunches of cabbage in modern sea glass vases were brought onto the table for interesting textures and a play off of the garden fresh catering that was yet to come. We used vintage boxes as risers for the clusters of florals that could easily be removed for the platters of food to be served family style. Blackberry limeaid was a beautiful and refreshing compliment to the warm summer night.
These boxes, which worked great to elevate and separate the clusters of Portuguese wine bottles, milk glass and sea glass vases of flowers, fruits and herbs, also worked to present the platters of delicious family-style food.
With the help of these rustic boxes used as risers for the platters of food, the presentation and design of this wine country wedding table stays beautiful and chic from the flowers to the food.
I absolutely love this shot the talented Cameron Ingalls captured of a bee getting a taste of Petros' honey glazed Greek doughnuts. He's no dummy!!!
Event Design, Coordination & Stationary Design by Alchemy Fine Events & Invitations
Photography by Cameron Ingalls
Flowers by Renae's Bouquet
Venue Fess Parker Inn
Catering by Petros