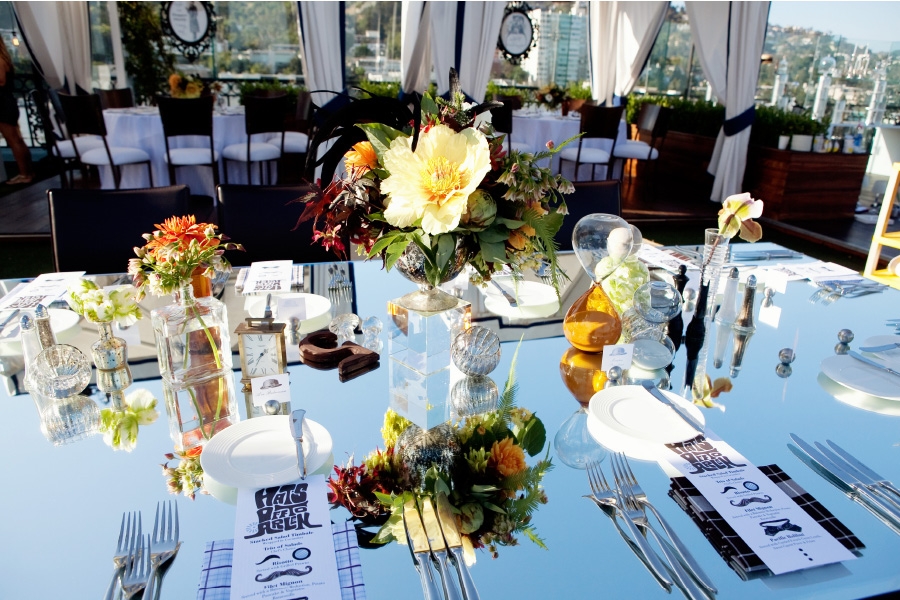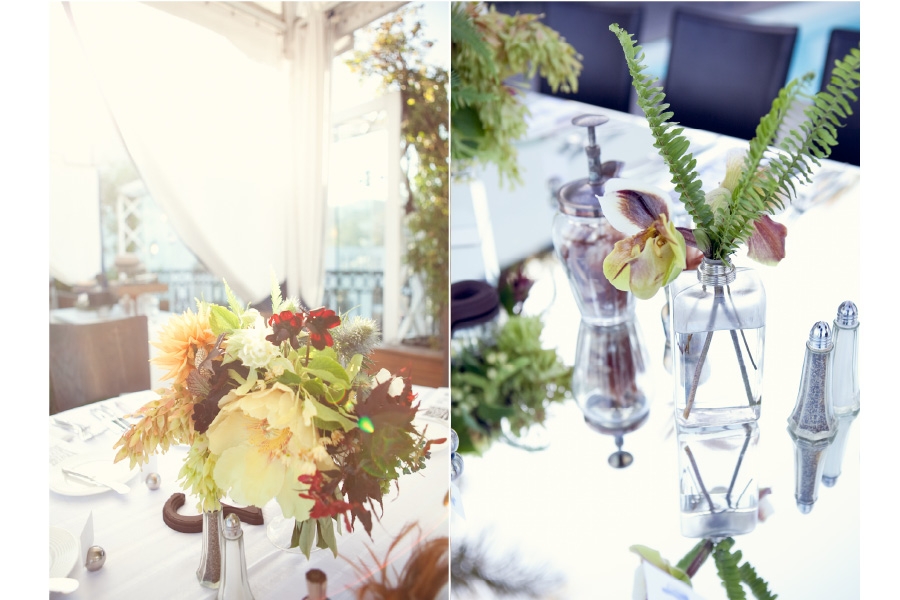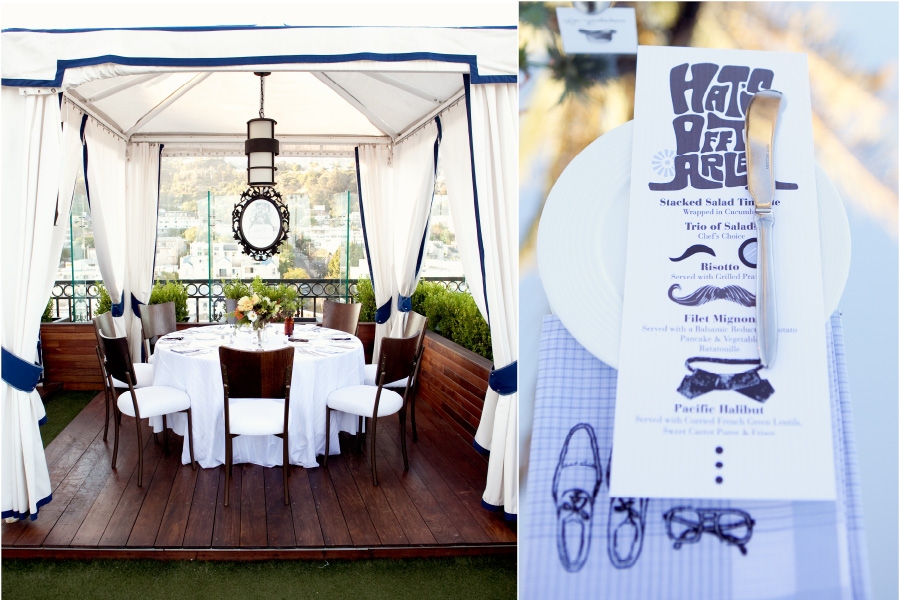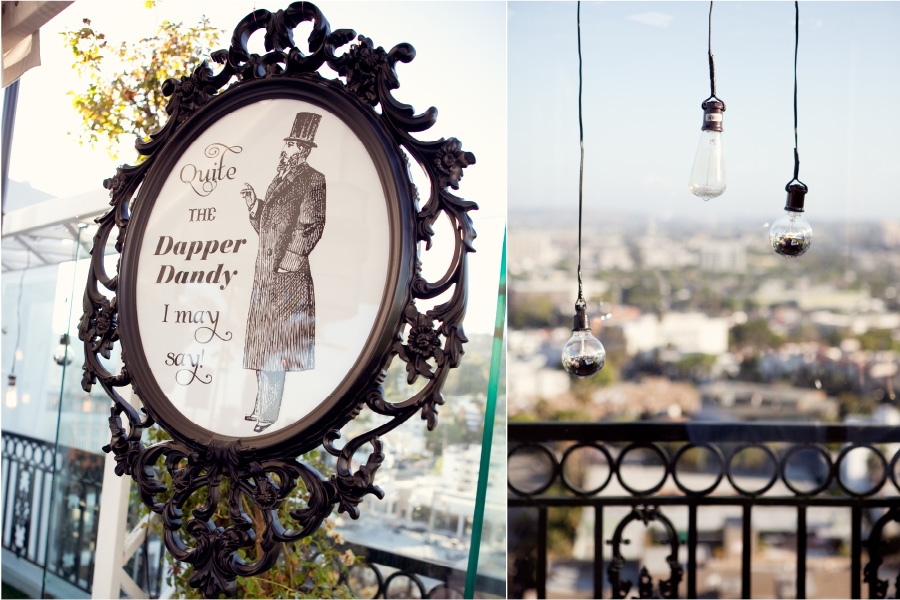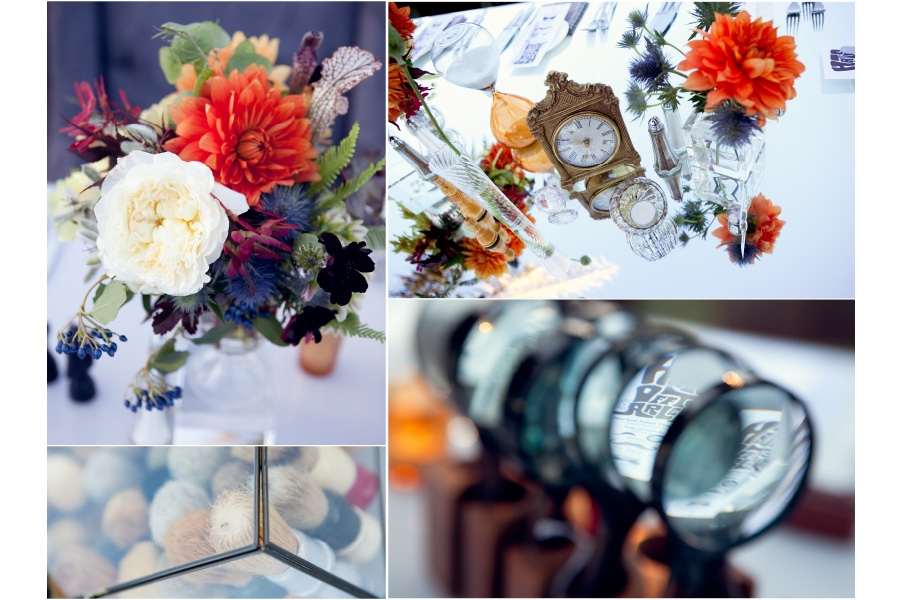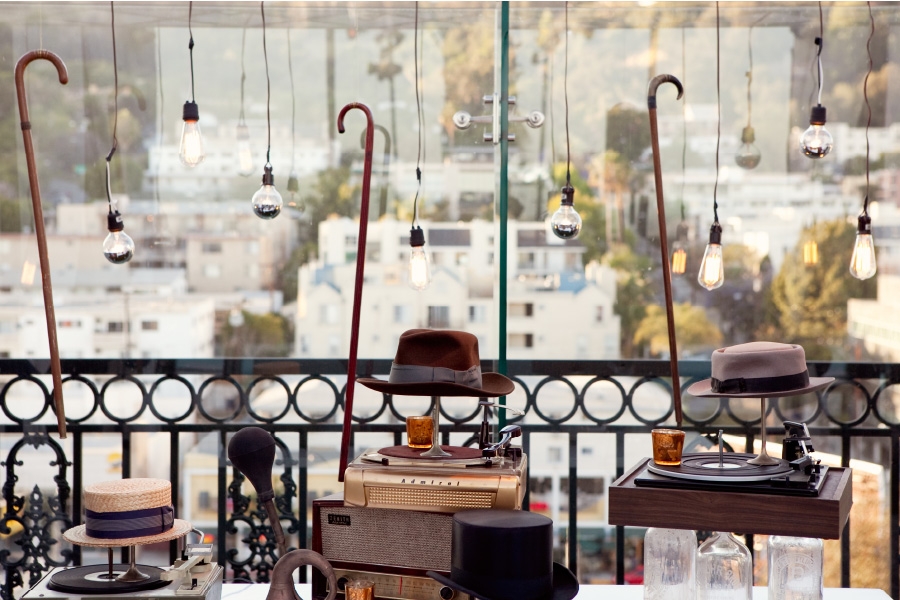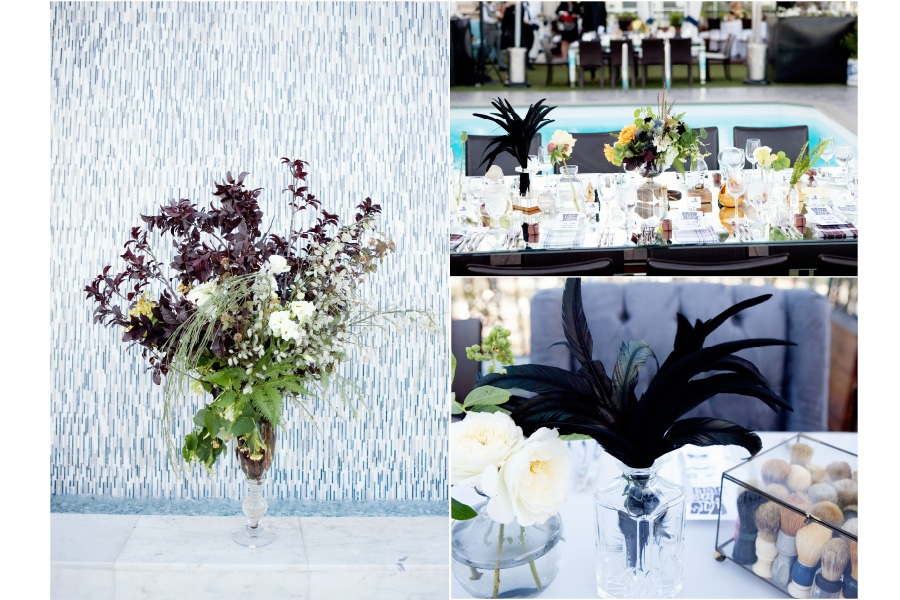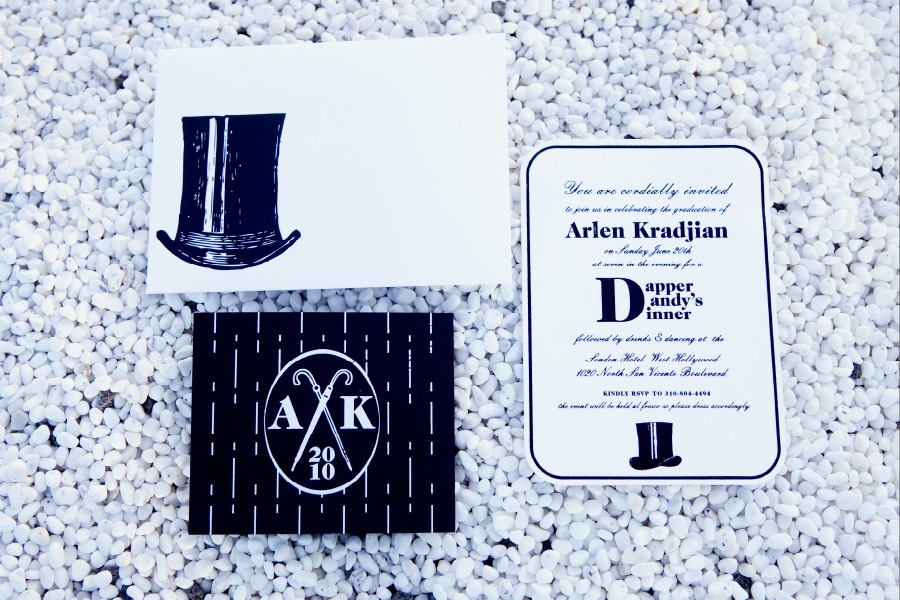 Event Photography by Jen Lauren Grant • Flowers by Flowerwild • Lighting by Images by Lighting • Venue The London West Hollywood
Hats were off for this masculine dinner soirée in honor of a graduate voted 'highest maintenance', we took inspiration from the vintage day Dandy, men known for their style and taste, and then brought him into today's generation with modern and hip, edgy touches. Vintage finds, hats and haberdashery style décor were incorporated for a rich and posh feel of a time long gone. The luxurious rooftop of the London Hotel in West Hollywood served as the backdrop for this special affair so we had to take advantage of its cityscape views and intimate cabanas.
Guests were greeted with jazz lounge beats and custom cocktails such as the Finest Hour, Highest Maintenance, The Dapper Dandy and Good Day Sir. As they mingled they nibbled on appetizers such as spicy tuna on crunchy rice, white truffle fries, and mini grilled cheese with tomato soup shooters.
For the Dapper Dandy of the night and his closest pals, we created a long striking setting with white Lucite topped tables and lined them with plush sky blue, dove gray and chocolate brown leather love seats and dark wood backed chairs for an eclectic and comfortable look. Old world treasures representing the man of the night topped the tables including clocks, chess pieces, scientific test tubes and feathers along with modern and eclectic florals. Hand illustrations were created for the menus with the words "Hats off to Arlen" in the shape of a top hat that were placed on top of the various masculine plaids in blues and browns that were made into custom napkins.
Mirrored art deco tables surrounding the pool were paired with chocolate brown leather chairs and glittered with reflections from the crystal votive lamps they were topped with while round tables nestled inside of the cabanas boasted baroque framed signs with dapper dressed gentleman in top hats.
To help the guests find their seats, we created a tie rack featuring one tie for each table with the guests names printed onto tie clips. After the guests were seated they were treated to a trio of salads, cucumber timbale, filet mignon, halibut and vegetarian ravioli. While the sun dropped low the geometric lighting designs of ambers and teals shed a modern and sophisticated aura over the rooftop and a monogram featuring the guest of honors initials appeared floating above their heads.
After dinner, guests explored the side lounge areas including top hats spinning on vintage record players, chess tables, dancing canes light by hanging mercury-dipped light bulbs. Set against the lights of the Hollywood Hills we featured a dessert bar set atop eclectic plates raised on candlesticks offering argyle frozen banana bites, pastel macarons, smores bites, and mini baked alaska.
As guests danced to the international beats spun by the DJ they had no idea of the surprise that lay ahead. From behind the stage international R&B star Iyaz appeared for a special performance for these lucky guests. They mingled and danced into the night under the stars on the rooftop and enjoyed the special night not soon to be forgotten. Before guests parted they were treated to a gourmet cookie and coffee station with gift boxes and cups featuring "cookies to go" and "coffee to go" to send them on their way home. Sending them off with a warm and sweet feeling to remember this unforgettable special evening by.