A Winter Themed Glamorous Blue and White Modern Baby Shower
Spring is in the air, the sun is shining and the birds are chirping… It's so wonderful to break out of the shell of winter and blossom under the warmth of the springtime sun! After my trip to New York last week for an amazing wedding (that I can't wait to share!) I wasn't so sure spring had actually sprung, with rain, sleet and snow flurries! But after returning back home to sunny San Diego, I feel it in my bones and on my face… And boy does it feel great!
With one last look back at our winter past, I wanted to share with you this 'Snow Sprinkle' baby shower that I designed for some wonderful friends of mine a few months back. We were also fortunate enough to have it featured on the magnificent Hostess Blog seen here!
For this wintertime welcome of two little angels we created a flurry of glittering snowflakes and raindrops for this 'Snow Sprinkle'. This glamorous blue and white modern baby shower was a great way to combine the clean and stark feeling of winter white snow with the glitter and glam of shiny starflakes and snowballs.
Guest were welcomed to a "winter white" outdoor lounge area sprinkled with white lights and filled with modern lounge chairs draped with soft white netting & plush fur pillows.
Soft white baby's breath and snowflake-like spider mums danced throughout the lounge in a mixture of modern and vintage glassware, while a framed sign reminded guests that "Snowflakes & Raindrops aren't the only things falling from heaven…!
As guests entered the outdoor lounge, they were greeted by a vintage English pram offering them cozy pashminas and scarves with a sign that read "Borrow a Scarf to stay as cozy as a Baby in a Carriage".
To keep guests cozy on the inside, we featured a Cocoa Bar complete with gourmet hot cocoa, homemade marshmallows and crystal decanters full of various liquors to spice up their drink. A sign reading 'Sips & Nips to Keep You Warm' was displayed on the cocoa bar next to the elegant silver urn.
Snowflake-topped stir sticks were featured in crackled glasses displayed on top of raised green glass risers for an icy looking presentation.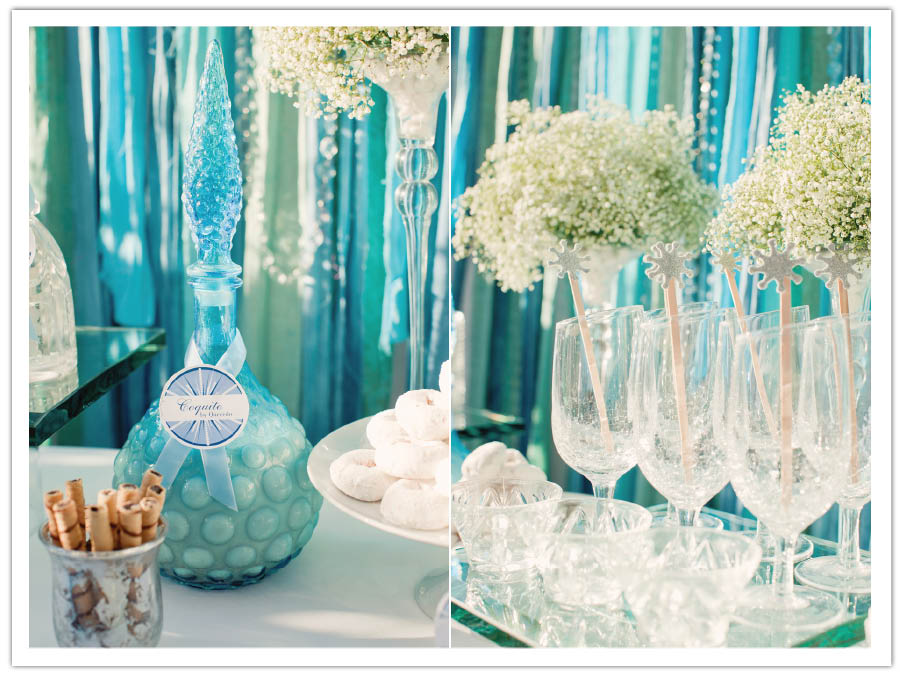 Chocolate moon pies, pumpkin pie pops (recipe here), sugared donuts and delicate snowflake sugar cookies were just some of delectable treats offered as dipping-worthy sidekicks for the cocoa.
We also made two different types of homemade marshmallows – pumpkin spice and one dipped in mint milk chocolate.
Chilled homemade Coquito (coconut eggnog) served in beautiful aqua glass decanters was the perfect "cool" complement for guest to enjoy with their hot and toasty s'mores…
Our 'S'mores Station' featured an outdoor firepit, roasting sticks sticks, homemade marshmallows, and the classic accouterments.
For a shower-worthy backdrop to the Cocoa Bar, we created a wall of cascading strips of hand dyed fabric in aquas and blues and hung strands of crystals to dance between the colors. For a light and fluffy snowball effect we created large flowerballs of baby's breath and displayed them on tall elegant glass vases."
Design, Coordination & Styling: Alchemy Fine Events & Invitations
Invitation, Dessert Bar Tags and Signage: Alchemy Fine Events & Invitations
Baked Goods & Desserts: Alchemy Fine Events & Invitations
Lounge Furniture: Lounge Appeal
Photography: Katie Neal
Read More »