We were recently asked by the amazingly talented jewelry designer Rachel Leigh to create an invitation that they could send out to their buyers to show off their brand new showroom and jewelery lines. Rachel gave me such great inspiration such as her love of ikat style patterns, Moorish inspired shapes, pinks and oranges and of course, her gorgeous jewelry! She came up with the adorable idea of gifting her guests with a single Rachel Leigh earring in the invitation and offer for them to collect its other half when they arrived at the event. With this inspiration and direction I designed a piece with the ultimate goal in mind of showing off her jewelry as the centerpiece. So, from the inspiration to the creation of the invitation, here you go!

Read More »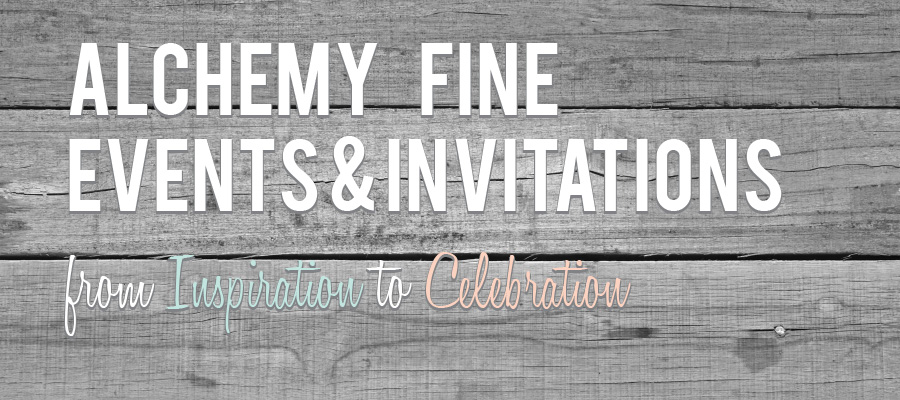 Welcome to the brand new blog of Alchemy Fine Events & Invitations!!
Through this blog we will show you the process of design, artistic collaborations, and how to combine the correct event ingredients to turn your inspirations into celebrations. To learn more about the special ingredients that work together to create event alchemy, please see the ingredient definitions below.
Ingredient Definitions:
Occasion - The special reason for your celebration
Inspiration - The unique ideas and dreams that drive the creations
Destination - The locale
Location - The venues
Invitation - The unique and beautiful way to invite your guest to your special event
Registration - The selection of pieces that will represent you and your new life
Flowers & Decoration - The visual ways in which you communicate the feelings of your celebration
Fashion & Accessorization – The chic and gorgeous designs that you adorn yourself with.
Illumination - The way to bring your events to life through warm and inviting
Drink & Libation – The refreshing and exciting concoctions that you will serve
Culinary Creation - The delicious delicacies you will tempt your guests with
Cake & Confection - The sweet bites of goodness
Photographic Interpretation – The artistic ways in which you capture the moments
Coordination & Collaboration – The artists and talented others that contributed to your special day
Musical Compilation – The music that expresses your story through song
Celebration – The special moment when it all comes together
Adoration – The warm feeling of respect and awe of others talents
Publication – The amazing times when you receive notice of your creations
Please look forward to many more amazing designs and inspirations we have to share with you! We are still under construction for our deliciously designed site and gallery so please be patient, but we promise, much more coming soon!
Thank you so much for your love!
Inspirationally Yours,
Vanessa

Read More »