Every little girl has dreamt of becoming one of the the fairy tales that they grew up reading. Whether they wanted to be saved by a kiss from a prince, felt that someone was the Evil Queen in their lives, or just find that fairy tale romance that sometimes doesn't seem real. I had so yearned for über long hair to throw out of my bedroom window to be rescued when I was grounded!
So when Lucia of Utterly Engaged asked me to design a bridal shoot inspired by the classic fairy tales we all know and love, the little girl in me definitely came out to play . We also spoke of mixing in the feeling of Scandinavian folk art undertones to bring out the textures and laces and patterns of this elaborate artistic style. With an incredible team behind me here are the creative results.
Rapunzel, Rapunzel, Let down thy hair to me.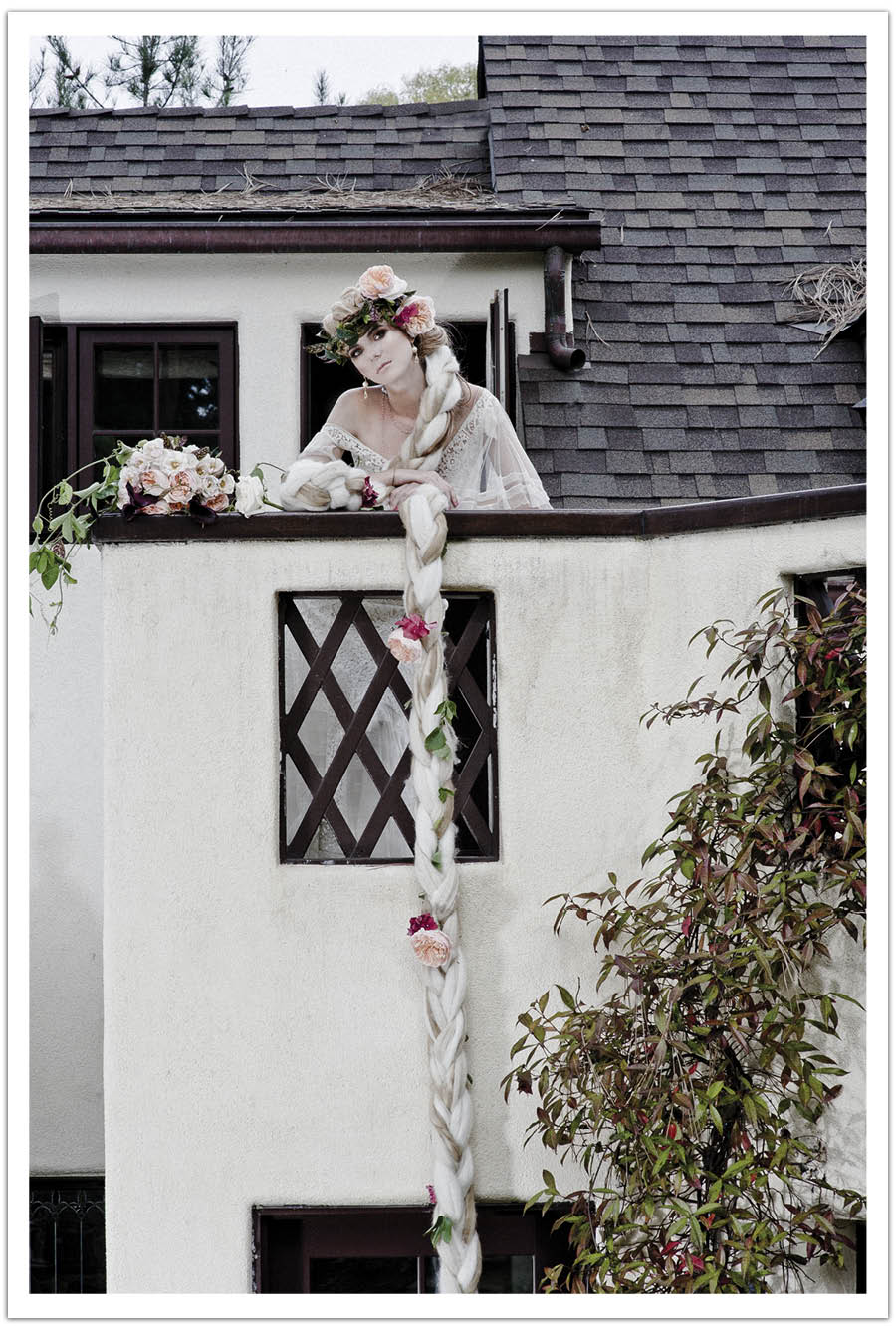 Instead of the classic 'Red Riding Hood' I wanted to play off of a more updated and stylish version of a 'Pink Riding Hood'. We paired this ruffled lacy gown by Provence Bride with yards of flowing scarves for a rich and stylish take on this character. Knitted gloves, a suede claret Ferragamo belt and darling porcelain basket of flowers completed this damsel in distress's look.
You know, my dear, it isn't safe for a little girl to walk through these woods alone.
…as pure and white as snow, and as red as blood, and her hair was as black as ebony…
When I think of Snow White, I think of the sweet animal loving forest nymph who attracted all things good with her beauty. We actually had another gown planned for this character but a serendipitous moment on Facebook happened after I saw an old friend getting married in one of Tara La Tour's gowns and I was immediately floored by her stunning designs. This periwinkle ombre work of art (along with the evil queen's gown) was over-nighted from Minnesota just in time to grace our shoot. The hand work and detail on this gown are simply unparalleled and a true masterpiece! Tara La Tour's wedding dresses are definitely worthy of a fairy tale wedding.
For our Snow White look Alex wore stunning rough diamond chandelier earrings and a coral rose ring by the talented Leslie Fastlicht Russo.
Snow White wouldn't be complete with out the Evil Queen lurking in the shadows. This dramatic indigo blue gown worked wonderfully for the dark and mysterious character longingly looking for answers in her mirror. Her dark bouquet of burgundy blooms and spiky succulents created the perfect sinister look for this stunning sinner.
Mirror, mirror, on the wall…
Gretel, sans Hansel, stumbled upon a deliciously tempting trail of sweets by Scootabaker and Elizabethan bakeries while wearing a pale taupe BHLDN gown and basket lush with wildflowers. This would make for such a wonderful intimate wedding at the courthouse dress!
Sweets and treats did tempt the children into the witches house made of bread and cakes…
When I told Heather of Scootabaker of my vision I described elaborate shapes of flora and fauna and woodland creatures in layering textures of white on white. As if she crawled into my head, Heather literally made by elaborate vision come to life with so much detail and precision it was amazing!
Alex wore carved bone earrings and cocktail rings by Leslie Fastlicht Russo. The diamond button detailing on the back of her dress was stunning!
And from this slumber you shall wake, when true love's kiss, the spell shall break.
Krista Jon created the most gorgeous and interesting florals for each look that could not have portrayed the lightly dark yet romantic look of this shoot. The variety of blooms with vines and greenery and succulents were so forward thinking and stunning.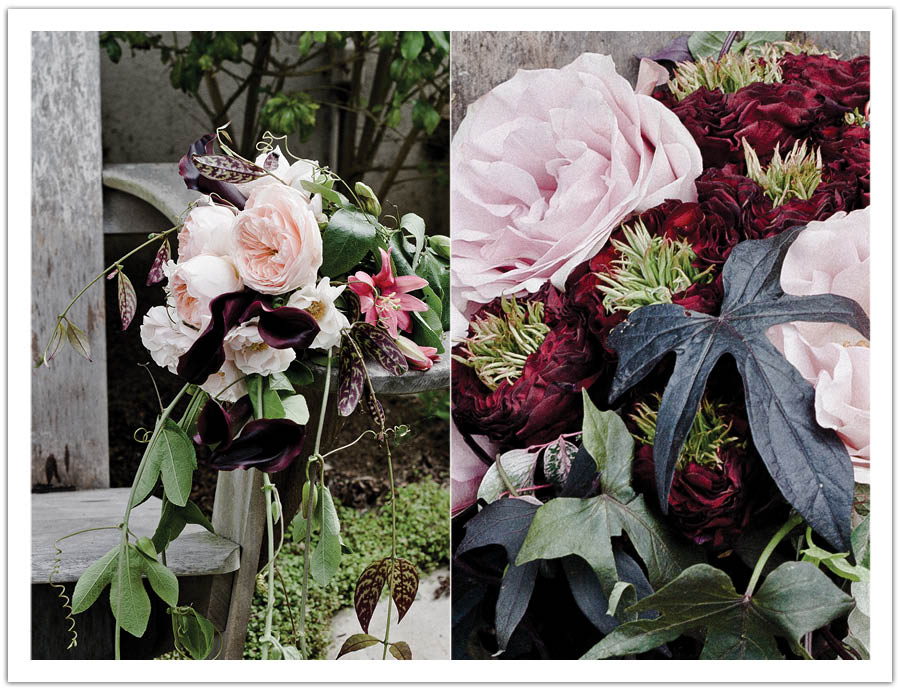 This vintage Roberto Cavalli jacket donned by our amazing stylist Adrienne Baravetto worked wonderfully to frame our Sleeping Beauty's gorgeous face.
Creative Direction by Lucia Dinh of Utterly Engaged
Art Direction, Design & Invitation Design by Alchemy Fine Events & Invitations
Photography by Schnack Studios
Flowers by Krista Jon of A Humble Abode
Fashion Styling by Adrienne Baravetto
Jewelry by Leslie Fastlicht Russo
Props & Furniture by Archive Vintage Rentals
Make Up by Devon Duff
Hair by Caitlin of Flawless Face
Cake & Pastries by Scootabaker
Pies by Elizabethan
Model Alex Grace with Elite Models