Romantic Seaside Wedding Inspiration
In honor of Valentine's Day we are looking back at a shoot we designed a few years ago full of romantic seaside wedding inspiration. Inspired by some of our favorite love songs throughout history we incorporated vintage decor, pastel floral arrangements as well as a blush wedding dress and accents to tie the romantic theme together in a beautiful seaside setting with the iconic La Jolla Cove as the backdrop.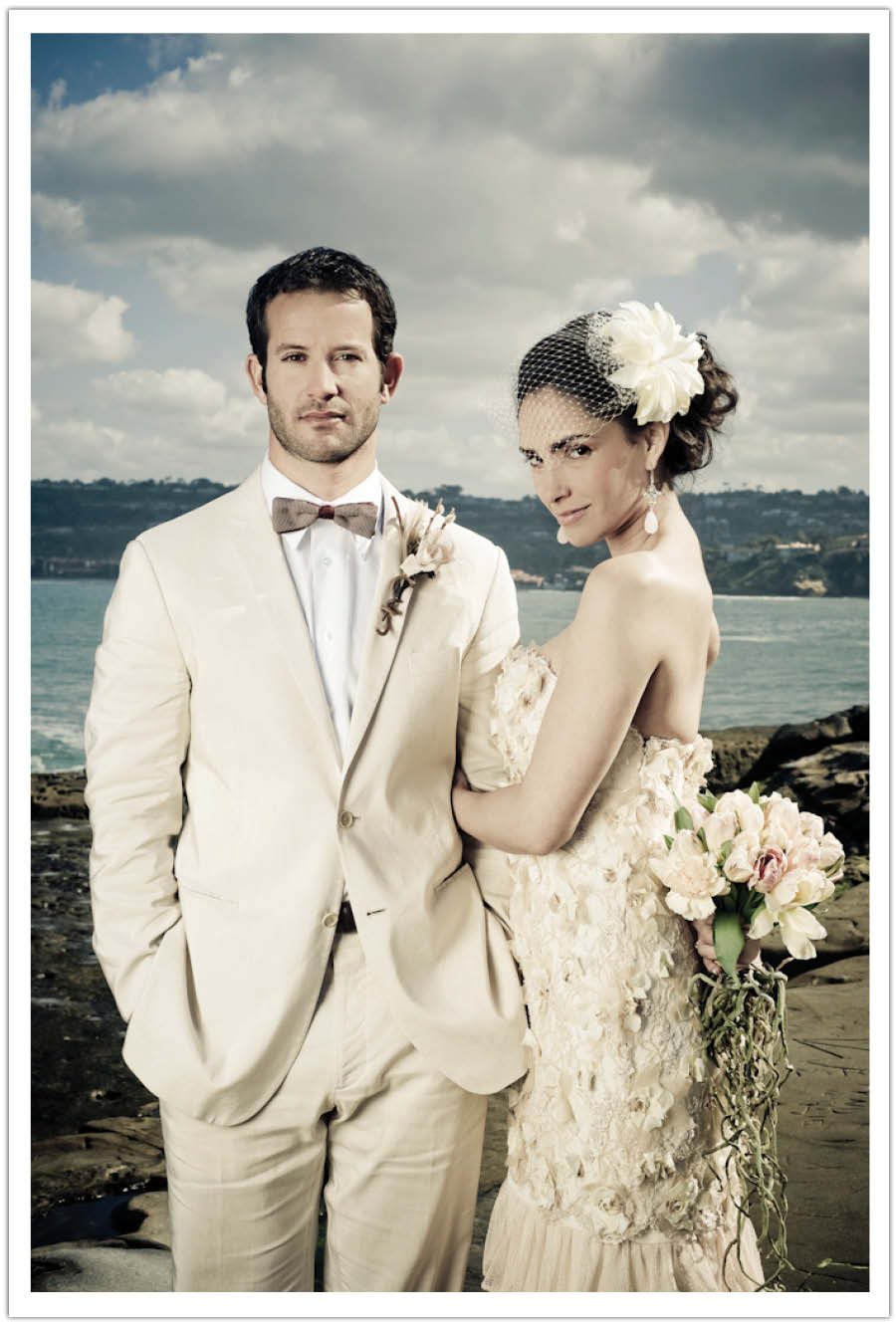 The Bachelorette's, Kiptyn Locke was our groom in training for this special Valentine wedding shoot with a little help by our gorgeous model, friend and stand-in-bride, Ren.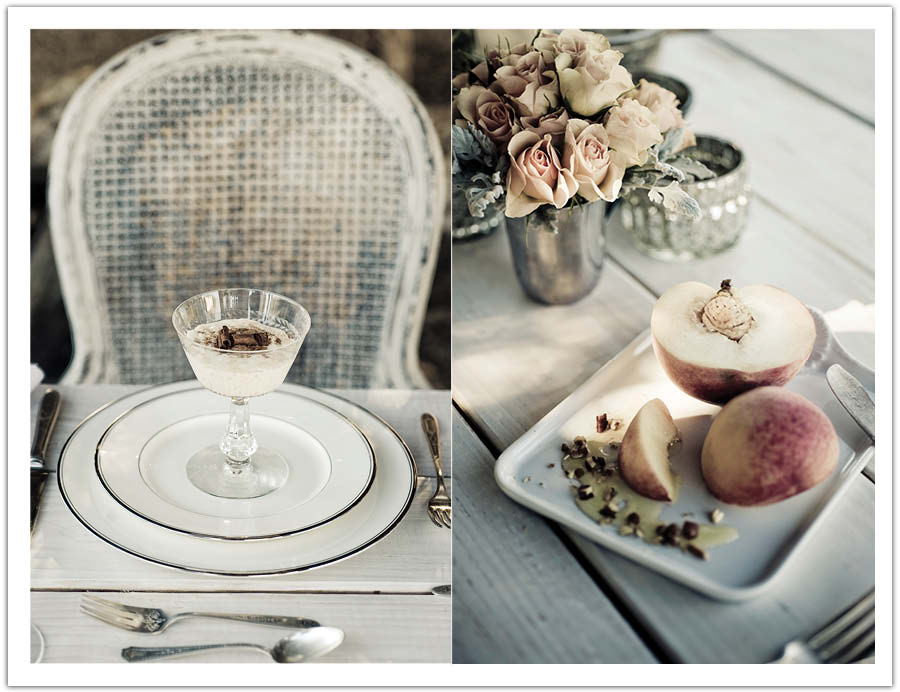 The Beatles said it best with "All you need is love, love, love is all you need." Whether you are dating, engaged, or getting married, it is all about sending the right message with good old-fashioned love notes. Hit even higher notes by playing on love notes by infusing musical lyrics into your sweet Valentine's weekend. We created a play on Love 'notes' by handwriting actual song lyrics throughout the day.
The Setting: For this Valentines Day Soiree we created a romantically wild seaside garden with overgrown roots, driftwood and birch wood in a forest of twisted trees overlooking the pacific blue. This was truly a sweetheart table for two. The white washed wood and birch leg table was covered in anemones, spray roses and dusty miller leaves. Simple candles, sticks, shells and skeleton keys were placed in the center for a dreamy, romantic effect.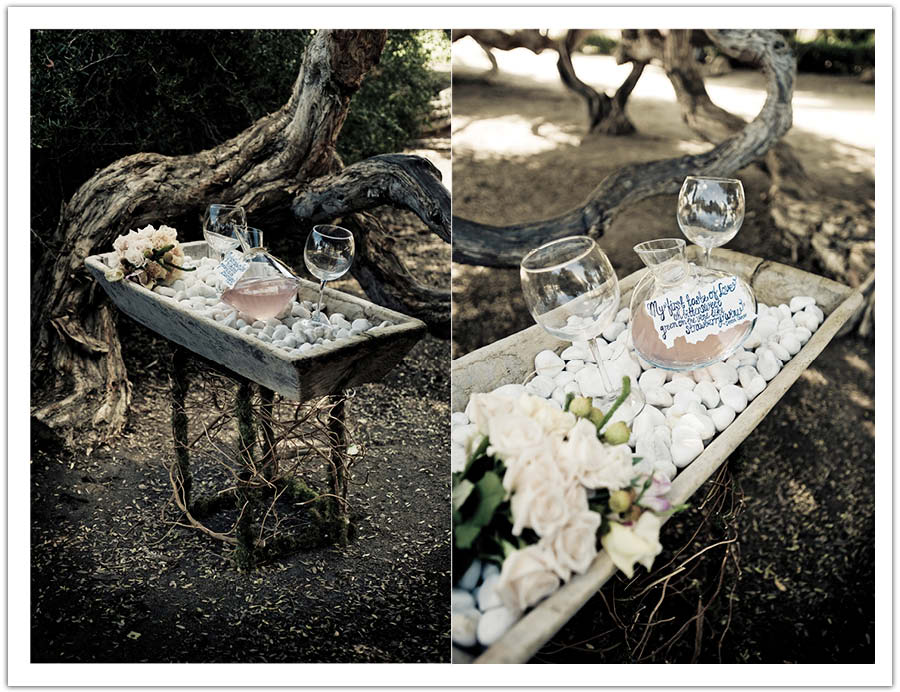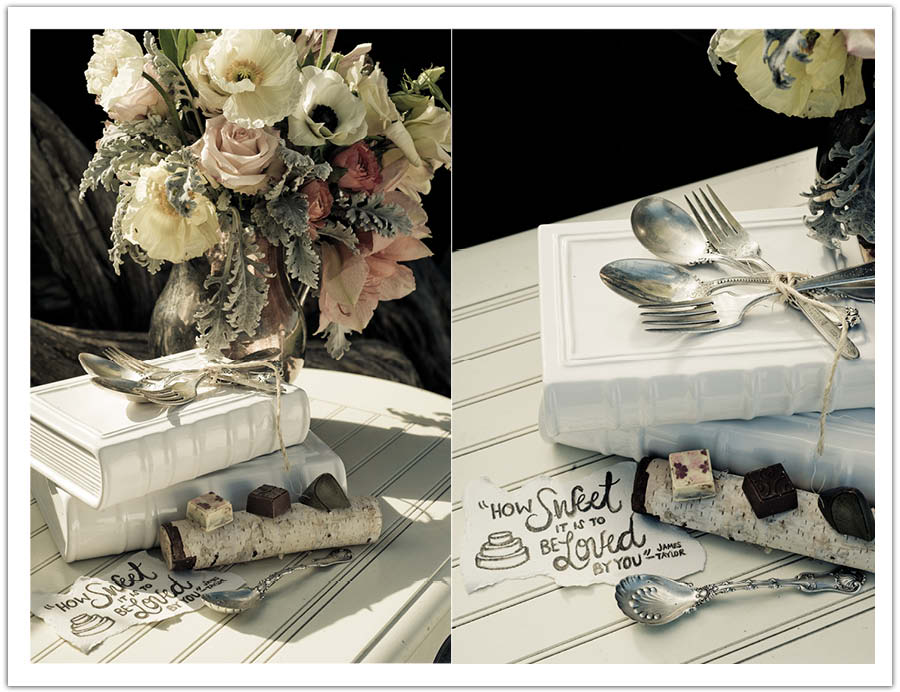 Cake table – A love 'note' made an appearance with "How sweet it is to be loved by you" – James Taylor. The table was adorned with a peach cake accented with textured flowers and an antique silver pitcher filled with a wild gathering of peach and rose toned blooms. Also making an appearance were sweet little bumps on a log made of gourmet chocolate truffles.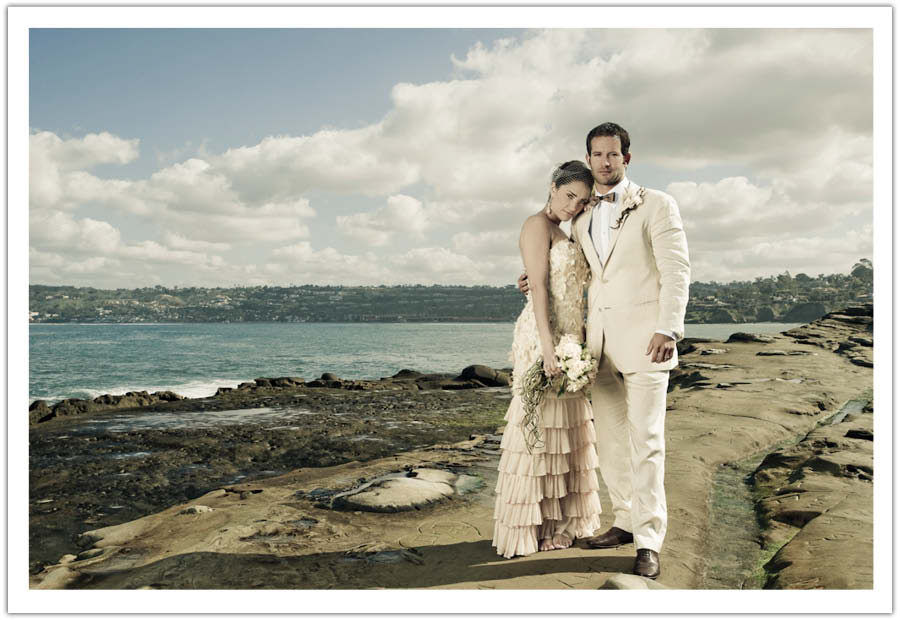 Recognize that cute groom face? It's Kiptyn Locke from The Bacholerette!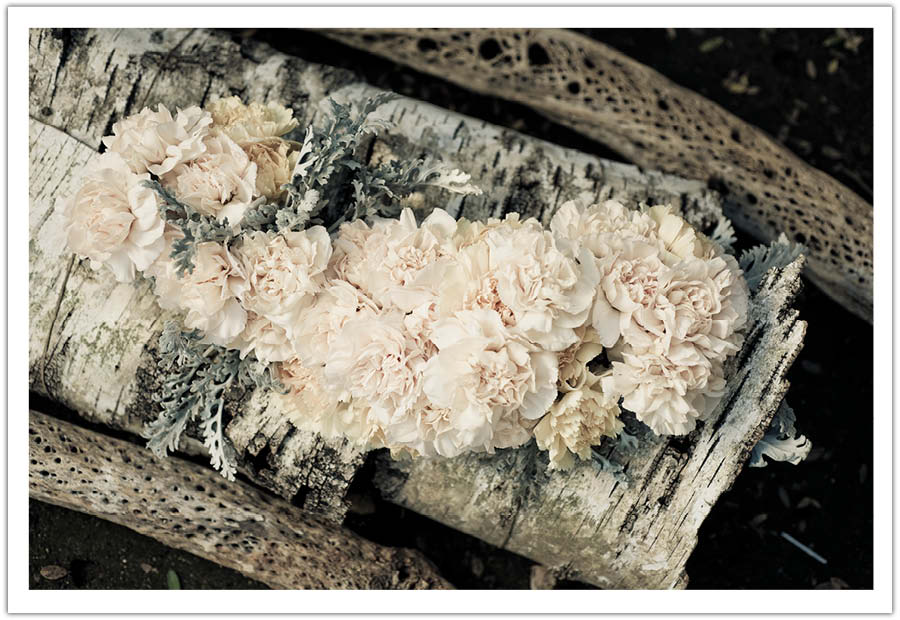 The menu sang it's own love song with items labeled… To Drink: Love Potion #9 "I didn't know if it was day or night, I started kissing everything in sight" – The Clovers; To Eat: Cheeseburger in Paradise "Heaven on earth with an actual onion slice" – Jimmy Buffet; For Dessert: Cherry Pie "Tastes so good make a grown man cry, sweet cherry pie" – Warrant
A rustic teak trough on the side of the table was propped on a moss covered frame and served as the wine bucket. A decanter was perched on a sea of beach rocks and filled with strawberry wine with a hand written love 'note' tied with twine around the neck that read "My first taste of love oh bittersweet, green on the vine, like strawberry wine" – Deana Carter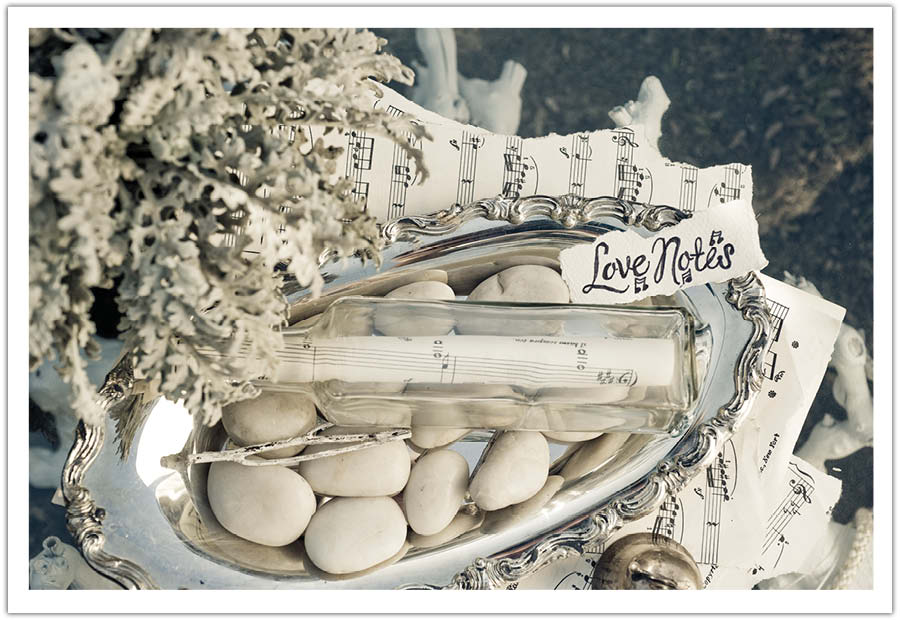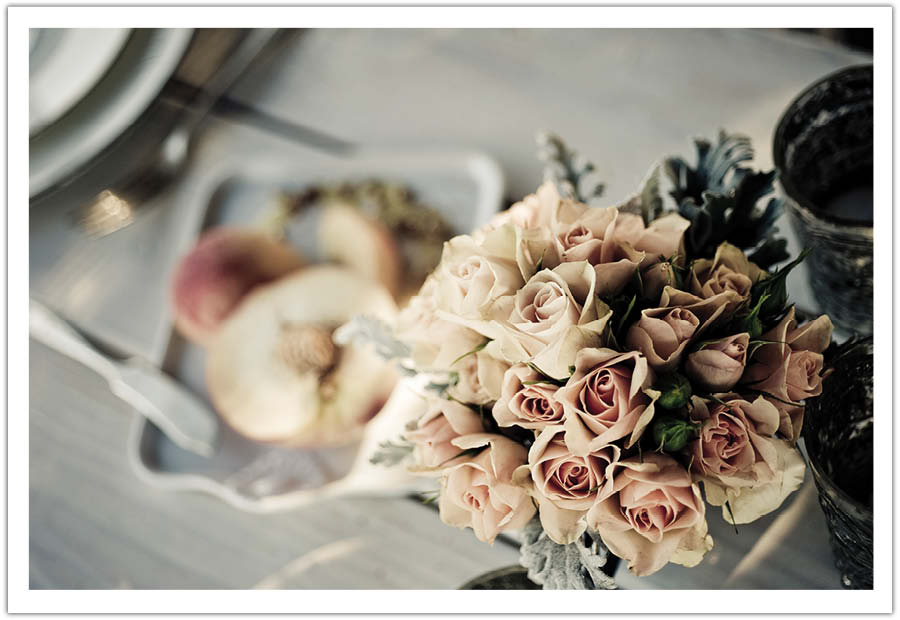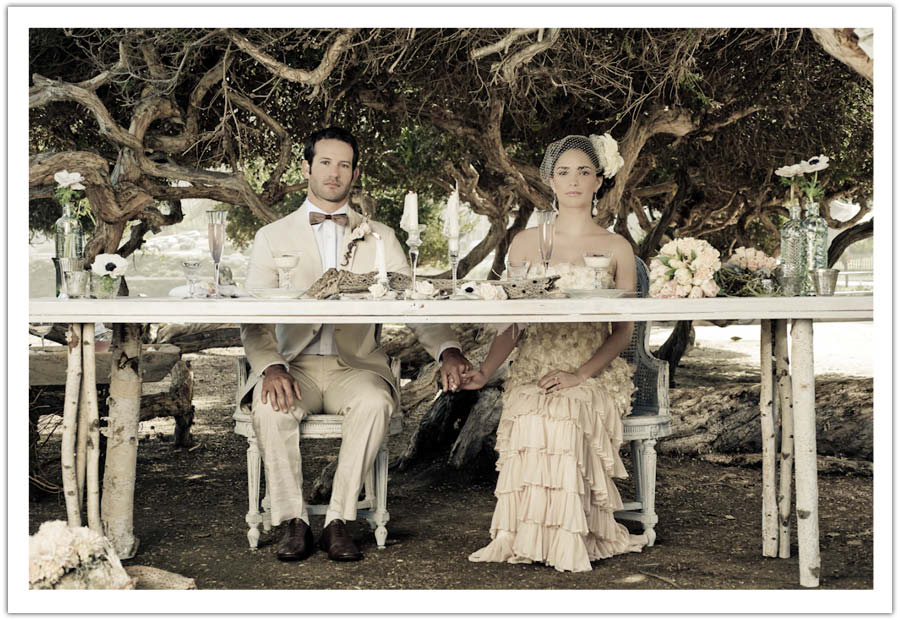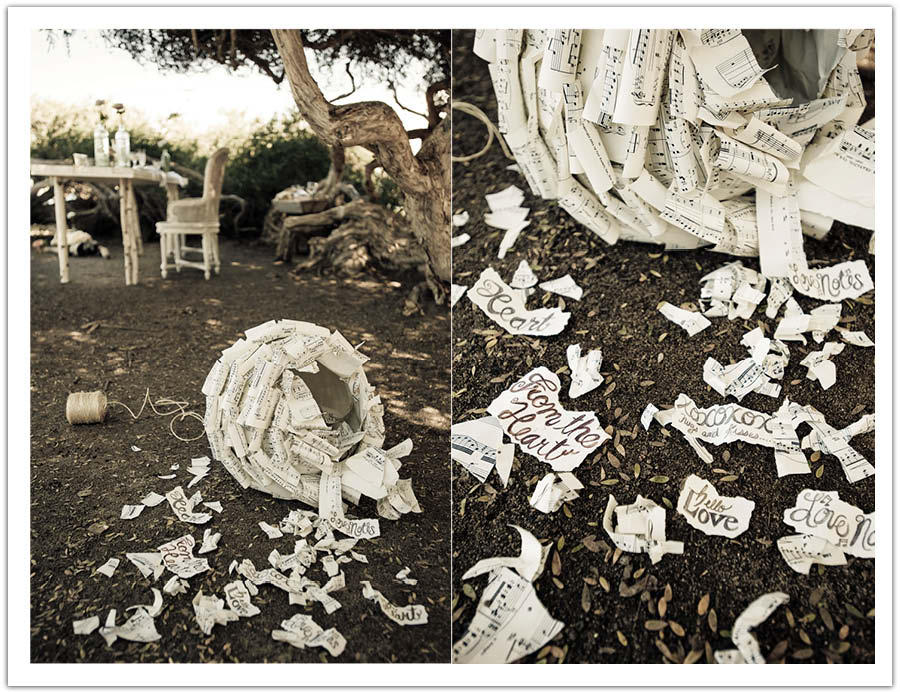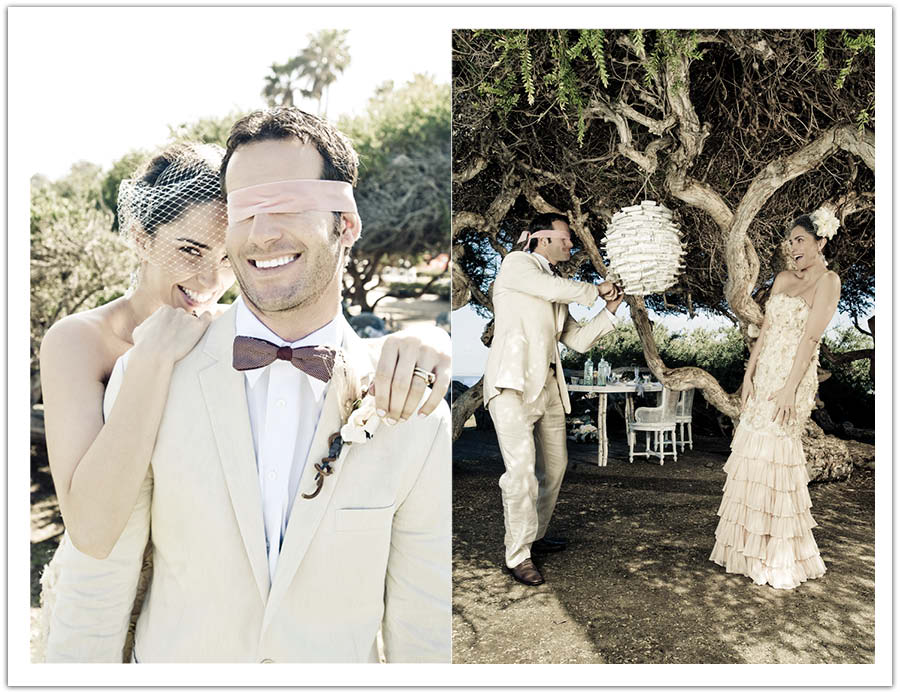 A Book of Love was also propped on the sweets table, with another love 'note'. "I love it when you read to me and you, you can read me anything. I love it when you sing to me And you, You can sing me anything The book of love is long and boring And written very long ago It's full of flowers and heart-shaped boxes And things we're all too young to know But I love it when you give me things And you, You ought to give me wedding rings And I, I love it when you give me things And you, You ought to give me wedding rings" – Peter Gabriel, Book Of Love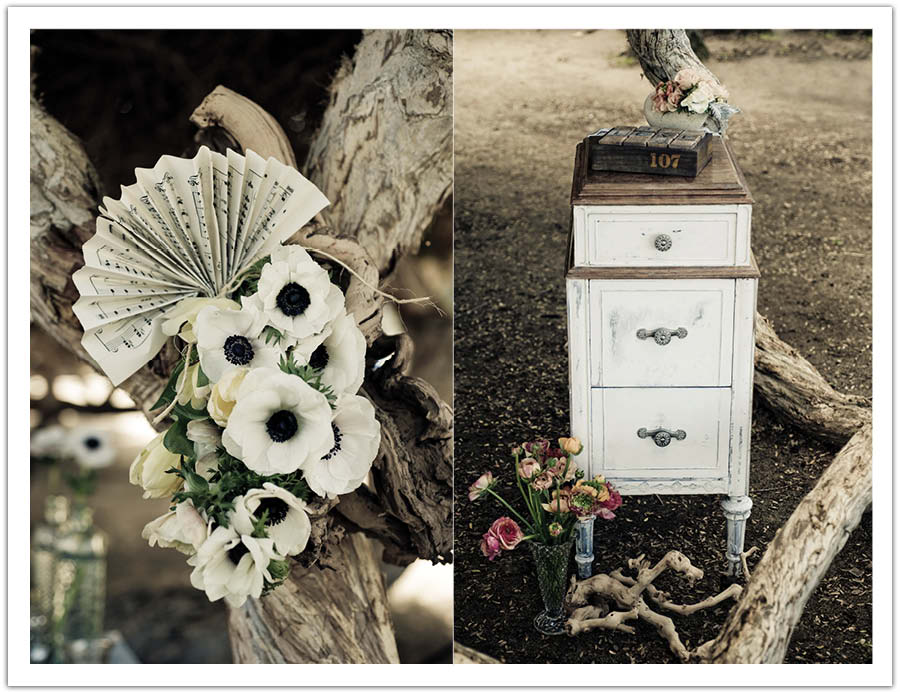 Event styling, coordination and stationery: Alchemy Fine Events & Invitations / Flowers: Isari Flower Studio / Photography: John Schnack Photography / Gown & Head Piece: Alisa Benay / Jewelry: Noaki Jewelry / Wedding Cakes: Truly Scrumptious / Makeup by Jennifer Budner / Girard Avenue Collection for chairs & I love you blocks. / Gourmet Chocolates: Dallmann Confections/ Hair Styling: Orange Blossom Salon; Jamie Rosa 760-889-5062
Read More »