Shot Through The Heart…. Valentine's Dinner
THE DESIGN
With this ultra saucy and sexy inspirational design we wanted to create the ultimate Valentine's dinner for two with dark design undertones of slithering serpents and spellbinding epicreations to nibble and sip on as you gaze across an arrow shot heart at your eternal Valentine. I started by  setting the table with luxurious pieces by L'Objet including reptile printed elements such as their embossed Alencon collection, serpent twisting black trays and bewitching snake napkin jewels around snakeskin printed italian linen napkins. I want to show my clients how you can create an ultra romantic, luxurious and intimate Valentine's Day dinner at home with a few key pieces.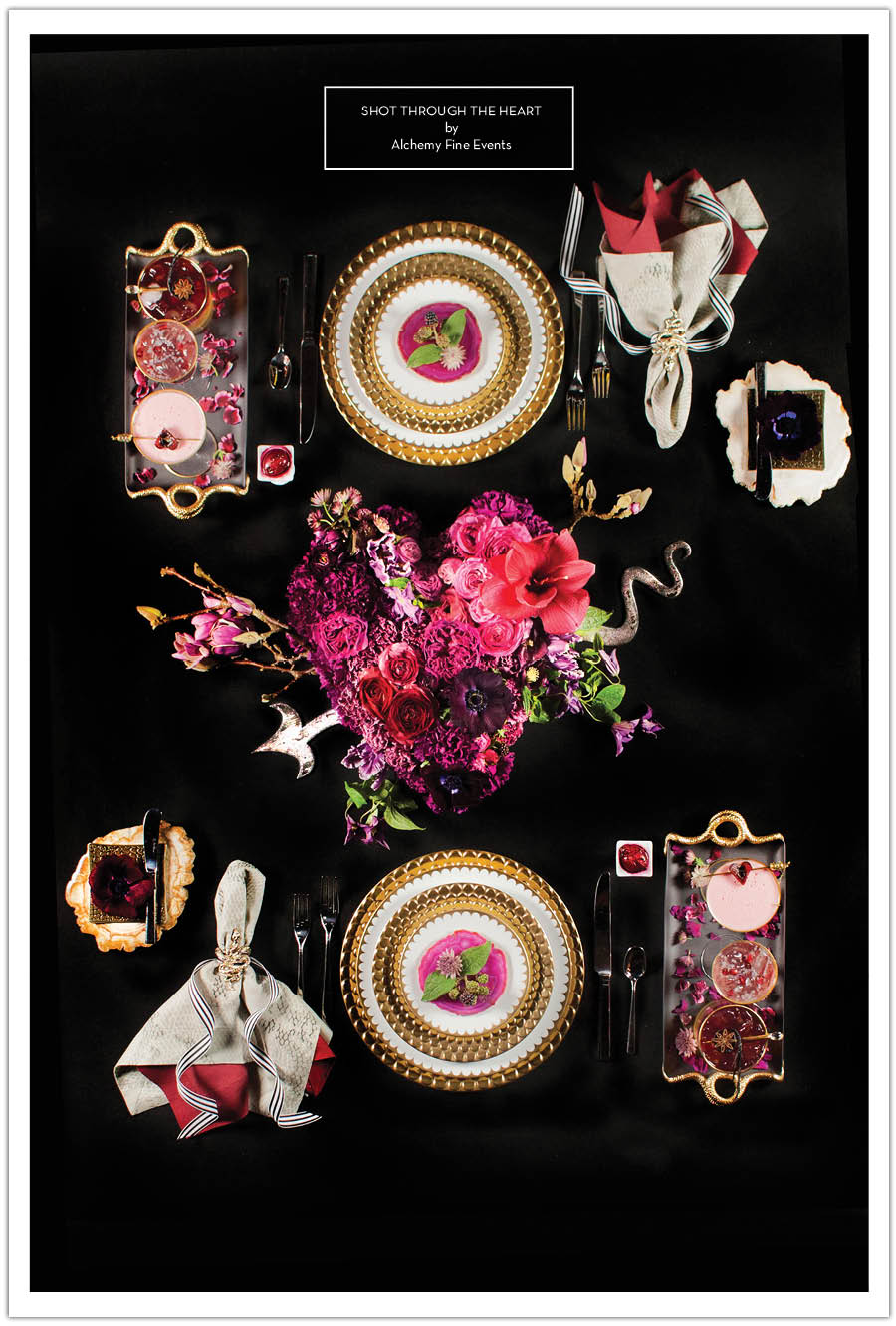 THE Flowers
For this luxury Valentine's dinner Isari Flower Studio created a texturally rich heart shaped arrangement with lush blooms in deep reds and raspberries for the perfect centerpiece  to pour your heart over… The heart shape was studded with large bloom amaryllis, miniature blooms garden roses, ranunculus, 2 shades of ruffled french carnations, deep shade parrot tulips, astrantias, burgundy anemones and hellebores, with  clematis and it;s foliages and flowering Japanese magnolia.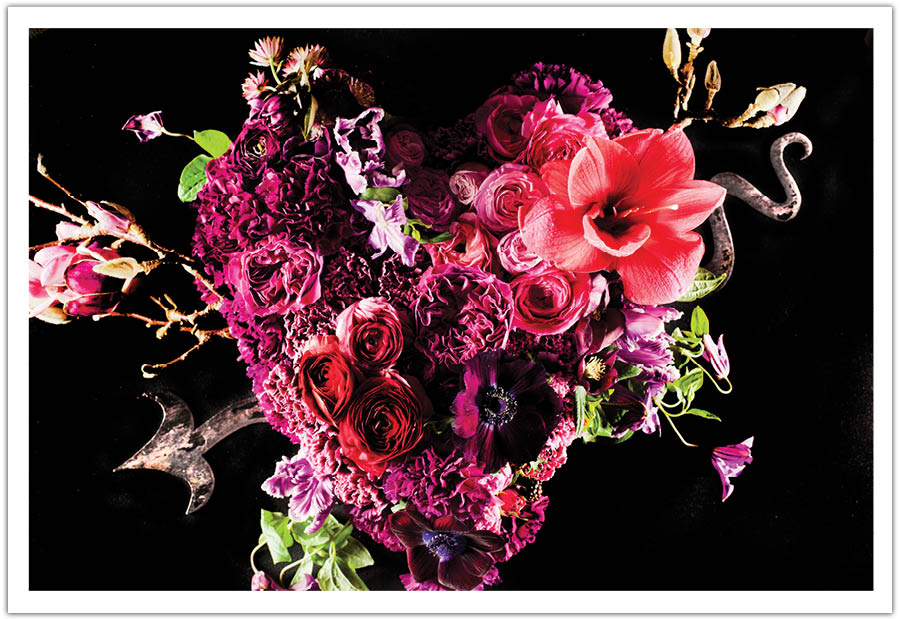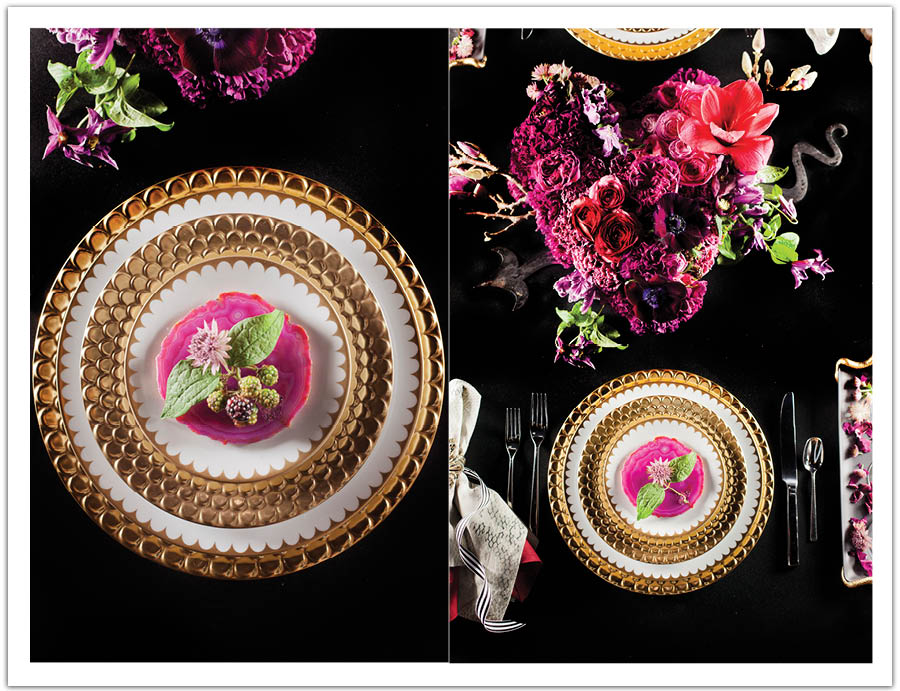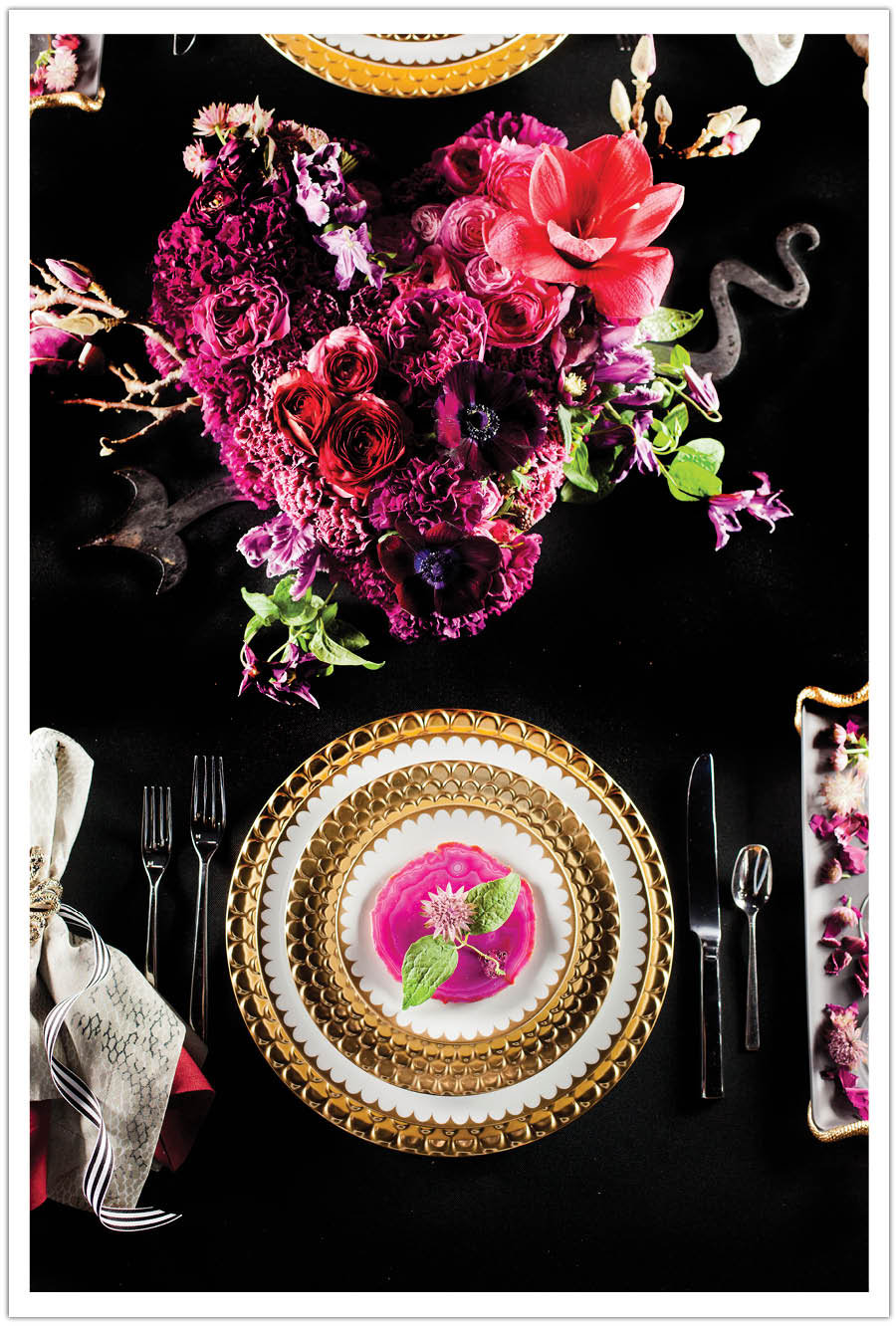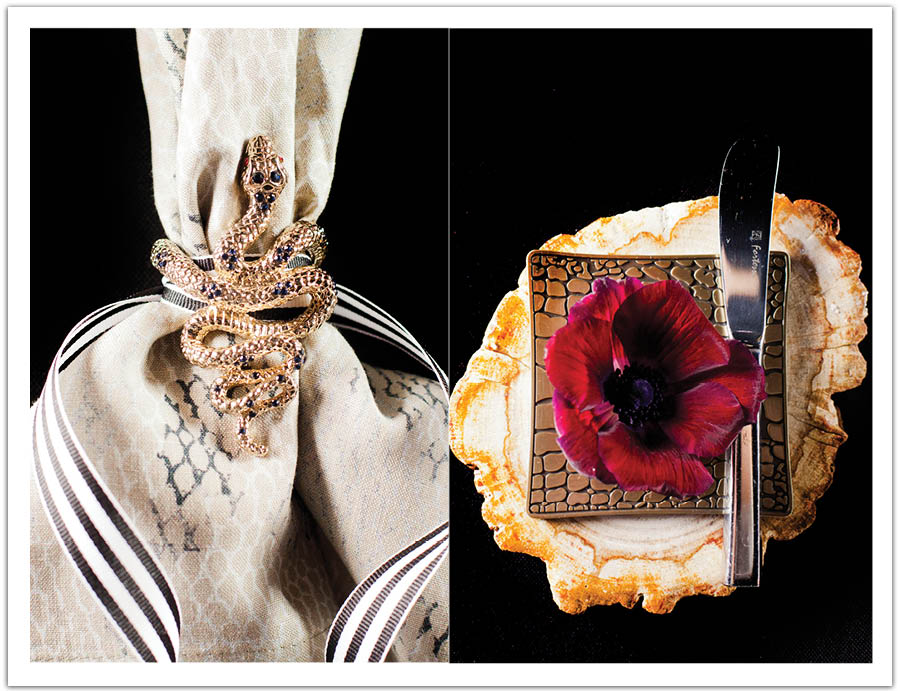 THE COCKTAILS
Snakeoil Cocktail Company created three bewitching cocktails to help lure your sweetheart under your spell for your romantic Valentine's dinner.. For an extra dose of drama molecular mixologist Mike Yen also created a 'Beeting Heart' which includes a cocktail encapsulated into a human heart shaped gelatin shell..not for the 'faint of heart'… "Sipping on a beautifully crafted concoction will set the mood in any love den, especially one as lovingly crafted as these sultry cocktails" says Michael Esposito of Snakeoil Cocktails.   Read below for the recipes for three of these spellbinding cocktails!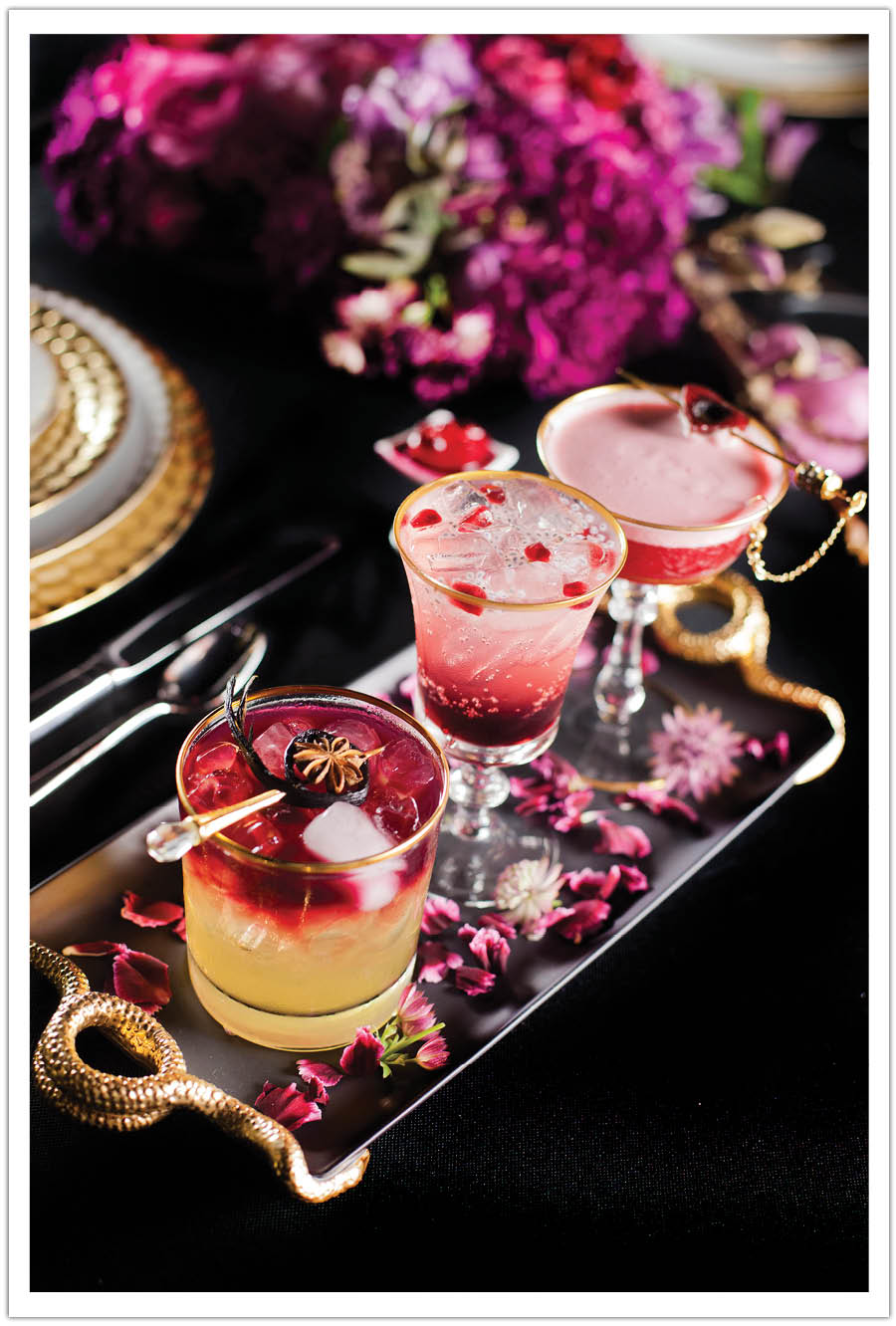 Old School Crush Cocktail
(served in an old school sour in coupe glass)
2 oz Wild Turkey ​B​ourbon
0.5 Oloroso ​S​herry
5 Muddled ​B​lack ​C​herries
1.5 oz Fresh ​P​ressed ​L​emon ​J​uice
1.5 oz ​F​ig ​I​nfused ​H​oney ​S​yrup
1 ​C​age​-​free ​E​gg ​W​hite
Garnished with a black cherry heart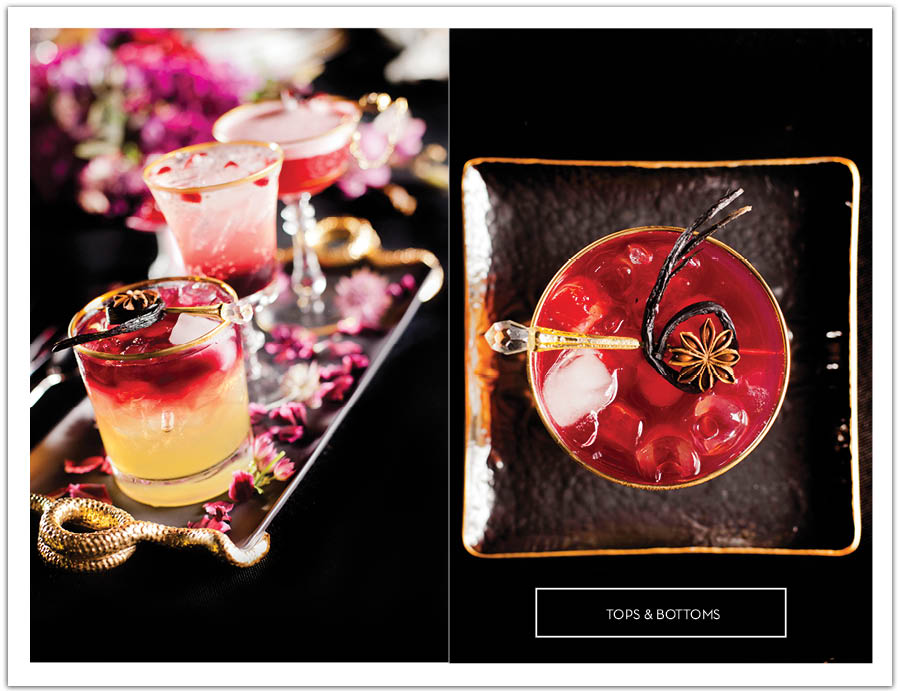 Tops and Bottoms Cocktail
(layered in a double old fashioned glass)
1.5 oz Espolon ​S​ilver ​T​equila
1.5 oz Fresh ​P​ressed ​L​ime
1.5 oz Black ​L​ime ​S​yrup
1 oz Mulled ​W​ine ​F​loat
Garnished with ​S​played ​V​anilla ​B​ean and ​S​tar ​A​nise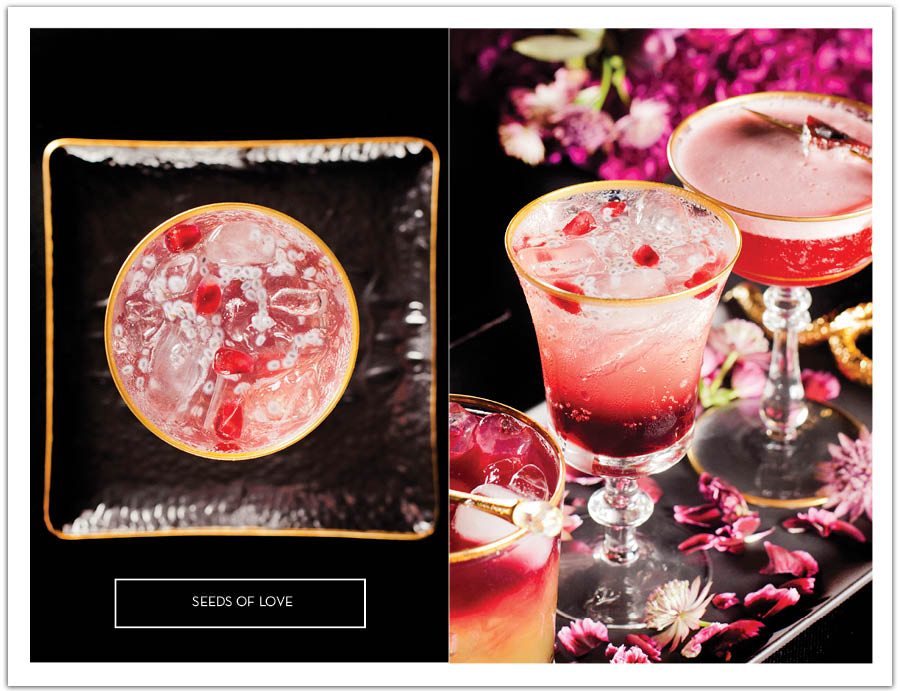 SEEDS OF LOVE
(layered in a goblet)
1.5 oz Titos Vodka
2 oz Basil-Pomegranate Juice*
0.5 oz Fresh Pressed Lime Juice
3 oz Ginge Beer
Garnished with ​pomegranate arils and bloomed basil seeds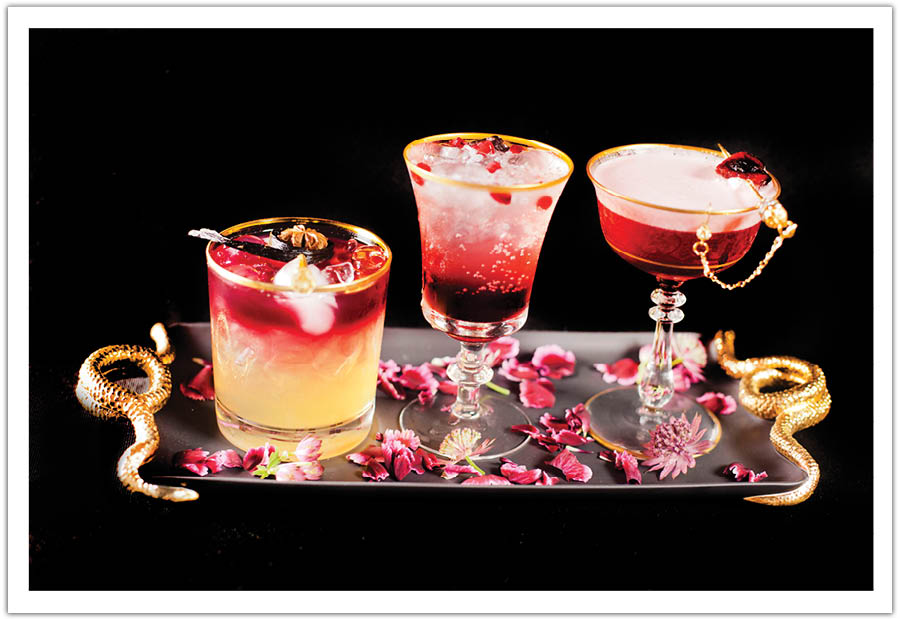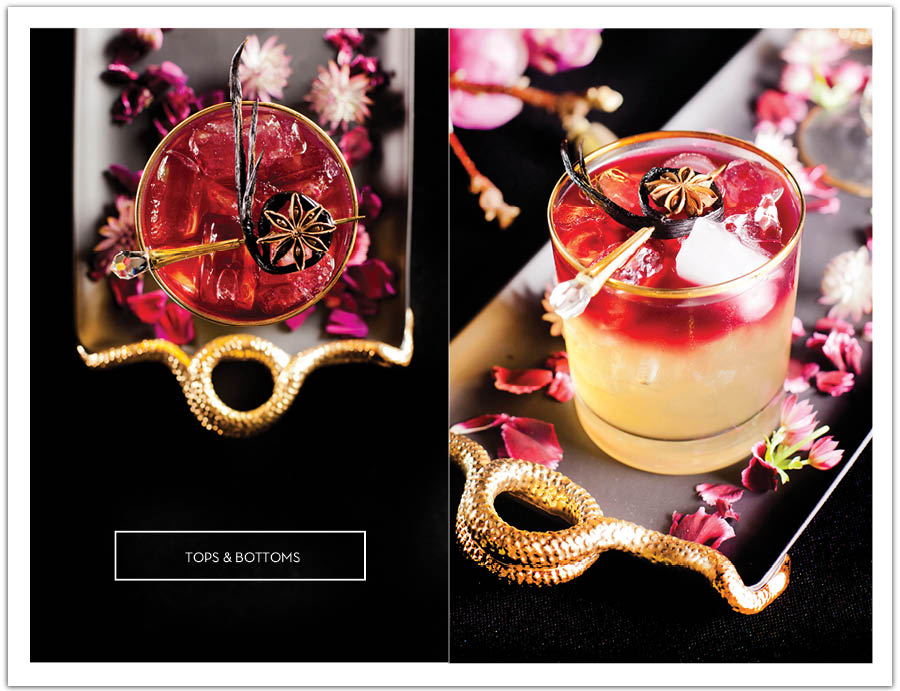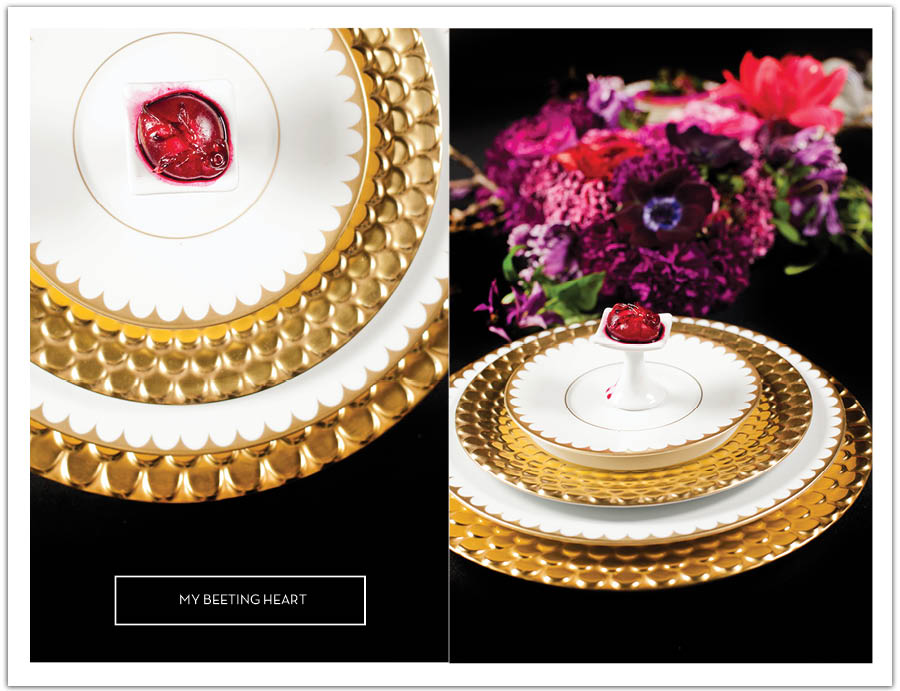 THE FOOD
Brilliant Chef Andrew Spurgin created an intoxicating Valentine's dinner menu of salt crusted abalone and octopus with a lapsang souchang tea consommé,  Gravlax and iberico ham with a squid ink sour cream and hazelnuts. An artists rendition of crudite was presented 2 ways atop a gold starburst and standing to attention… making vegetables once again very sexy…  "Food is and can be very sexy, from the textures, the aromas and aphrodisiac effect" says Spurgin, "even the slightest gesture of feeding your love a sumptuous oyster can be an incredible turn on".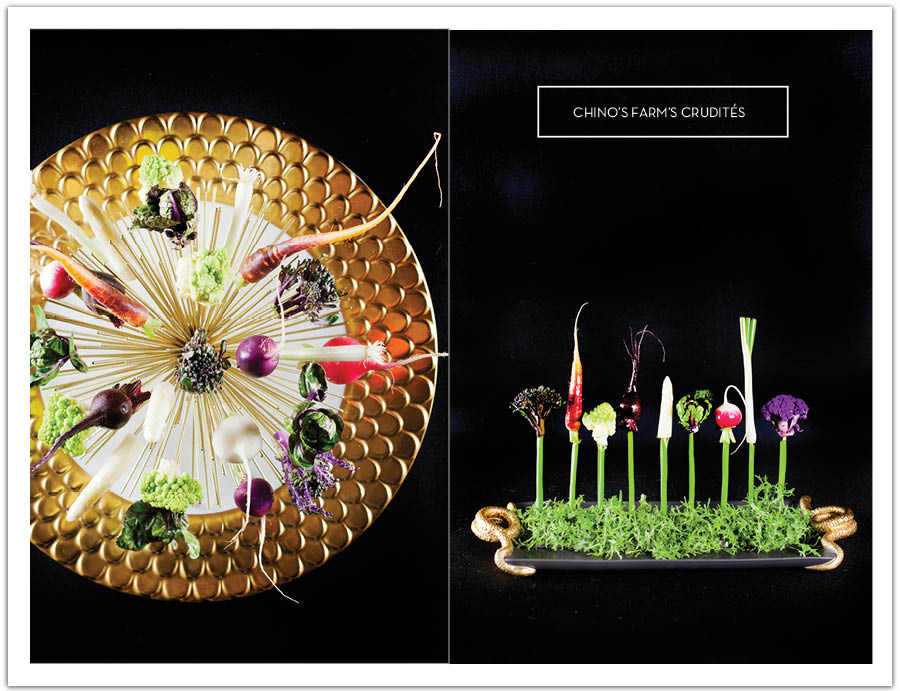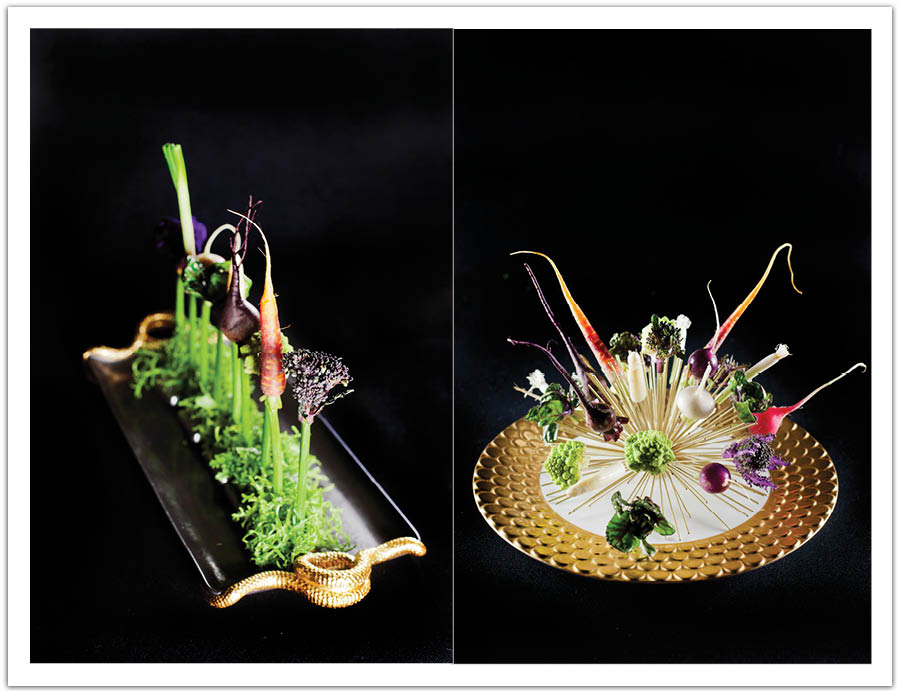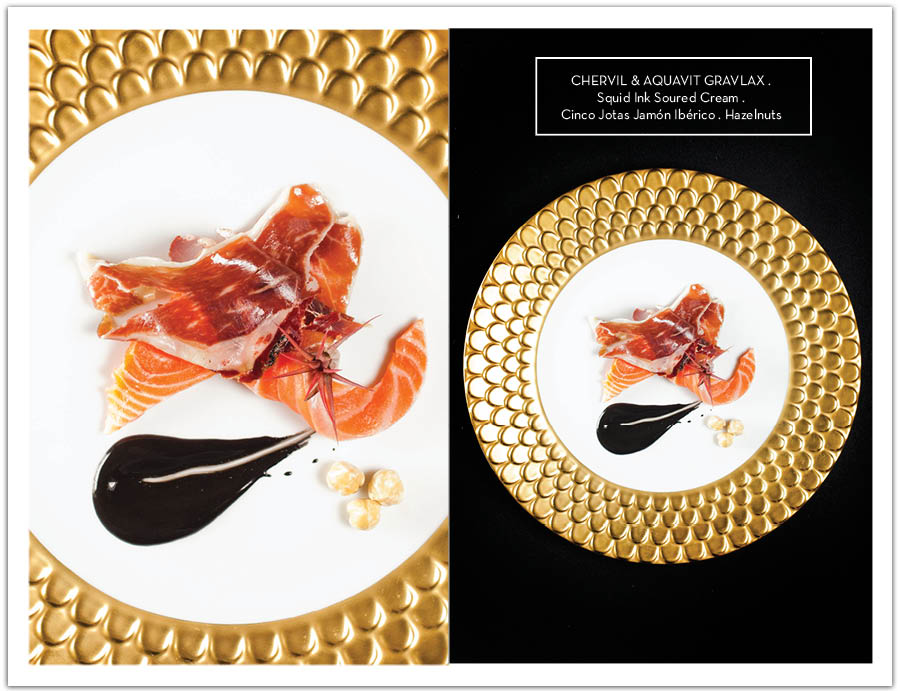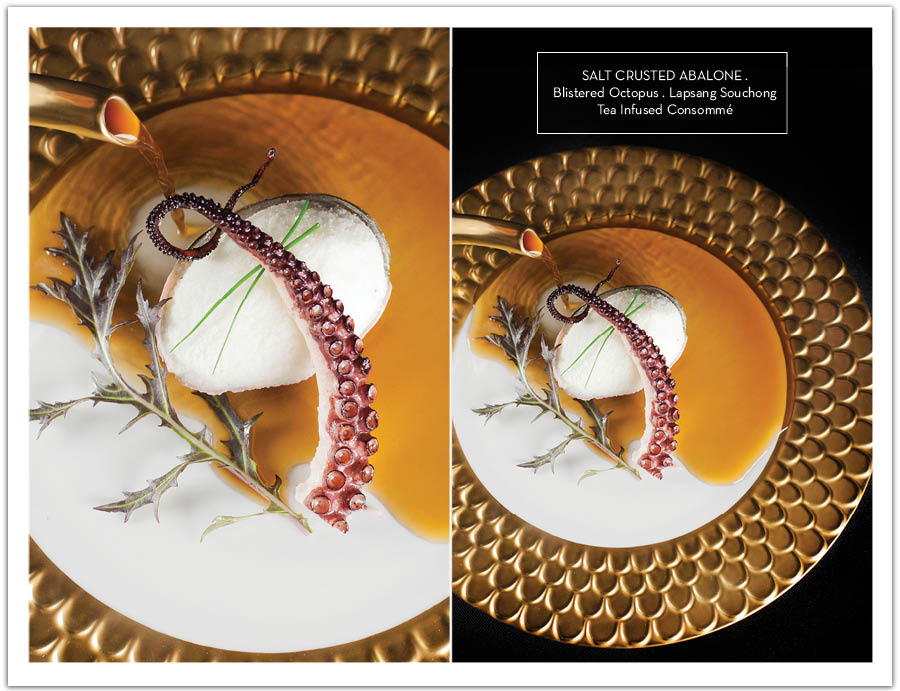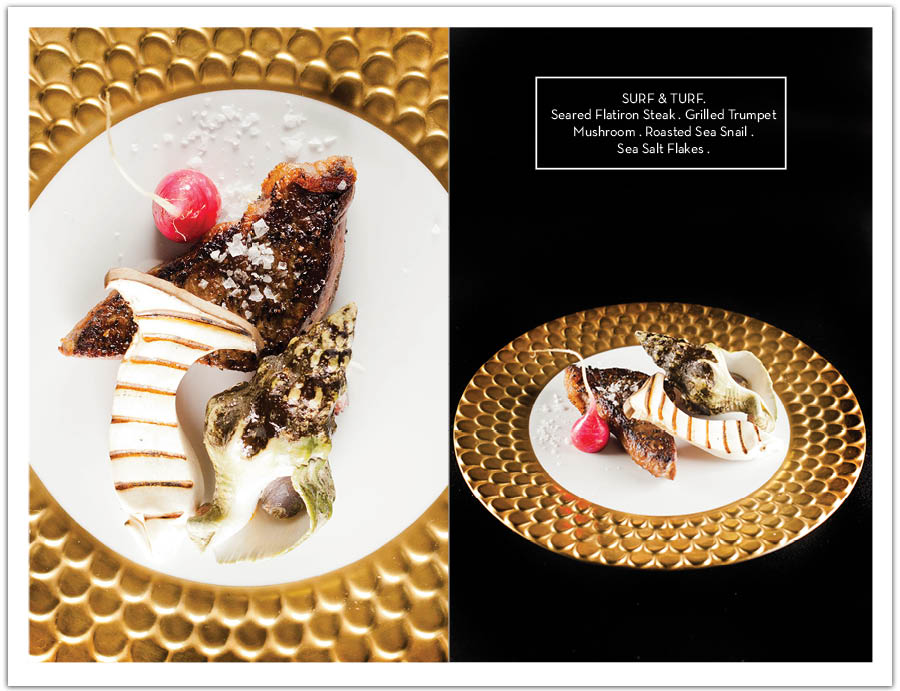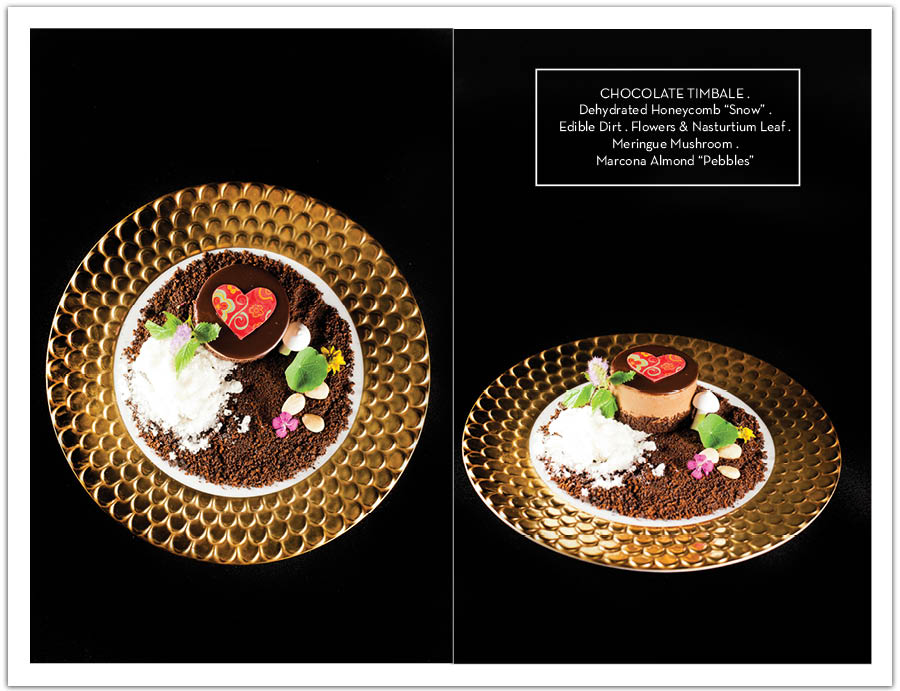 CREDITS:
Design & Styling Vanessa Van Wieren of Alchemy Fine Events
Chef Andrew Spurgin 
Photos by Luna Photo 
Flowers by Isari Flower Studio 
China by L'Objet
Napkins by Huddleson Linens
WANT TO SHOP THE LOOK?
Read More »
Spanish Fiesta Birthday Party
For a recent client's birthday in Rancho Santa Fe we created an intimate Spanish fiesta dinner party with a colorful and bold Spanish flair. We started by laying down a beautiful periwinkle linen and and created tile placemats out of hand painted tiles.  We featured super colorful florals with bright warm fall colors including yellow sunflowers, orange mums and deep red roses. Eggplant purple tapers glowed above the table in vintage brass candlesticks and delicate light patterns were cast onto the table from the rustic ornate lanterns featuring glowing tapes. Mismatched aqua and purple goblets helped to lend even more pops of color on the table offset by an eclectic set of wooden farm chairs and stunning wicker peacock end chairs.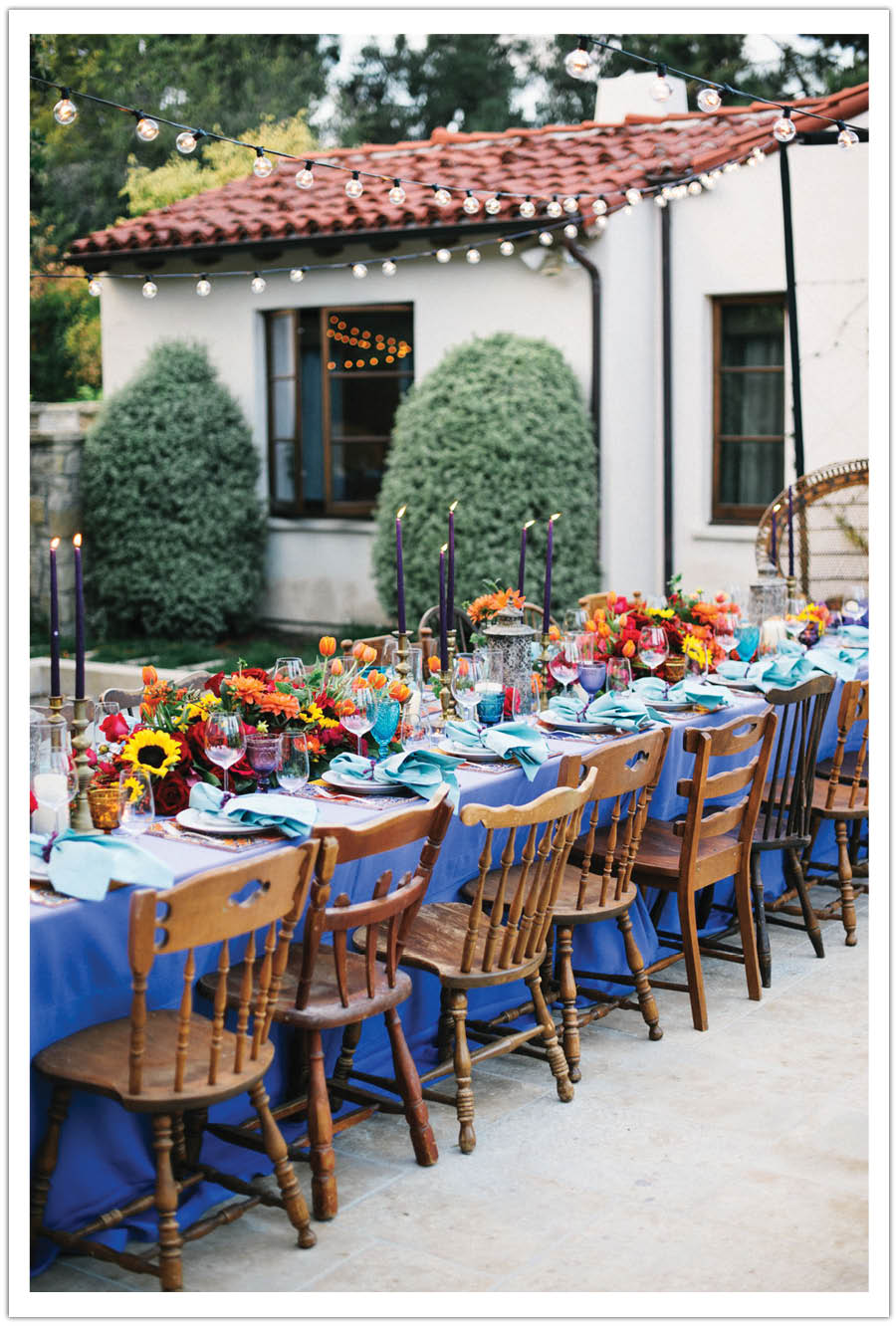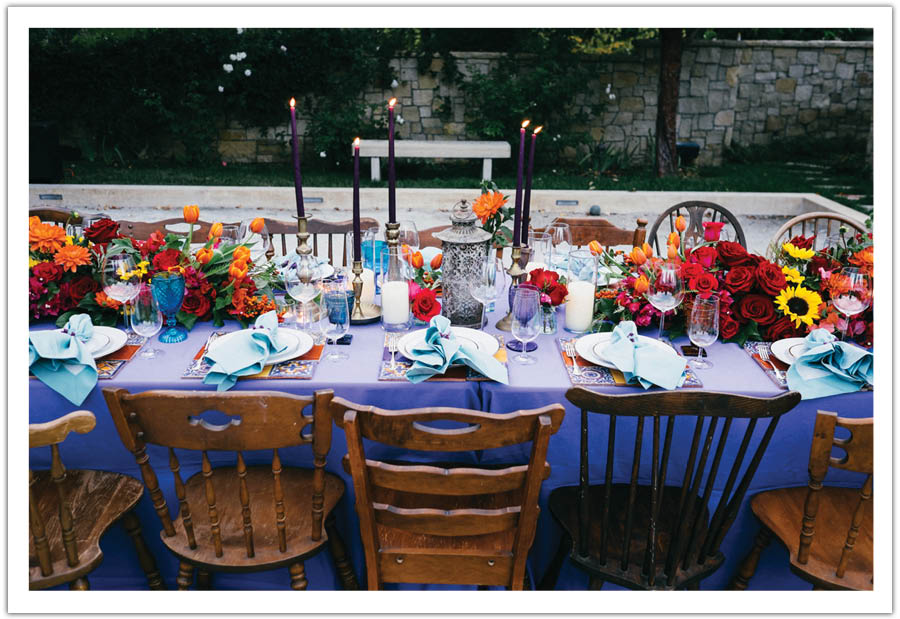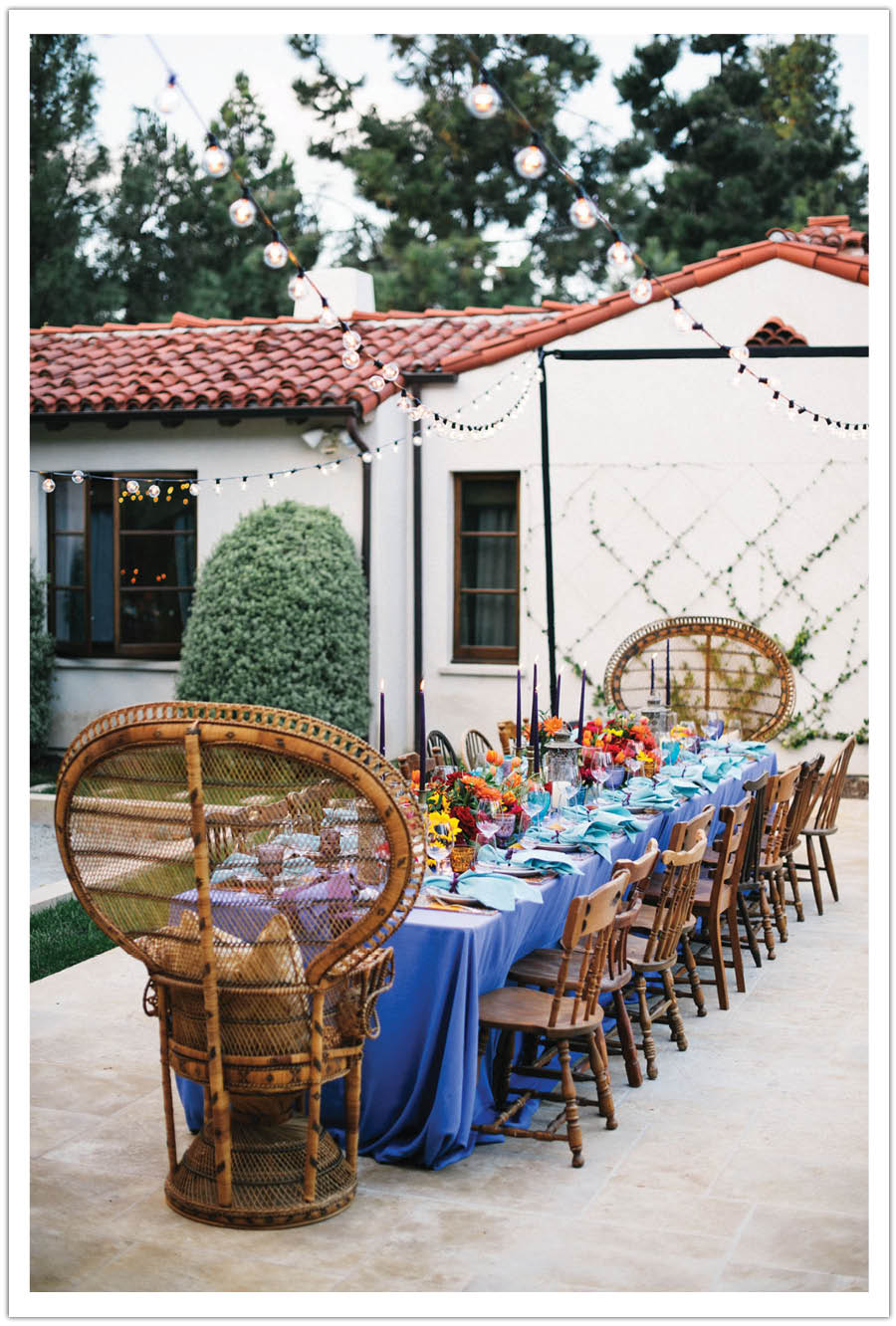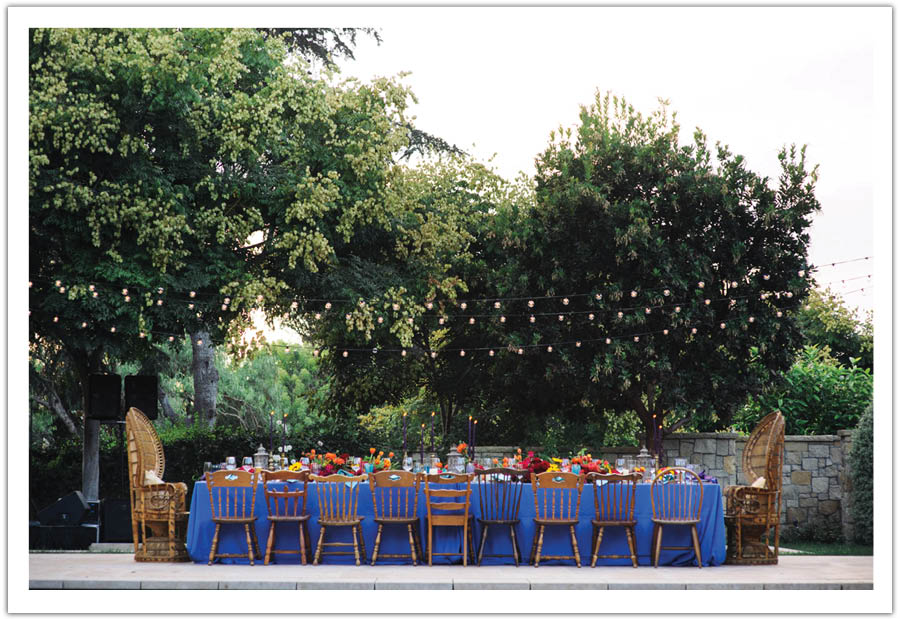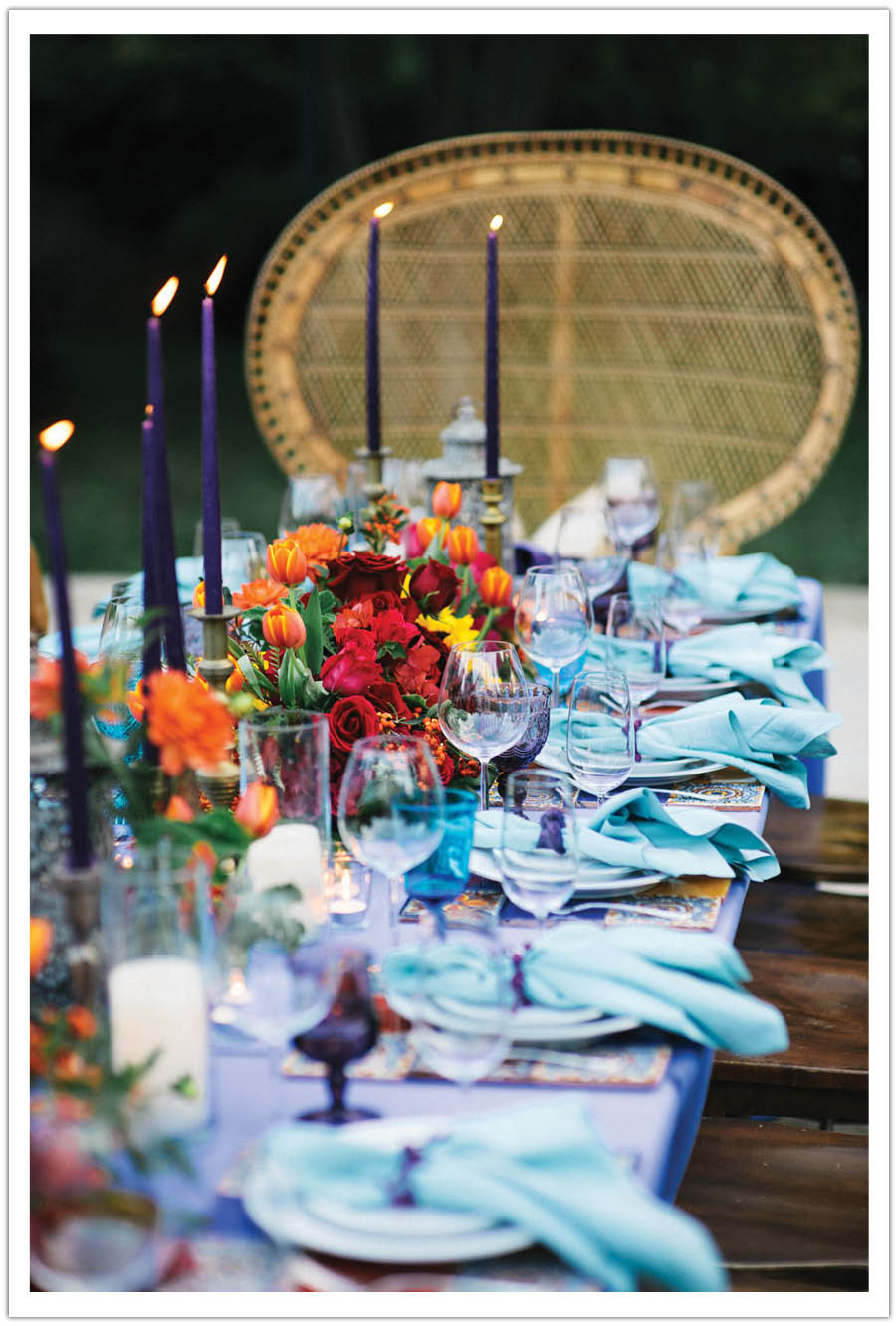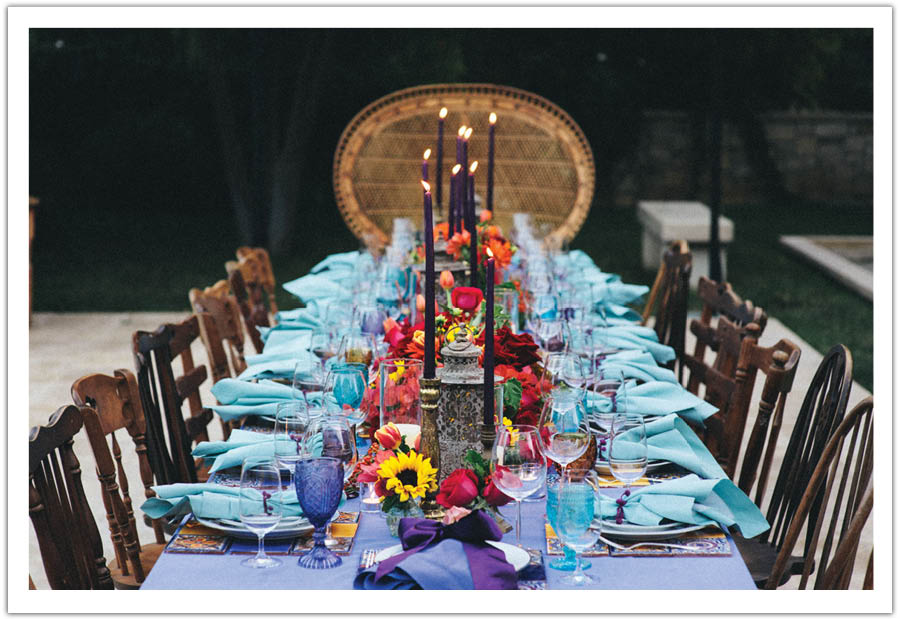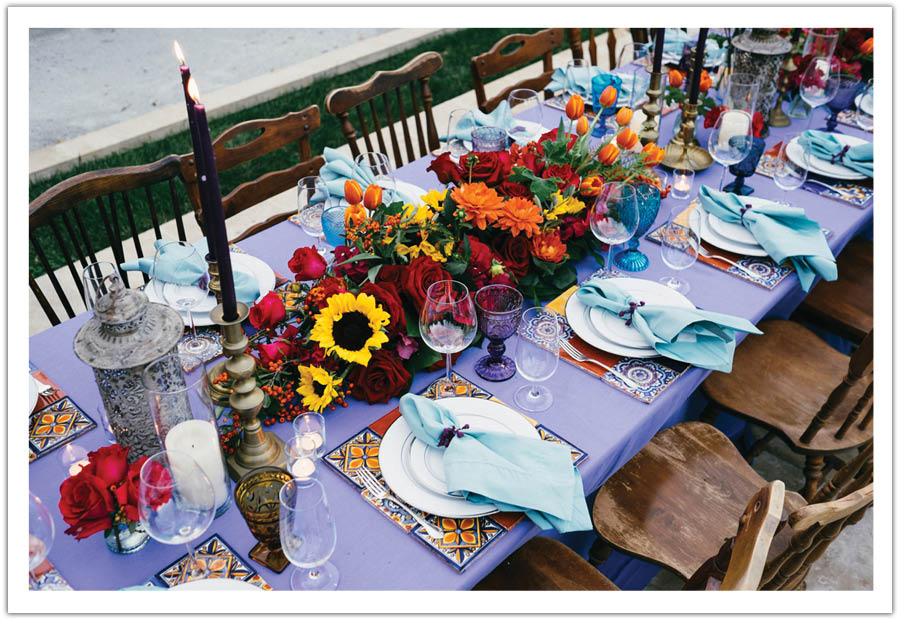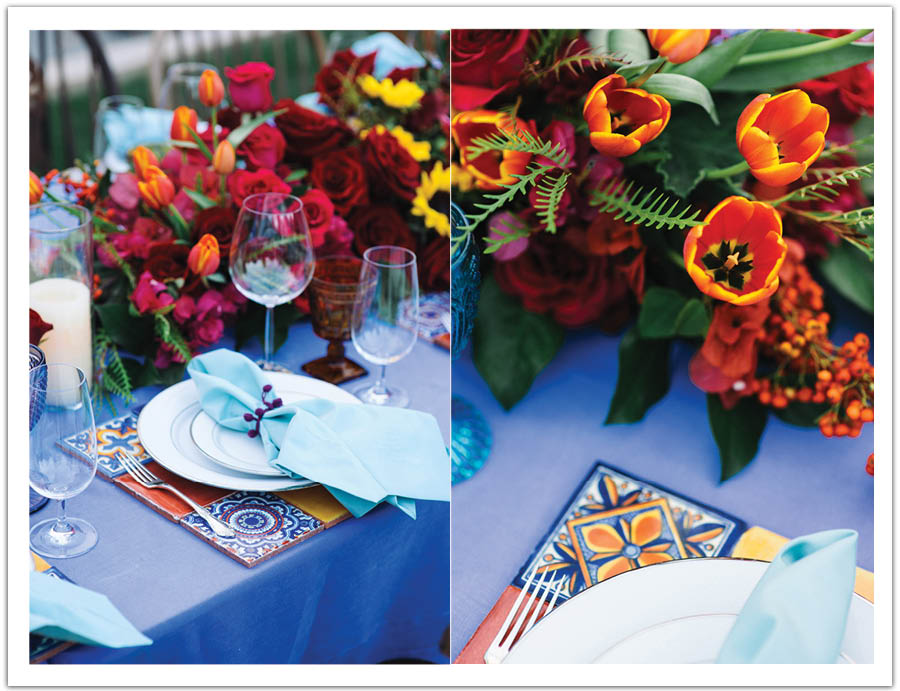 Making a warm entrance into a party, even home entertaining, is alway important to set the tone from the minute the guests arrive. We did so with a bold spray of bougainvillea in an amber blown glass vases and scattered the table with glowing tapers and wooden balls.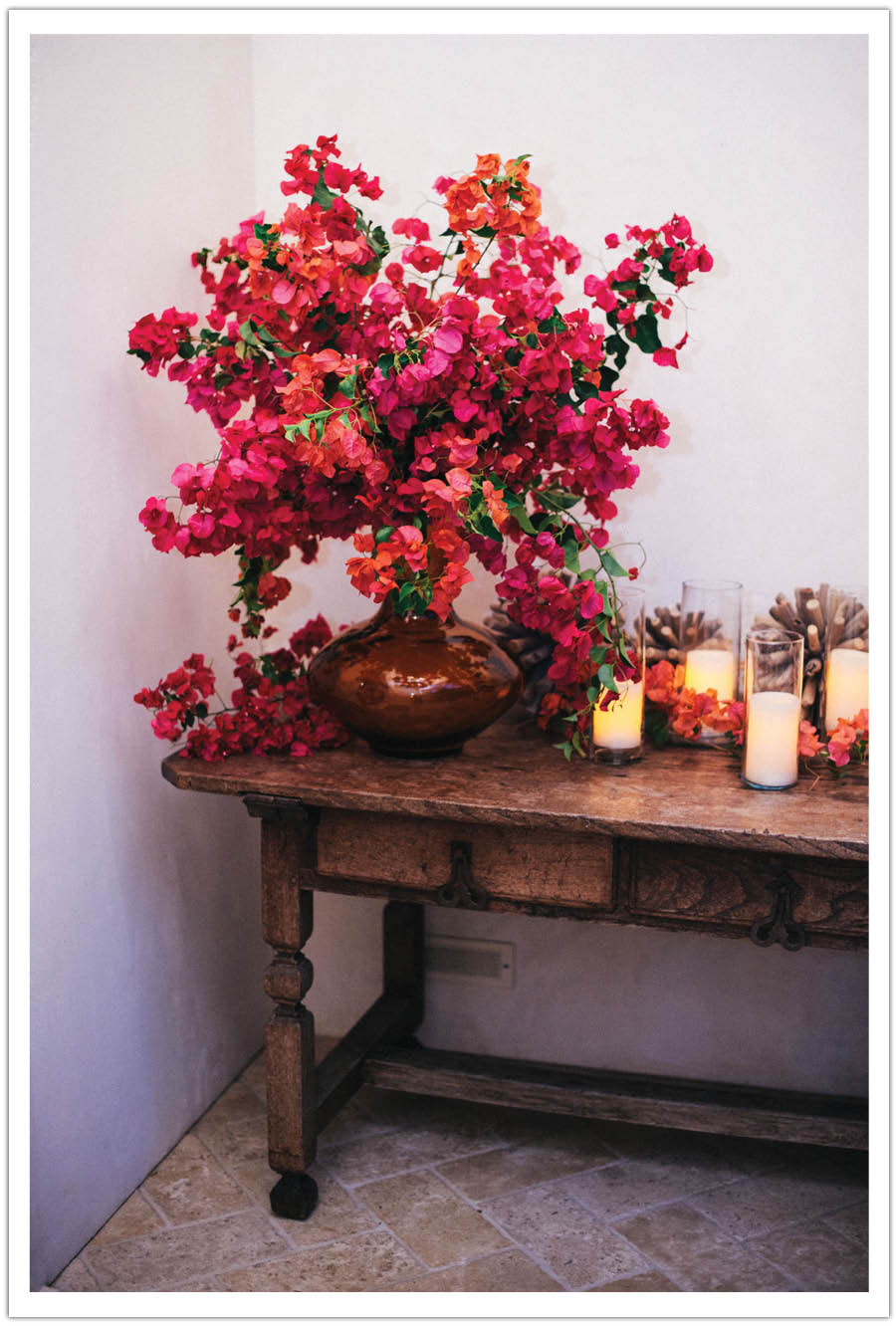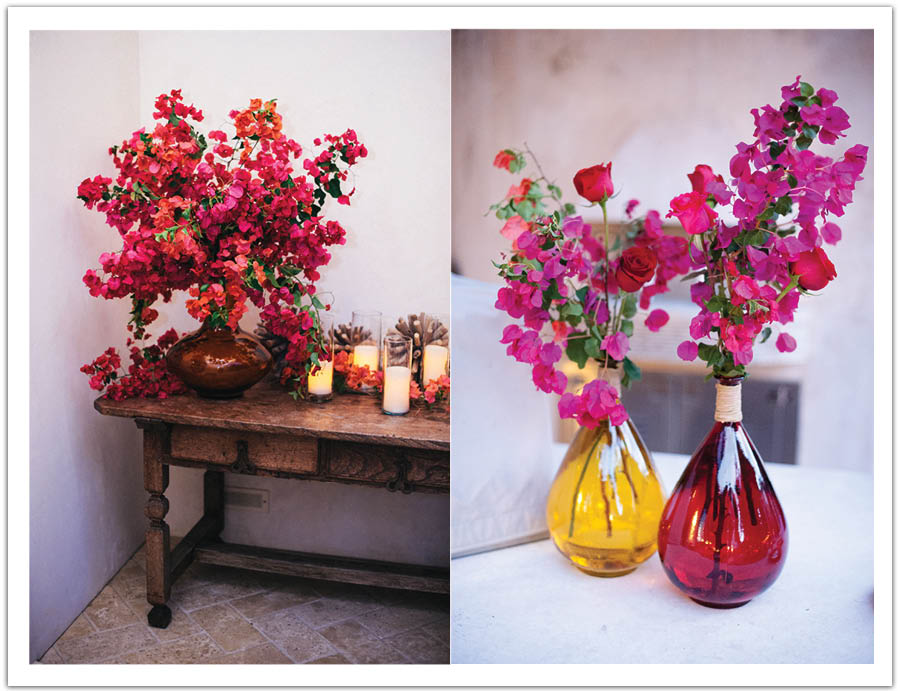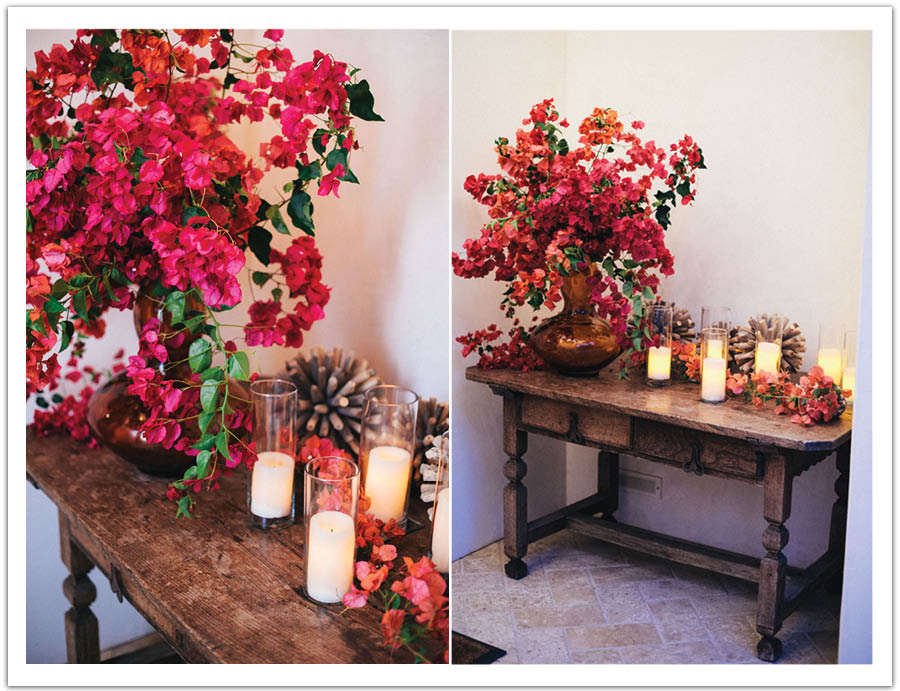 More colorful Spanish glass was featured at the bar with accents of Spanish stars and glowing candles. We created a beautiful collection of Spanish wines and sangria for guests to sip on while they nibbled on tapas from our cheese and Spanish bites tables.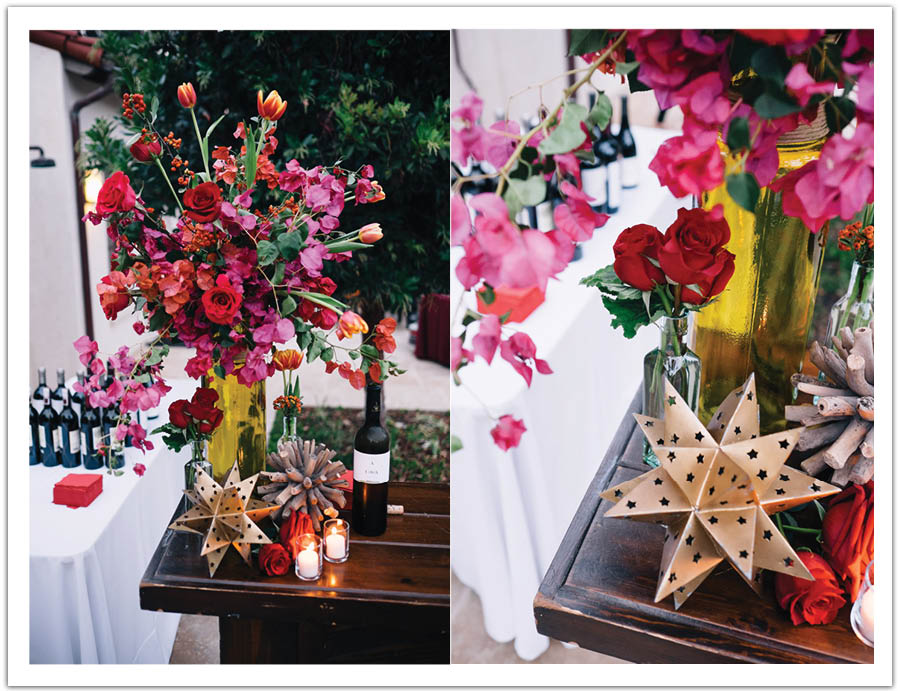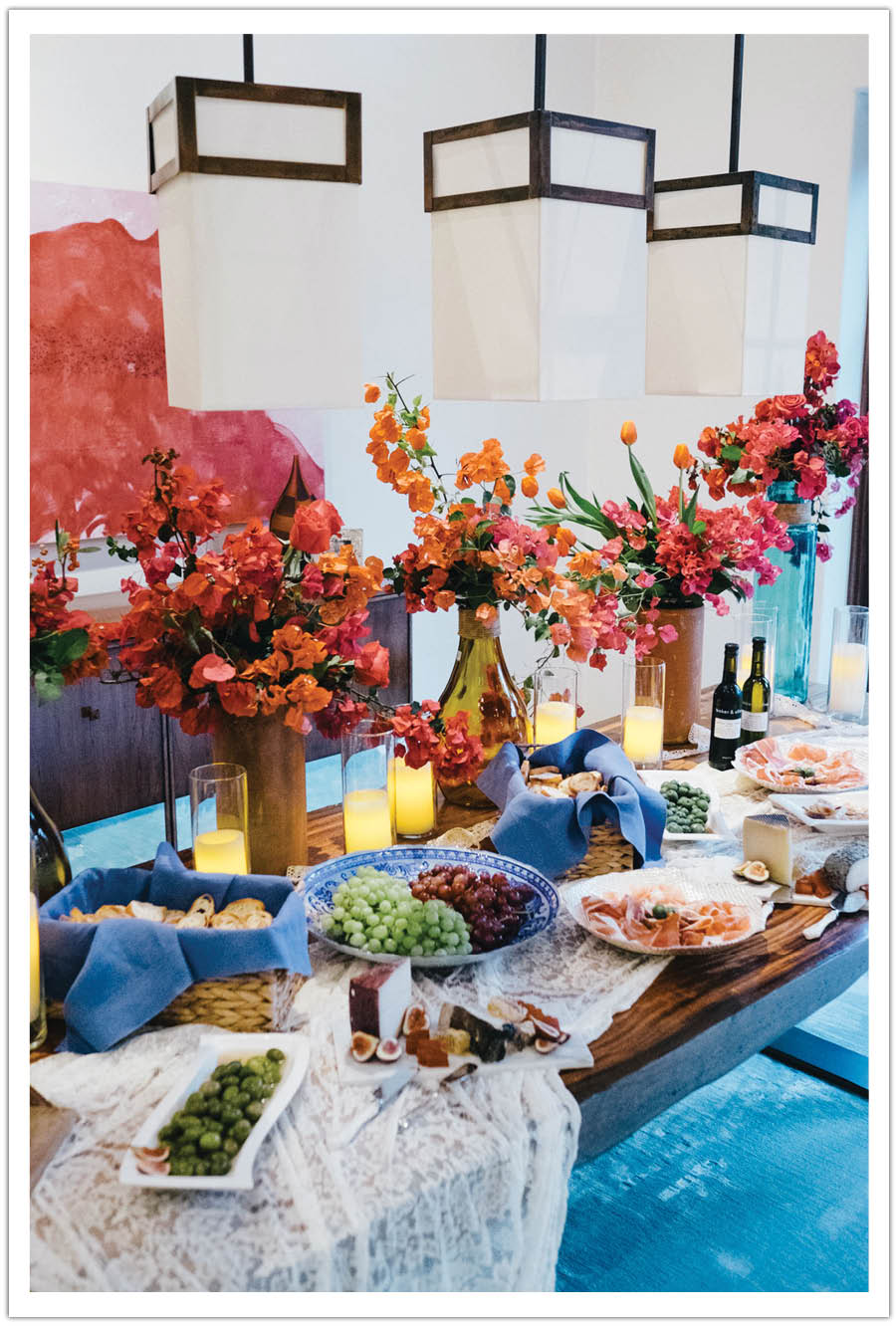 We created a backdrop of colorful Spanish glass, terracotta tubes and glowing pillar candles to display a wide array of Spanish meats, olives, oils and cheese for guests.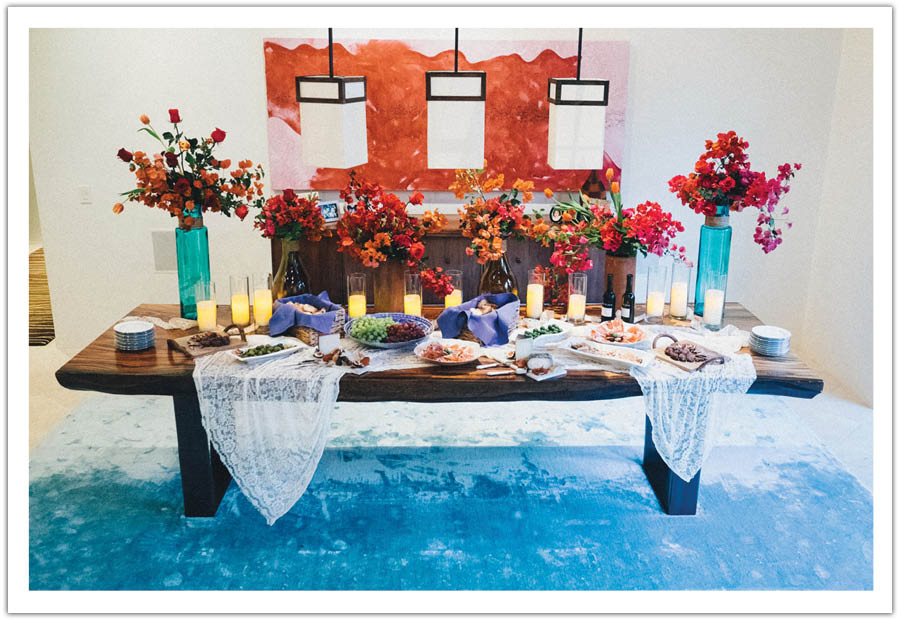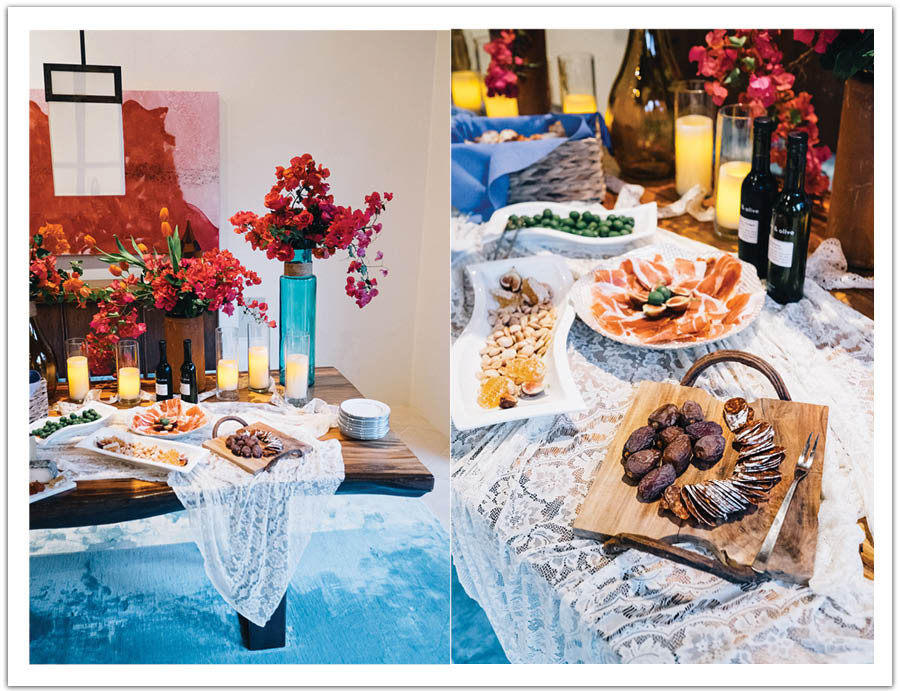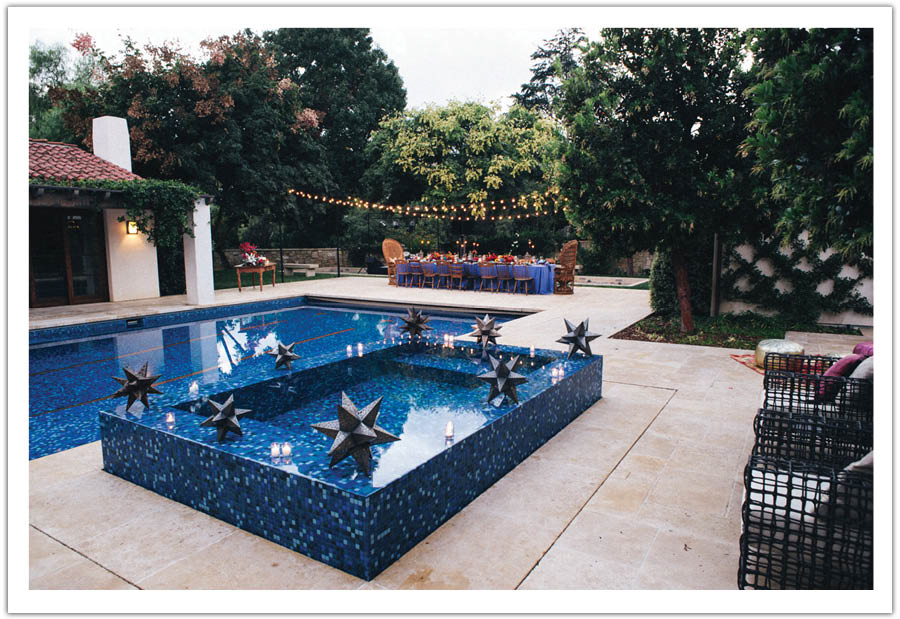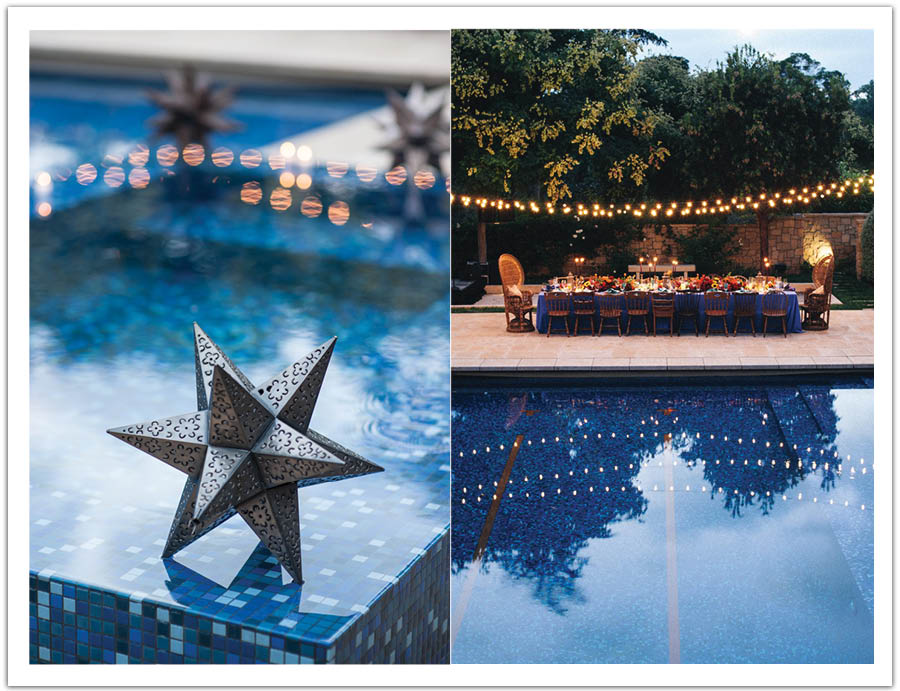 For a backyard birthday party no more than a simple cake a few bites are required but why not dress it up with a beautiful presentation?  We did with a fun array of Spanish glass, tiles, mirrored stars and votives.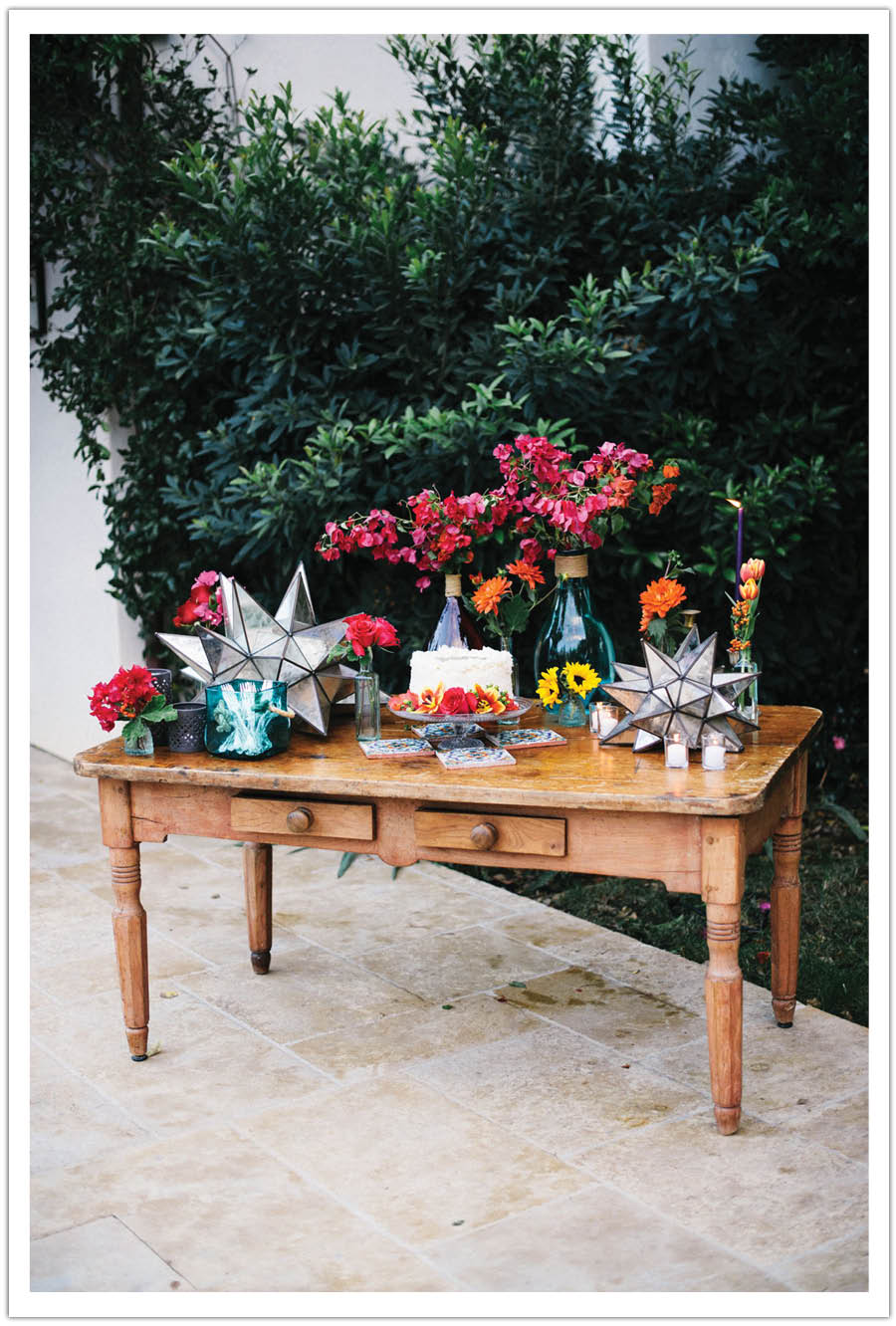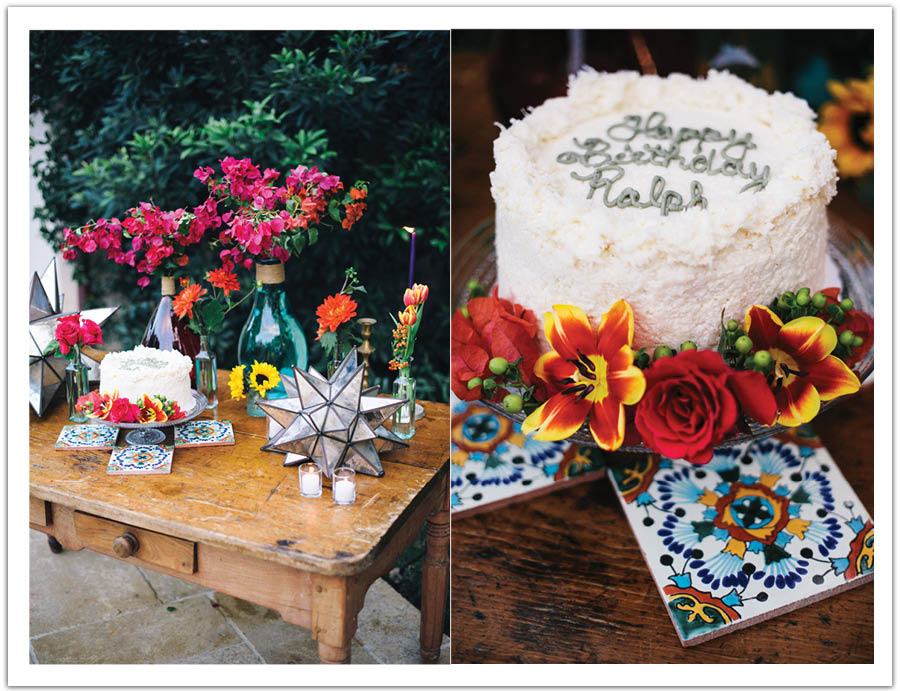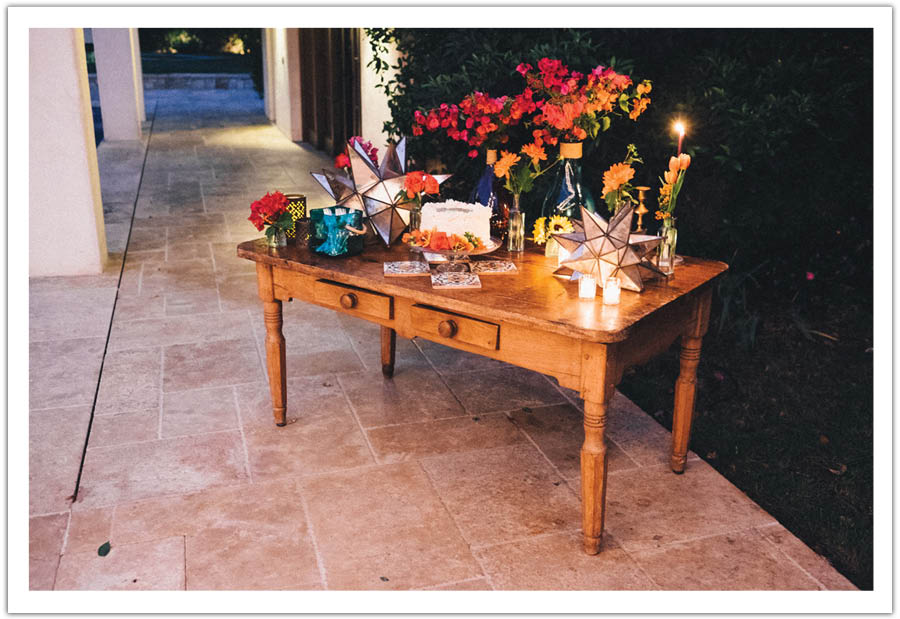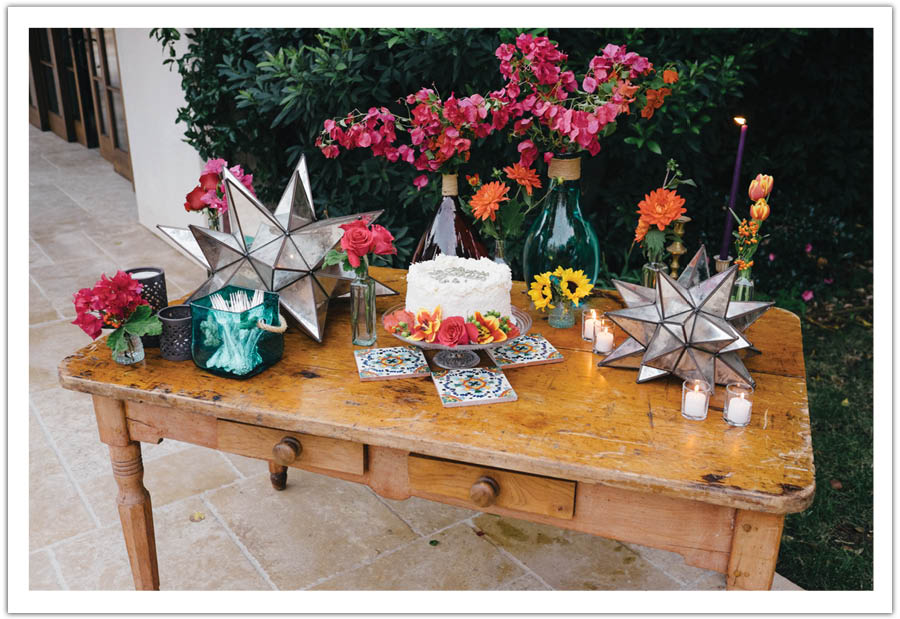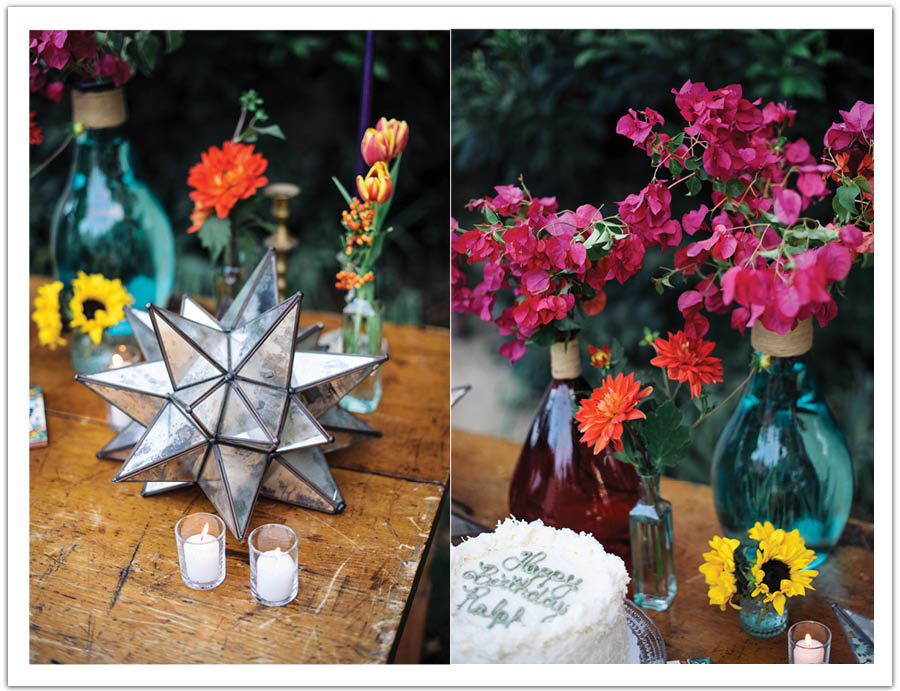 Guests dined under the glowing bistro lights on freshly made paella while listening to the tunes of flamenco guitarist David Maldonado. Even with an intimate party of 20 this goes to show it's all about quality over quantity, even in the comfort of your own home.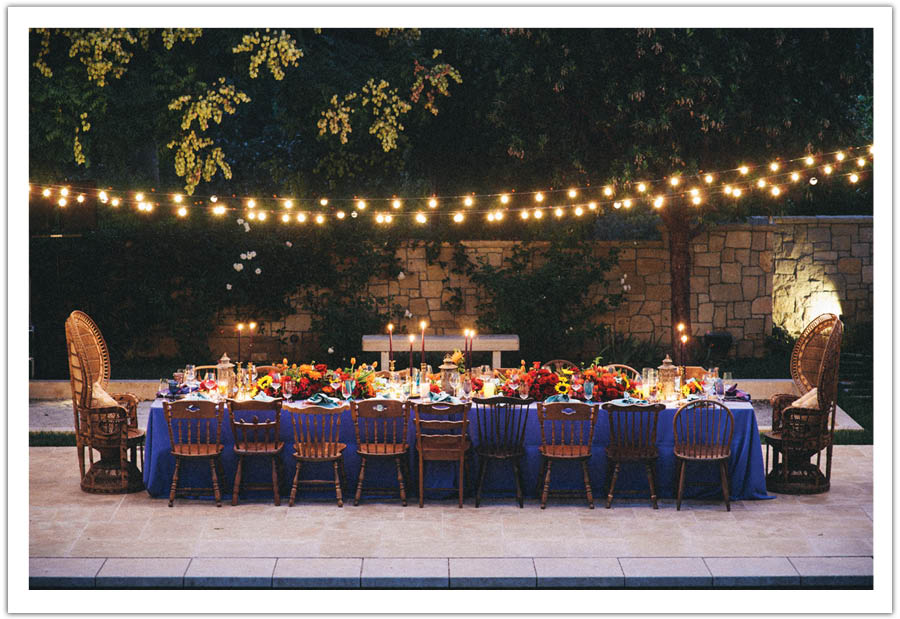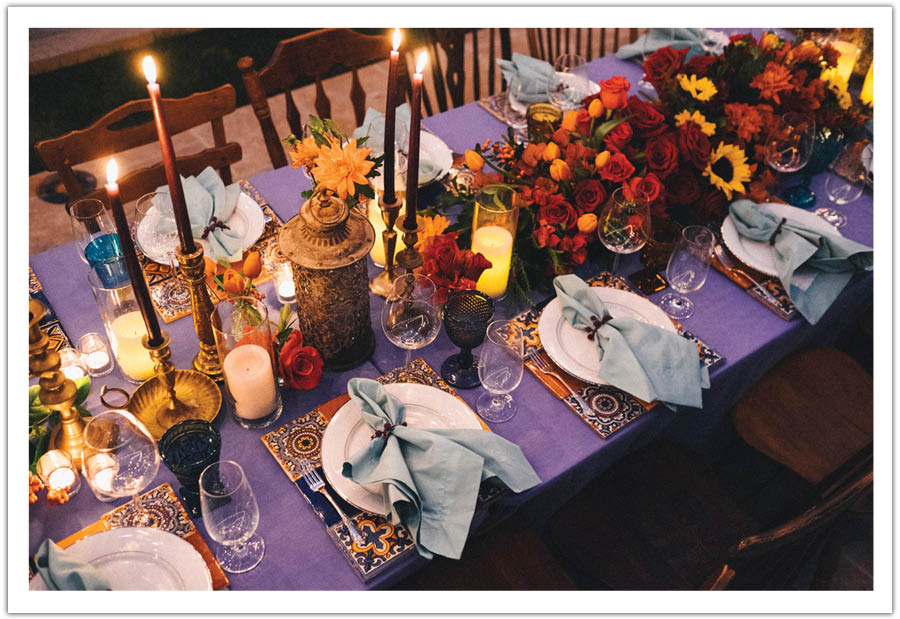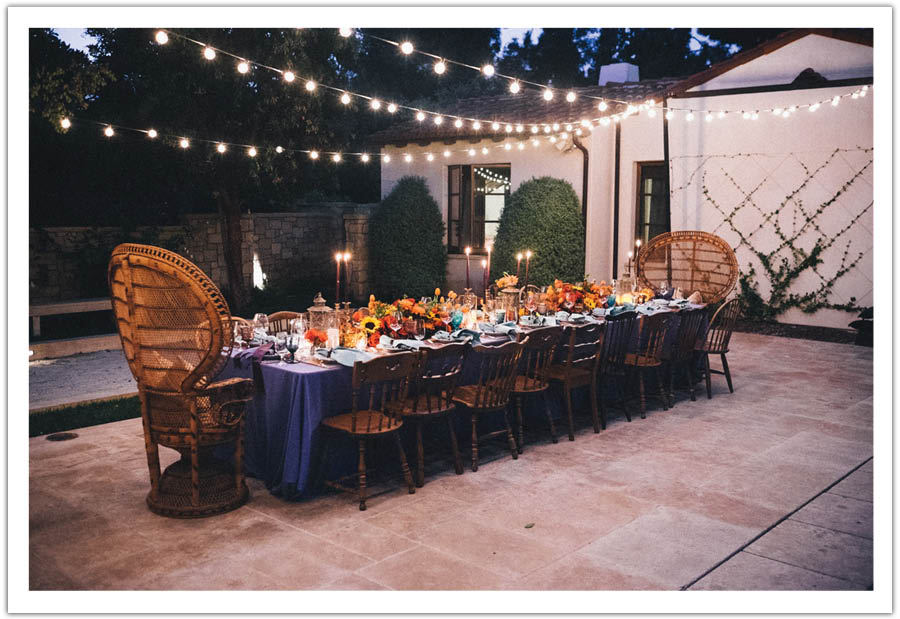 Event Design & Planning Alchemy Fine Events
Music David Maldonado
Photography by John Newsome
 Vintage Rentals by Pow Wow Vintage Rentals
Lighting by LG Productions
Catering San Diego Paella 
Read More »