Designing luxury wedding invitations is a form of art…
Ever since I can remember I've been passionate about drawing and the feeling of putting pencil to paper and the feeling as forms take shape. Creating custom wedding invitations and stationery was such a natural progression and gives me so much pleasure and joy! Working with gorgeous textured papers, hand illustrations, unique fonts and then creating something new out of existing forms and words is like magic when you see it take shape. Sometimes I feel like a fashion designer as I see the strong shapes of letters gently pressed into thick cotton papers, the die cut shapes creating sexy silhouettes and then embellish with chains, stones or laser cut lace to accessorize for the big event.
Cape cod classical romantic letterpressed wedding invitation with chandeliers.    Photography by Cary Pennington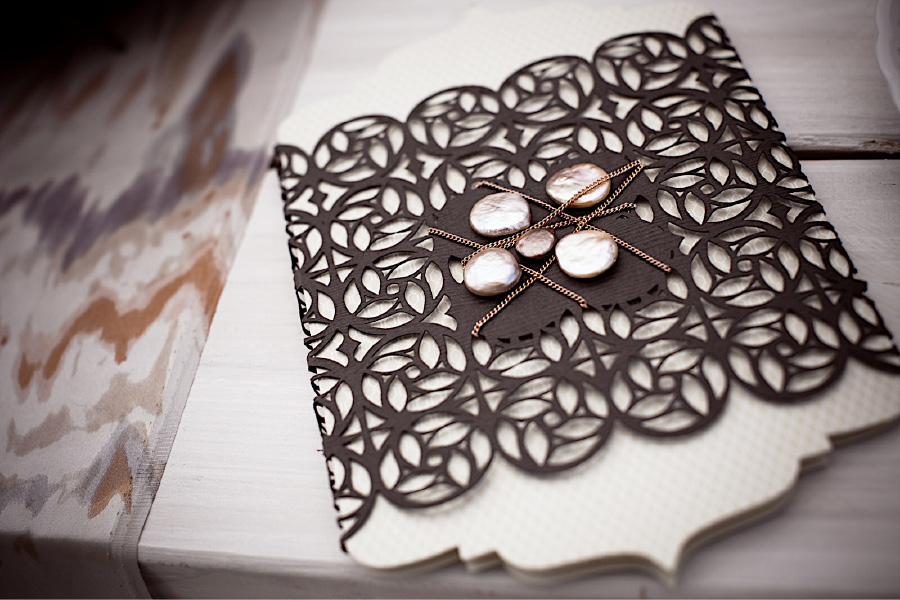 Moorish Opulence wedding invitation with a die cut belly band and pearl and copper chain detailing. Photography by Christine Chang
Day of the Dead wedding invitation with tattoos, mustaches, maracas and skulls.  Photography by Sarah Yates
With each custom invitation design I like to learn about the clients and who they are as a couple, as individuals, their quirks and unique traits to infuse into the design to make it representative of them and their individual style. Of course, customizing an invitation design that you fell in love with at first sight is quite a thrill, to see your name on the unique invitation you fell for, but shopping off the rack does leave the slight chance of bumping into another lady with your same dress on so to speak. For such treasured special events why not have a custom couture invitation designed especially for you… Ensuring that when you walk into a room  this will be one design no one else will have on. Let Alchemy work with you to design your custom invitations for the special events of your life. Whether is be a Holiday Party Invitation, a swank New Year's Eve Party Invitation, that special 40th Birthday Party Invitation, Baby Shower Invitation or of course the biggest and most special day of your life, your Wedding Invitation.