Vanessa Van Wieren to speak at the European Wedding Congress in the Netherlands
We are absolutely thrilled and honored to announce that we will be one of the guest speakers at the European Wedding Congress in The Netherlands March 18-19, 2014 at the gorgeous castle Kasteel de Hooge Vuursche.  Along with Mike Larson, Vanessa & Rob and Jana Williams, we will be speaking to European wedding professionals looking to improve and grow their skills, communication and relationships in the industry. Whether you are photographer, florist, designer, planner, our panel of speakers will be able to give you valuable advice as a wedding professional.
Day one will consist of lectures given by each of the panel members followed by Day Two which offers full day workshops with your choice of wedding professional.
The beautiful Kasteel… 
The Details…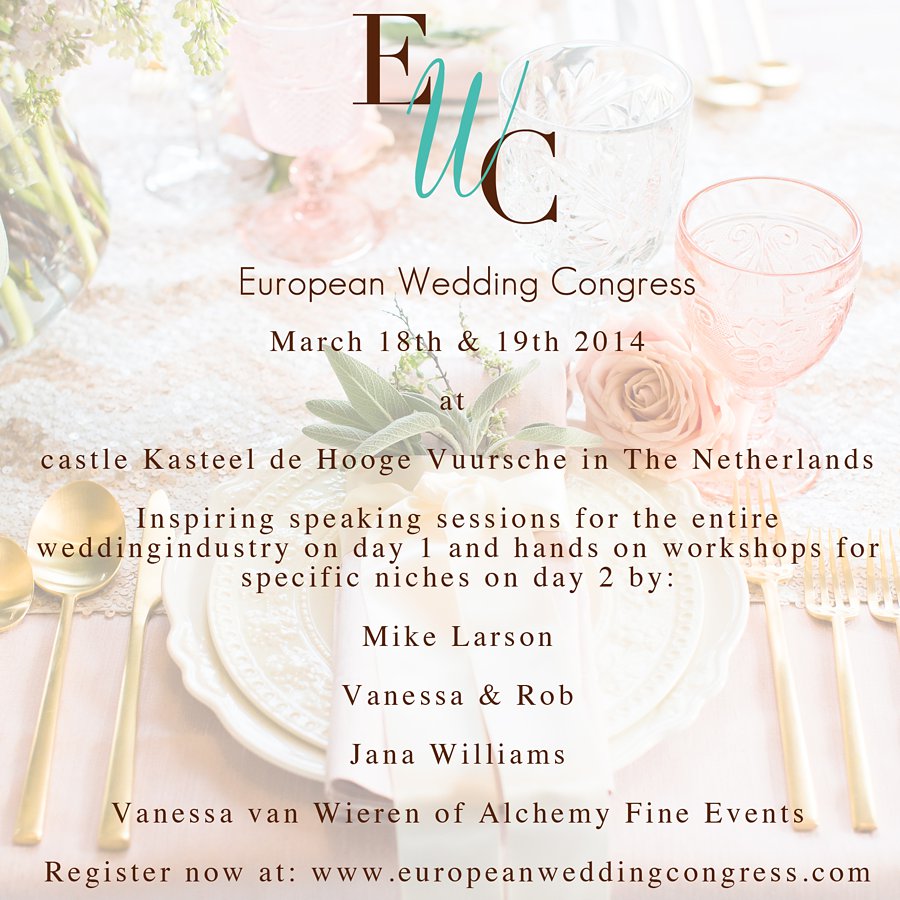 The Speakers…
What Mike Larson will speak about on Day One…
Specializing and finding/succeeding in a niche-As the wedding industry grows there are many talented artists and businesses entering the market.  We need to continue to refine ourselves, and be unique.  Specializing is hard, yet one incredible way to stand out, and rise above the crowd.  We'll talk about the reality of generalizing, and the reasons to specializing.  The direction you choose will determine how you run your business.  Either way, being consistent in one or the other will increase your profitability and simplicity.  Then we'll map out the benefits and outcomes of being a specialist in this any part of the wedding industry. (recommended read to prepare for this class is "22 immutable laws of marketing" by Jack Trout)
What Mike will work with students on for Day Two Workshop…
MIKE LARSON, WORKSHOP FOR PHOTOGRAPHERS:
This workshops consists of a morning part and afternoon part. You can either book just the morning (classroom section) or book the full day which will include the shooting section in the afternoon.
Styling your work so it gets into print! Classroom - morning session.
Our work in Print:
We all want our work to get into print, which is the most honor for what we produce.  I've always printed my work, and created my own printed material from shoots I do.  This has changed the way I shoot so that my work fits better into print media.  We will talk about the effects of just shooting for digital content vs print content, and how to change how we shoot so that we can get our work in print!
A Stylists Perspective:
The most successful photographers are also stylists in that they see things from an overview & a detailed perspective.  We will discuss about how to talk to our clients and the vendors about the important details, the lighting and setup that can make or break the entire shoot getting into print.  We need to notice, and gain the experience over time so we become an authority others seek out.   We can be more helpful to discuss and bring value to each shoot or wedding from this perspective.  I will go over how to get there as a professional and implement all these techniques with our clients planning a wedding so that by the wedding day, we have all the odds in our favor to capture the most beautiful wedding possible!
Styling a shoot:
We will talk about how to set up a shoot and discuss the elements needed, as well as how to go about setting these up so that you can have the tools and ability to produce these on your own back home in the most effective and productive way.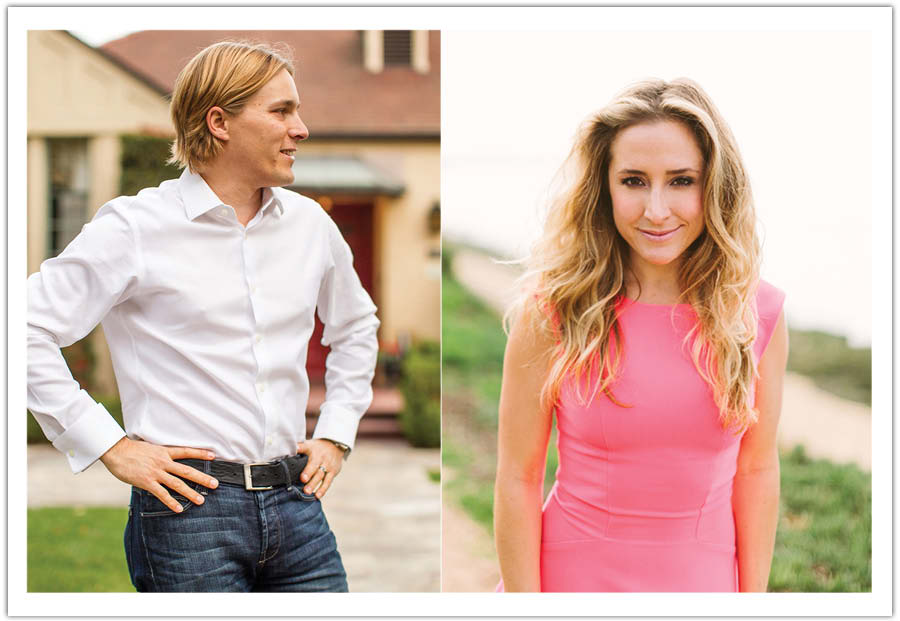 What I will speak about on Day One…
The hour and 15 minute lecture will include the below speaking topics as well as photos of her work explaining her speaking points, including success's and failures of her own work. Whether you are an event designer, planner, photographer or florist, these skills and tips will help improve your level of design and styling as well as the creative process and how you pull inspiration from your clients as well as your surrounding environment. You will be able to improve your clients events and weddings as well as your own portfolio work from a creative or non-creative role..
How to communicate more effectively with your vendors/clients
Speaking & comprehension skills to make your words more effective, avoid miscommunication and create a more impactful presentation to your potential clients.
Learning how to design & create details that the clients want and the media loves.
She will demonstrates this through work that she has accomplished as an example of her point of view. Whether you are a designer, photographer, chef, beauty stylist or coordinator, knowing how to create and capture details that set you apart is what will make you special.
How to design luxurious events from an interior design perspective.
First she will explain the facets of interior design and the definition of luxury to apply towards event design and then she will reveal ideas unique to her style.  She will encourage the students to draw from their own style by creating a workshop on day two. Also walking you through the creative process from inspiration to creation.
Working within a budget and utilizing creative resources for upscale designs.
She will show unlimited budget inspirations and teach the art of drawing back from the expense while continuing to keep the overall vision. Creativity doesn't have to cost a lot.
How to coordinate the day-of and the months leading to the event.
She will explain how to prioritize which details need to be addressed first, second and last.  How do you get the bride down the aisle and still have the dessert display perfect, while not compromising either.  Having the ability to carry out both roles of designer and coordinator can be tricky…but very achievable.
Getting published in print & web media.
There is an art to getting published: She will explain that building relationships with such print and media modes are critical and how specifically to submit your photos as a package.
How to work well with a photographer to ensure that key shots are taken and style alongside them to ensure picture perfect shots every time.
The designer needs to know what print and media are looking for, which magazine requires certain shots, and the quality of images that are preferred. Whether you're a hair stylist or florist, you want to capture the memory of your work or it will be lost in time.
What I will work with students on for Day Two Workshop…
The 8 hour workshop will include walking you through the design and installation process including styling tips and do's and do'nts including constructive criticism and how to style for the camera followed by a group critique and photo session to capture your work.
You will be asked to bring elements with you to create your own tablescape from a shopping list Vanessa will provide to you after your registration. Fresh flowers will be provided and you will walk through the entire process to create your own tablescape from inspiration to creation.
In this workshop we will cover the following topics with hands on demonstrations and your personal education through the process.
 Creating multi-dimensional tablescapes that photograph well
Space planning for the tablescape
Key Elements not to miss• Design=Form + Functionality. Don't overstyle!
How to create inexpensive design items that will add to the table and not the budget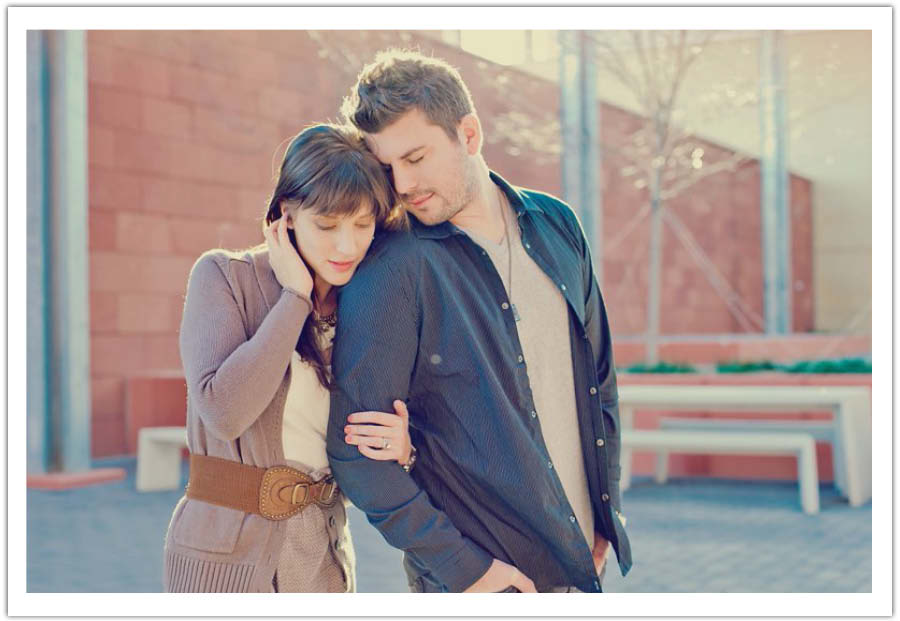 What Vanessa & Rob will speak about on Day One…
Learn how to reach potential clients and expand your online presence by using video in your business. From DIY instructional videos to vlogs that recap your work at a recent wedding, creating simple, professional short videos will help you build your brand and connect with your clients and target market on a whole new level. From the type of equipment you need to understanding how to make yourself look good on camera, Vanessa and Rob will show you just how easy it can be to start using video to differentiate yourself and create a fun, new marketing strategy.
What Vanessa & Rob will work with students on for Day Two Workshop…
Mastering the DSLR Short-Form Wedding
This full-day workshop will cover everything from the necessary gear, crew, camera-blocking, audio acquisition, story-telling, music-scoring and constructing the edit for killer short-form wedding films. You will learn Rob's method for shooting + editing by watching a live demonstration, and touch on color-grading, cleaning-up and sweeting audio. Rob will cover project organization, and even the best methods for storage, delivery, DVD, Blu-ray, and HD streaming delivery and custom branding for your final products. By the end of this workshop you will have all the tools necessary to give you and your wedding cinema an amazing boost of quality and confidence.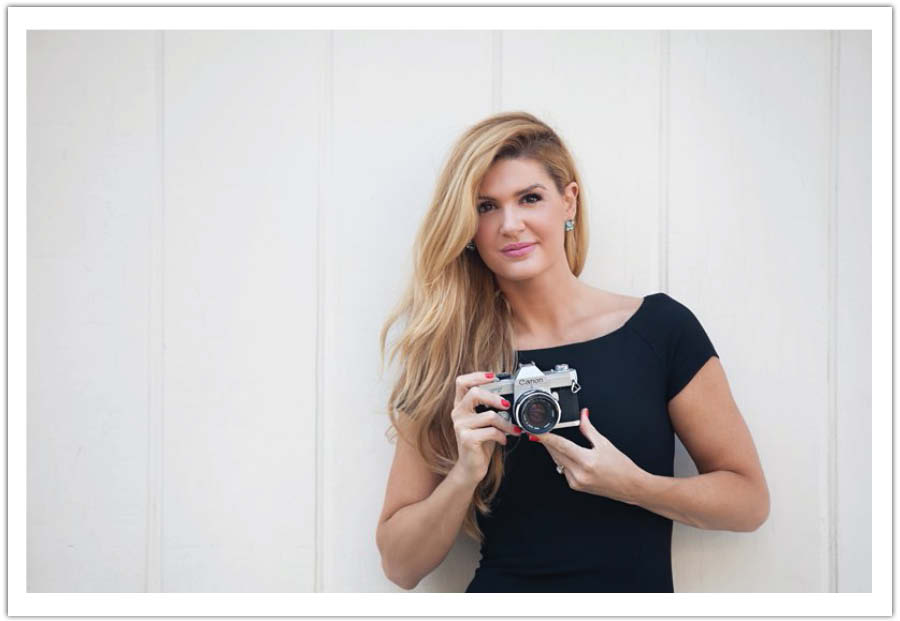 What Jana will speak about..
COMING SOON!
For more information on The European Wedding Congress visit the site here! We look forward to seeing you there!!