Rustic Vintage Winery Wedding Inspiration
Nothing exudes romance to me more than the ethereal age of the Renaissance. From it's flowering of literature, science, art, religion and politics, this golden era flourished from every angle. Combining my passion for art, fashion, history and, of course, Italy, this age became proliferate with some of the greatest minds in our history. Starting in the 14th century in Florence, Tuscany, the Renaissance age boasted incredible works of art by Michelangelo, Donatello, Botticelli, da Vinci and great thinkers such as Dante.  With inspirations from this indelible age, the 4th installment of our Art History for Brides series was born.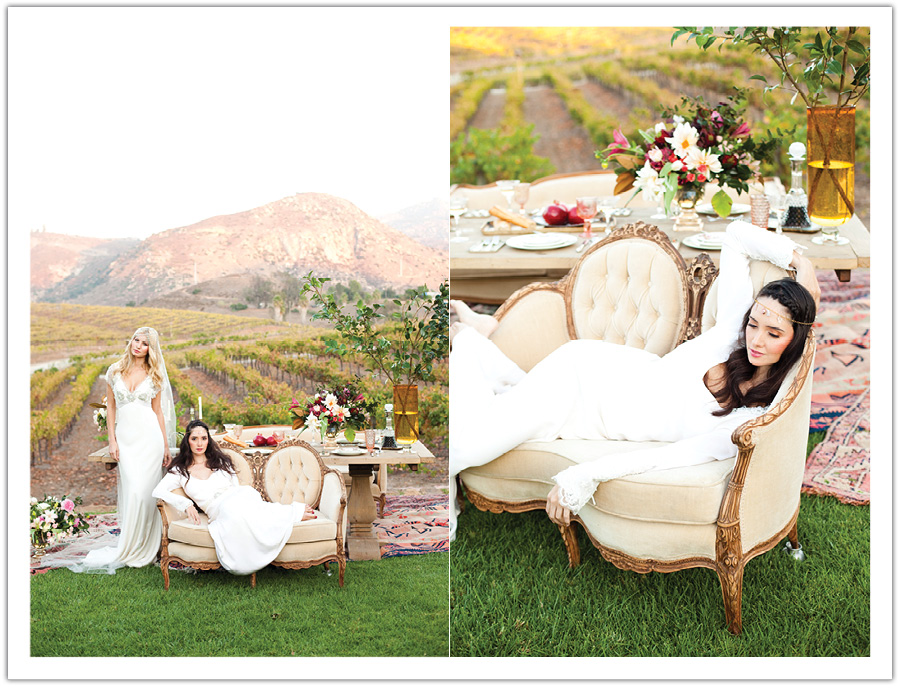 Inspiration
For my interpretation of the Renaissance, I wanted to create softer and simpler, pastel version of what we conceive to be the traditional Renaissance palette consisting of darker jewel tones. My vision was to create a pair cherub-esque brides longingly lounging around a beautiful vineyard feast while waiting for their loves to return, as if a scene from a Botticelli masterpiece.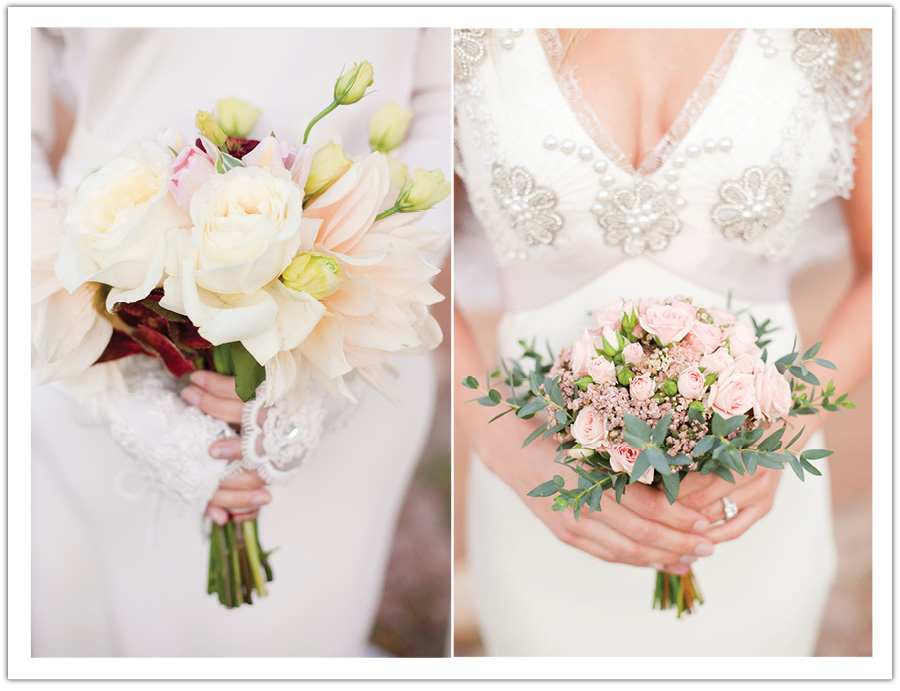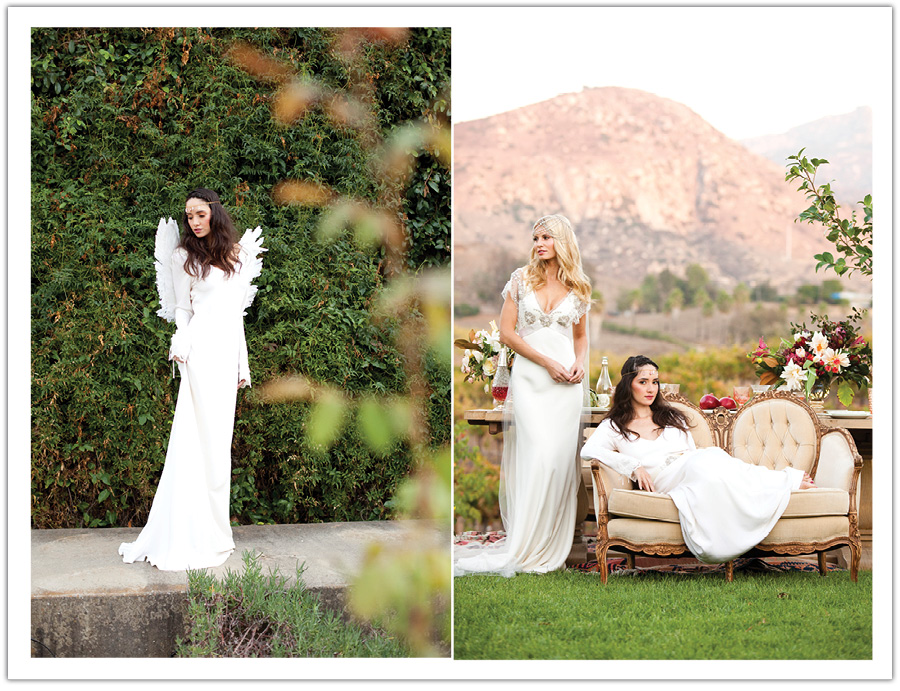 Patterns / Graphics
Florentine patterns featuring intricate floral designs and illustrations were used throughout the shoot including the silverware trays on the table and on the invitations. The 'Fleur di Lis', which was a popular symbol of this time, reflected the political and royal. Born in France and then later adopted by Florentine's as their city's emblem, this symbol appeared on crowns, clothes and even currency as seen in the fiorini, an early Florentine currency.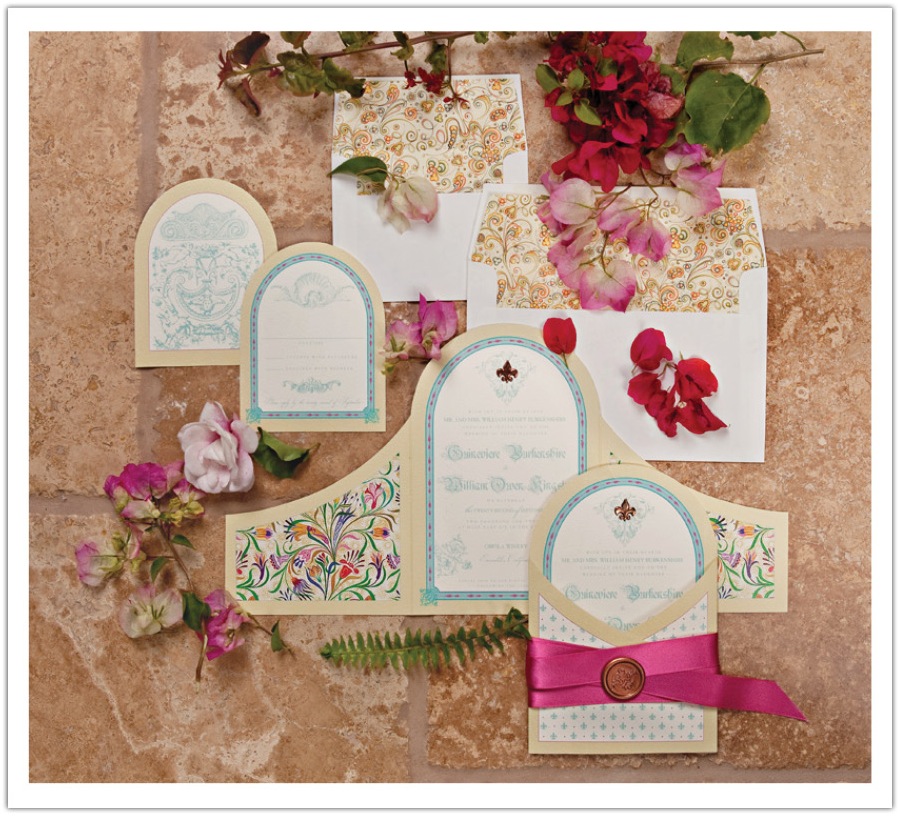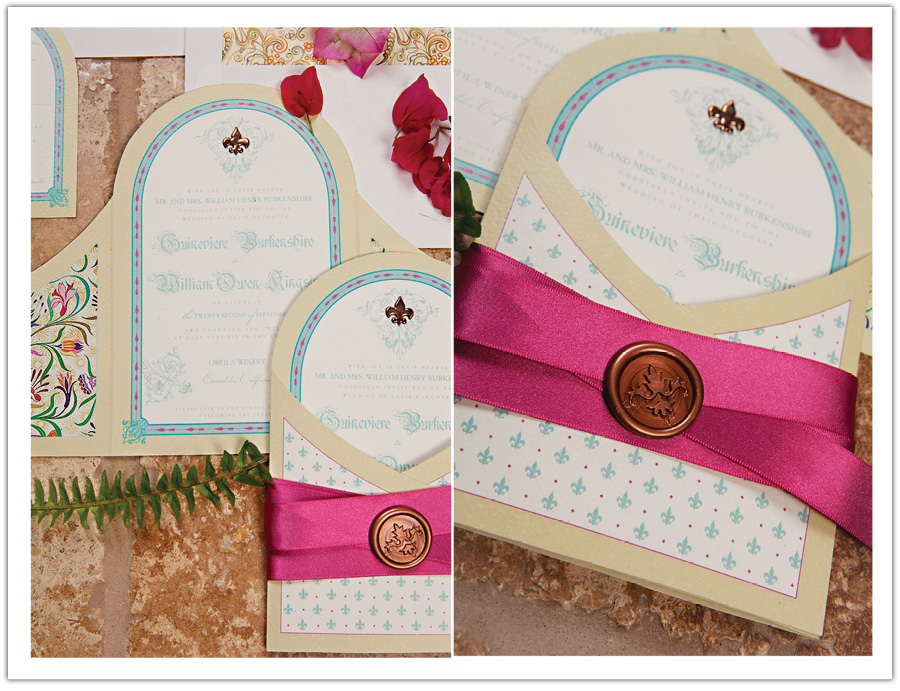 Tablescape
To create our lounge worthy dining area we started by layering vintage rugs from Casa de Perrin then brought in a rustic sun bleached table and a soft vanilla hued velvet couch and love seat from Archive Vintage Rentals. Contrasting patterns of china and Florentine trays by Casa de Perrin were used to display the vintage silverware, fresh loaves of bread and rich raspberry hued pomegranates. Soft pink hued glassware offered pomegranate sprinkled bubbles and a romantic balance to our cut crystal decanters.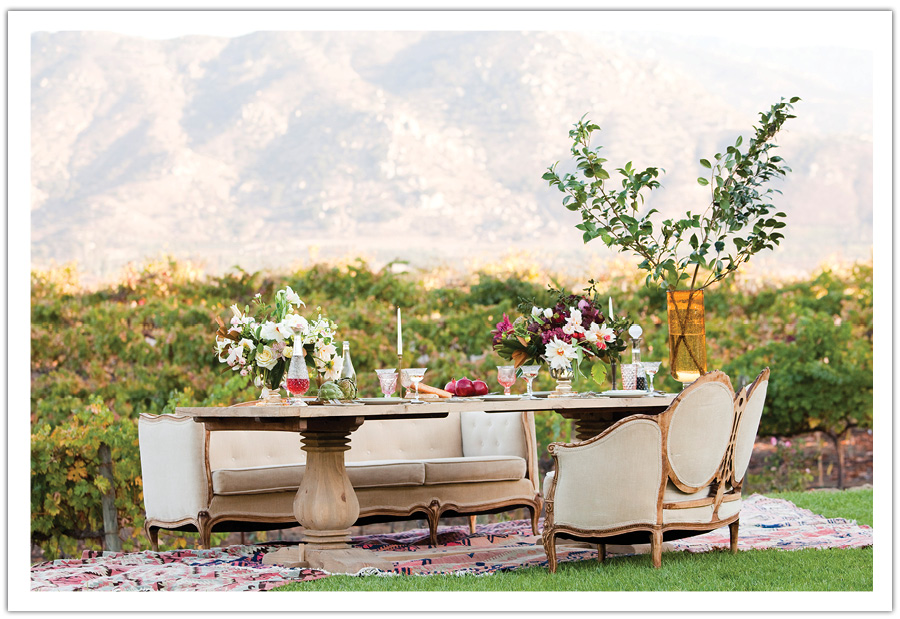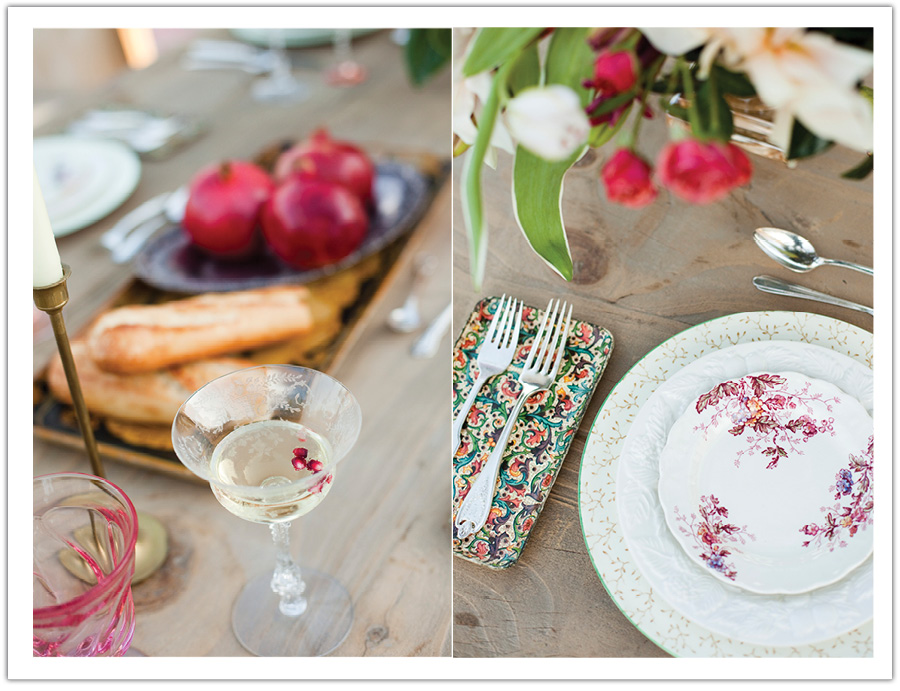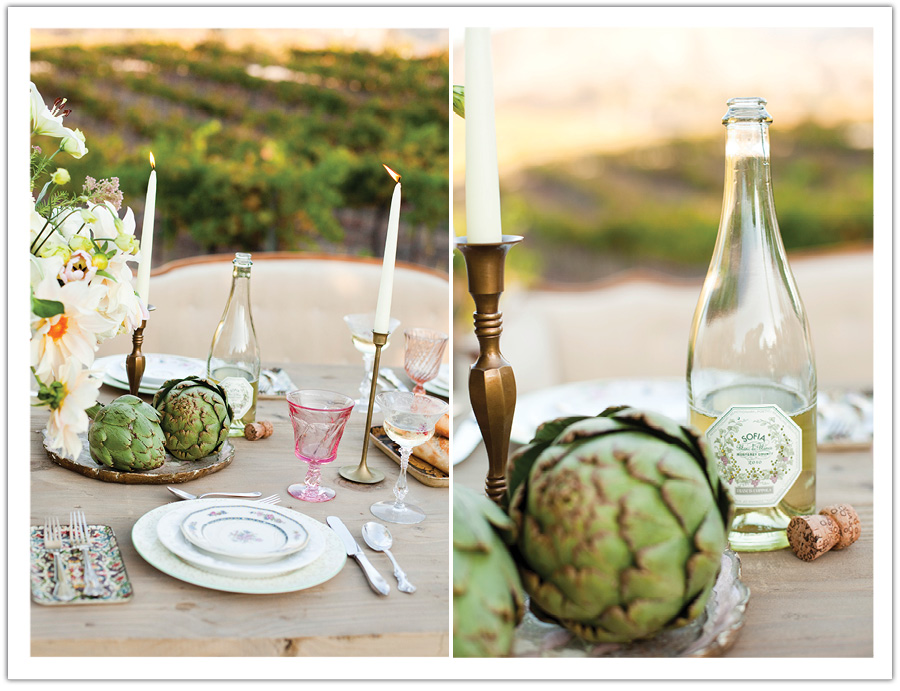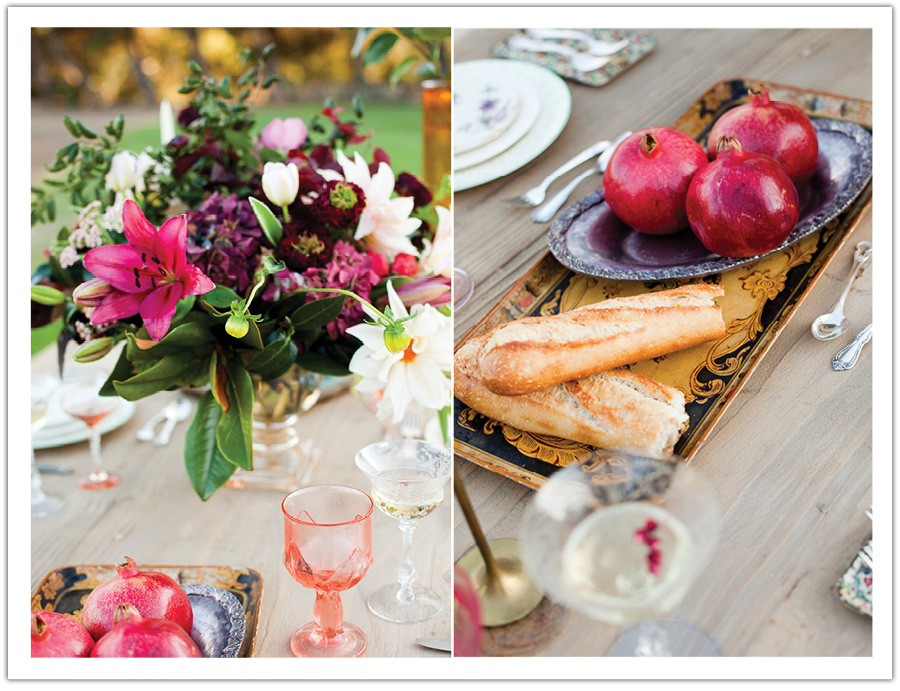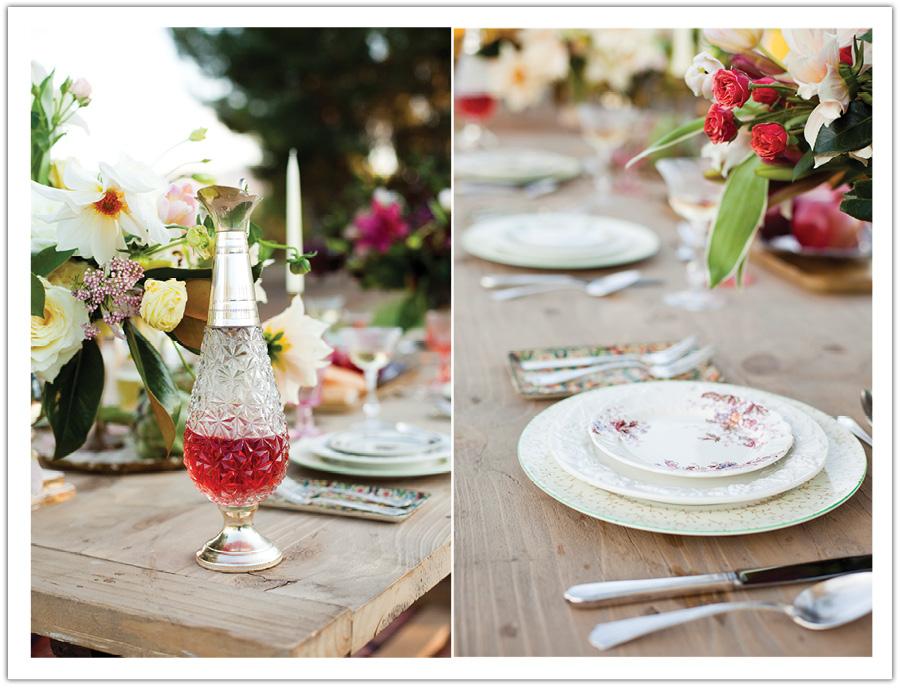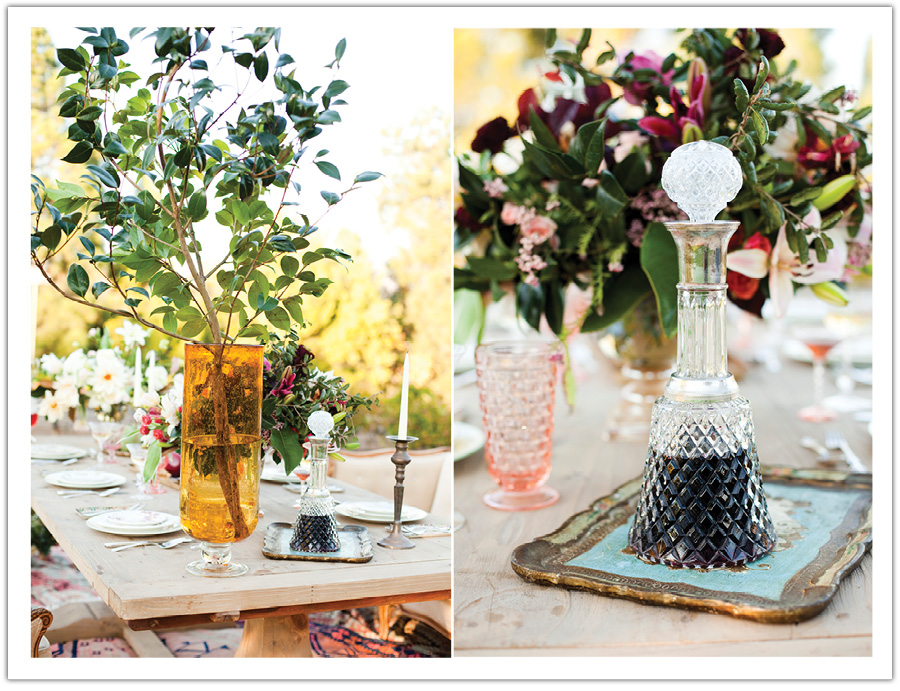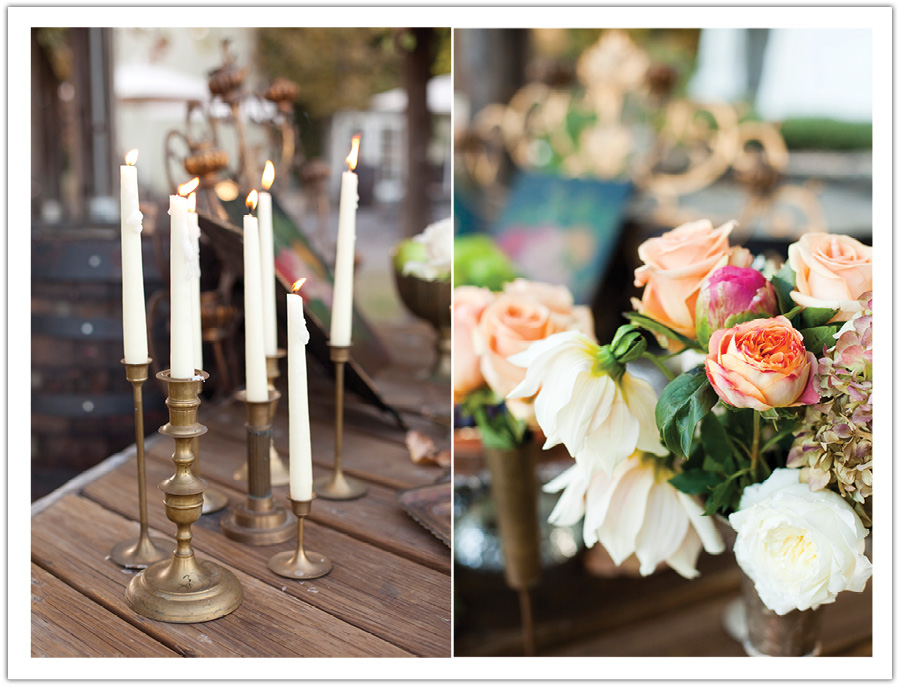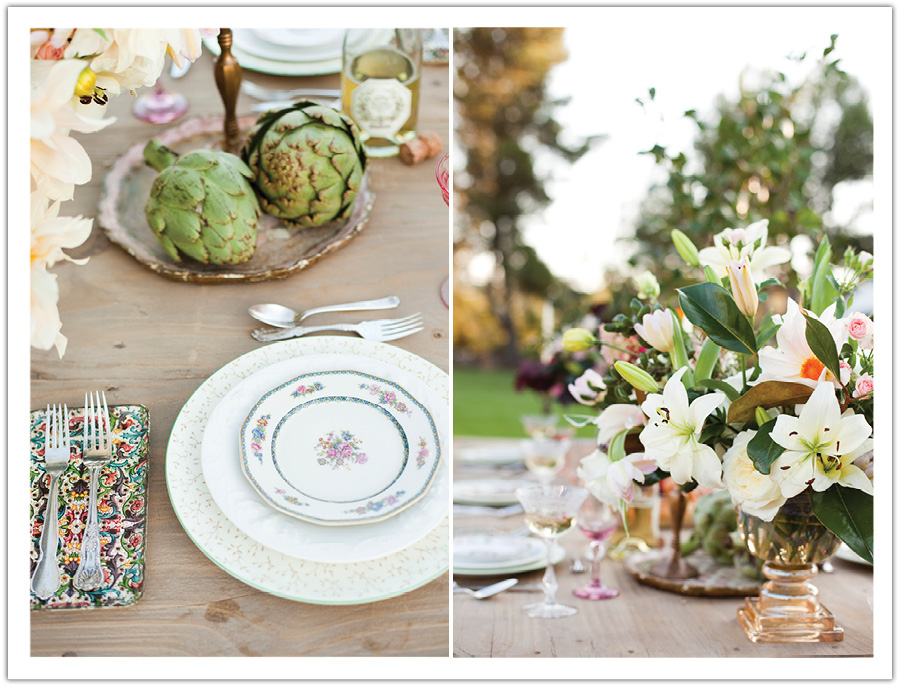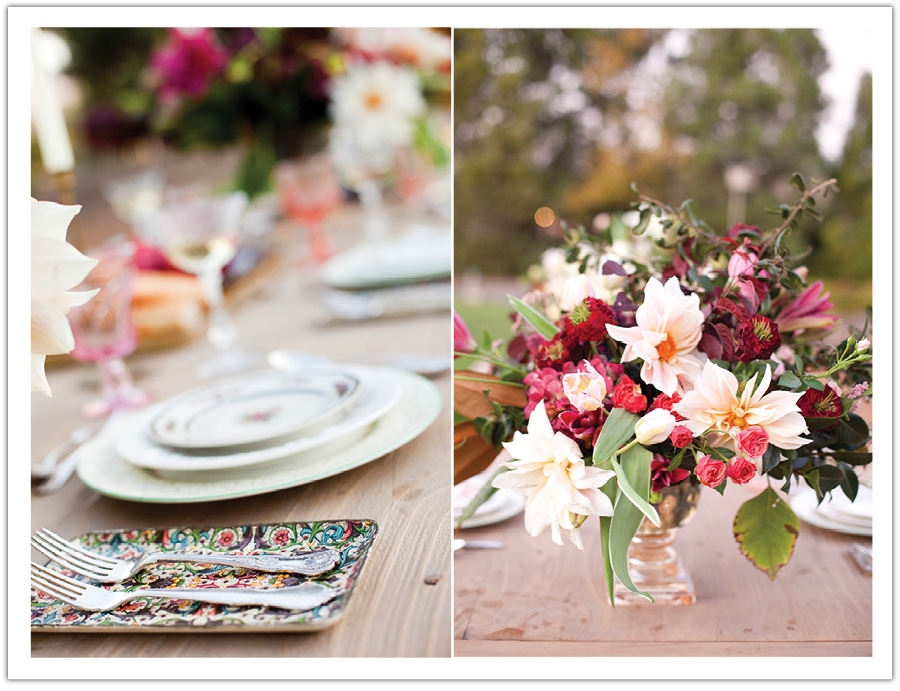 Flowers
Inspired by a Renaissance still life, Isari Flower Studio created a trio of contrasting centerpieces featured in ethereal golden-footed glass. For the berry hued centerpiece, Isari intricately designed a masterpiece brimming with champagne kissed cafe au lait dahlias and stunning merlot hued garden roses boasting ruffled petals, exposing green centers.
For the softer sunset hued centerpieces, sheer pink lilies, Californian oak twigs, fall kissed green hydrangeas, and unexpected Dutch tulips were trailing with bejeweled china berries to make it's meandering statement amidst sprawling desserts and other vintage dishes unexpectedly featured on this magnificent table scape.
For a tall dramatic statement a taller amber vase boasted simple organic stems of tall camellia branches, with their waxy foliage in hunter green.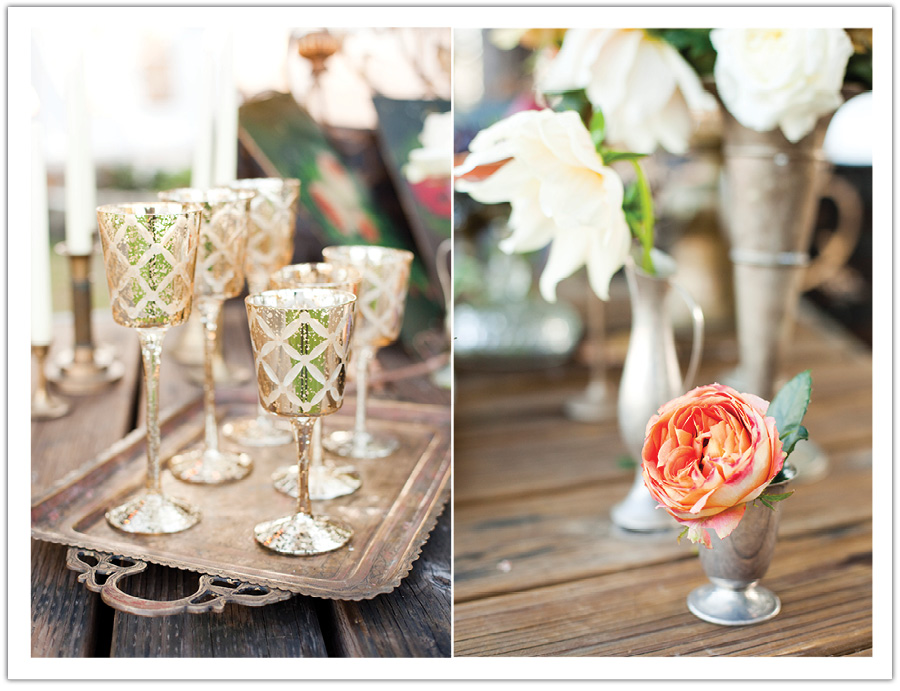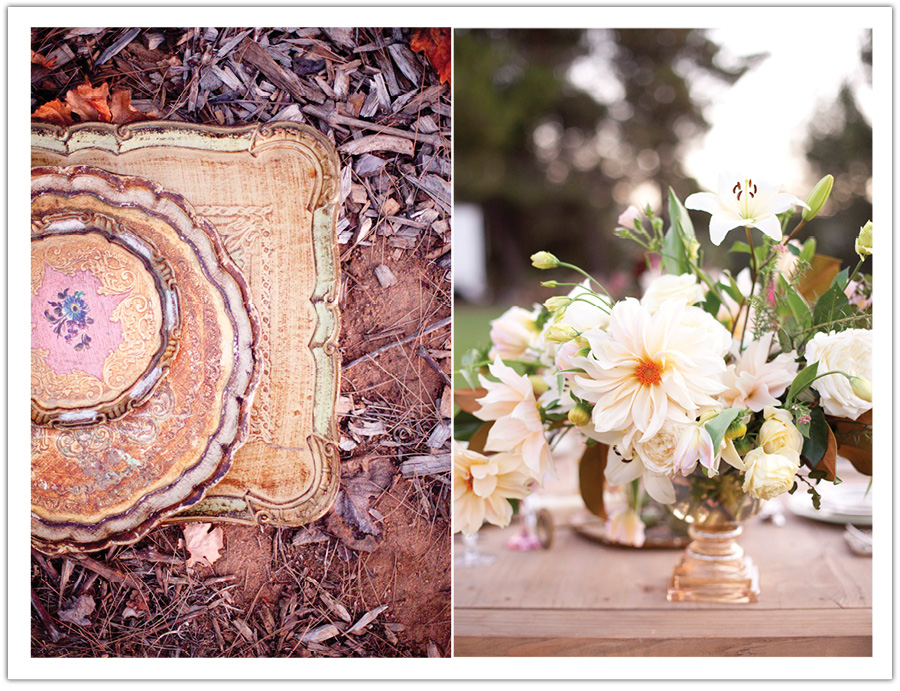 Feast
To carry out our Tuscan worthy feast we created a rustic spread of fruits, nuts, breads, meats and cheeses offered upon layers and layers of Florentine, copper and silver trays. Vintage glassware, still life paintings and tapered candlesticks added height and interested for a layered effect.
For a Renaissance style dessert bar we featured home-style cakes and fruit tarts by Scootabaker in this vineyard setting-boasting vine covered walkways and majestic vineyard and mountain views. Buttercream cakes were displayed on silver cake plates and layered upon mirrored trays atop a vintage French table. Beautiful berries, pomegranates, pears and plums were scattered about to sweeten up this already scrumptious still life inspired presentation.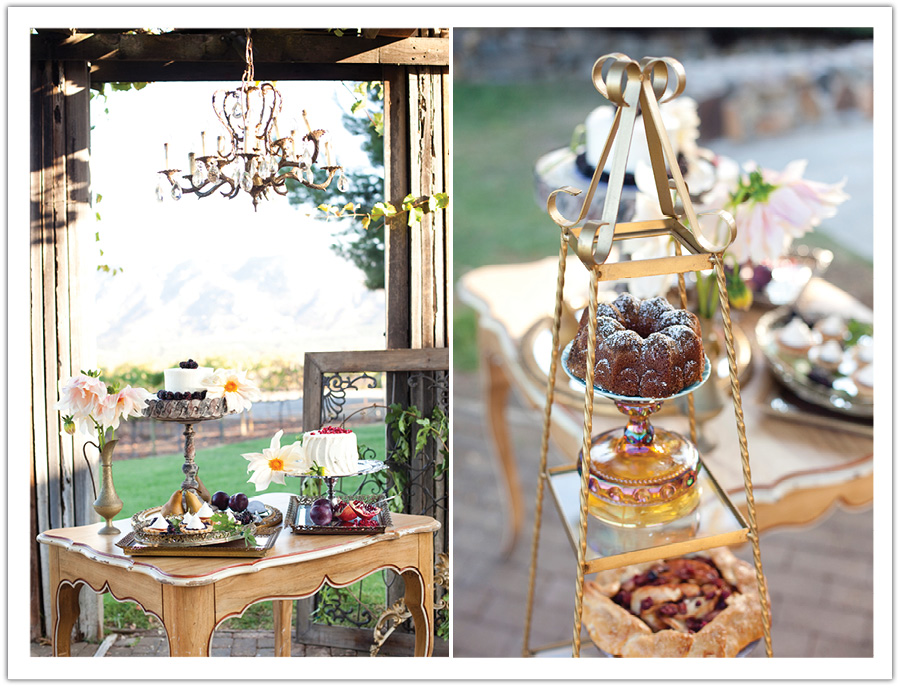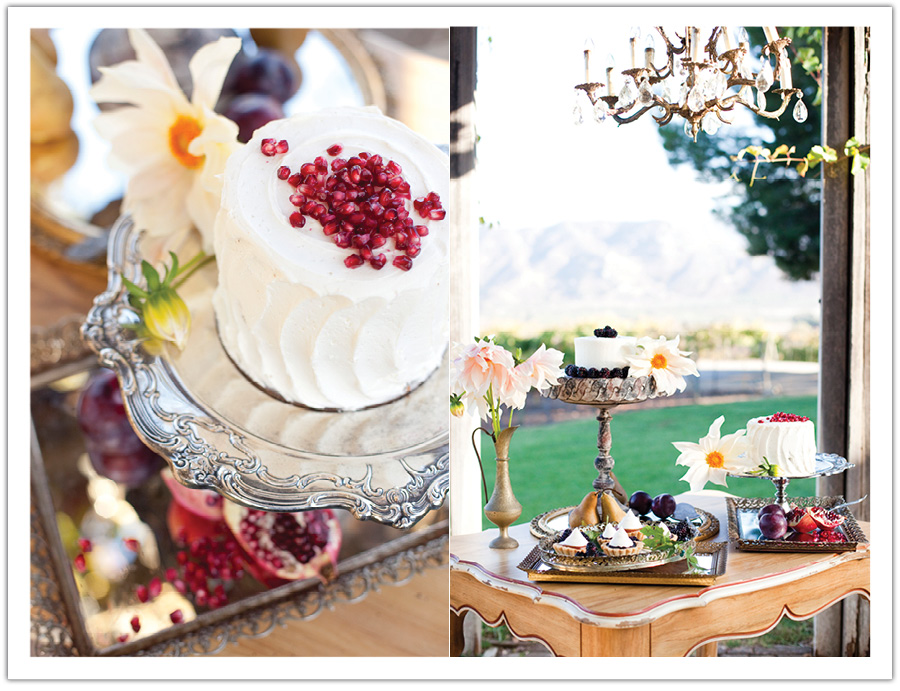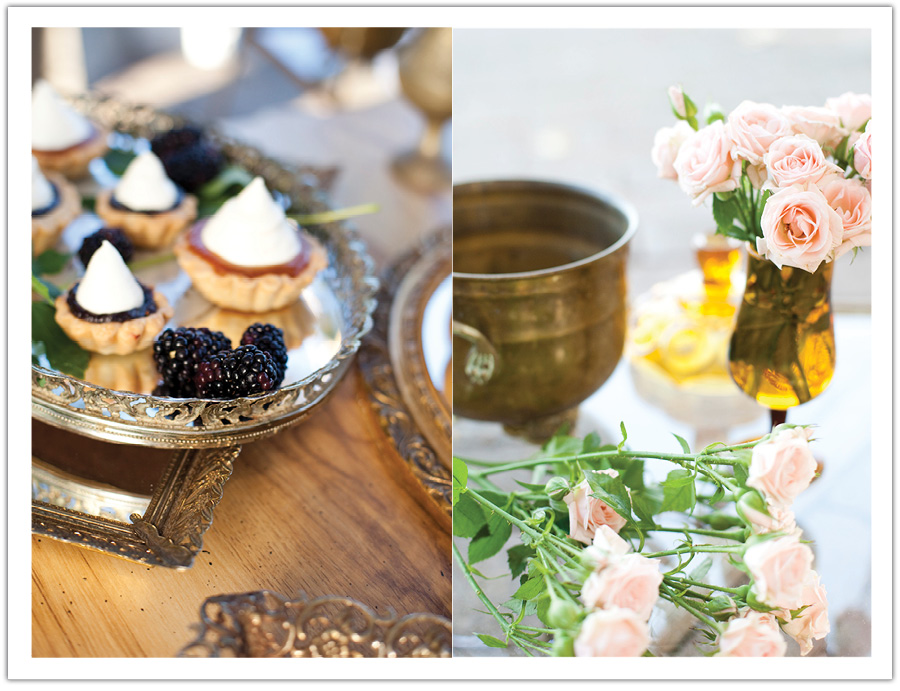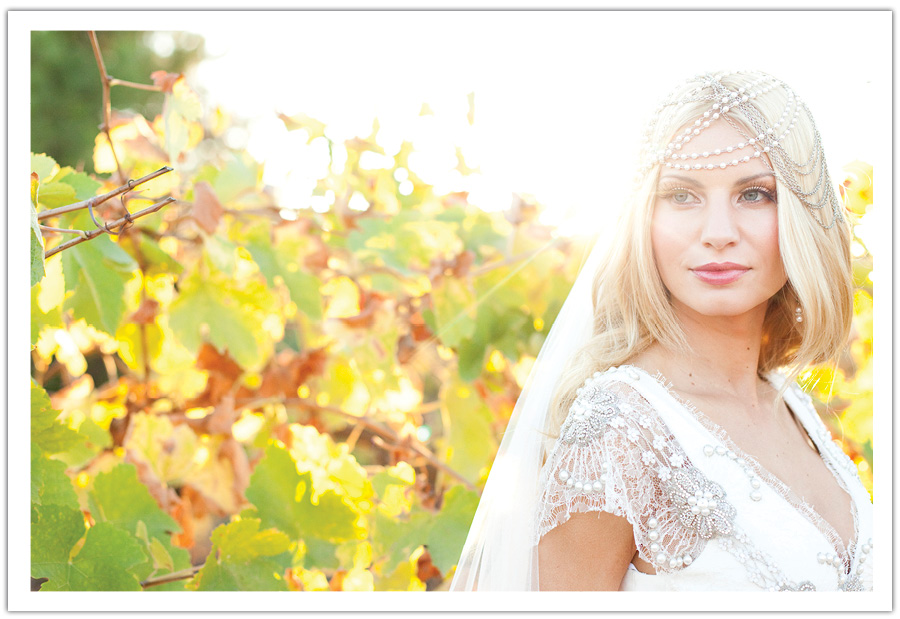 Fashion
I wanted to invoke the romance of the Renaissance through the artisanal style of handwork and details seen in the beautifully detailed Allison Simone gowns, jewelry and accessories, which were featured on each of our brides. From the detailed beading on the neckline to the long sleeves with detailed hems, these gowns exude an air of romance from a time long gone.
During the Renaissance the most popular color of bridal gowns were actually blue, which was considered a symbol of purity. If the bride didn't wear blue she would often still carry something blue, in which the tradition was born "something old, something blue"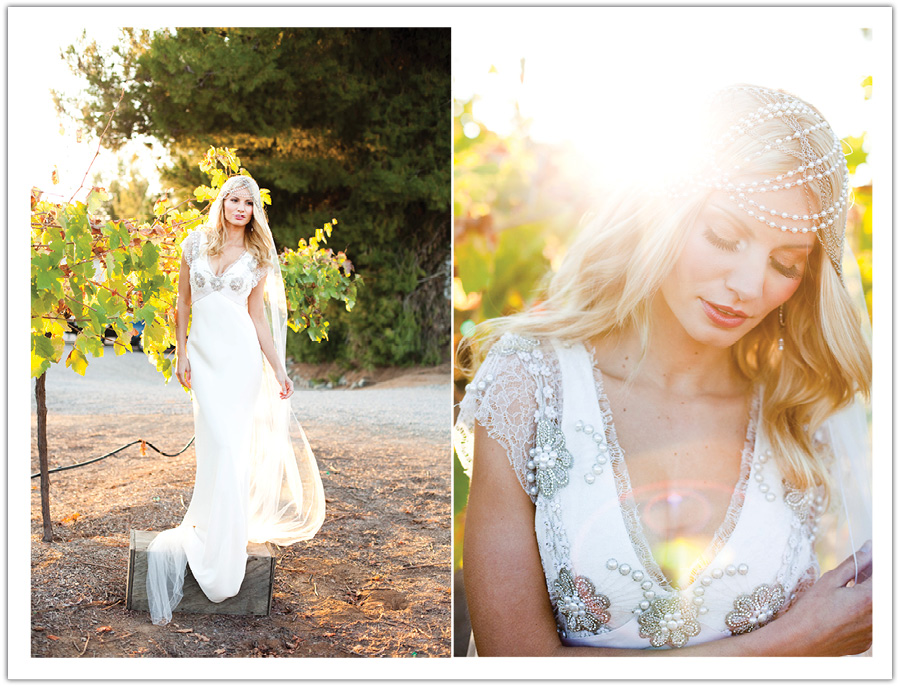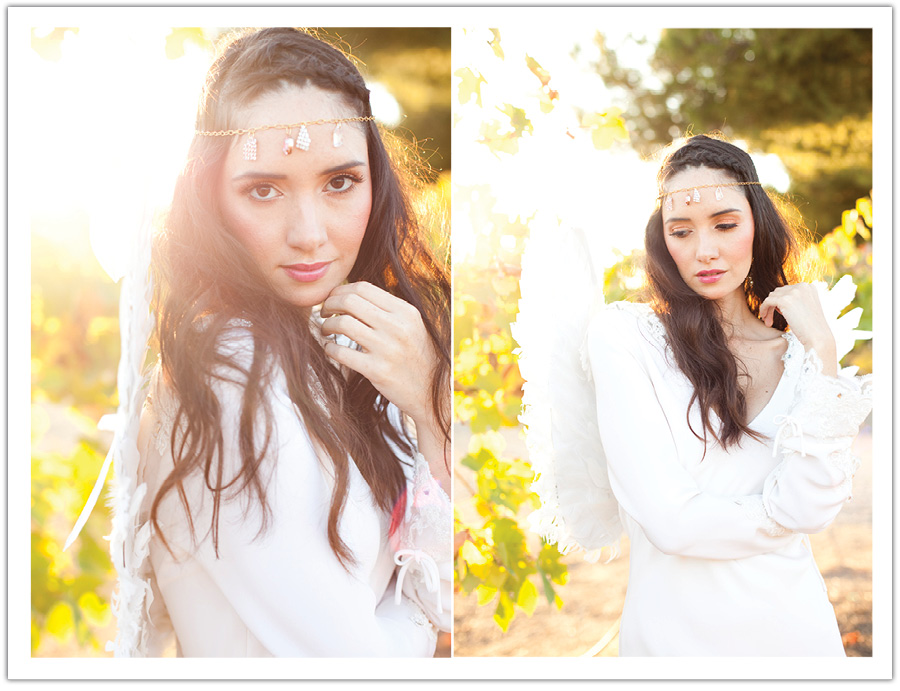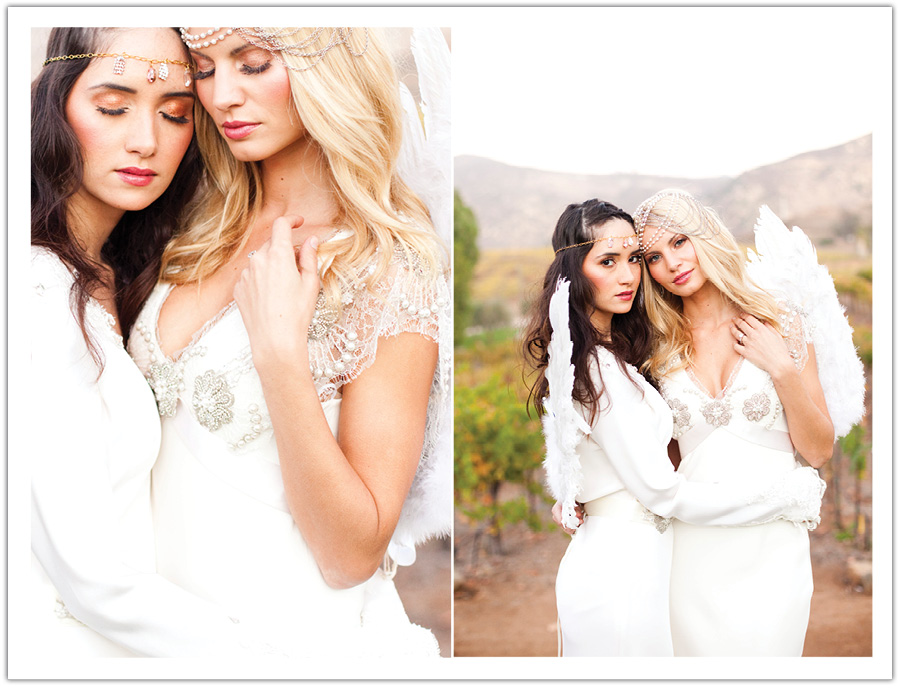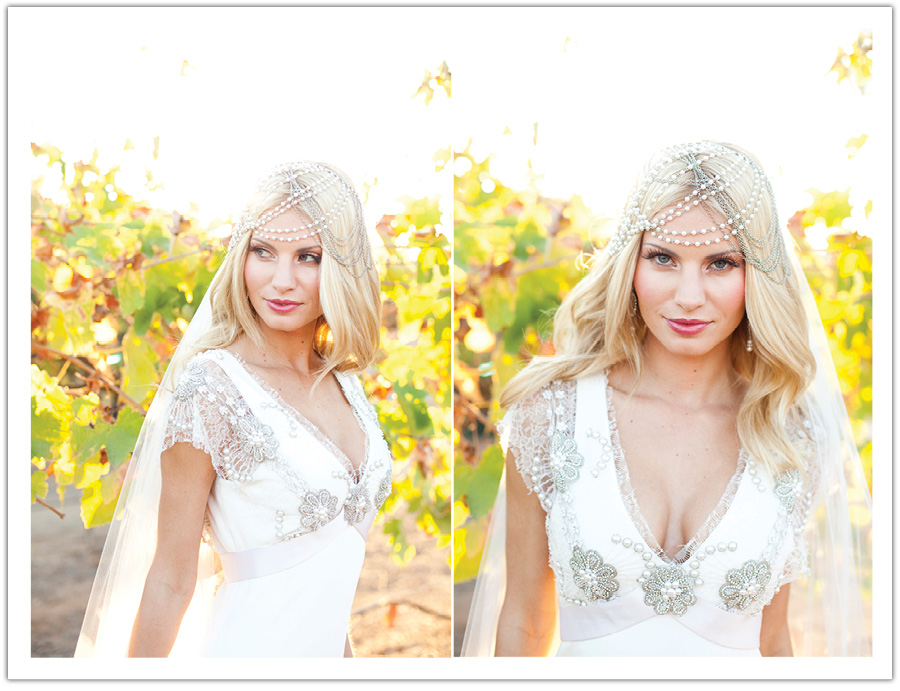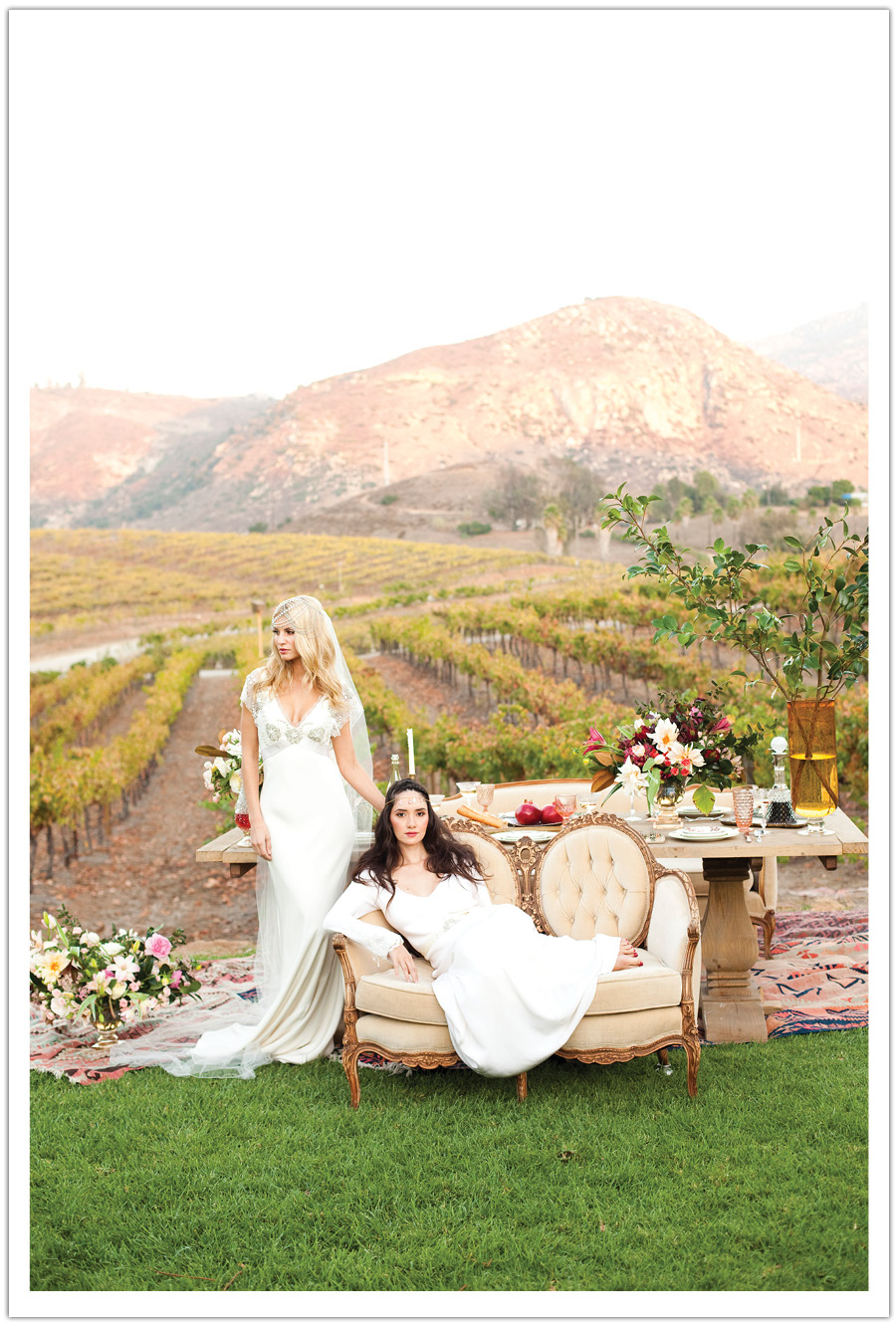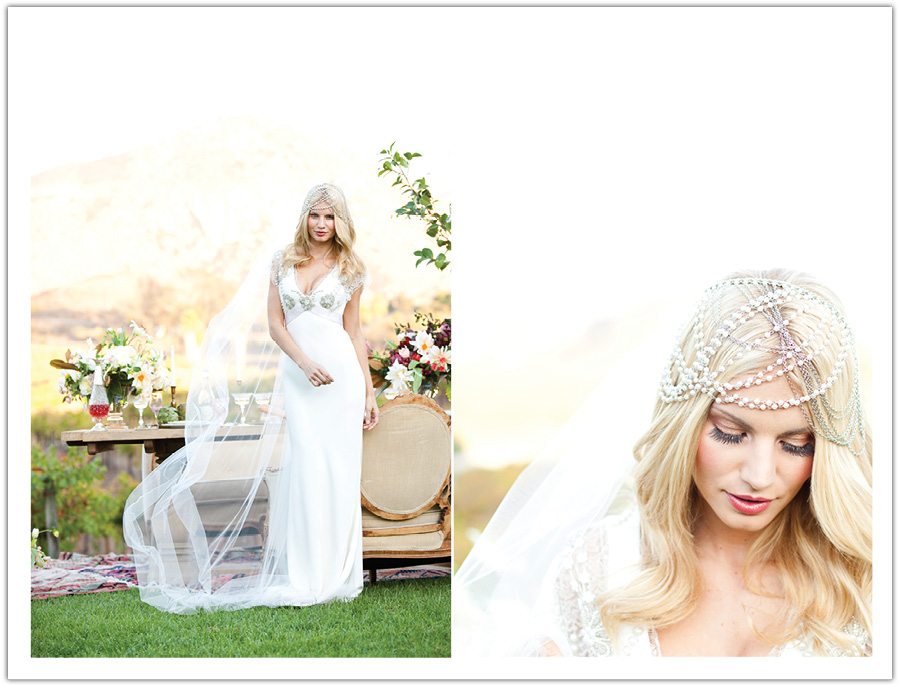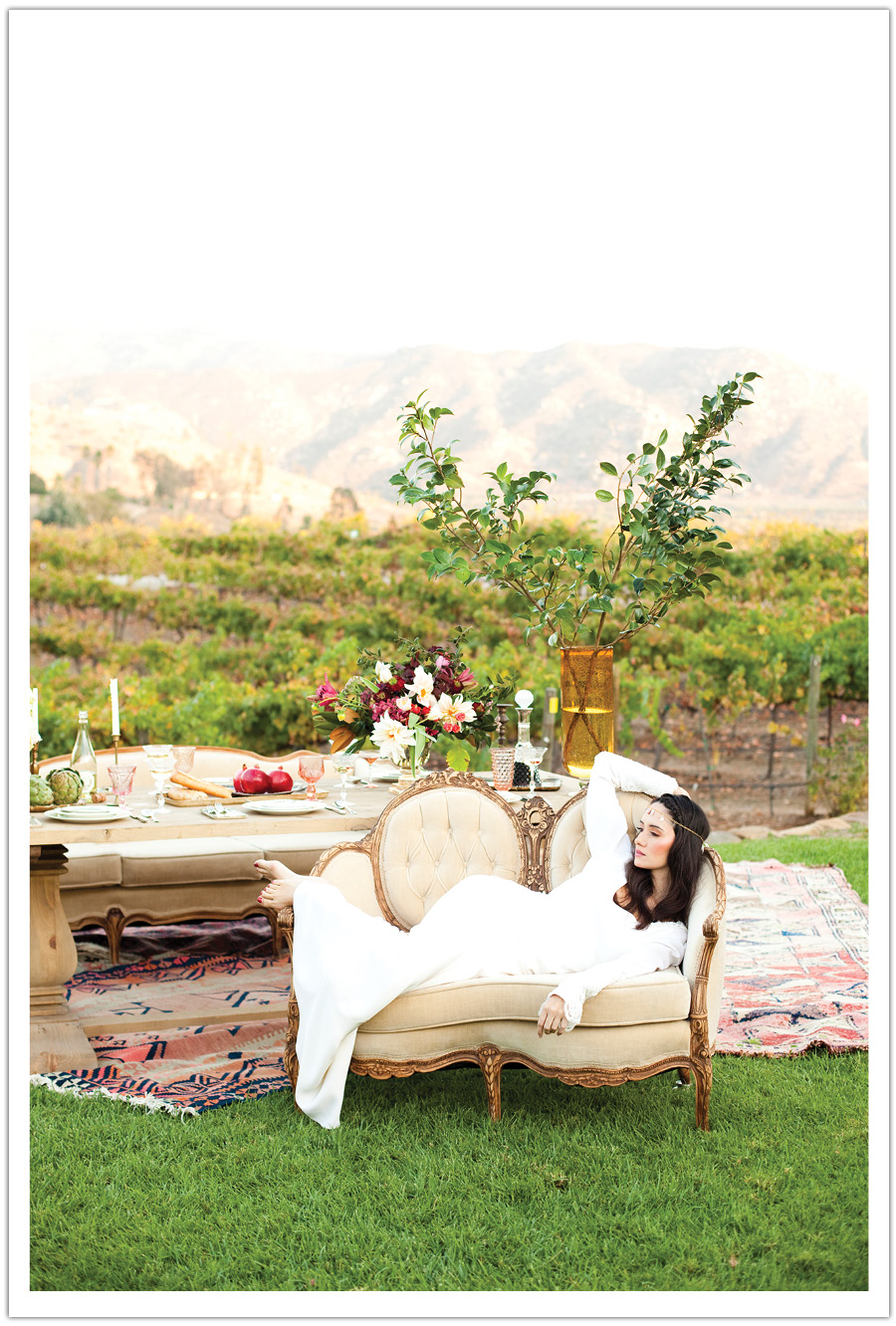 Traditions
Some of the most common wedding traditions derived from the Renaissance are still celebrated today. Here are a few of the most popular (and interesting! Hand-fasting?) traditions from that time:
•    Hand-fasting- One of the most common rituals is hand-fasting. Hand-fasting is a joining of hands between the bride and groom. Actually, their hands may be literally tied together with a piece of material or cord. In some ceremonies, hand-fasting is symbolized by cutting a lock of each others hair and placing the locks in a box, or by the bride and groom drinking out of the same cup. However this ritual is performed, the meaning is essentially the same. The couple's lives are joined together for eternity.
•    Throwing Rice- You may be surprised to discover that one of the most common wedding traditions, the tradition of throwing rice, dates back to Renaissance times. This is an essential part of the wedding, and symbolizes fertility and luck for the couple.
•    Tiered Cakes- The tiered or layered wedding cake also dates back to Renaissance times. The guests would bring small cakes to stack on top of each other. If the couple could kiss over the top of the stack without knocking them down, they would have good luck.
•    Garter- The throwing of the garter dates back to the Renaissance era. It was said that if a male guest at the wedding gave the bride's garter to his love, he would receive faithfulness.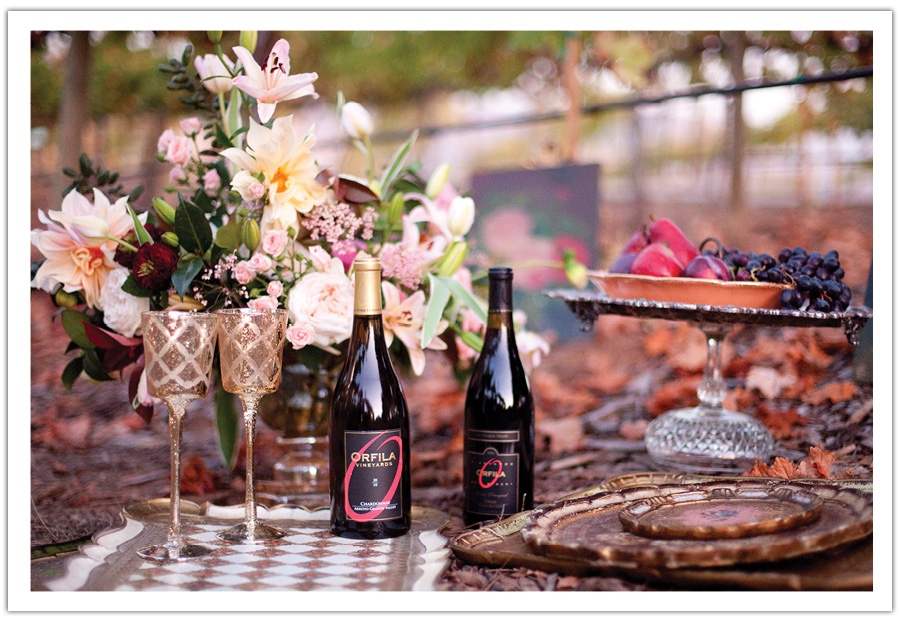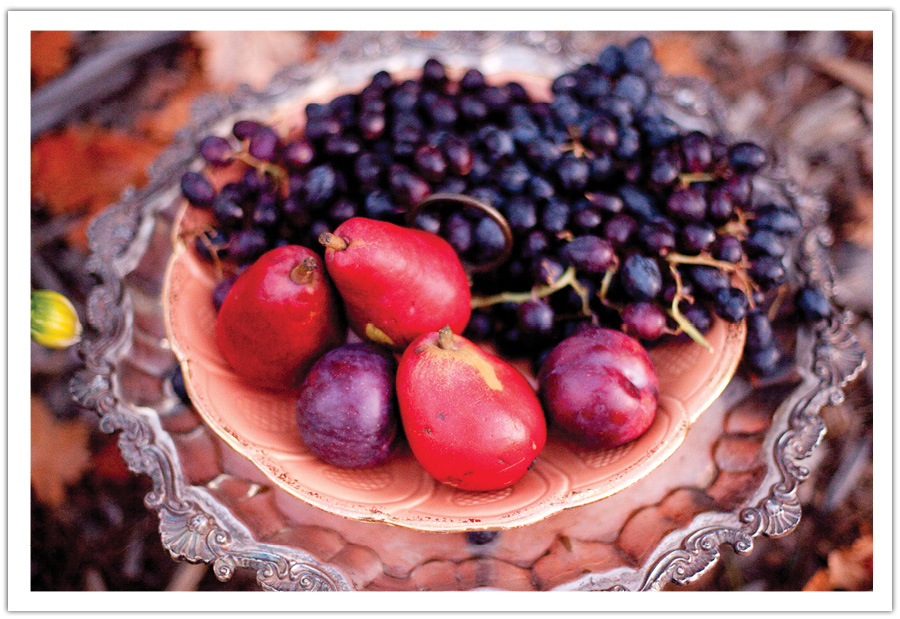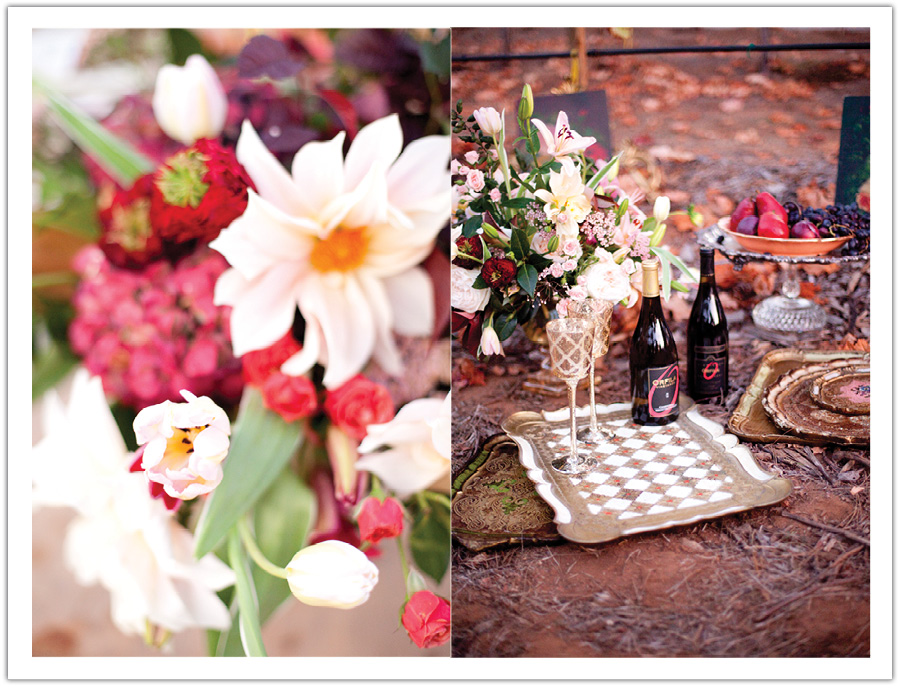 Credits
•    Event Design & Styling by Alchemy Fine Events & Invitations
•    Invitation Design by Alchemy Fine Events & Invitations
•    Photography by Luna Photo
•    Flowers by Isari Flower Studio
•    Tableware settings & Props by Casa De Perrin 
•    Furniture & Props by Vintage Archive Rentals
•    Cake & Pastries by Scootabaker Bakery 
•    Bridal Gowns & Jewelery by Allyson Simone of Provence Brides
•    Venue Orfila Winery