Art Deco Wedding in Santa Monica
After a bit of a blogging break we are back!  We have been doing more than our share of globe trotting lately designing weddings, workshops & events from Italy to Ibiza to Miami and back again and are very excited to kick off our blogalicious fasting with this colorful Art Deco Wedding. We were so excited to design this fabulously bold and daring fete for our dear friend Ren and her darling hubby John. 'Dharma & Greg' as their friends jokingly call them, are the epitome of the free-spirited boho wild child meets the traditional buttoned up good boy. Opposites attract in romance and in this case, the bold splashy designs mixed with a classical charm and romance definitely started a love affair as well.
For the Butterfly Big Top invitations we designed bold striped and art deco influenced geometric designs printed on a suede textured paper for a fun tactile element. Crystal Kluge adorned our black envelopes with beautiful whimsical white calligraphy and topped each envelope with our custom designed matching stamps.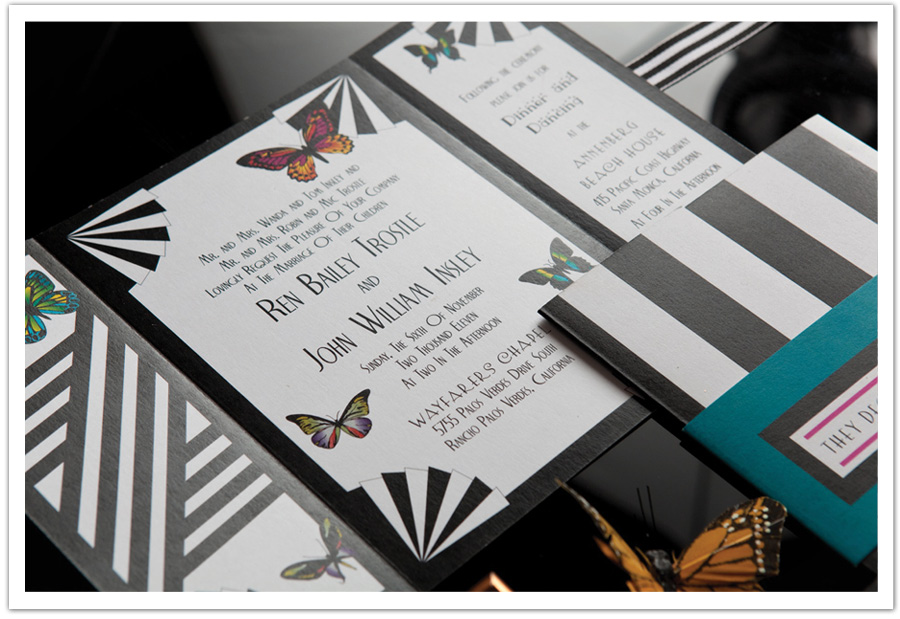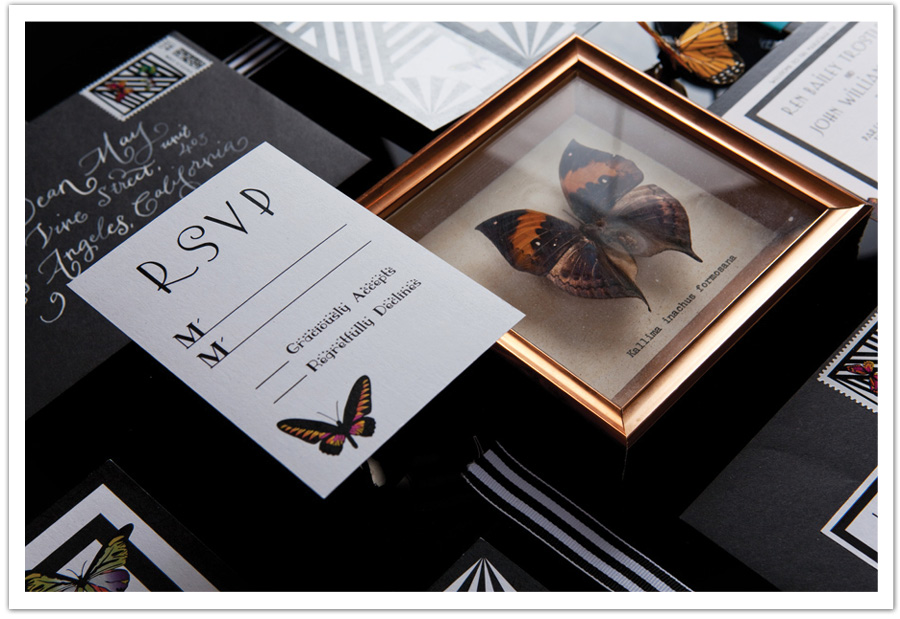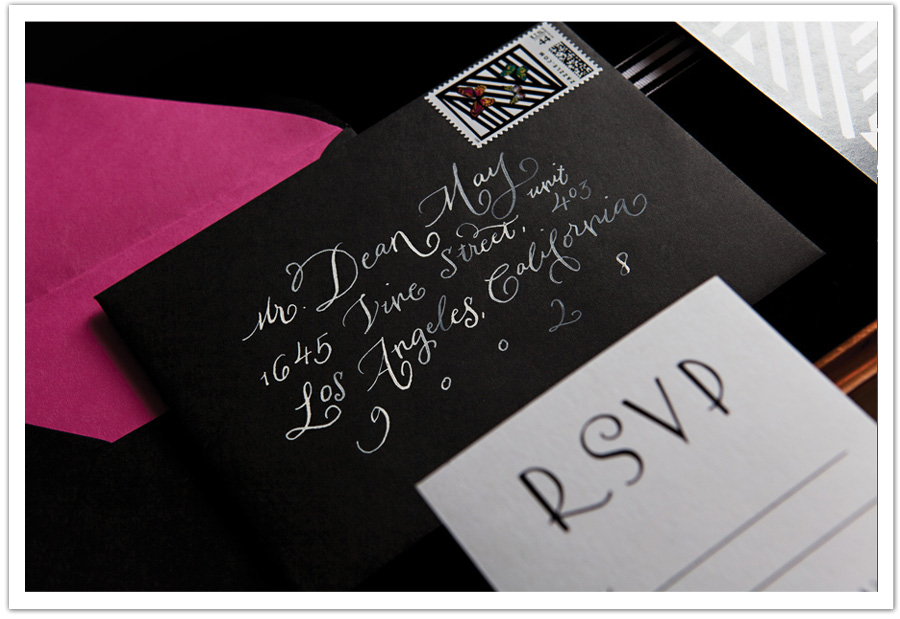 Ren's Miu Miu rhinestone encrusted heels were to die for and were the perfect bold splash to complement the customized etheral boho gown by Allyson Simone.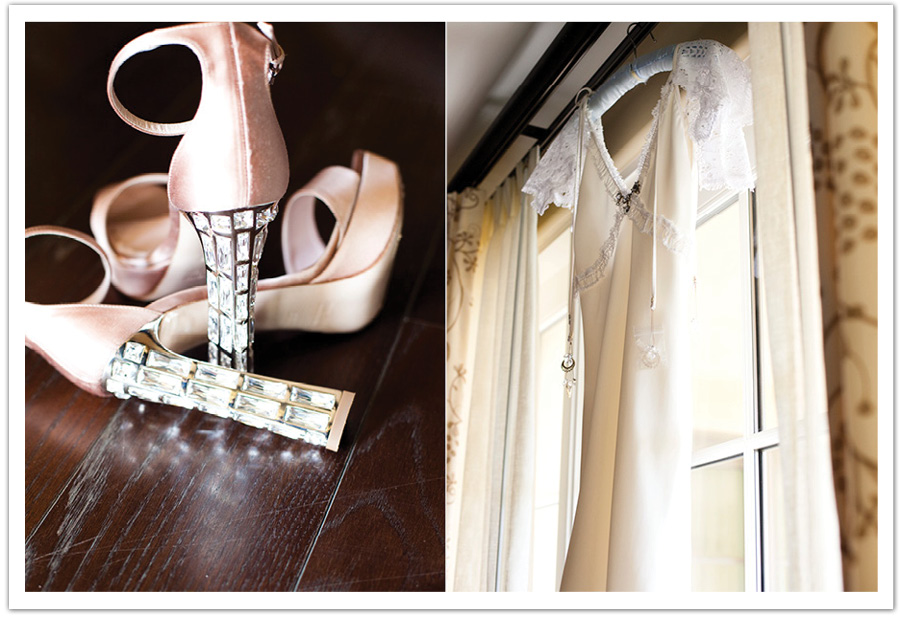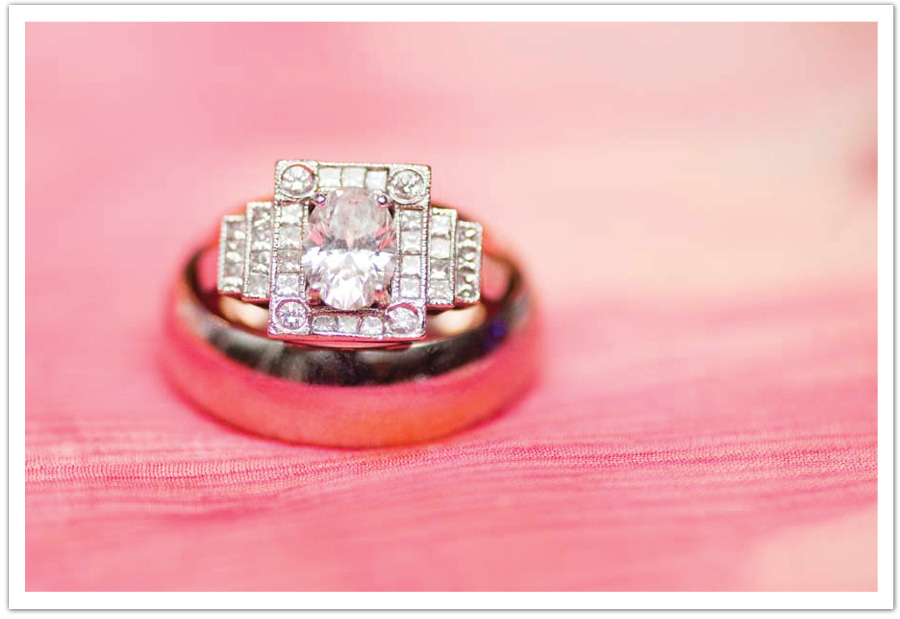 When Ren & John first rekindled their romance he took her on a date to Palos Verdes where they stumbled upon the most magnificent church she had ever seen. She decided then and there that that was where she wanted to get married. Several years later her dream came true. The Wayfarers Chapel, designed by Frank Llyod Wrights Son, Llyod Wright, is designed with an art nouveau style and features architecturally lined windows opening up to pine trees and endless views of the pacific ocean.
John's mother offered up precious pieces of lace from her own wedding gown which we used to make a heart-shaped ring bearer pillow along with the silk ikat fabric from the reception decor.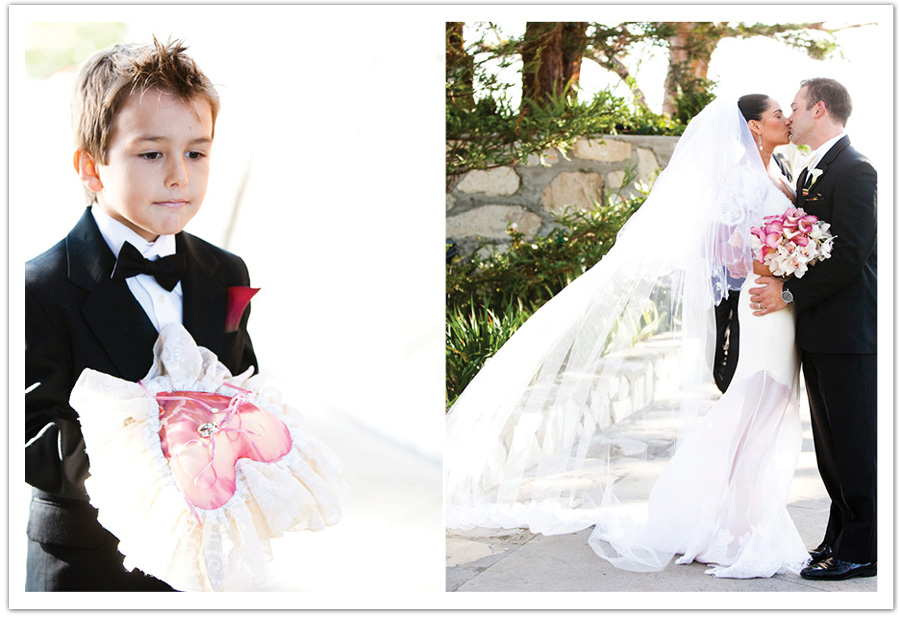 Los Angeles based designer, and friend and guest of the brides, Yana K, created custom designed bridesmaids gowns in a bevy of colors and styles to allow her leading ladies to wear a gown of their own style and hue. The bold & colorful bridesmaids all donned art deco necklaces gifted to the lades from the bride. These gorgeous beauts also happen to be my friends from junior high!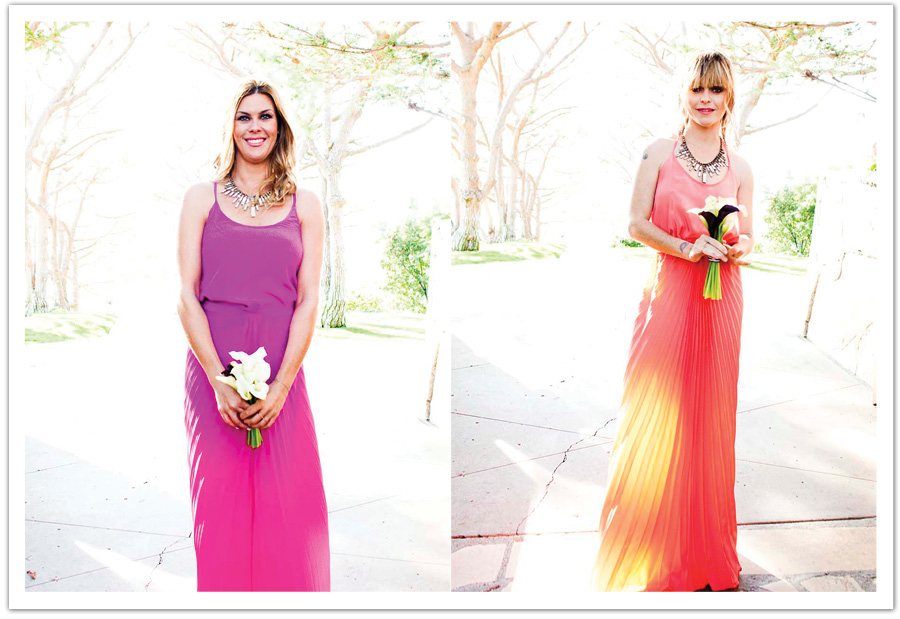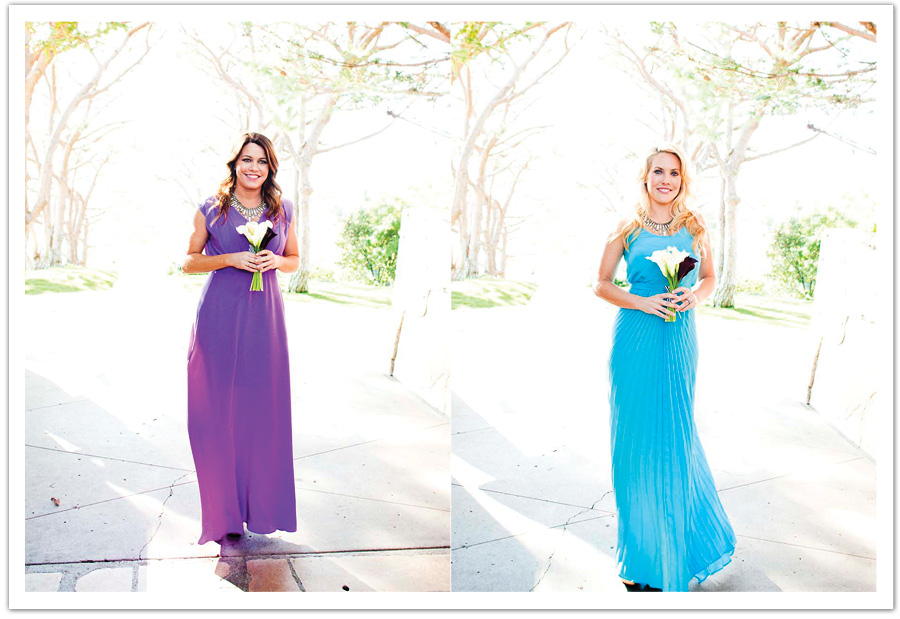 Having a former fashion model as a bride sure doesn't hurt for incredible photos!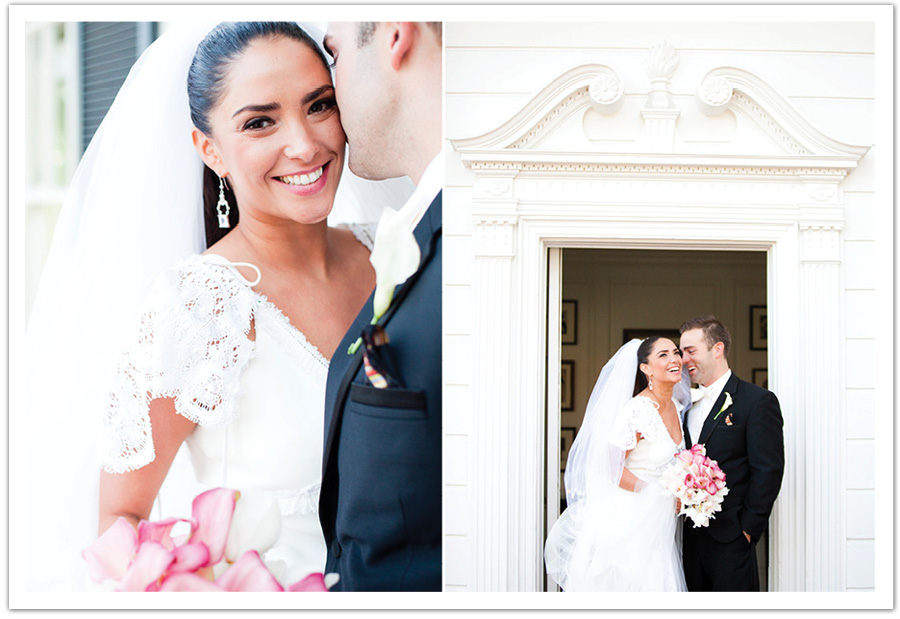 For a fun and dramatic seating card display we created a 13 ft tall installment of colorful ribbons and bold plexi-glass letters spelling out FOREVER.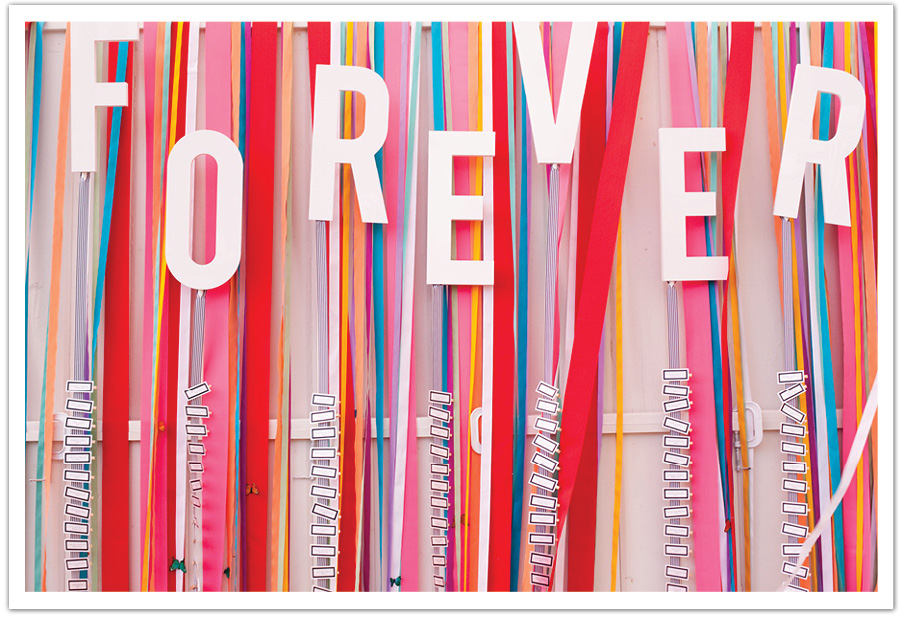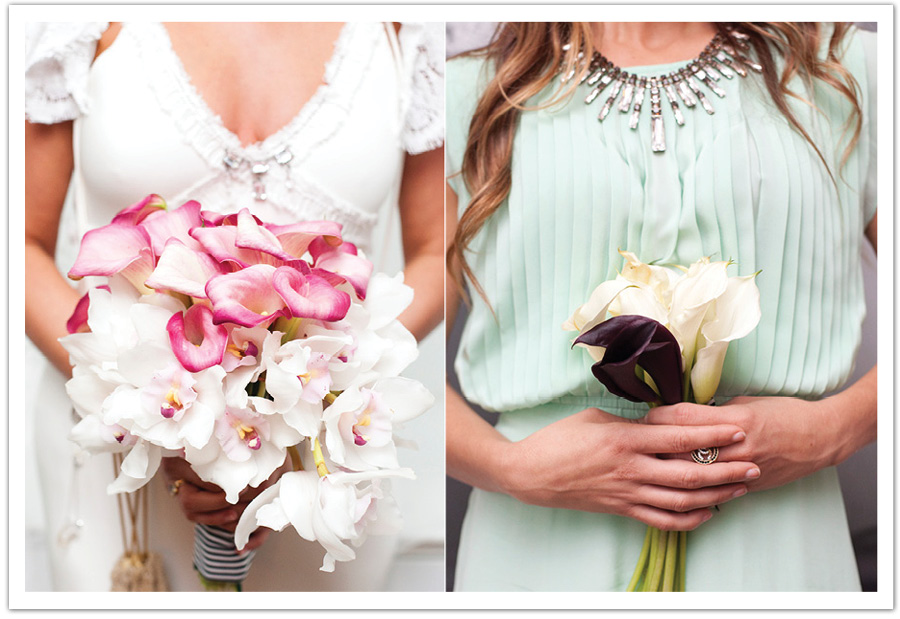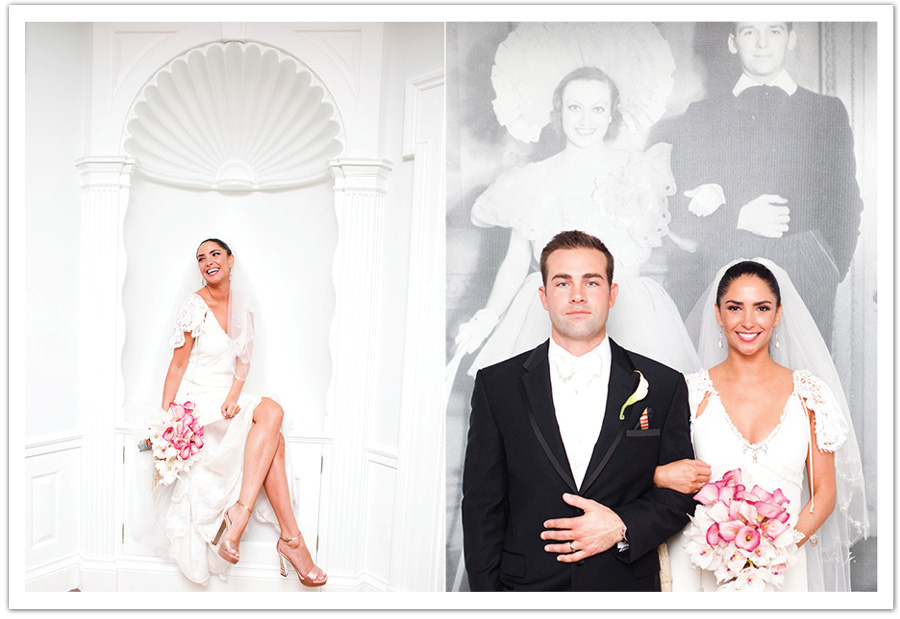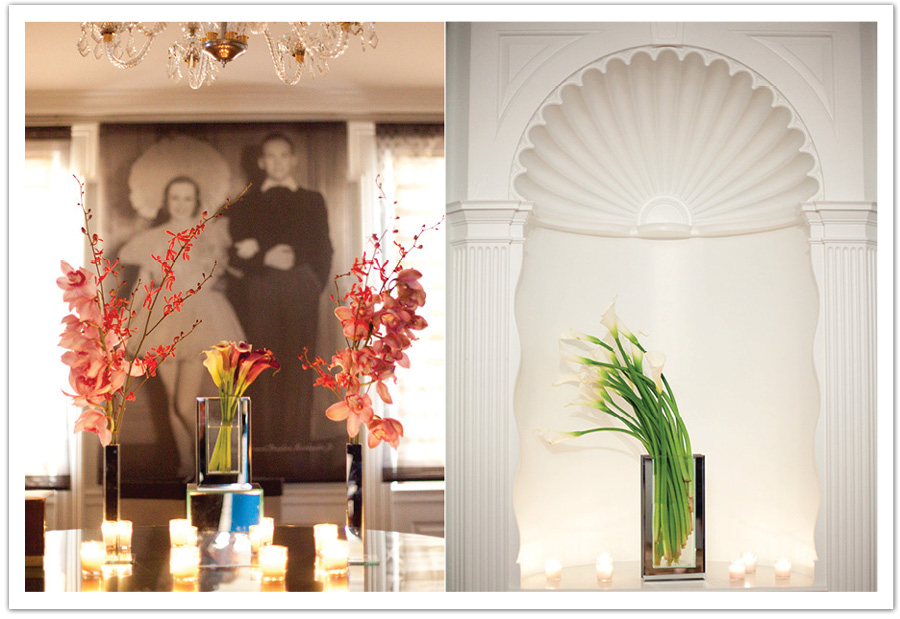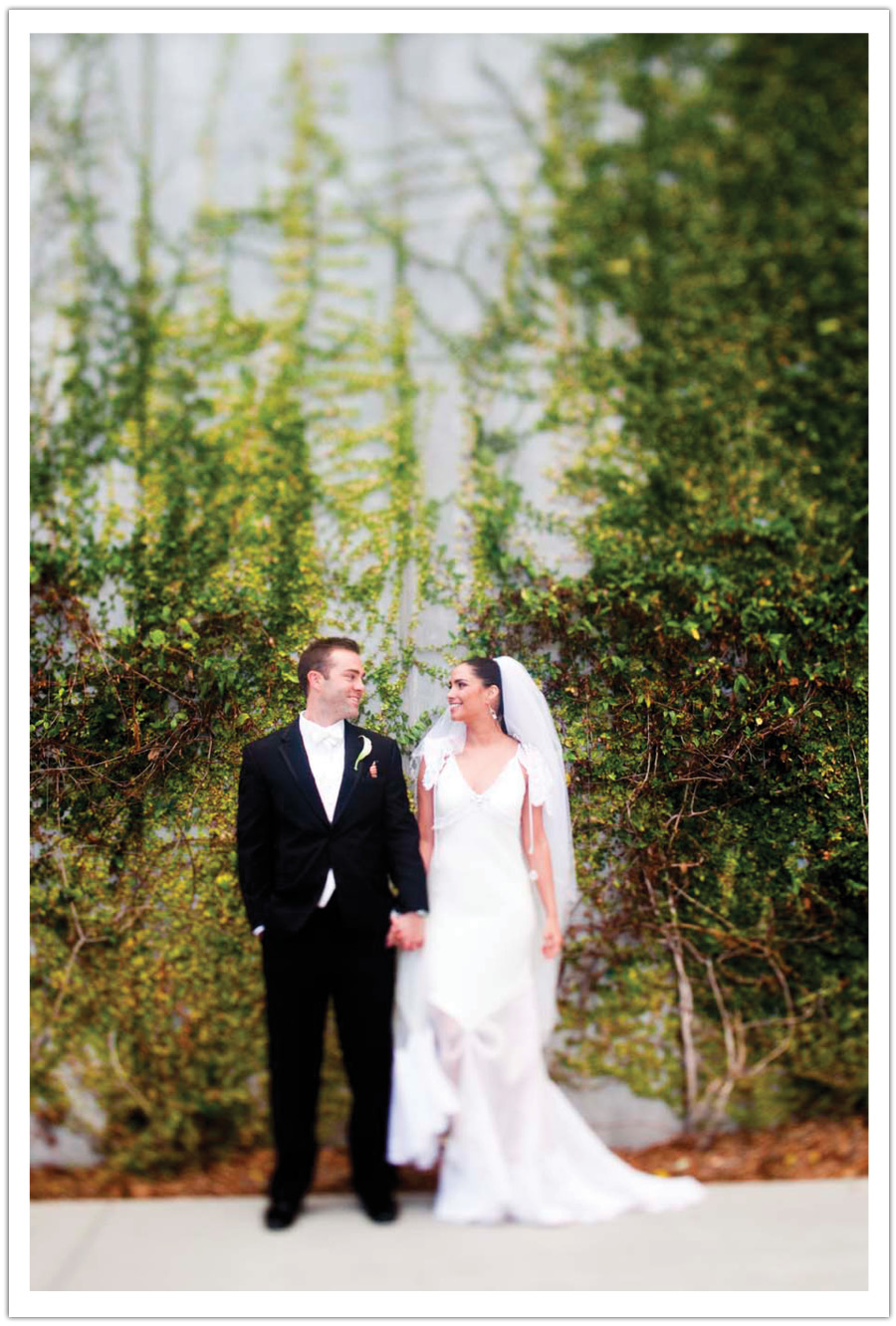 To customize Ren's dress Allyson Simone added butterfly sleeves onto the spaghetti strap gown. Such a fun and unique look in a sea of strapless gowns!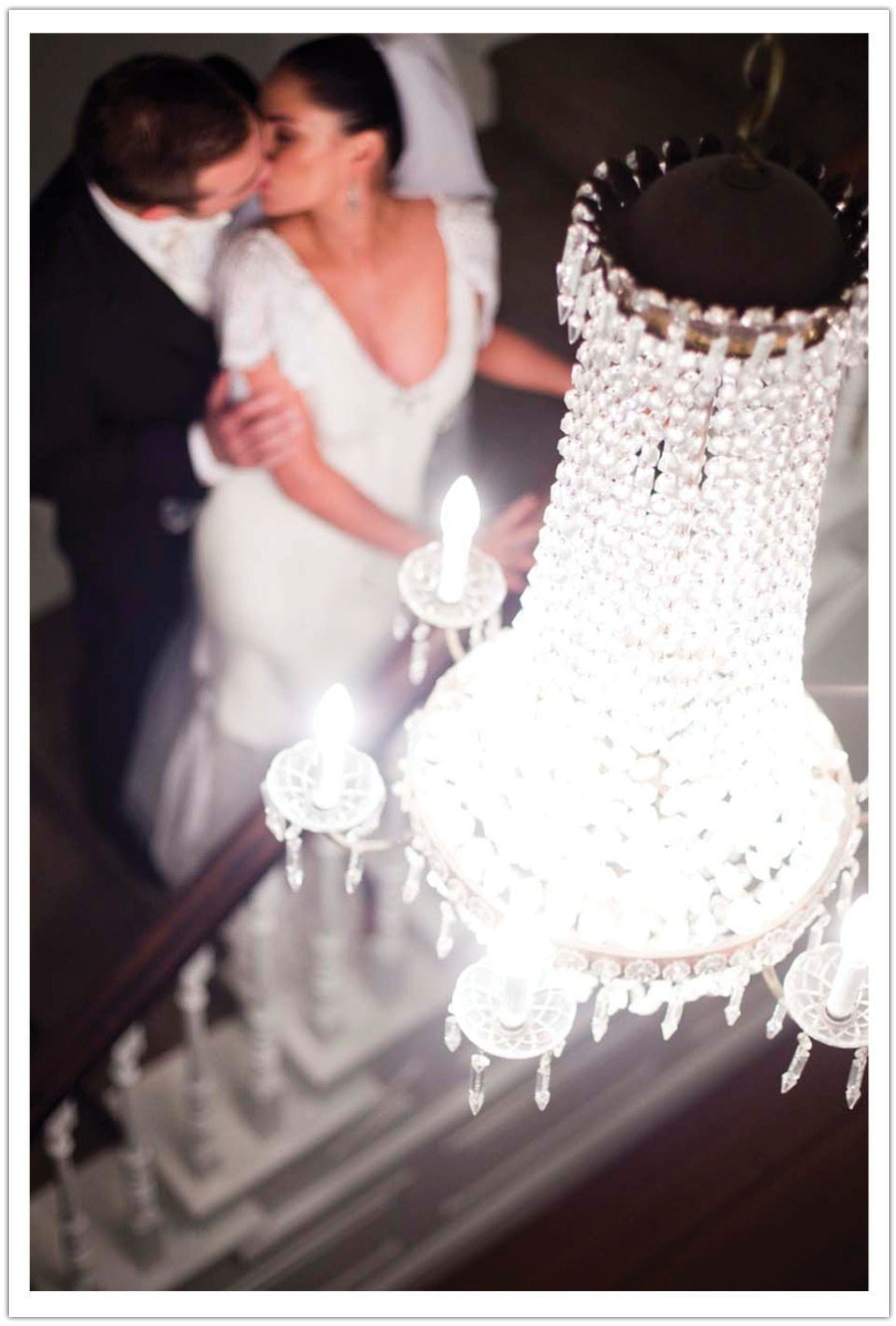 Each centerpieces was a different color combination to match the three different silk ikats we used for custom table linens. Each napkin was also adorned with handmade rhinestone encrusted napkin rings.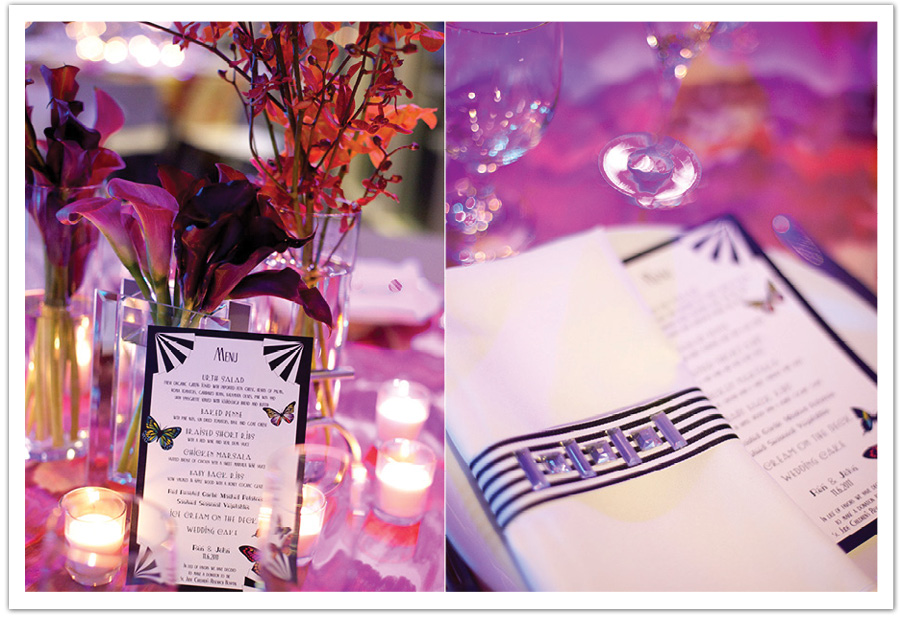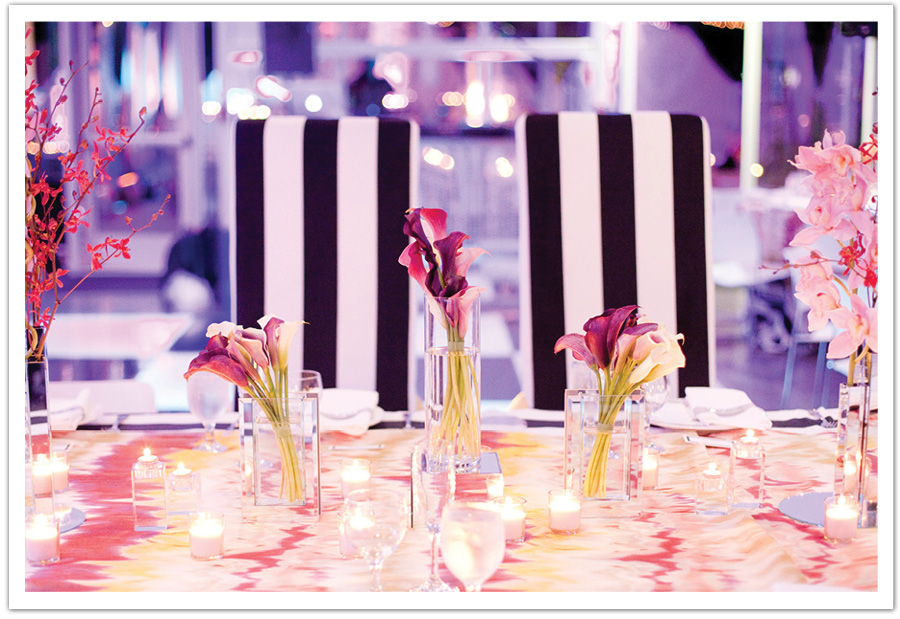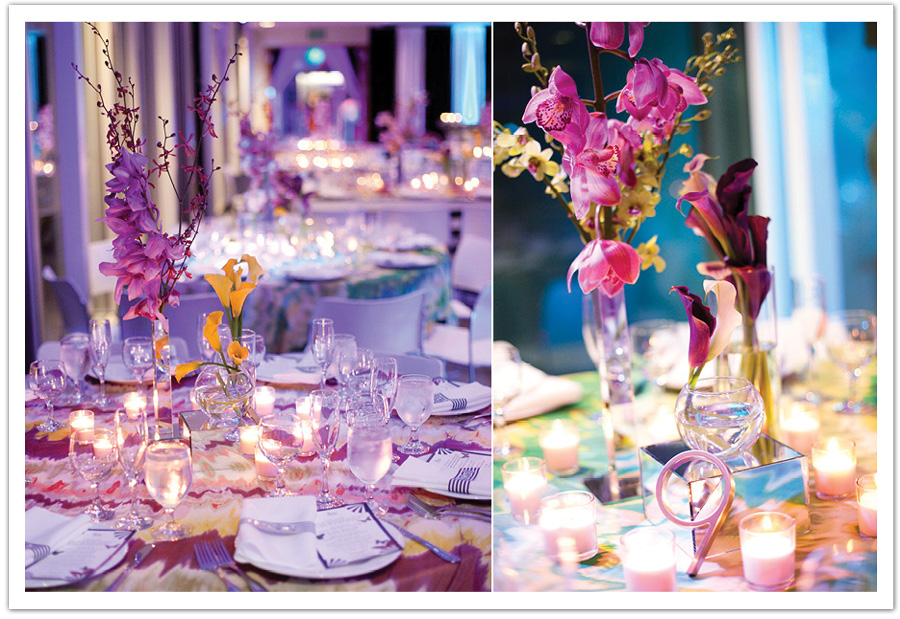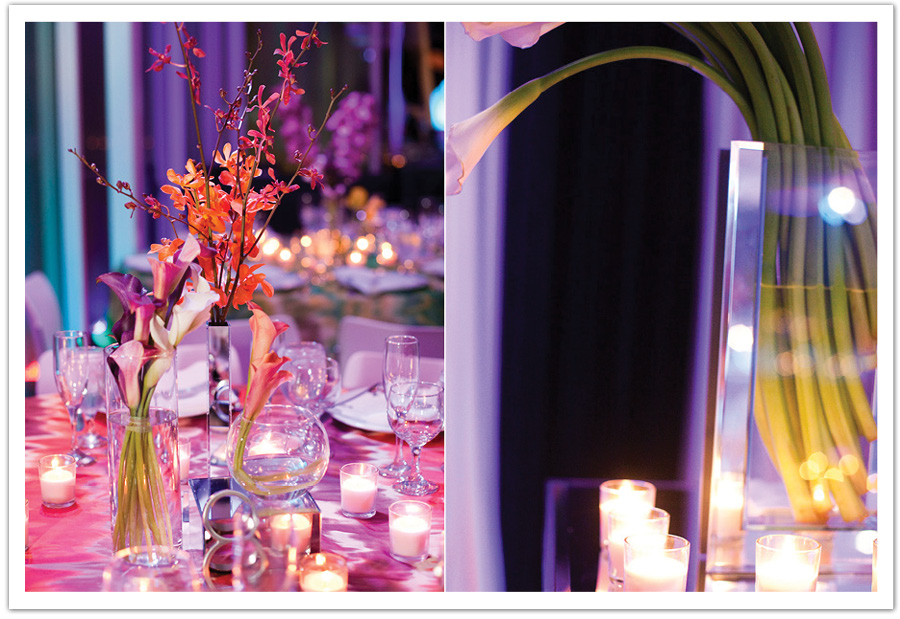 To create a stunning art deco cake I illustrated a design inspired by this art deco Hoover building in London  for Cupcakes Couture which they then transformed into a delicious work of art! For a stunning backdrop I created a geometric design of round and square mirrors suspended on thick black ribbon. To stay in theme with the geometrical feel of the evening I also created a custom designed table linen with baguette rhinestones to match the napkin treatments.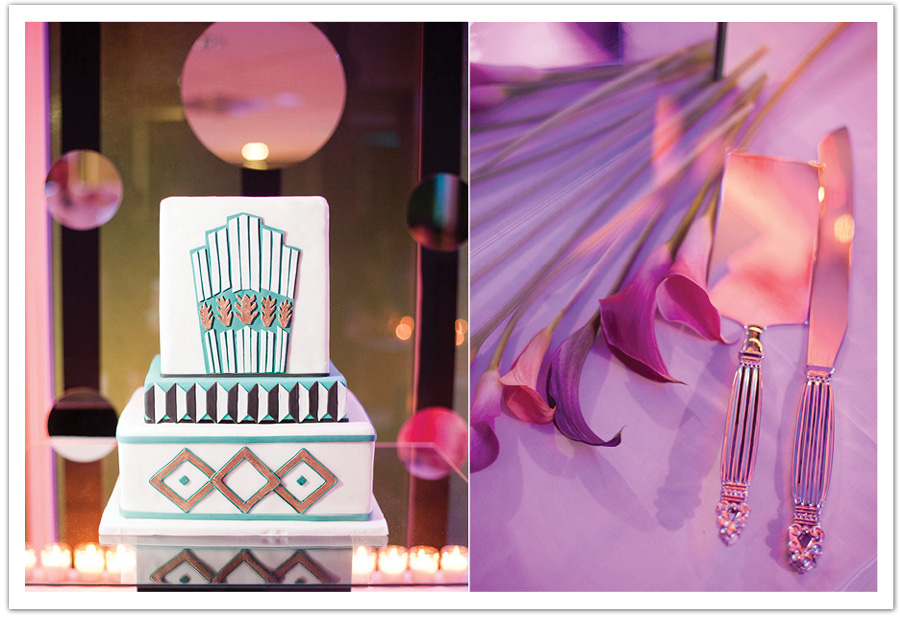 When Ren & John had a chance encounter years after their brief high school romance he sent a darling letter to her parents home in hopes of reconnecting with her. We blew up this letter onto a 10 ft tall heart and displayed a large R + J = HEART in the lounge where guests could read his sweet words.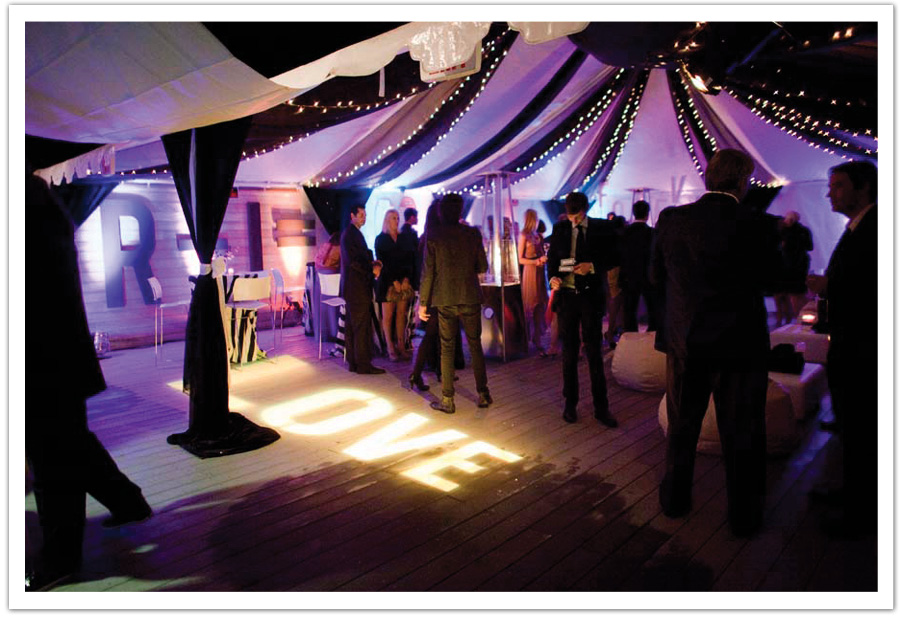 Sweet Lucie's ice cream cart made an appearance for a fun after dinner treat.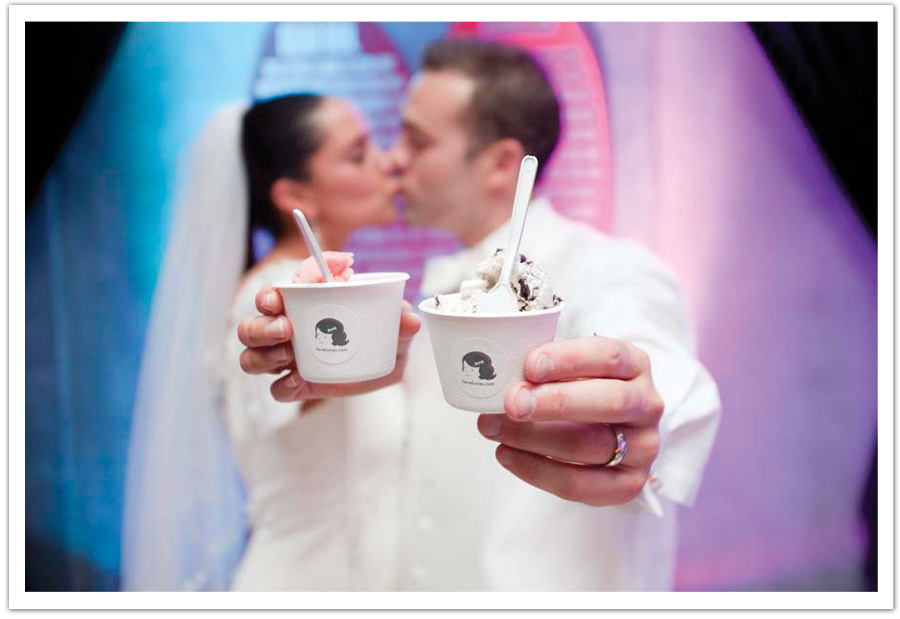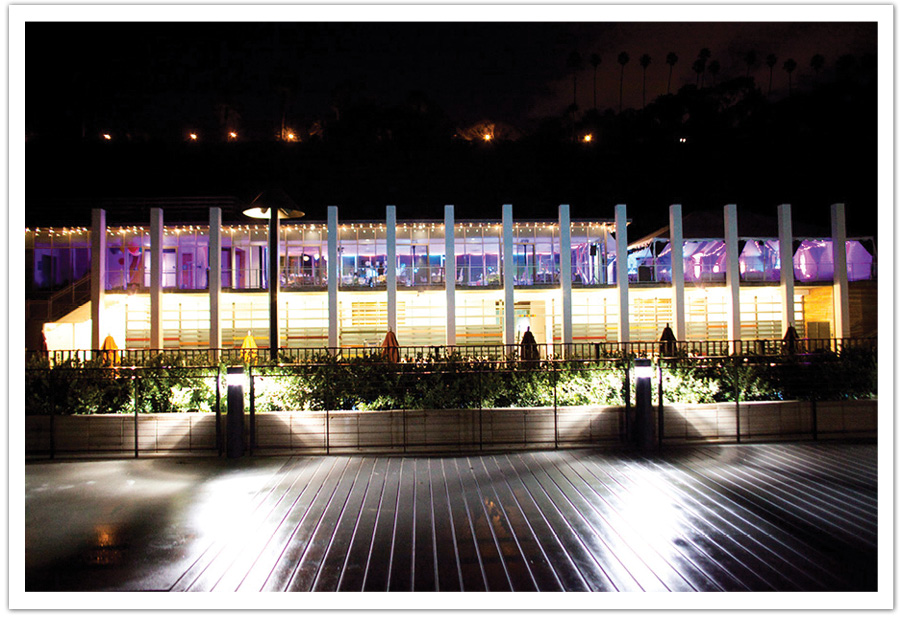 Michael Antonia of The Flashdance kept guests on their toes all night!
Credits:
Event Design & Planning by Alchemy Fine Events & Invitations
Wedding Photography by Luna Photography
Invitation Photography by Scott Lawrence
Invitations by Alchemy Fine Events & Invitations
Ceremony at Wayfares Chapel
Reception at The Annenberg Community Beach House
Catering by Urth Caffe
Mixology by The Martini Shop
Ice Cream by Sweet Lucies
Cake by Cupcakes Couture
DJ by The Flashdance
Videography by Shark Pig
Bride's Dress by Allyson Simone
Bride's Shoes by Miu Miu
Make UP & Hair by Jennifer Budner