Today I wanted to share with you a bit of insight into the mind of a fantastic photographer, John Schnack of Schnack Studios. When it comes to choosing someone to be responsible for capturing the moments and memories of your wedding or special event, it should be a very personal and thoughtful decision. I've had the pleasure of working with John Schnack before for a Valentine's Day inspired phoot shoot and must say, coming from an art direction background, he was one of the most artistic and skillful photographers I've worked with. From lighting to interaction to response and turn around time, just amazing!
Here are a few questions that I gave John to try to get some insight and background to the art behind his style:
What inspires you to create the style of photography you do?
I wish I had some cool, prose-filled way to answer this question, but I'm just not that smart.  I'm inspired by everything, from benign, inanimate things like buildings, streets and empty space, to stuff that's more personal, like the way my 5-year-old daughter interacts with her environment.  I like patterns and love to see what happens when small things are put in big spaces.  Ultimately, I love taking pictures for the same reasons I did when I was 15 years old-because it makes me feel good.

Does fashion, nature, trends, etc.. affect the style in which you shoot?
Yes, definitely.  I'm often asked by couples about the types of photography that inspire me, and they're often surprised to hear that very little of my inspiration comes from other wedding photographers, as I find the vast majority of wedding photography incredibly boring.  The work that inspires me mostly comes from outside the wedding industry:  commercial photographers like Nick Onken and Jim Erickson; photojournalists like Henri Cartier-Bresson, Robert Capa and James Nachtwey; editorial and portrait photographers like Platon, Nadav Kander and Ryan McGinley; fashion photographers like Steven Klein and Ellen von Unwerth; and fine art photographers like Stephen Shore and Amy Stein.
Has your photographic style evolved since you first got into the business?
Absolutely, and I think it's only natural for one's art to evolve over time.  Early on my work was very safe-safe lighting, safe poses, etc.  But exposure to different artists, personal changes like marriage and having a child, and my constant desire to get better have all had an impact on the changes in my work.
Who/what/where has been your favorite shoot and why?
I hate to play favorites, but in terms of wedding photography, my favorite events have always been where the couple just says, "Do your thing," and trusts me and my work implicitly.  Just a few weeks back we photographed a wedding at a 150-year-old barn in Lake Almanor, Calif.  The barn was transformed from a run-down hangout for teenage drinkers into a rustic oasis.  Everything had to be brought in:  flooring, lights (interior and exterior), bathrooms, decor, flowers.  Everyone involved-from the couple and their families to the florist, designer and coordinator-all did an other-worldly job of creating this event.  The couple loved my work and trusted me from the get-go, which is an incredibly comforting feeling when covering a wedding with so much detail.
Here is a collection of some of John's favorite photos and why they made the list…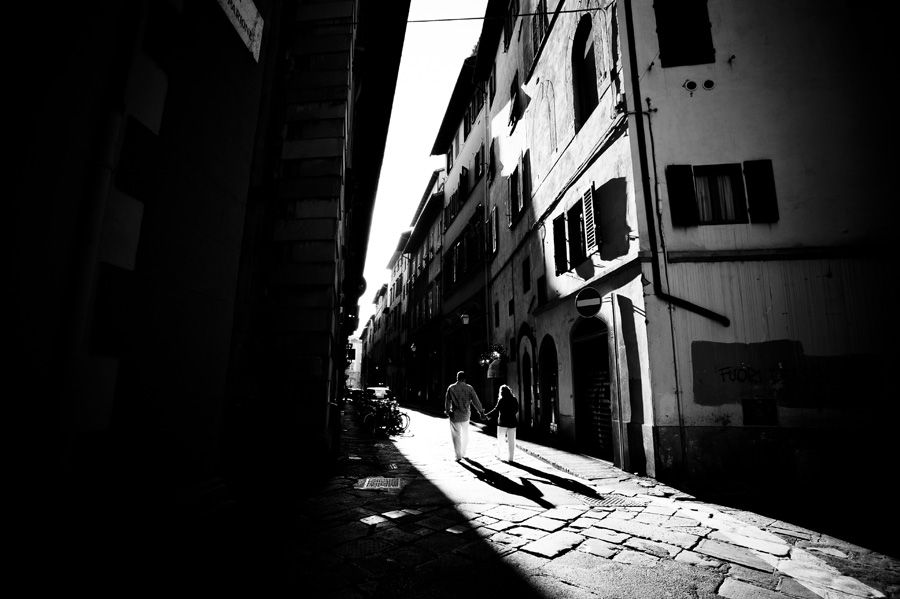 Pietro and Michelle | Florence, Italy
Florence's beauty is well documented, but for Pietro and Michelle's engagement session I wanted to explore areas of the city away from the major tourist stops, like the Baptistry, the Duomo, and the Ponte Vecchio.  After shooting on the south side of the Arno River, we headed back to the north side towards our hotel.  As the sun got lower, the light shafts through the narrow streets were very contrasty and acute.  After playing with a few different angles, I asked them to walk ahead of me slightly, right into the sun.
Rebecca and Bridesmaids | San Diego, CA
This is one of those photographs where it was better to be lucky than good.  This was taken right after Rebecca and Jason's ceremony on the beach.  As I was moving to a different position to get a better perspective on the crowd, I noticed Rebecca making her way towards a cheering throng of family and bridesmaids.  I quickly opened up the aperture, kneeled down and fired off a quick sequence.  I capture the absolute peak moment of the situation:  Rebecca moving swiftly, arm slightly raised as she makes her way to the crowd; her bridesmaid letting out a wake-the-dead scream of joy; Rebecca's mother's hands clasped and giant smile, overjoyed with what just happened.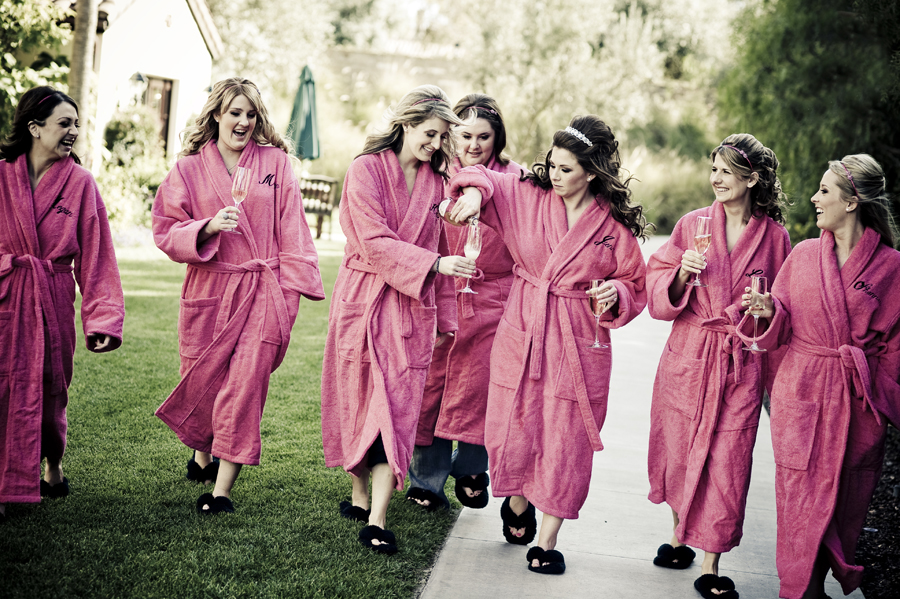 Jenni and Bridesmaids | La Jolla, CA
This is one of those "hang with it" moments, where as a photographer, it pays stick with a situation that, at the outset, may not yield the results one wants.  After hair and makeup, we headed outside to capture some fun images of Jenni and her bridesmaids.  We spent a few minutes getting some fun, playful images of the girls hanging out in a group, but I wasn't really happy with what I had gotten to that point.  Then I had this idea that it might look cool to see what they would look like lined up walking towards me, just this big wall of hot pink.  As they were readying to walk, Jenni picked up a bottle of champagne to bring with them.  Then, as they're walking, she starts pouring champagne for her girls, and that ultimately is what makes the photo work so well.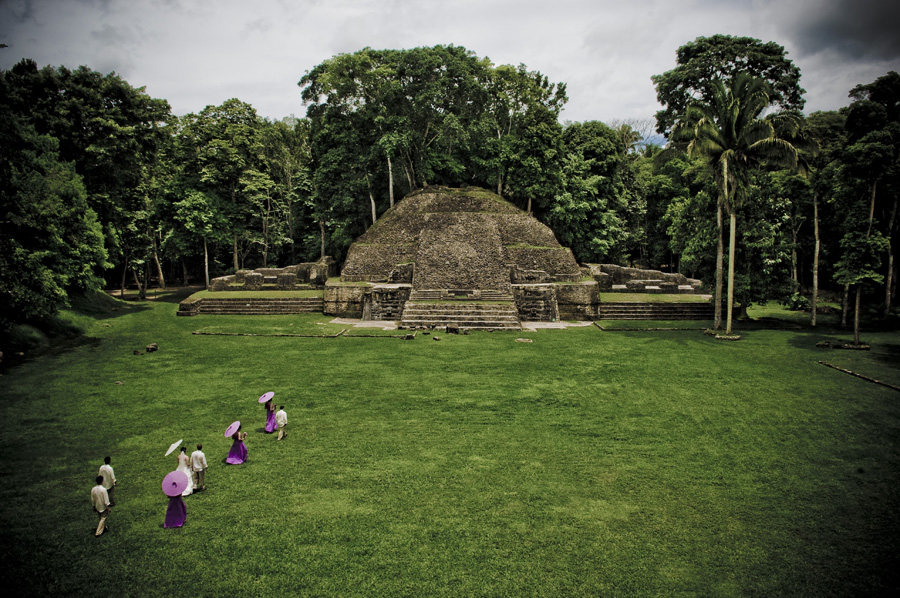 Bridal Party and Mayan Ruins | Caracol, Belize
A few years back I had the great fortune of shooting a destination wedding in Belize.  Aside from the opportunity to photograph a wedding in such an exotic location, the great thing about this wedding was that the bride and groom were really gung-ho about doing some shoots in locations that were uniquely Belize.  The day after the wedding the entire crew headed out to the Mayan ruins of Caracol, which dates back to 1200 BC.  The wedding party got back into their wedding-day attire and we got some fantastic group portraits in and around the ruins.  This photograph was taken from atop the largest ruin, Caana.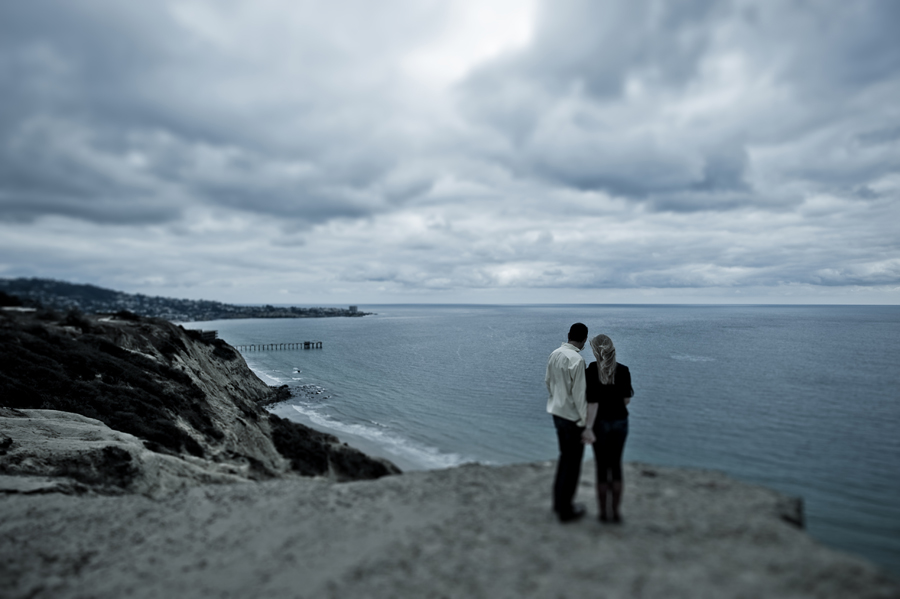 Scottie and Alan | La Jolla, CA
This image was taken last December during Scottie and Alan's engagement shoot.  The weather was cold, rainy and windy-absolutely miserable.  The first location at which we shot was an overlook area off La Jolla Farms Road, above Blacks Beach.  The clouds were particularly dark this day, and I thought it would look great with Scottie and Alan perched near the edge of the cliff, overlooking Scripps Pier and La Jolla Cove.  Scottie and Alan were totally game and I was able to make a pretty cool photograph.
Michelle and Brett | San Sebastián, Spain
Another destination wedding, this time along the Basque Coast of Spain.  A small rain shower rolled through for Michelle and Brett's ceremony, but during our portrait session the skies cleared.  As the sun set over the ocean, the city and departing storm clouds exploded in color.  I wanted to capture the sheer power the weather emanated, so I asked Brett to give Michelle a big kiss right along the railing.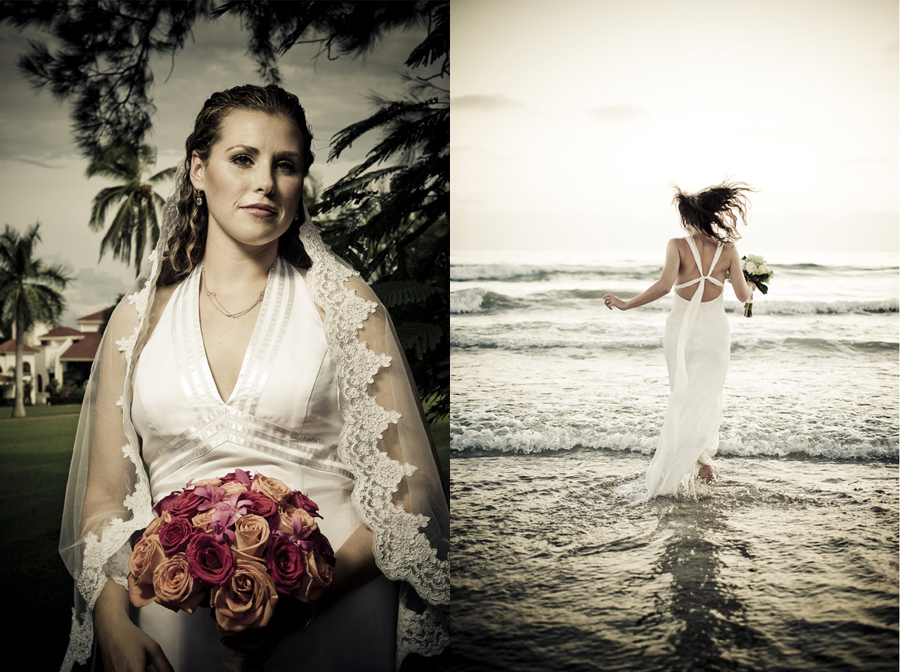 Stephanie | Mazatlan, Mexico (above left)
I was a big fan of Annie Liebovitz's campaign for Louis Vuitton a few years back.  In pure Annie-style, the subjects were lighted using big light sources, which gave everything this really broad, soft light.  In some of the images, particularly the one of Keith Richards in the hotel room, the background light was toned down a bit in order for the subject to pop.  That was my inspiration for this image of Stephanie, taken shortly before her ceremony in Mazatlan.
Murielle | Del Mar (above right)
This was taken during a self-promo video I was making with the incredibly talented Dan Boswell of dvArtistry.  Earlier in the day we photographed Murielle in a different gown at a large house up on the hill.  As the light got lower, we switched into a different (read: cheaper) gown for a shoot on the beach.  I was really comfortable with what we had gotten at the house, so at this point we were just shooting from the hip.  Murielle is an actress and is terrific in front of the camera, so it didn't take a lot to get her dancing around.  As the light was fading, we threw out the idea of jumping in the water.  She ran in, bouquet and all.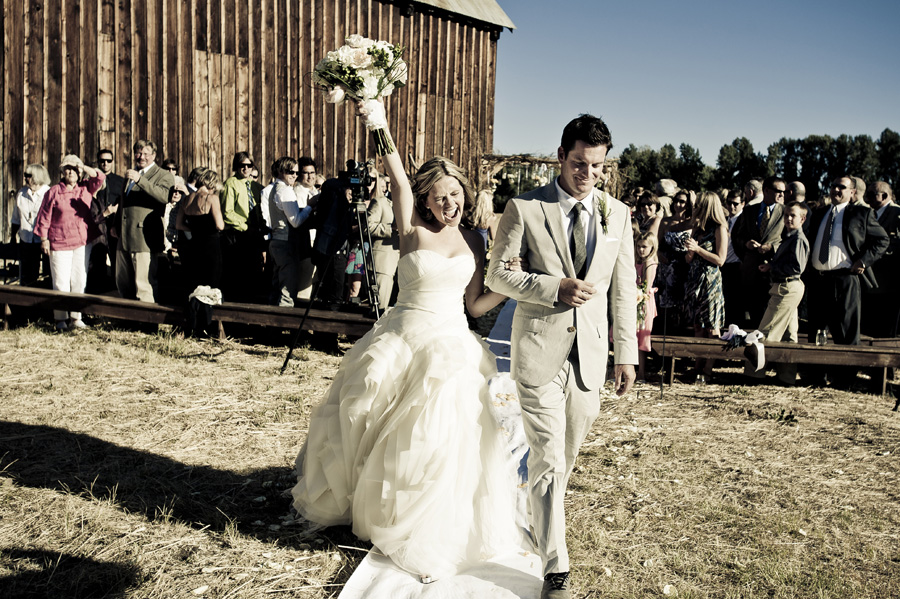 Courtney and Chris | Lake Almanor, CA
Courtney and Chris had their recent destination wedding at a 150-year-old barn up in the mountains in a little town called Lake Almanor.  This was shot during their processional, and the expression on Courtney's face says more about this photo than I ever could.

Read More »