The lovebirds had weren't always a perfect pair. Their feelings and love for each other were always there, but as life sometimes works, other relationships kept them apart. Their families had been close friends and had always wanted them back together, and after noticing the look in each others eyes when they were near, knew it was meant to be. Their storybook romance brought them back together and they decided to never let go again. Their families nicked named them 'Les Amouroux', the lovebirds, and with that inspiration their wedding was created.
With a white sand beach, a bride that could pass as a supermodel and ultra chic guests, they were destined for a wedding that will not soon be forgotten. Miriam and Sacha and 30 of their closest friends and family traveled from Miami, Los Angeles, New York, Bahrain and Paris to witness the love birds say their 'I do's'. She wore a cowl necked satin and lace gown and walked down the aisle to Peter Cetera's 'After All..', which suited the pairs romantic history to perfection.
Hand dyed silk ombre ribbons held their wedding rings in a shell ready for the ceremony.
Ombre ribbons tied to tags adorned with large drop crystals served as the guest's program and a way to stay cool. Flip flops were offered by the 'Shoe Valet' as guests entered the ceremony site next to a framed sign that read 'Miriam and Sacha, a perfect pair' with a custom designed monogram of the lovebirds.
The aisle was lined with drift wood branches and clusters of large white blooms to guide the bride down to her groom.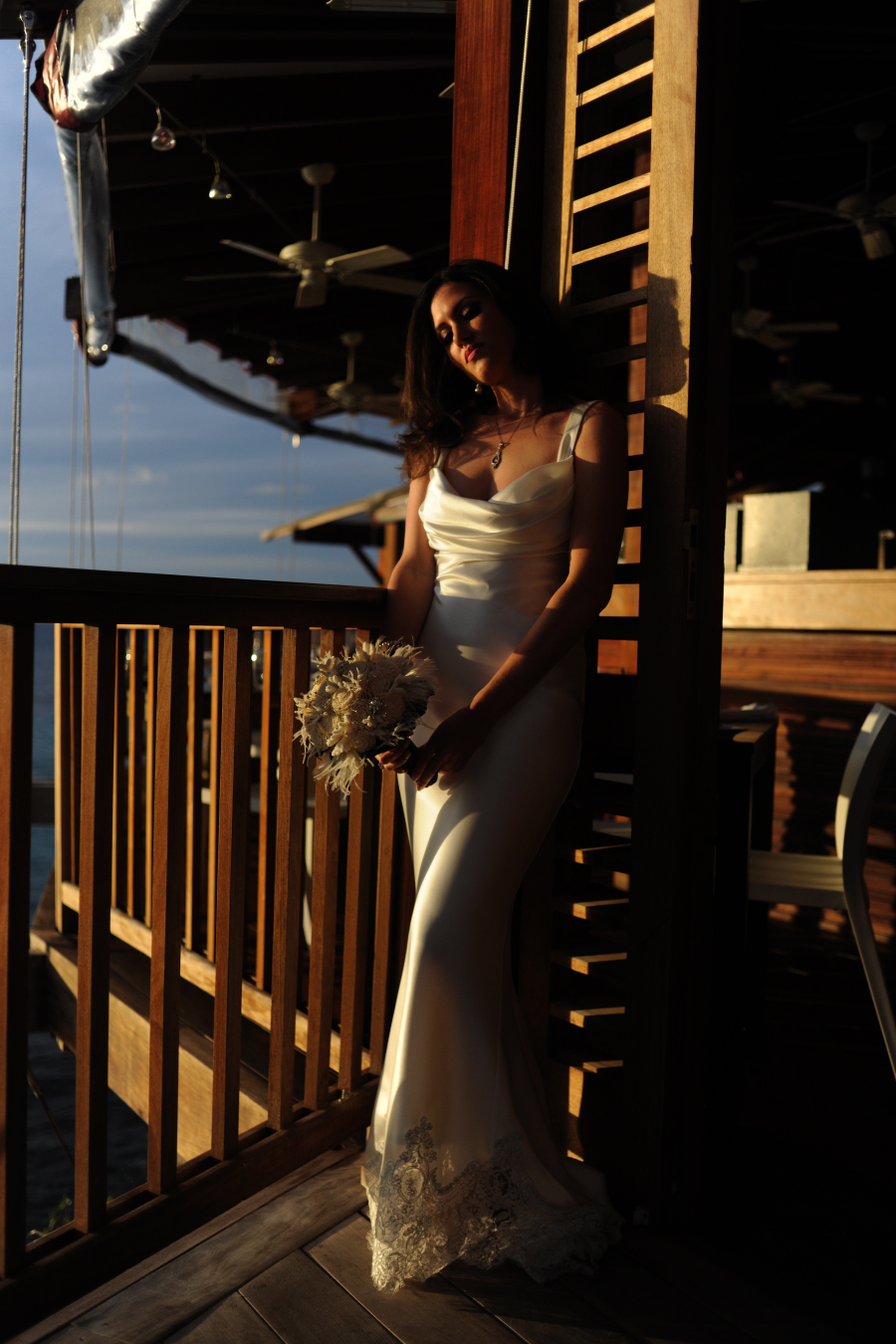 The bride carried a custom designed bouquet by Little World Design created out of balsa wood flowers, coral, shells and ostrich feathers.
The lyrics were so perfectly suited for their romantic tale it took their guests breaths away. They were too perfect not to share the sweet words with you!
'After All' by Peter Cetera
Well, here we are again;
I guess it must be fate.
We've tried it on our own,
But deep inside we've known
We'd be back to set things straight.
I still remember when
Your kiss was so brand new.
Every memory repeats,
Every step I take retreats,
Every journey always brings me back to you.
(chorus)
After All the stops and starts,
We keep coming back to these two hearts,
Two angels who've been rescued from the fall.
After All that we've been through,
It all comes down to me and you.
I guess it's meant to be,
Forever you and me, After All.
When love is truly right
(This time it's truly right.)
It lives from year to year.
It changes as it goes,
Oh, and on the way it grows,
But it never disappears…
Photography: Jean Phillipe Piter
Venue: Eden Rock Hotel
Coordination, Event Design & Wedding Stationery Design: Alchemy Fine Events & Invitations
Read More »
The Destination: St. Barths  The Location: Eden Rock Hotel The Occasion: Miriam & Sacha's Wedding!!!  The Inspiration: Love Birds
This couple was adoringly known by their friends as family as 'Les Amoureux', which in French means 'The Lovebirds'. After hearing this I was immediately inspired to take this gorgeous phrase, along with her French heritage and his romantic streak, to a whole new level. By infusing French + Romance + Beach I coined the name of the wedding 'Deux become One'.
Miriam wanted to bring the softness of bleached peacock feathers and color range of pastel ombre linens. I have hand dyed ombre table runners and fabric chandeliers before and love being able to find brides that encourage custom commissioned pieces. We talked about bringing in the simplicity of the beach but adding a chic and opulent vibe to it while infusing a bits of black for a modern twist. To incorporate the 'Love Bird' theme we wanted to bring in bird cages and feathers but give them an updated look for a fashionable twist. From our detailed inspirational pow wow's I created these inspiration boards to communicate our direction to the vendors on St. Barths. Relying on images to tell a story is extremely important, especially in this case when there was a huge language barrier.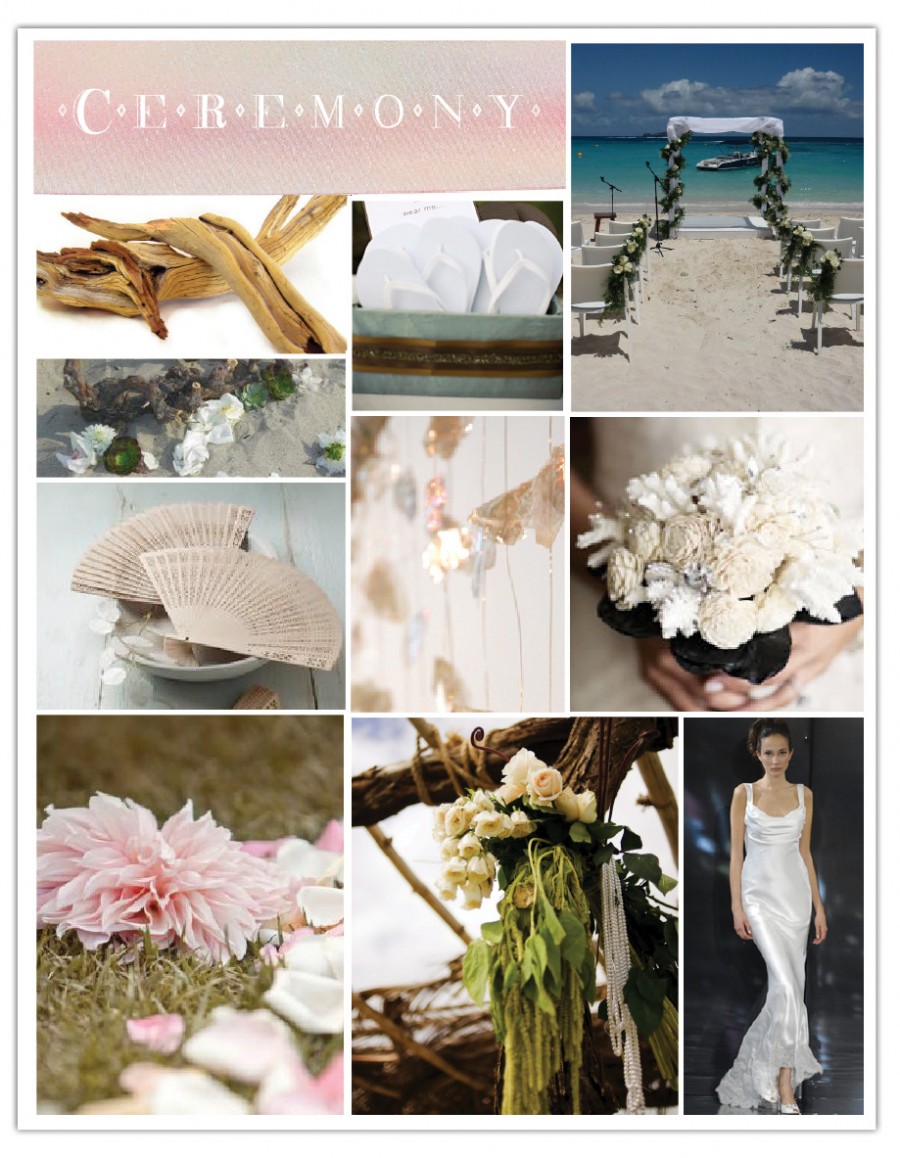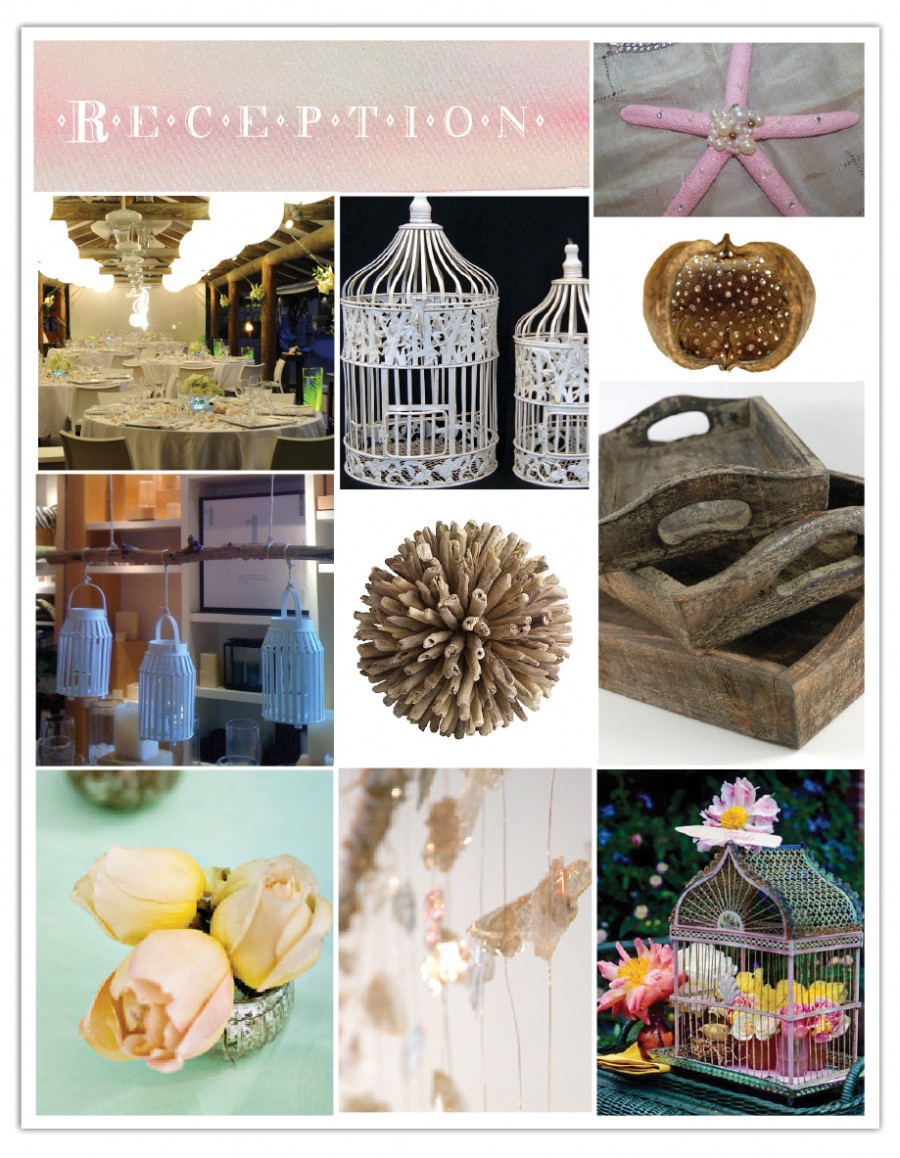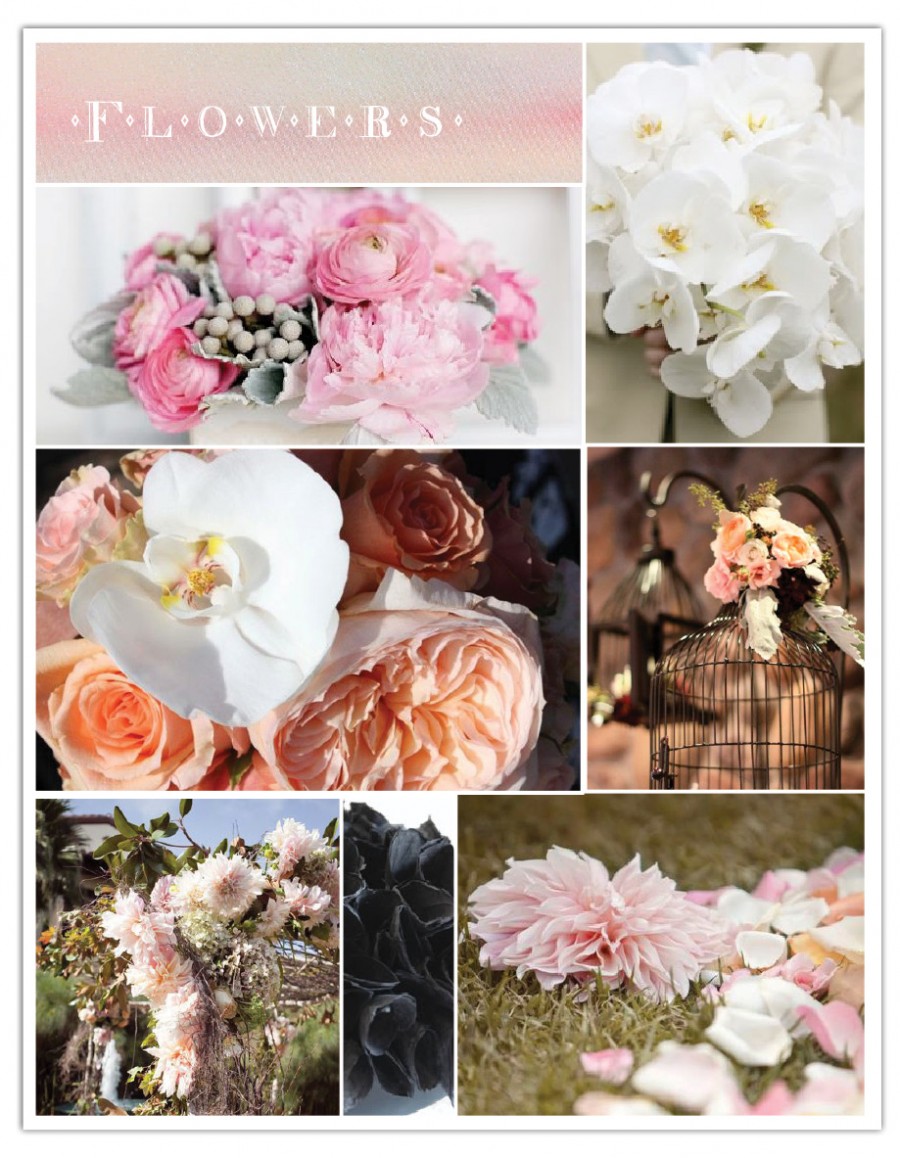 Flower Credits: JL Designs, Elegant by Design, Studio Fiore.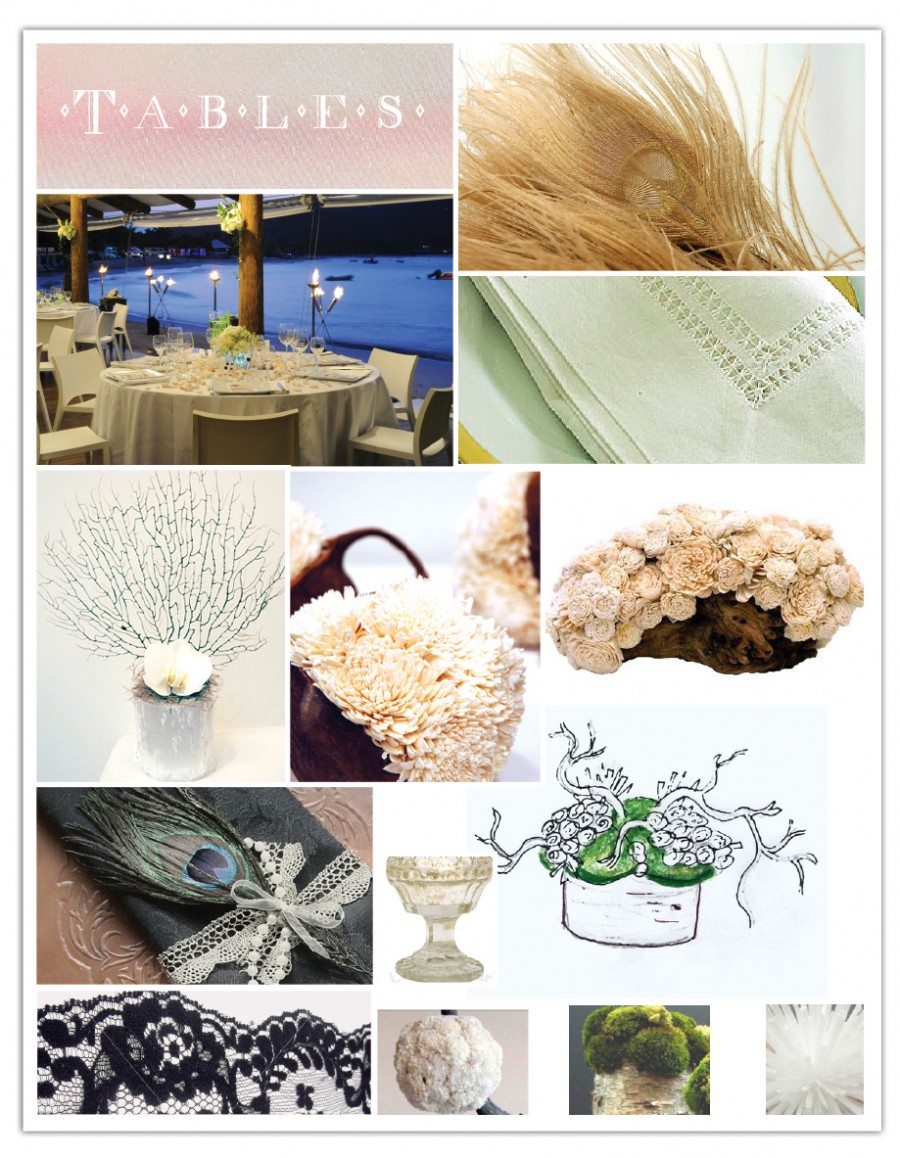 Sculptural Elements and Sketches by Heather Pando of Little World Design, formerly of Krislyn Design.
**If you have been featured in these inspiration boards and not properly credited please email and I will update credits promptly.
Read More »
Recently we were asked by Catherine Bachelier Smith, wedding planner extraordinaire and someone I'm proud to call a friend, to create an invitation and complete wedding suite for two of her special clients. When I met with the couple and started asking for inspiration about what they love, who they are as a couple and how I can translate 'them' into my designs,  I received quite a whirlwind of thoughts. Contemporary, modern, vintage florals, classic, incorporate the grooms Moorish heritage. Combining a multitude of contrasting inspirations is always a challenge, a challenge I love!!! View the invitation and a few gorgeous photos of their wedding here but also make sure to catch it in the latest issue of Exquisite Weddings Magazine.

From the inspiration of the Moorish tiles and some contemporary fabrics I illustrated two custom pattern that were incorporated throughout the invitation and wedding stationery. The die cut invitation was wrapped in a laser cut wood grained paper and adorned with a separate green and gold foiled disc designed in the same ornament as the pattern. Wendy Ware Calligraphy addresses each envelope in her chocolate brown elegant script for the final touch.



Collaborating with other planners is always such a delight and gives us a chance to meet other talented individuals in the wedding industry. Whether we contribute the invitations, total event decor or even candy and dessert bar styling, we always love being able to work  along side others we inspire or that we're inspired by.
Invitation: Invitation & Wedding Stationery by Alchemy Fine Events & Invitations, Calligraphy by Wendy Ware
Coordination & Collaboration: Catherine Bachelier Smith, CBS Weddings
Photographic Interpretation: Wedding photos by Paul Barnett, Invitation photos by Christine Chang


Read More »