We're already onto our 3rd installment of our Art History for Brides series and with each passing time period I grow more and more in love with the next. This installment was definitely a challenge in the way that I really wanted it to look romantic and elegant and not harsh and cold like so many attribute to this beautiful art movement. From the colors of the stained glass, berry toned flowers and a stunning model, I cannot express how happy I was with the end result. I hope you feel the same!
Art History for Brides: Gothic Wedding Inspiration
The Gothic art movement was during the 12th century and was very much inspired and driven by the inspirations of the church and had touches of Romanesque architecture, Byzantine textiles, and French fashion. Often confused with Goth (think vampires, Marilyn Manson, black lipstick and chokers), Gothic was daring yet refined and richly ornate with details.
Gothic Graphics
Bold Gothic style fonts are some of the most widely spread example of this genre and were even used for the very first example of printing, the Gutenberg Bible. For this Gothic style Wedding Invitation I created a custom quatrefoil pattern, incorporated vaulted arches and a diecut stained glass inspired invitation sleeve.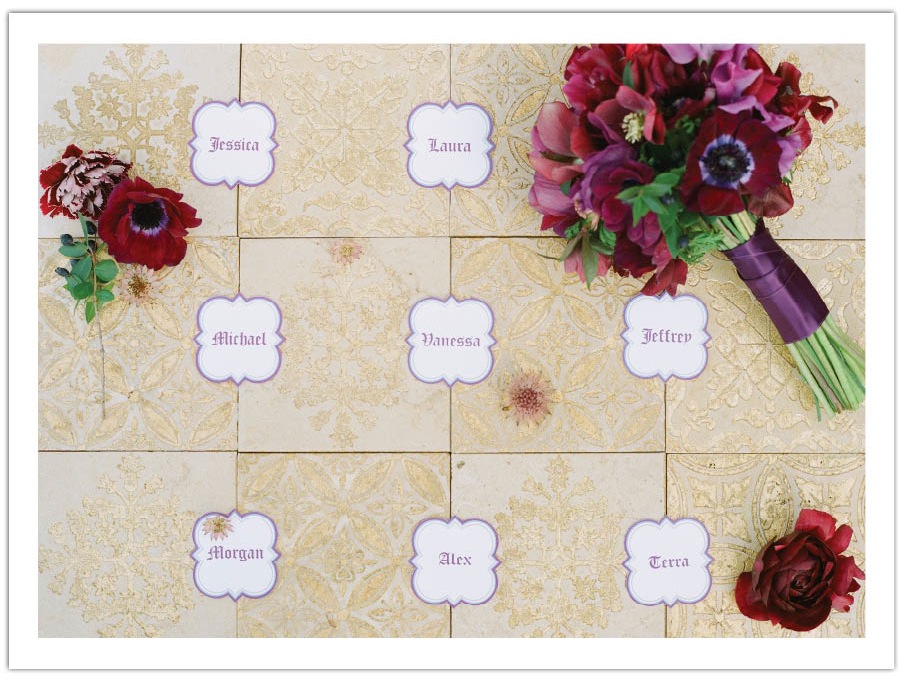 Gothic Architecture
Gothic architecture featured magnificent buildings that were built with signature pointed aches, vaulted ceilings, and flying buttresses. Some of the most notable examples of gothic architecture are Notre Dame. Reims Cathedral and Chatres Cathedral to name a few.
Gothic Symbols
Quatrefoils were a popular symbolic shape that was seen in the stained glass, ornate windows and other architectural elements that was widely repeated and gave a royal and majestic feeling. For our Gothic inspired table we used a rich gold velvet quatrefoil patterned as a runner layered on top of a rich berry stained wool. For an opulent and unique place setting we featured ornate marble tiles that featured golden scrollwork that could be seen through our cut crystal plates.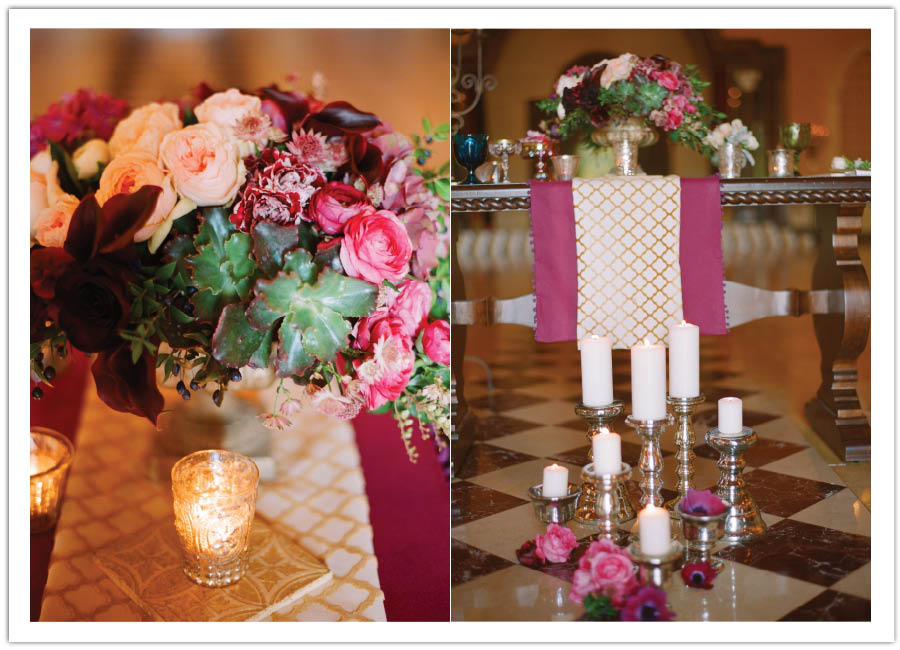 Flowers
For a bold yet romantic take on Gothic inspired flowers, Isari Flower Studio created a stunning yet delicate berry toned bridal bouquet composed of purples transitioning to merlot kissed Sweetpeas, dark burgundy Anemone with touches of wine hued Heleborus. The richly textured centerpiece offered a melange of  deep red and cream ranunculas, schwartz mini calla lilies, succulents, black center anemones amidst astrantias, Hydrangeas and black berries. In addition to the large arrangement, the companion pieces boasted clusters of ranunculas, with grey dusty miller foliages and then topped each place setting a single cream ranunculas, and dusty miler leaves.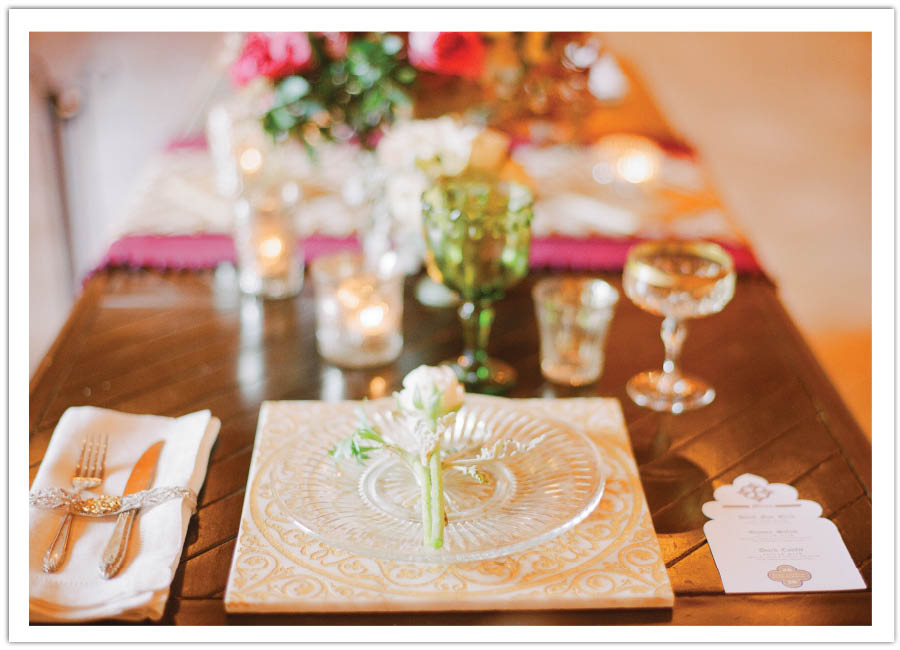 Stained Glass

Cathedrals boasted giant windows adorned with ornate stain glass that let light shine through in rich reds, blues, and yellows. Shapes including quatrefoils, floral inspired and geometric elements were combined to create these stunning light-filled windows from which the cathedrals patrons would gaze into from the pews. We brought the colorful glass from the windows onto the table with our bold and colorful goblets.
This vintage church chair by OC Prop Girl is a perfect example of Gothic style furniture with Gothic arches and detailing.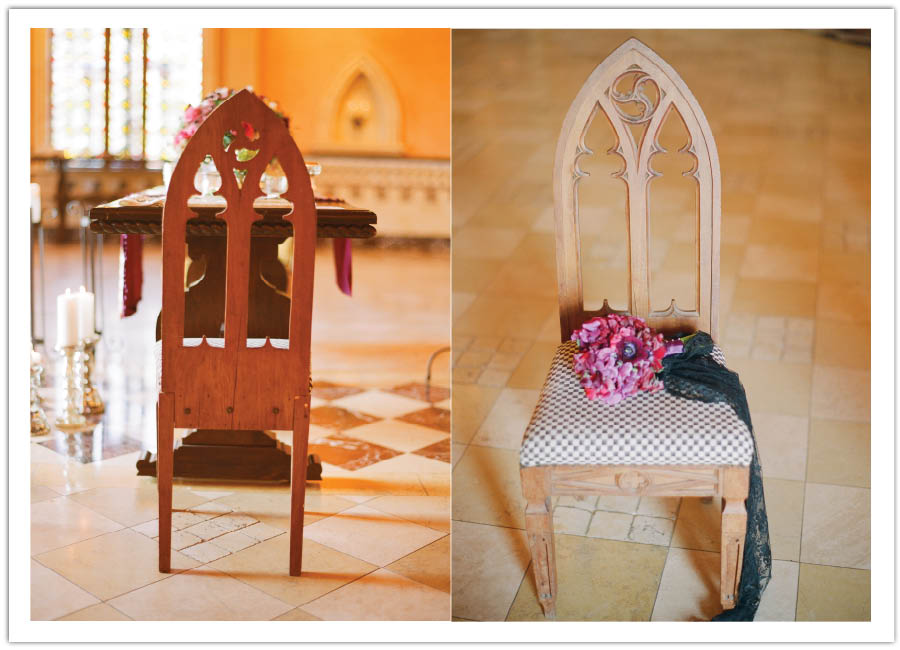 Gothic Fashion
The wealthy brought in expensive silks from Byzantium and wore them as long draping tunics with flared sleeves, a French fashion known as a bliaut. Blue and ruby red were popular colors accented with gold pieces such as a loosely worn belt with gold tassels. Women wore veils draped over their long braided hair to signify marriage. This was wonderful fashion during the 12th century but we opted for a stunning sand colored gown by Monique Lhullier and from M Bride for our bride to be.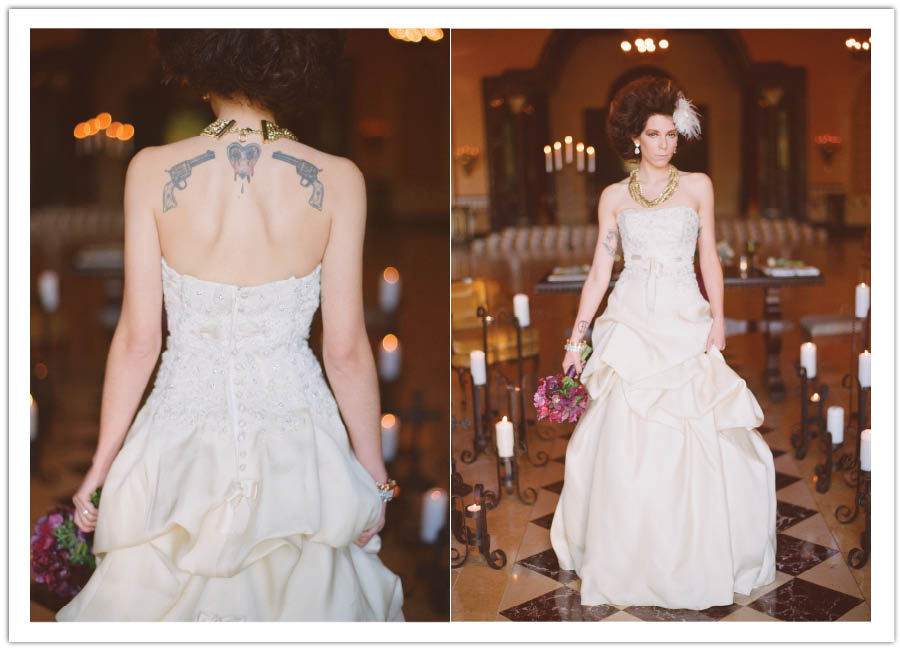 Gothic Art
Triptychs are wonderful examples of Gothic art that featured three panels of settings framed by ornate vaulted arches. I was inspired by these classical pieces of art when I created a trifold wedding invitation in the same style showcasing the notable vaulted arch, quatrefoil and a stained glass inspired belly band.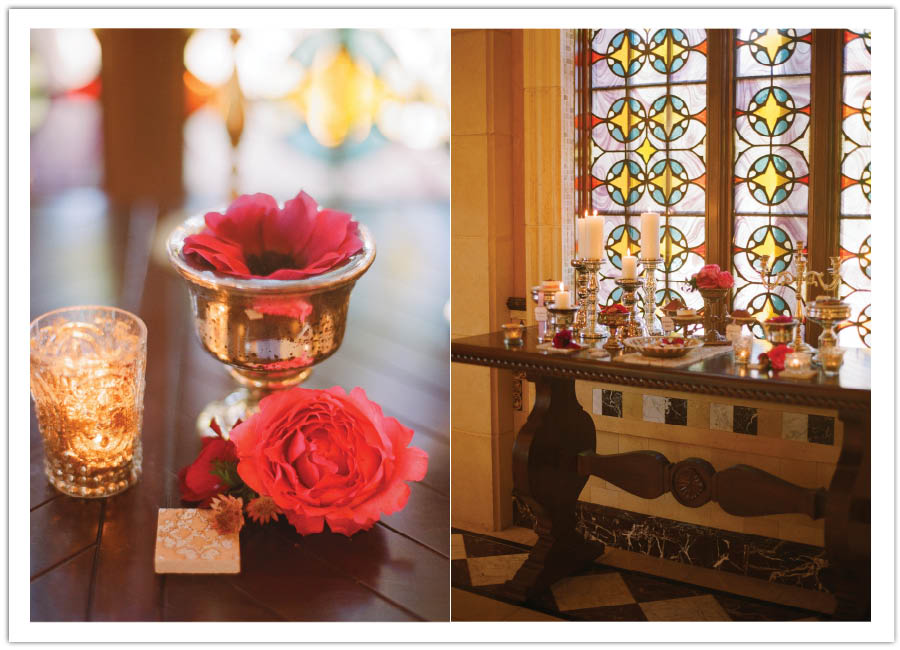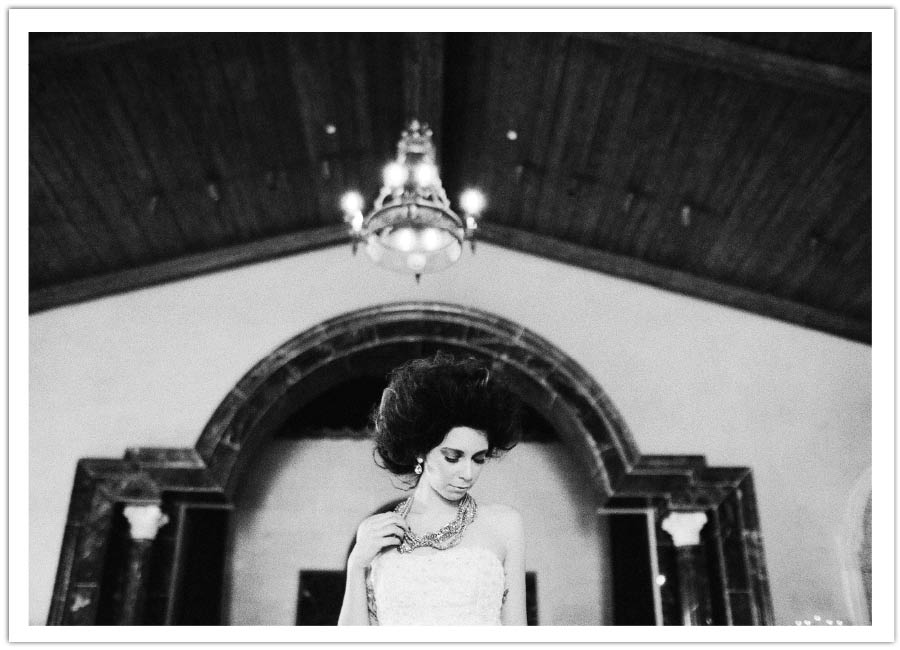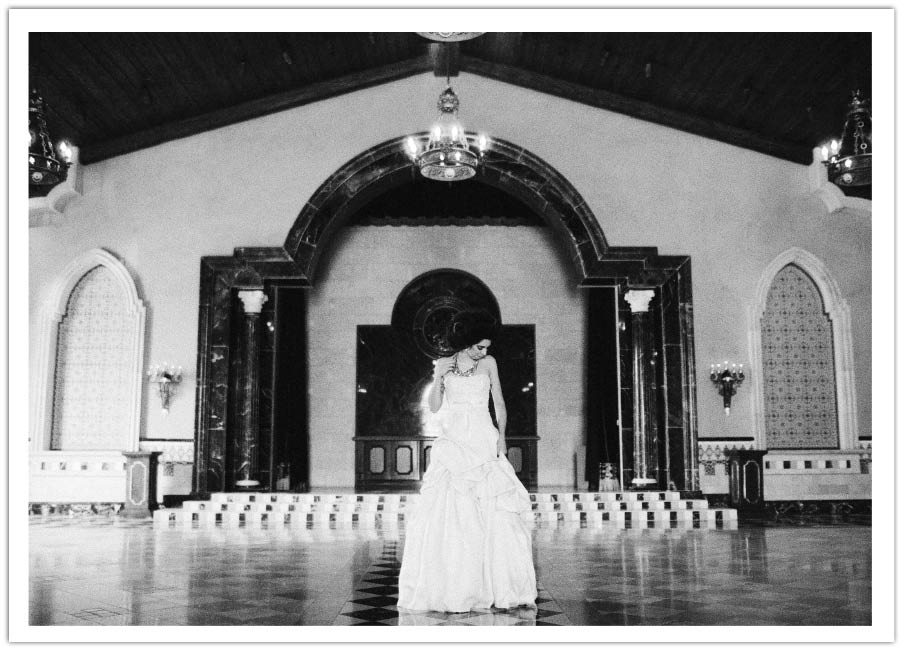 With so many beautiful and meaningful artful elements to be inspired by this powerful artistic movement in history, Gothic is a wonderful genre to get inspiration for your wedding day. Whether it be Gothic inspired wedding invitations, stained glass inspired décor or even jewelry, Gothic design would be a great way to add drama and intrigue to your wedding.
Design & Styling by Alchemy Fine Events & Invitations
Photography by Jill Thomas
Invitation & Stationery Design by Alchemy Fine Events & Invitations
Flowers by Isari Flower Studio
Props by OC Prop Girl
Hair and Make Up by Katwalk Styling
Dress & Jewelry by M Bride
Venue The Capella at The Grand Del Mar
Pastries by Opera Patisserie

Read More »