The ultimate Valentine's Day Engagement Design
With the day of love approaching fast we wanted to share a Valentine's Day engagement shoot we designed with some gorgeous friends of ours that are on their way to say "I do!"
We present the ultimate luxury Valentine's Day inspiration with a collaboration of design, stationery and styling by us, Alchemy Fine Events,  Chuao Chocolatiers and Isari Flower Studio. Follow a bride-to-be on her scavenger hunt for love from clue to clue discovering sweet notes, a fab outfit, chocolates and even a piñata to bust open to discover the final clue leading her to a stunning cliffside proposal and a 5 carat bauble hiding in a rose. Chock full of lush flowers, chocolates and champagne, we deliver a gorgeous modern glam setting capture by Luna Photo sure to leave you dreaming about the day-of-love to come. Whether it be for a super special Valentine's Day engagement celebration, or even for a Valentine's Day wedding, this colorful palette is sure to inspire!
Read our poem below to follow our bride to be Cachel from clue to clue that eventually led her to this stunning cliff-side proposal site below.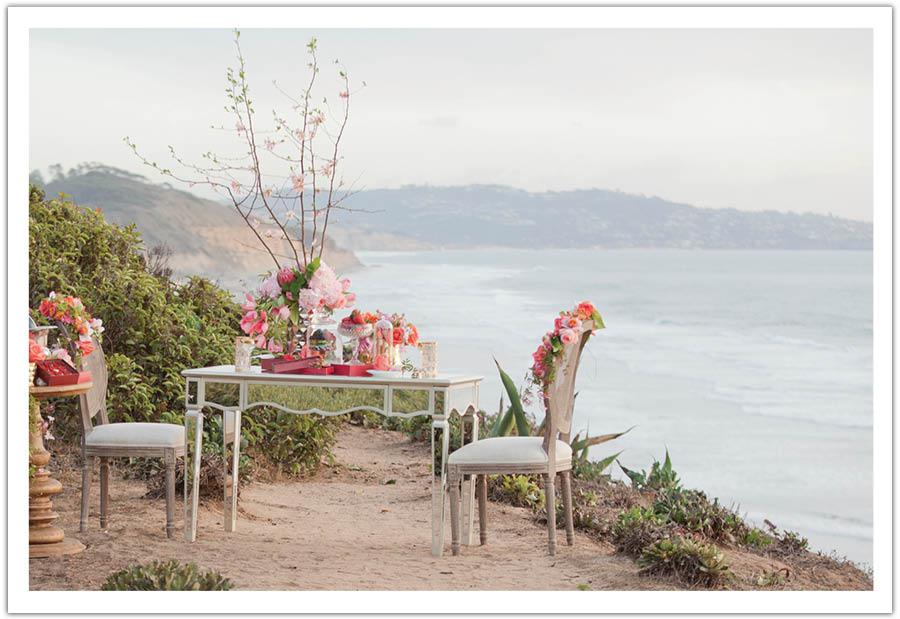 The day started off with our stunning bride-to-be finding a colorful new dress with a tag that read "Wear Me."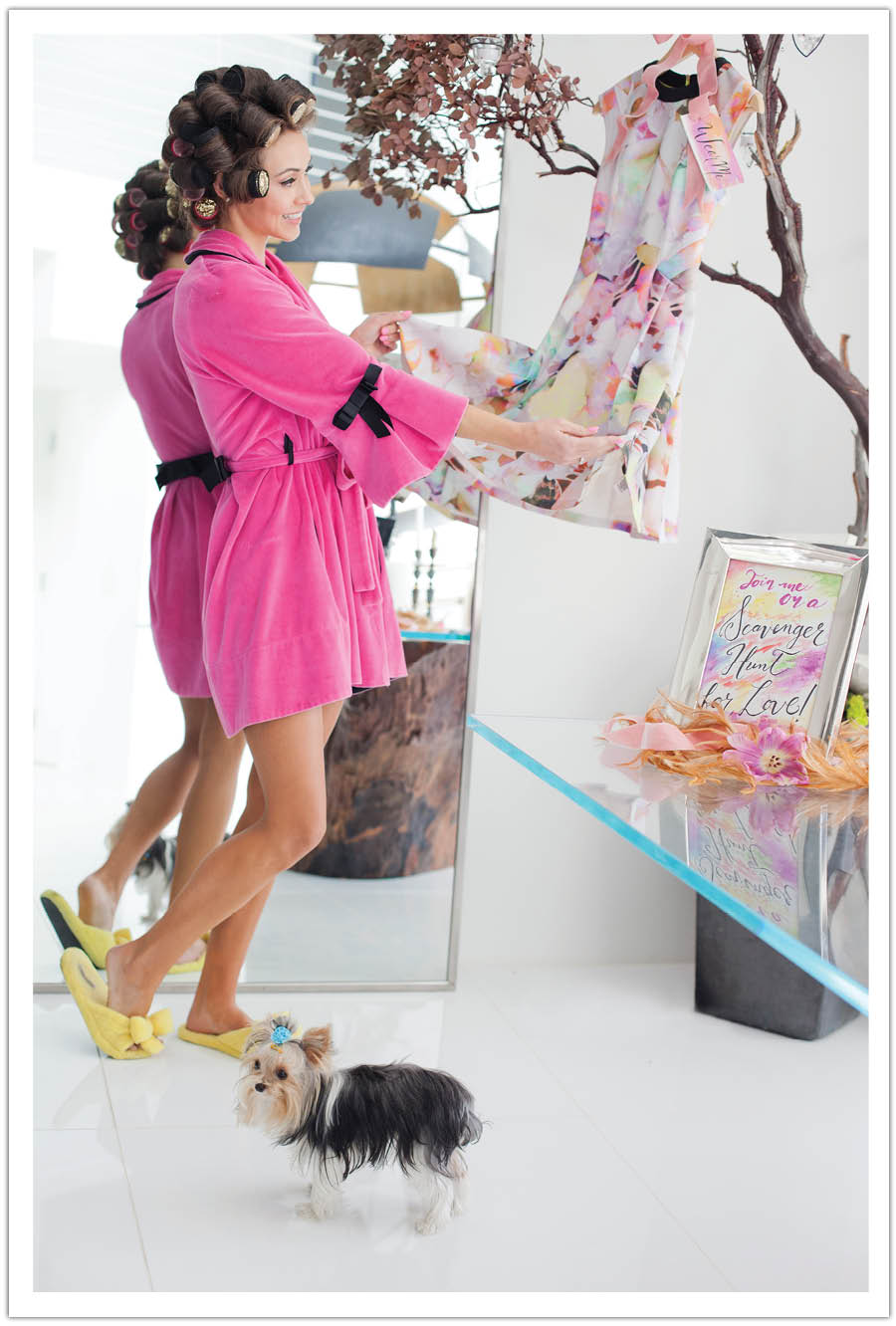 Clue #1 was framed nearby, that she read as she sipped bubbles and held onto her darling pooch Little Guy.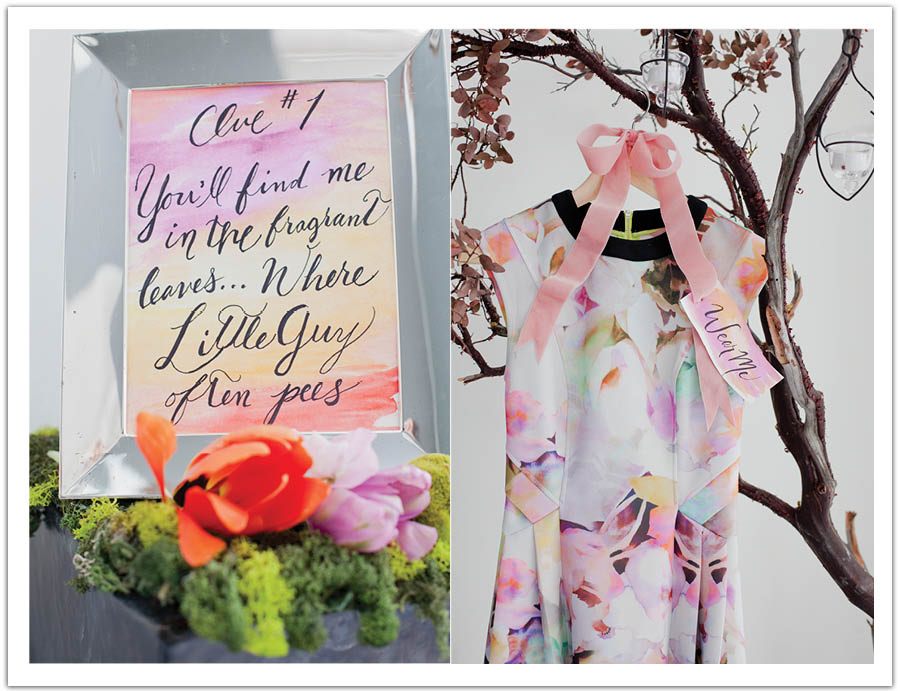 "You'll find me in in the fragrant leaves.. Where Little Guy often pees" read clue #1, she smiled as she knew this day was going to be fun!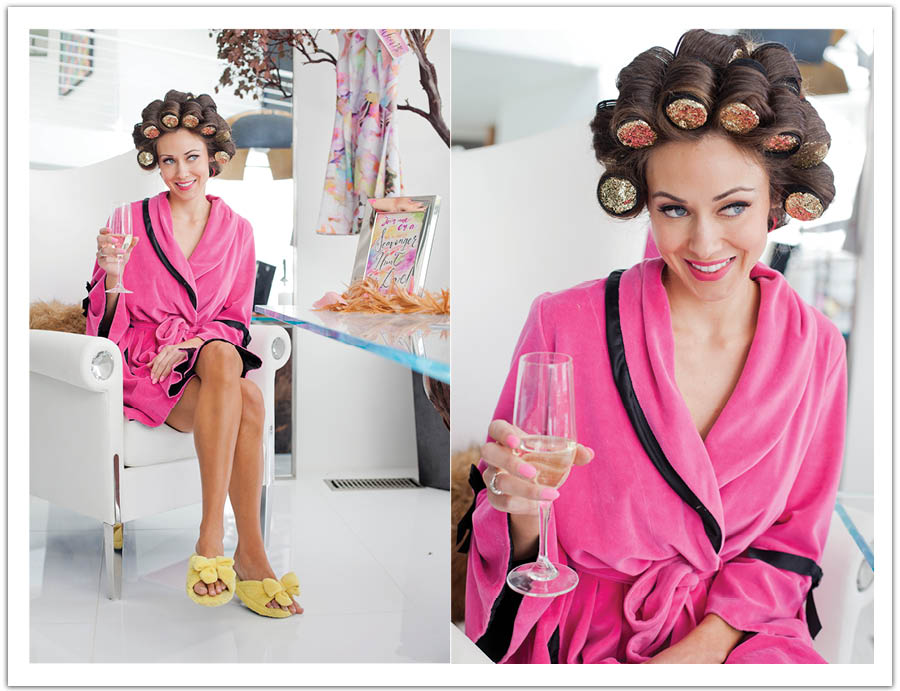 After finding Clue #2 amongst the 'fragrant leaves', she discovered it was exactly what she was told.. It WAS where Little Guy  often  pees!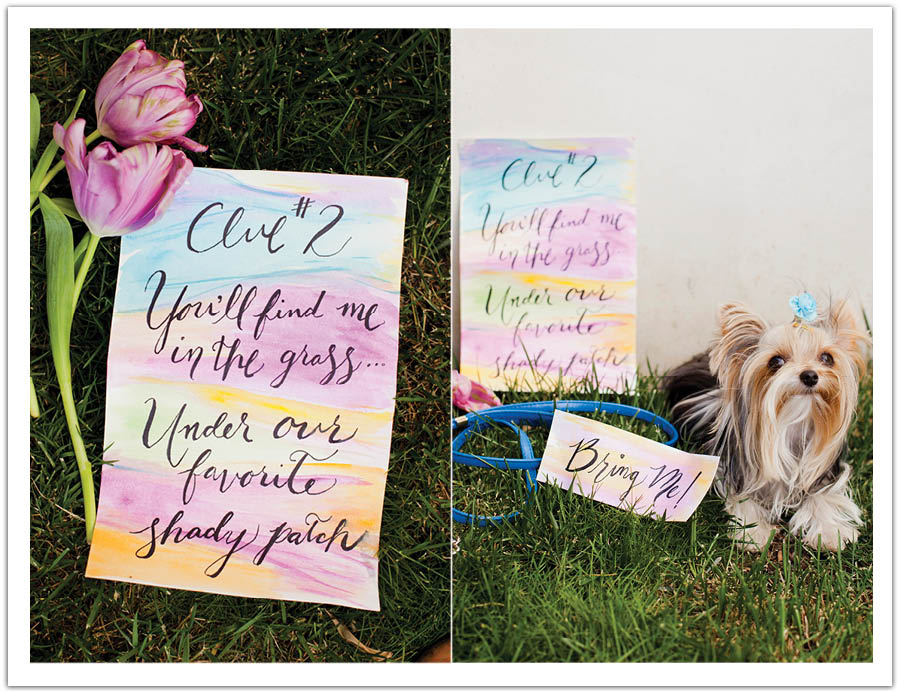 With a quick change, and a coif and a spritz and a spray, Cachel was off and on her Scavenger Hunting way!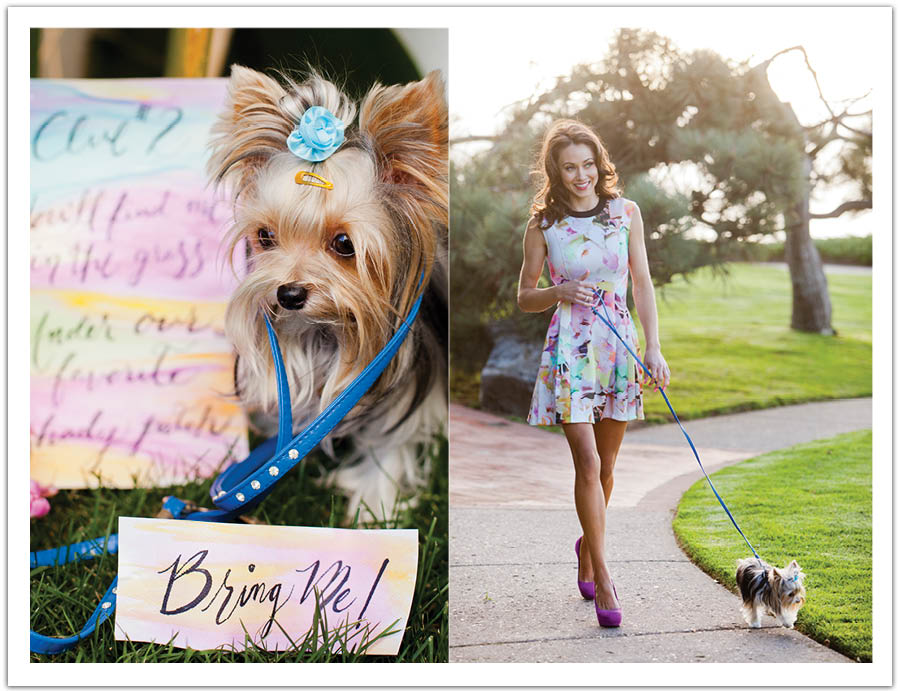 "You'll find me in the grass.. under our favorite shady patch" read the clue, so with the snap of a leash, off to park they jetted to!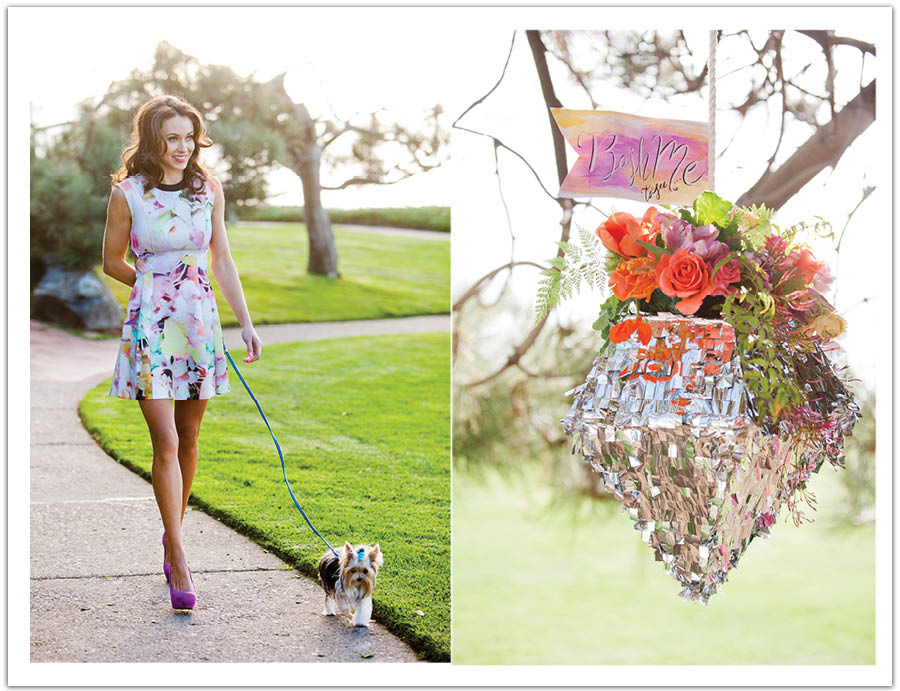 At the seaside park she discovered a pinata overflowing with flowers that read "Bash me to See…" and on a side table the note continued "… The Reasons Why I Love You and Clue #3!"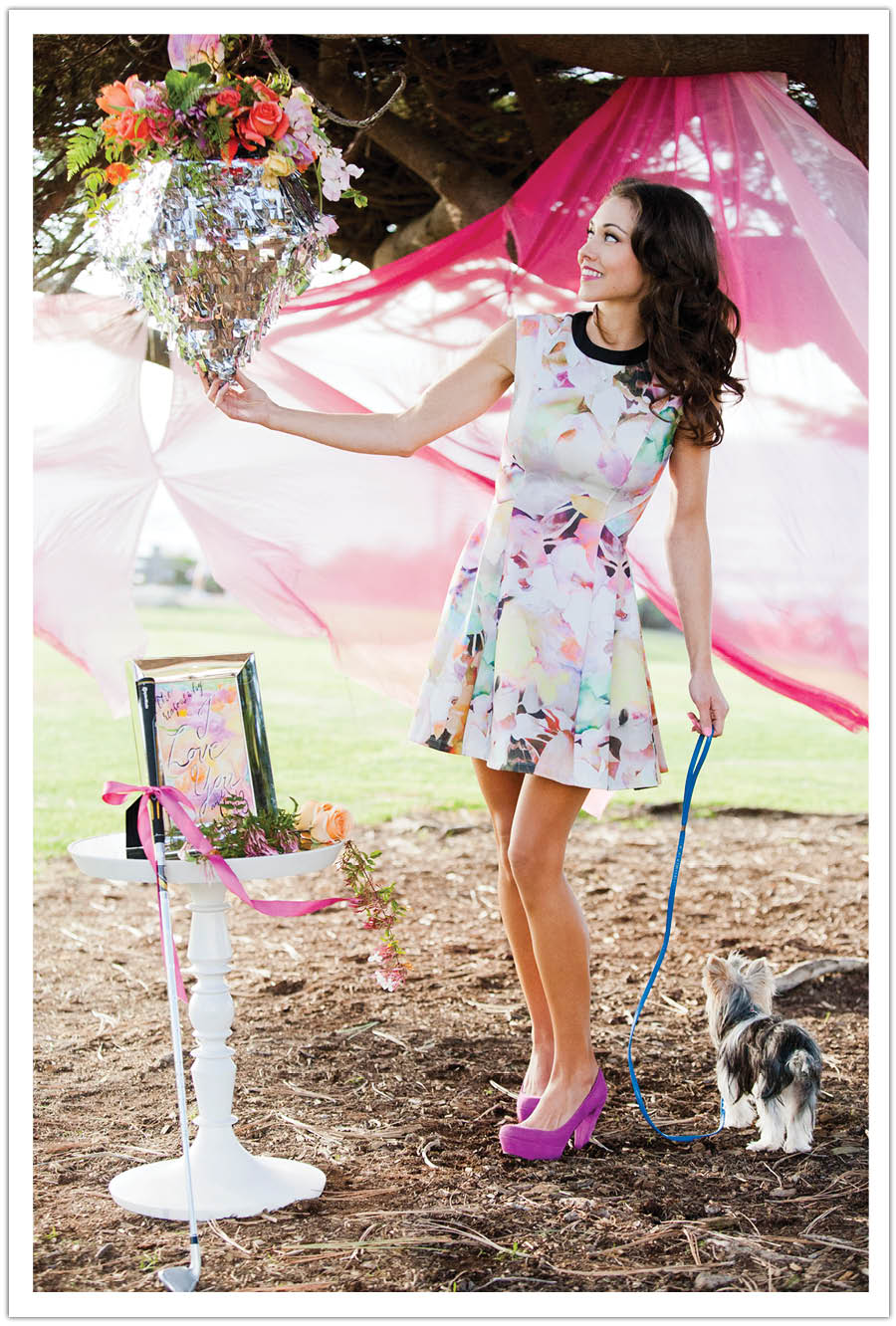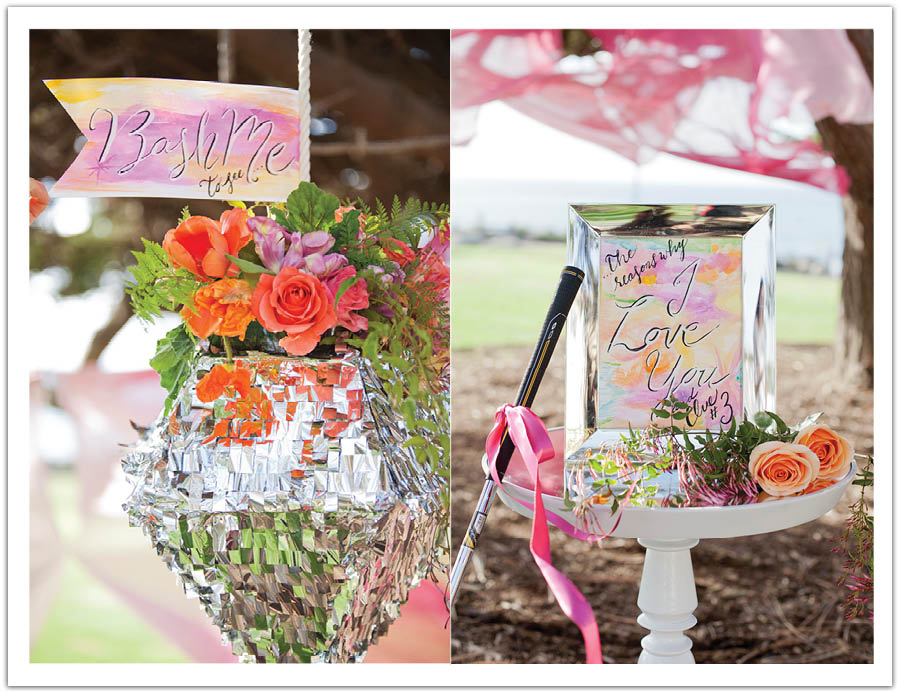 She swung and she swung with all of her might, to see what her future held, fight or flight!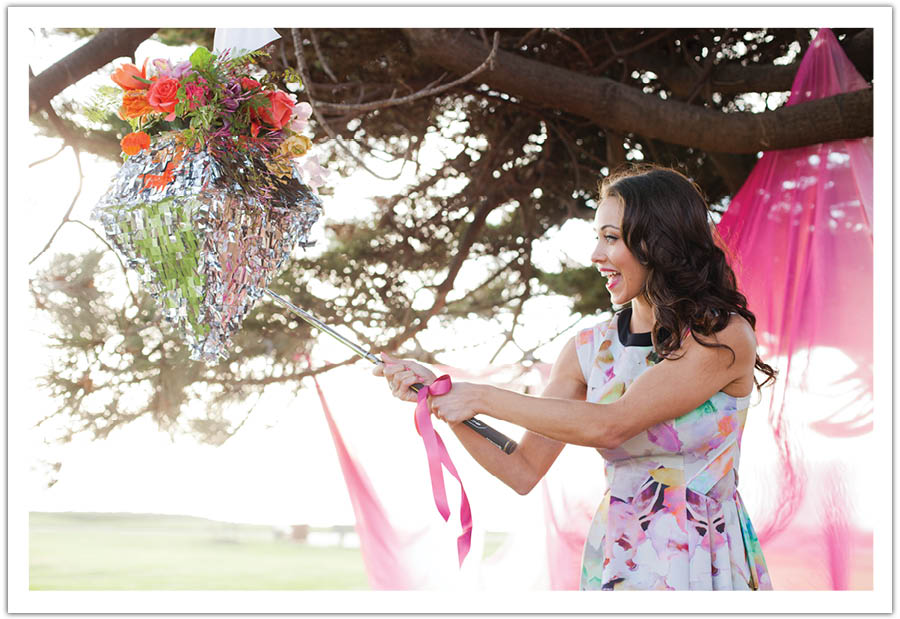 When bashed open, inside the pinata she found the reasons why "he loved her", some fragrant blooms, and a bunch of scrumptious chocolates, which she immediately consumed.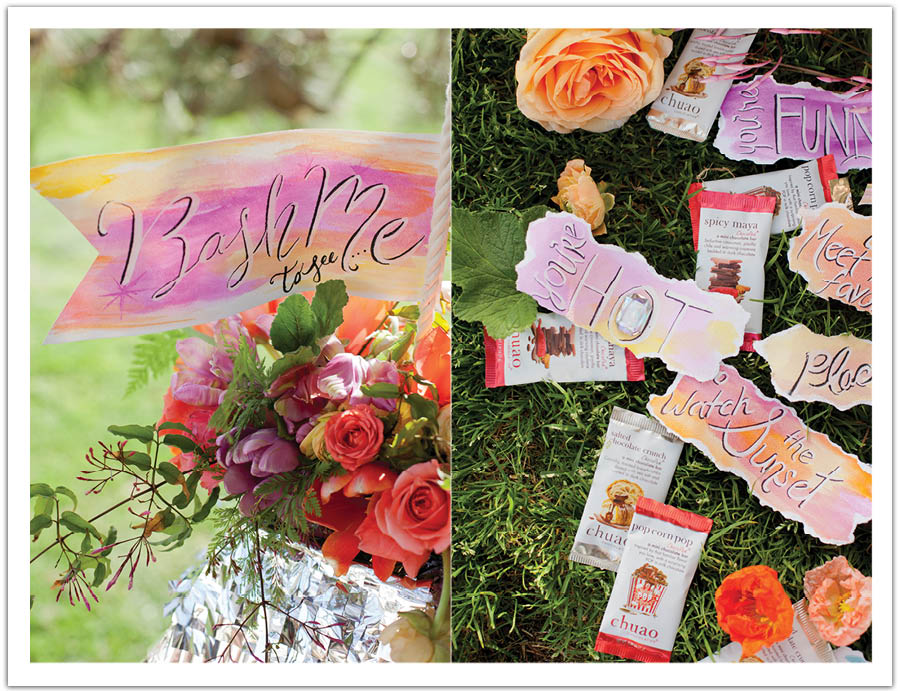 Amidst the notes she read that landed on the ground, "Meet me at our favorite place to watch the sunset" and clue #3 was found.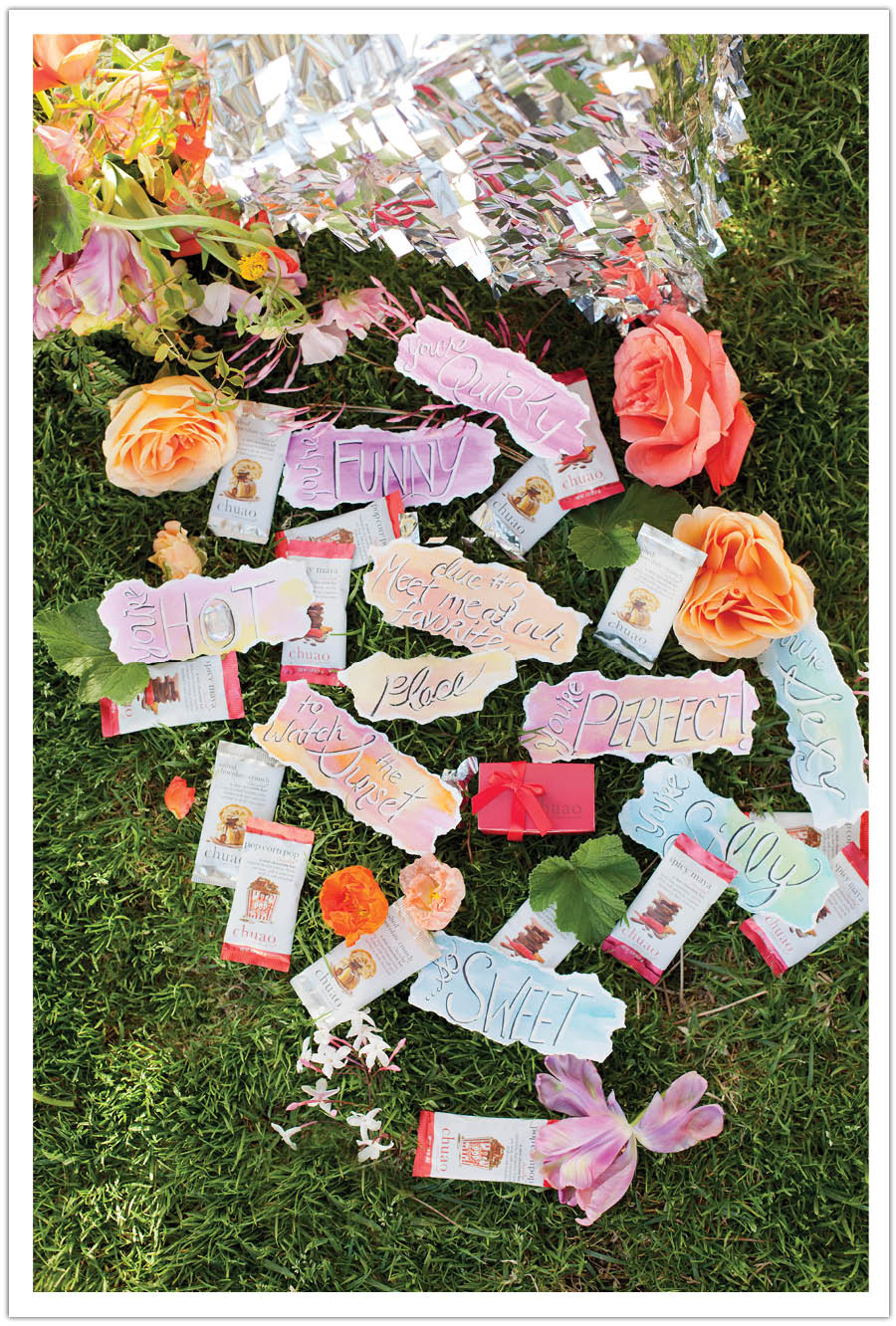 They skipped off to the bluff in Del Mar overlooking the sea, where she found her love, her man, and her fiance to be.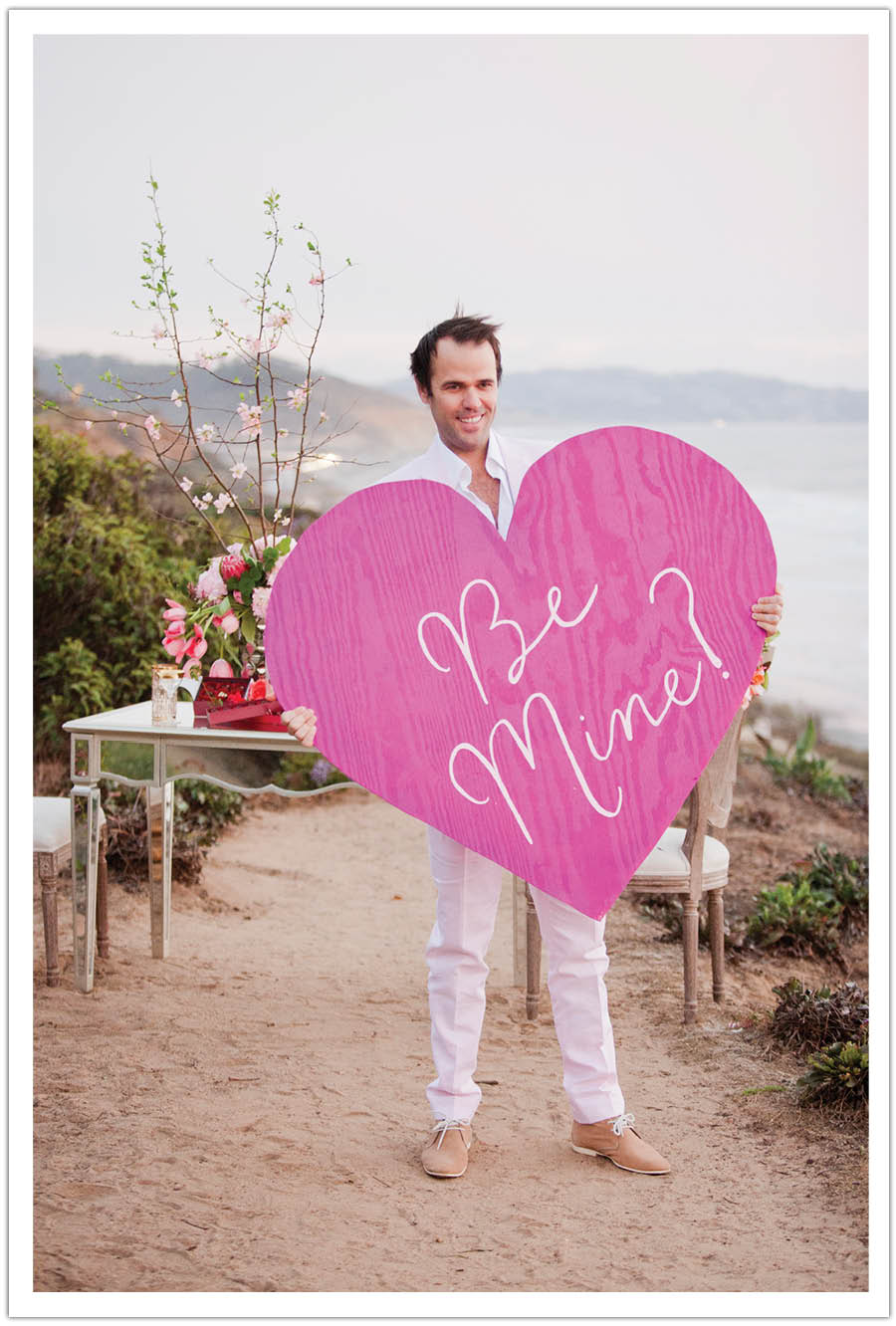 In the distance she spotted him holding an over sized heart reading "Be Mine?" Her heart set a flutter, she ran, almost leaving Little Guy behind!

Behind him stood a gorgeous table set for two that boasted beautiful flowers, heart shaped chocolates, and then after spotting the beautiful bauble we heard a loud "I DOOOOOOOO!!!!"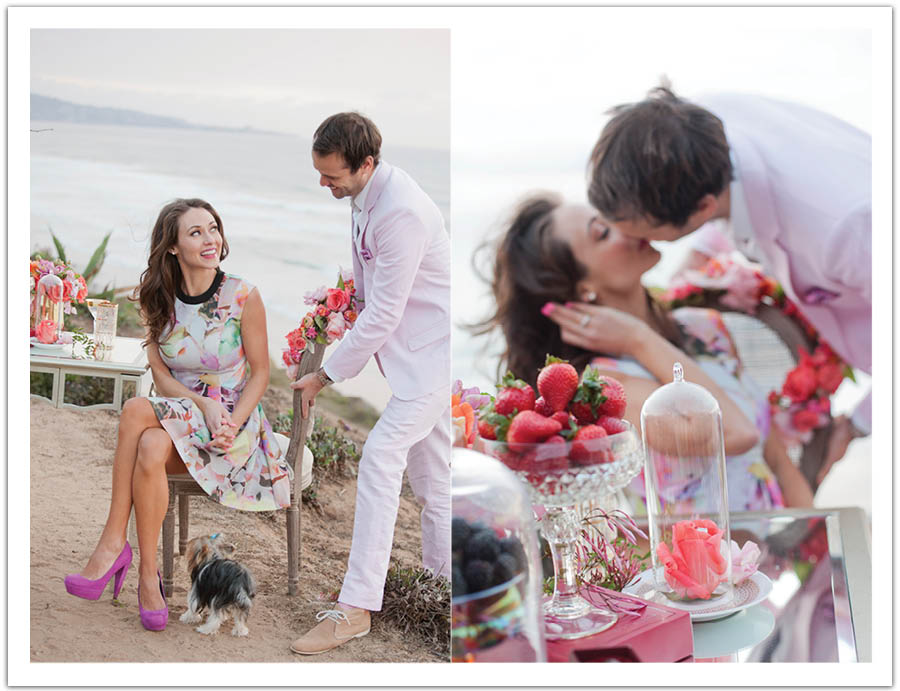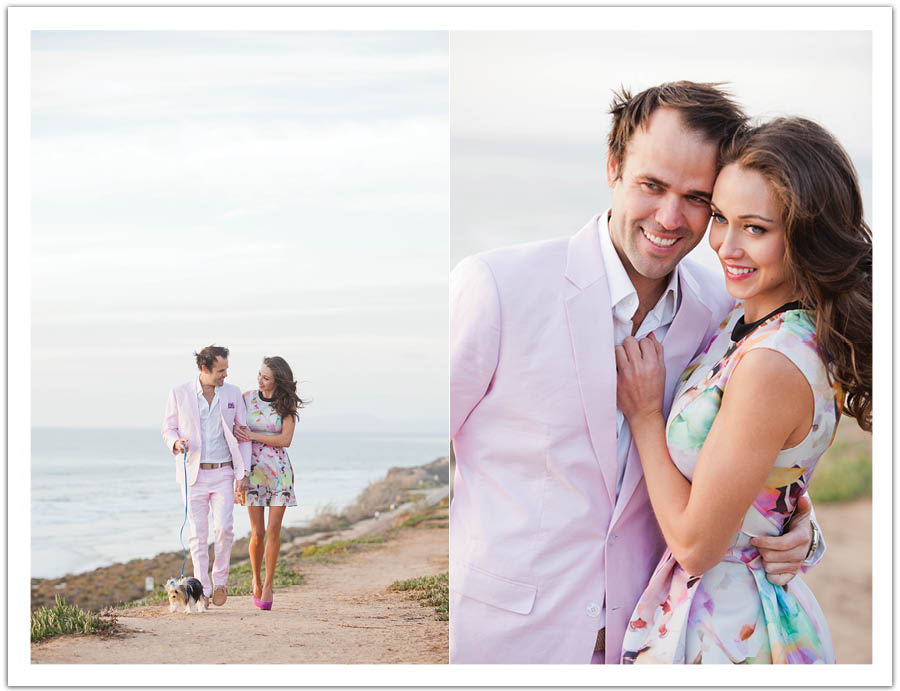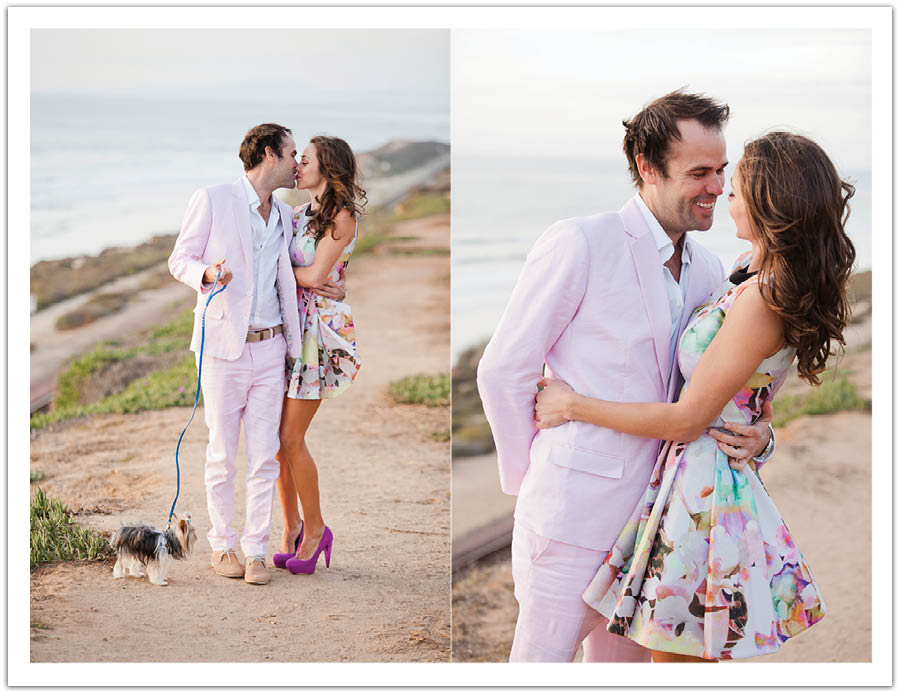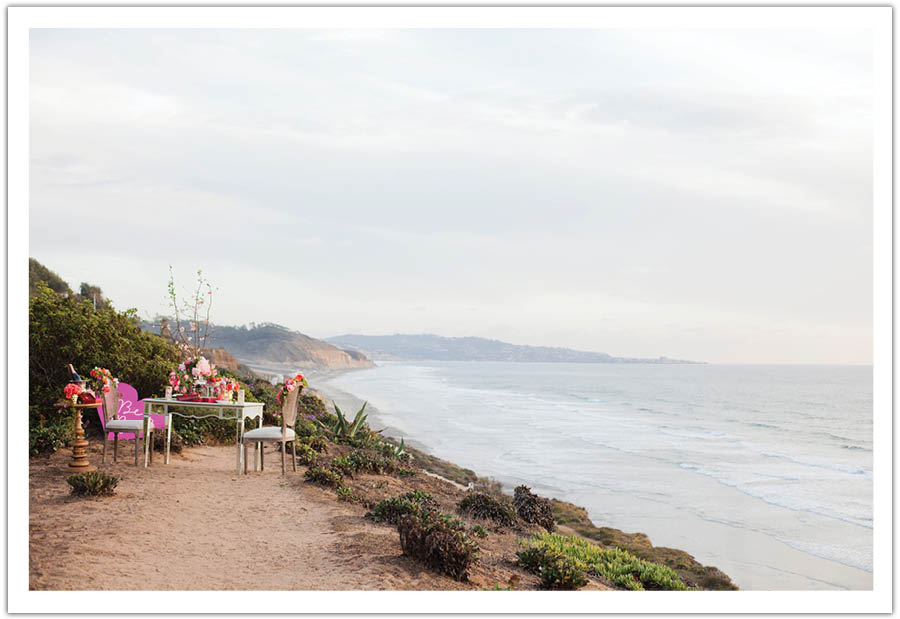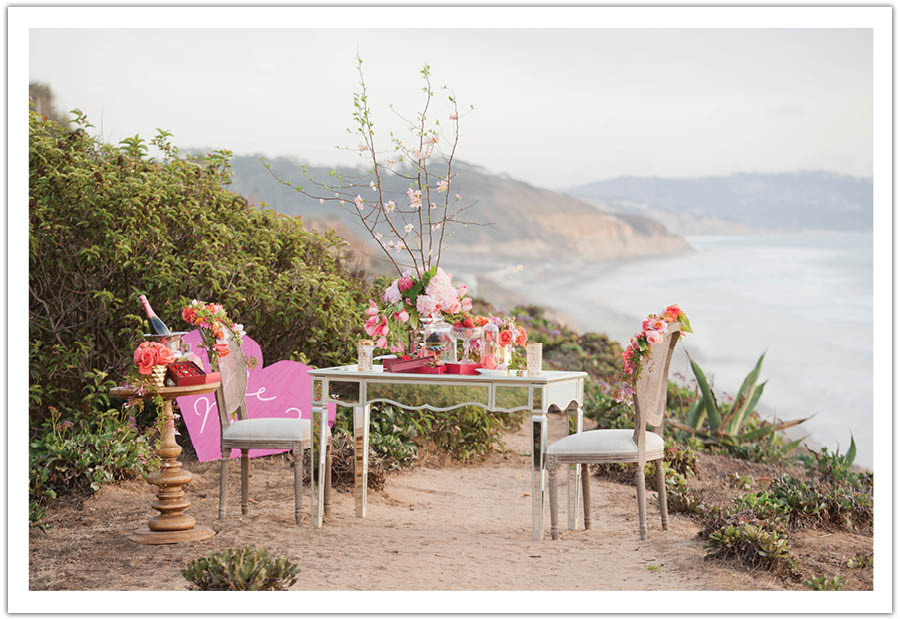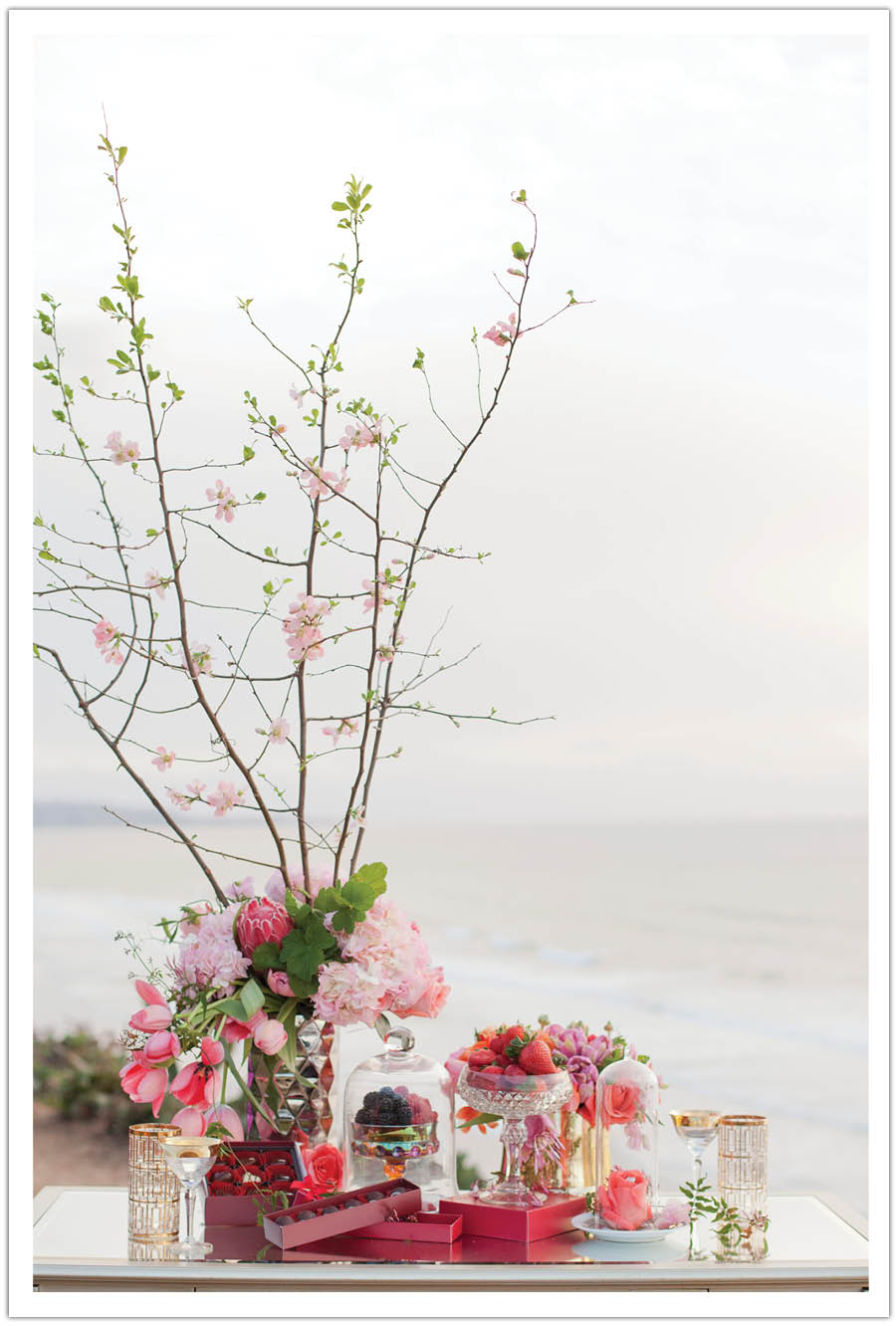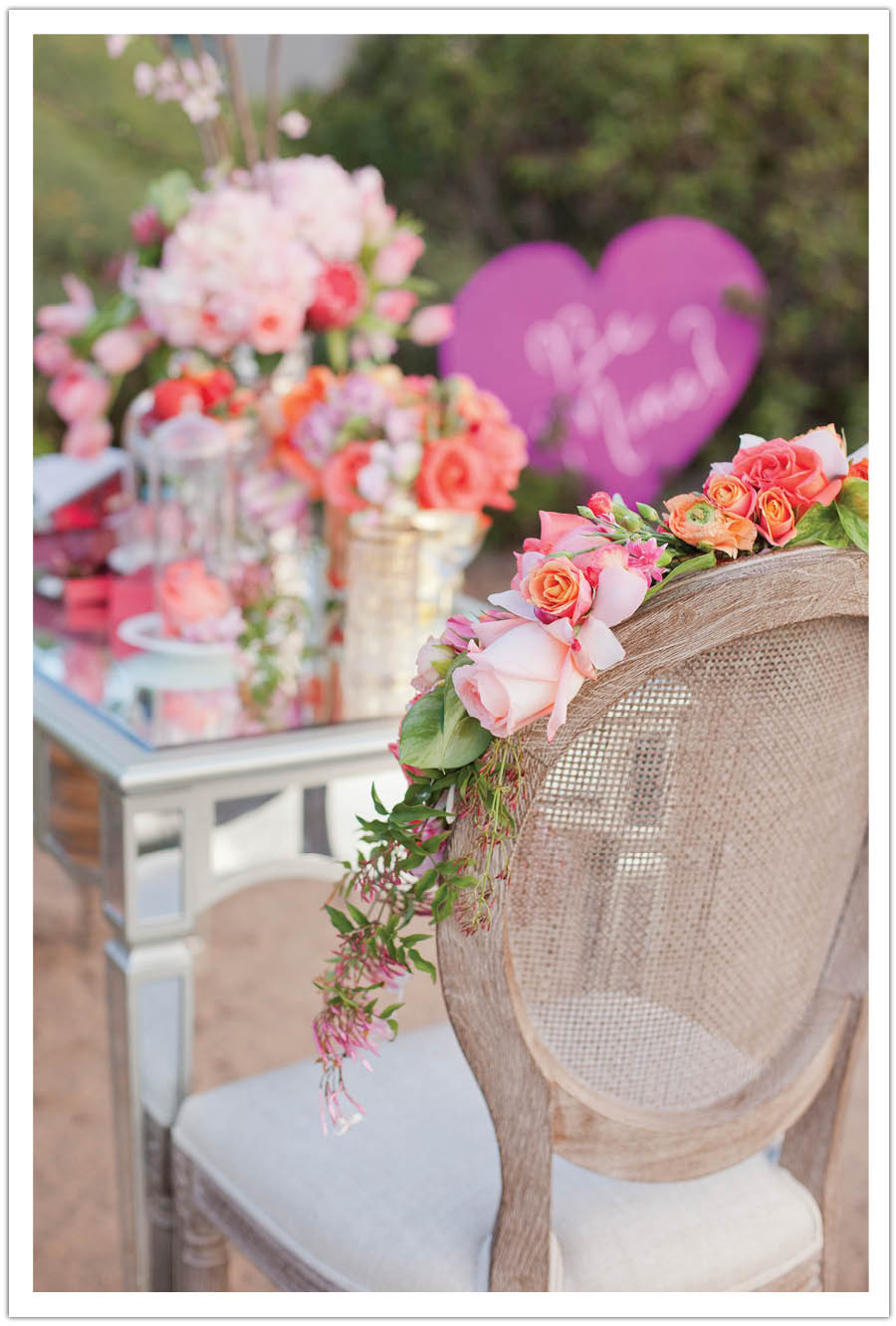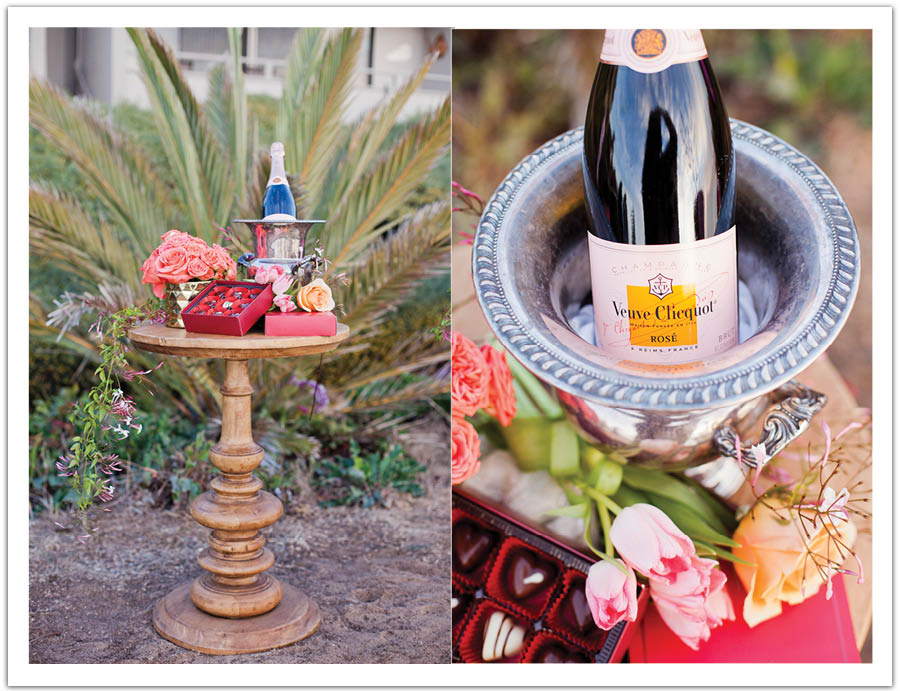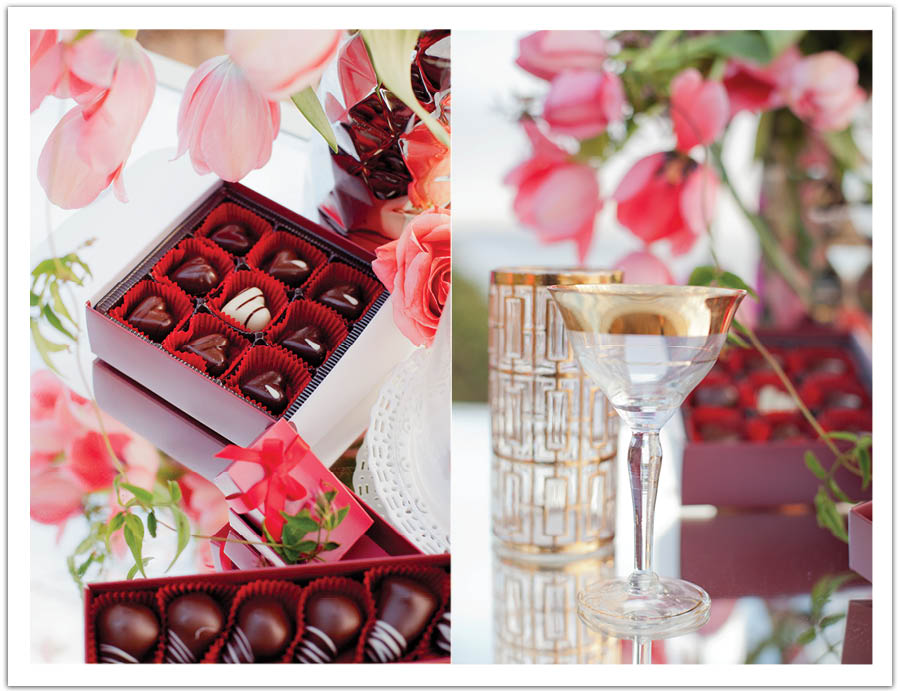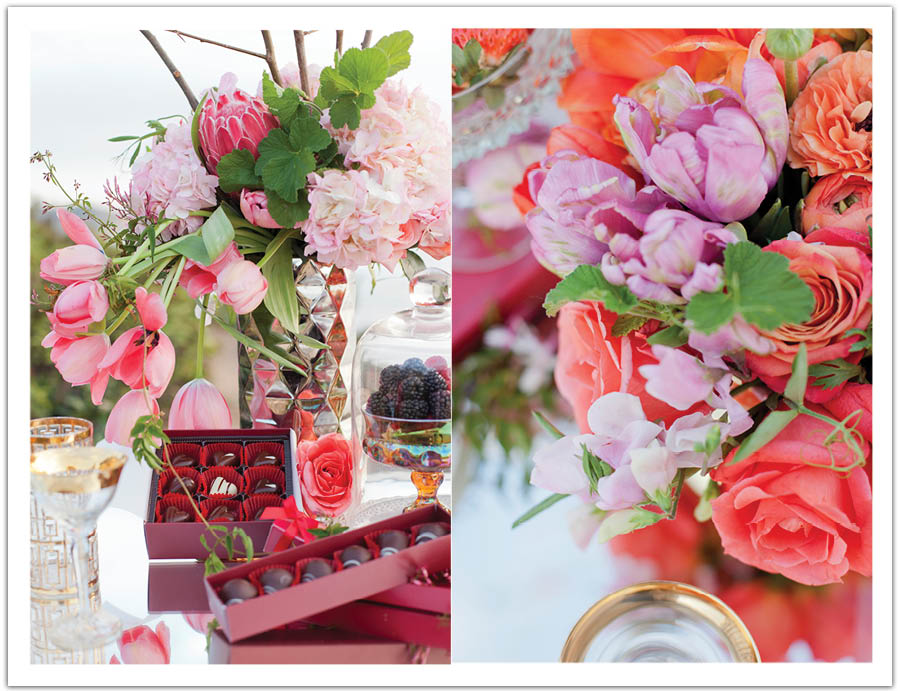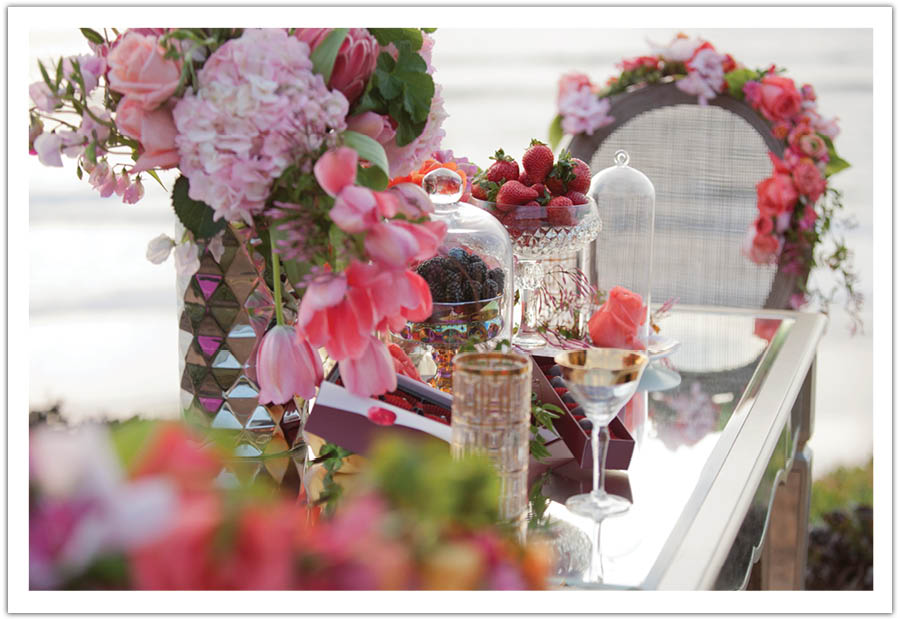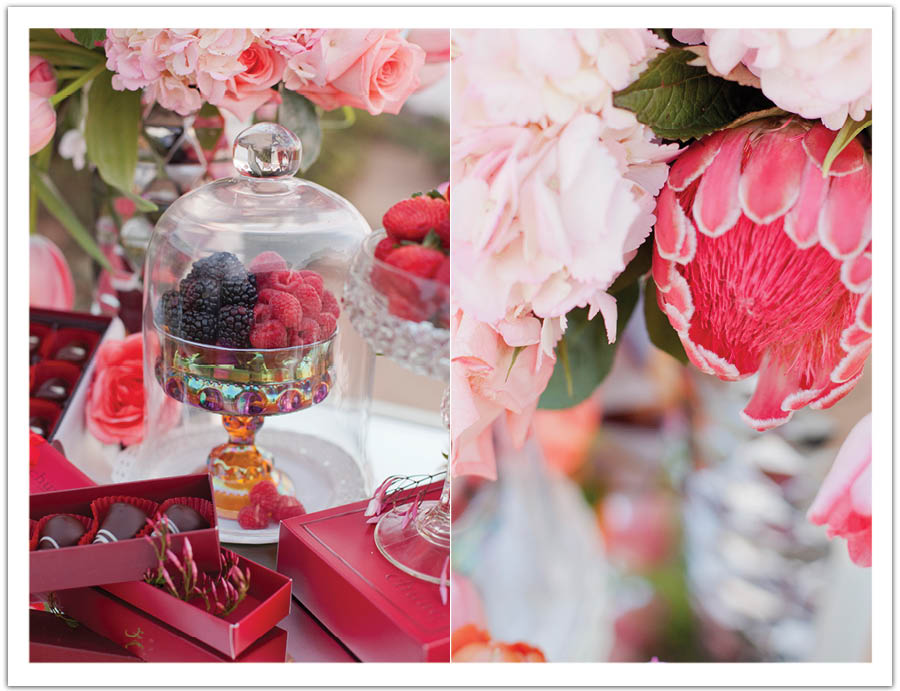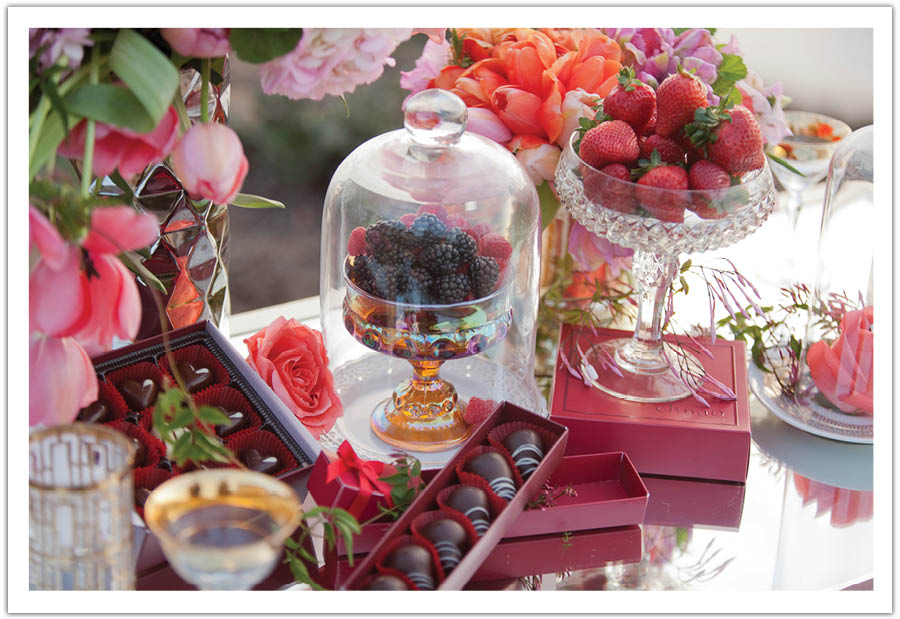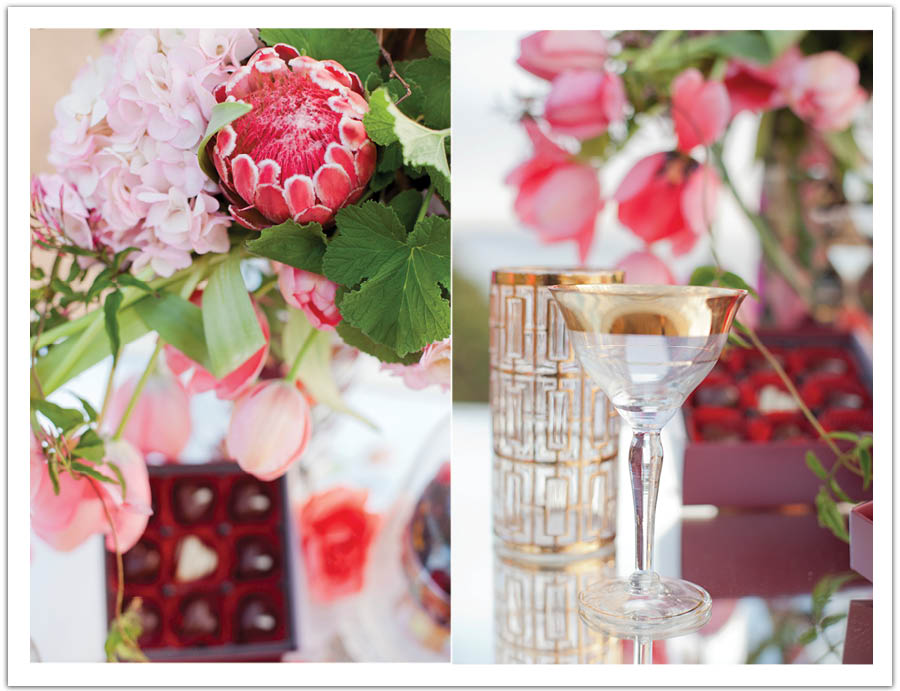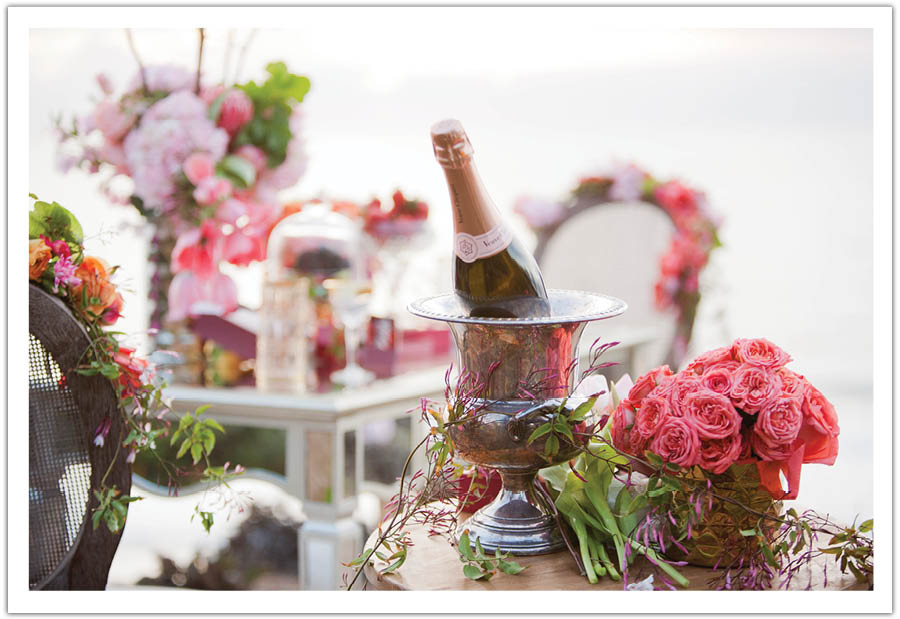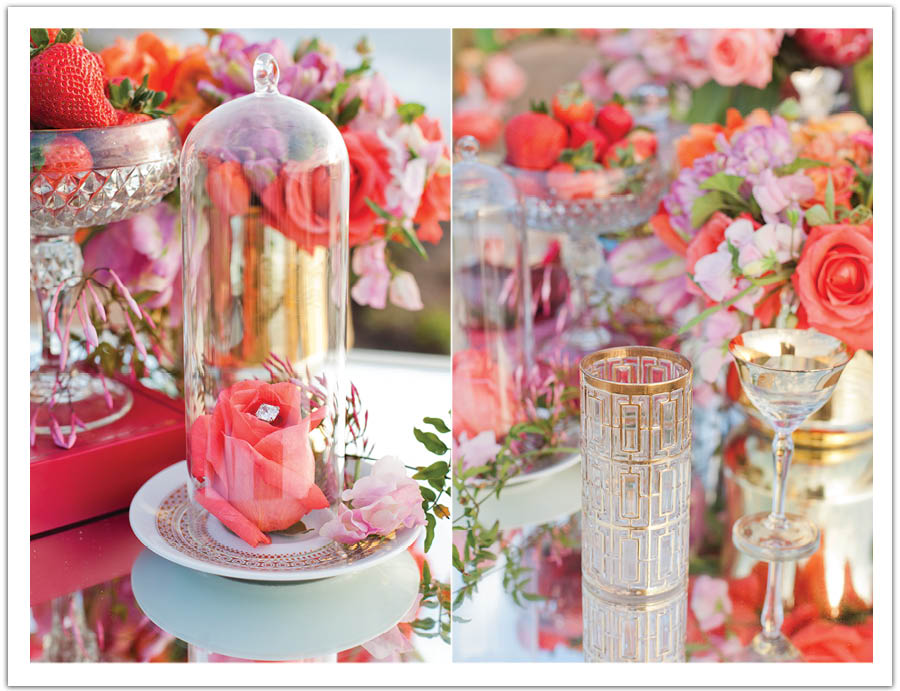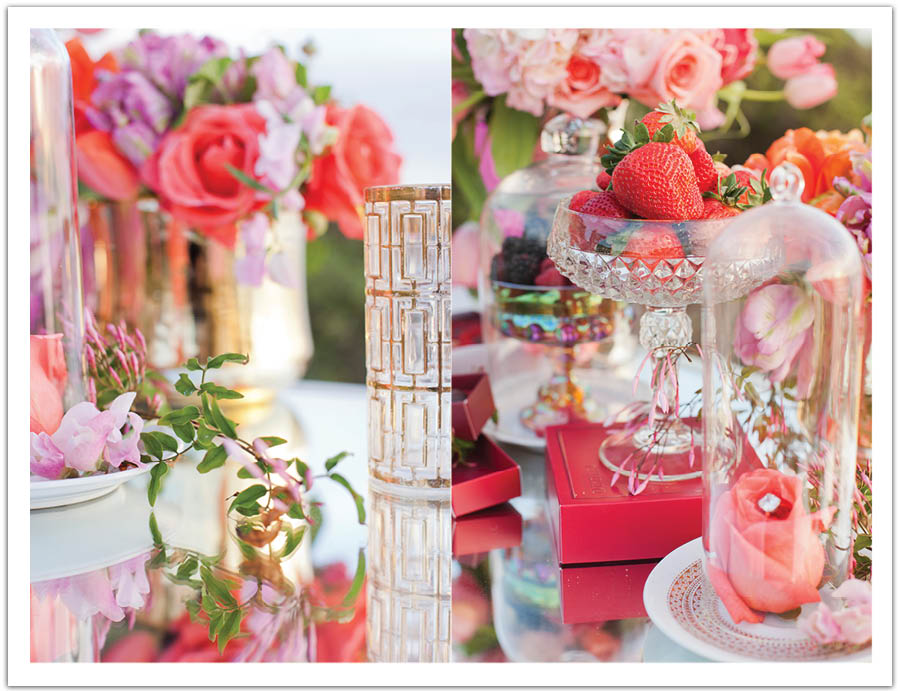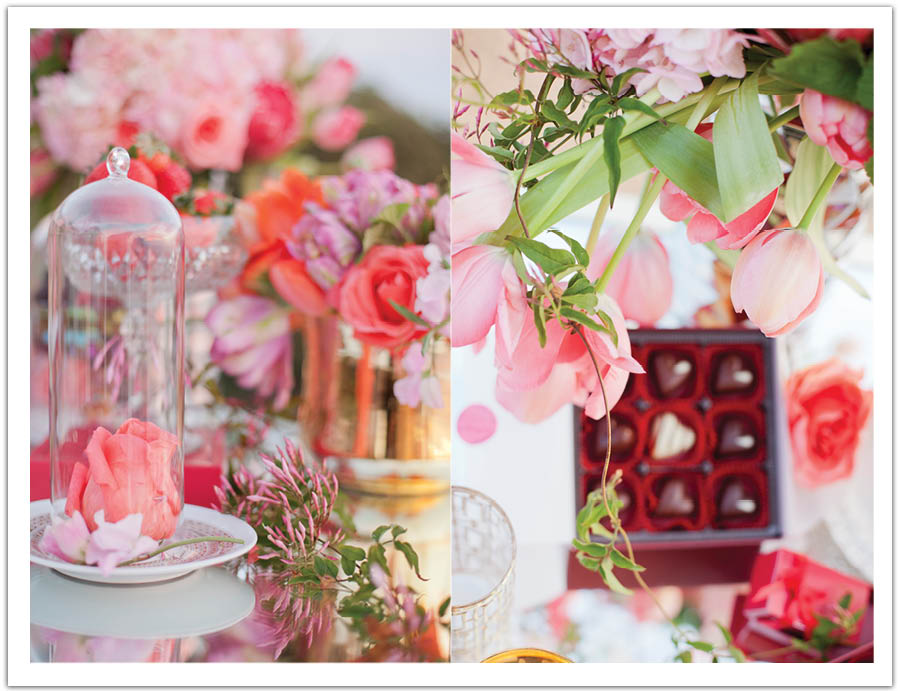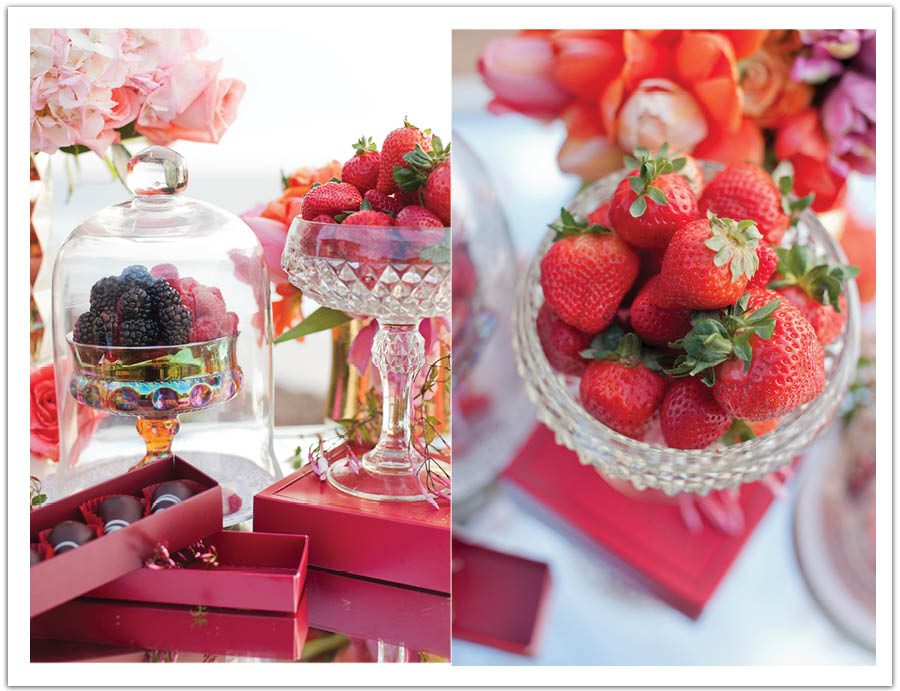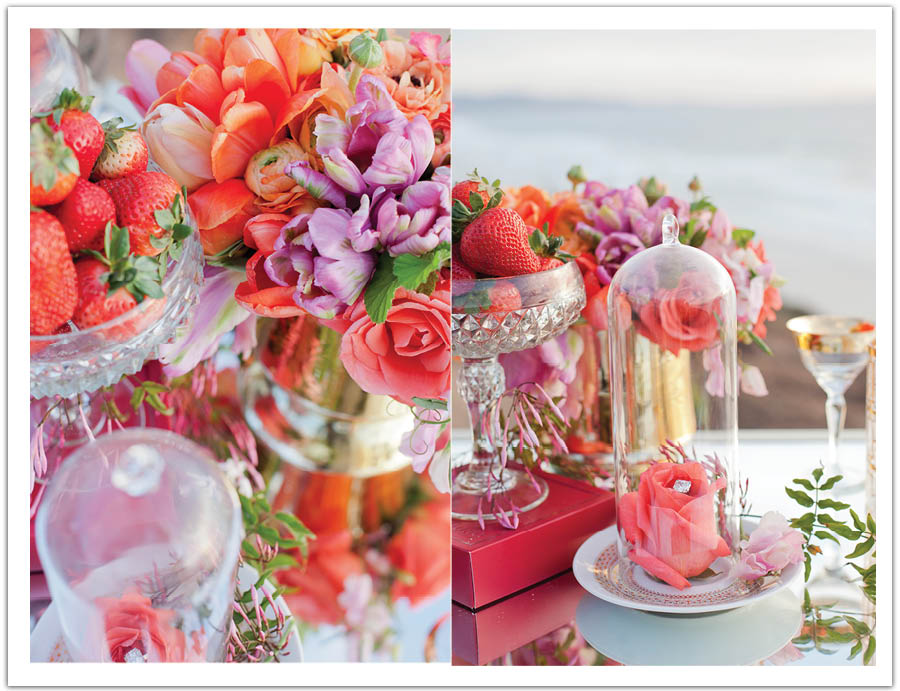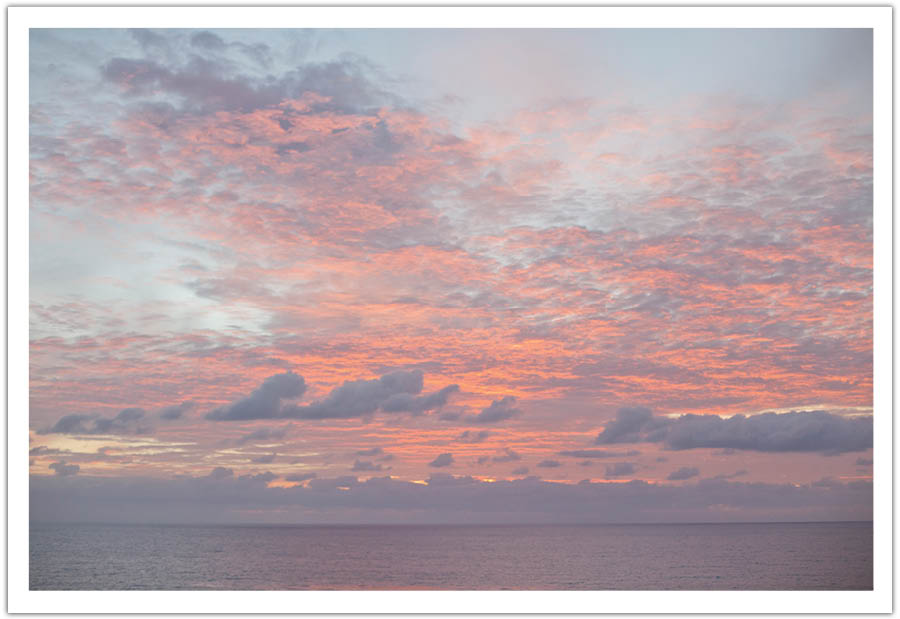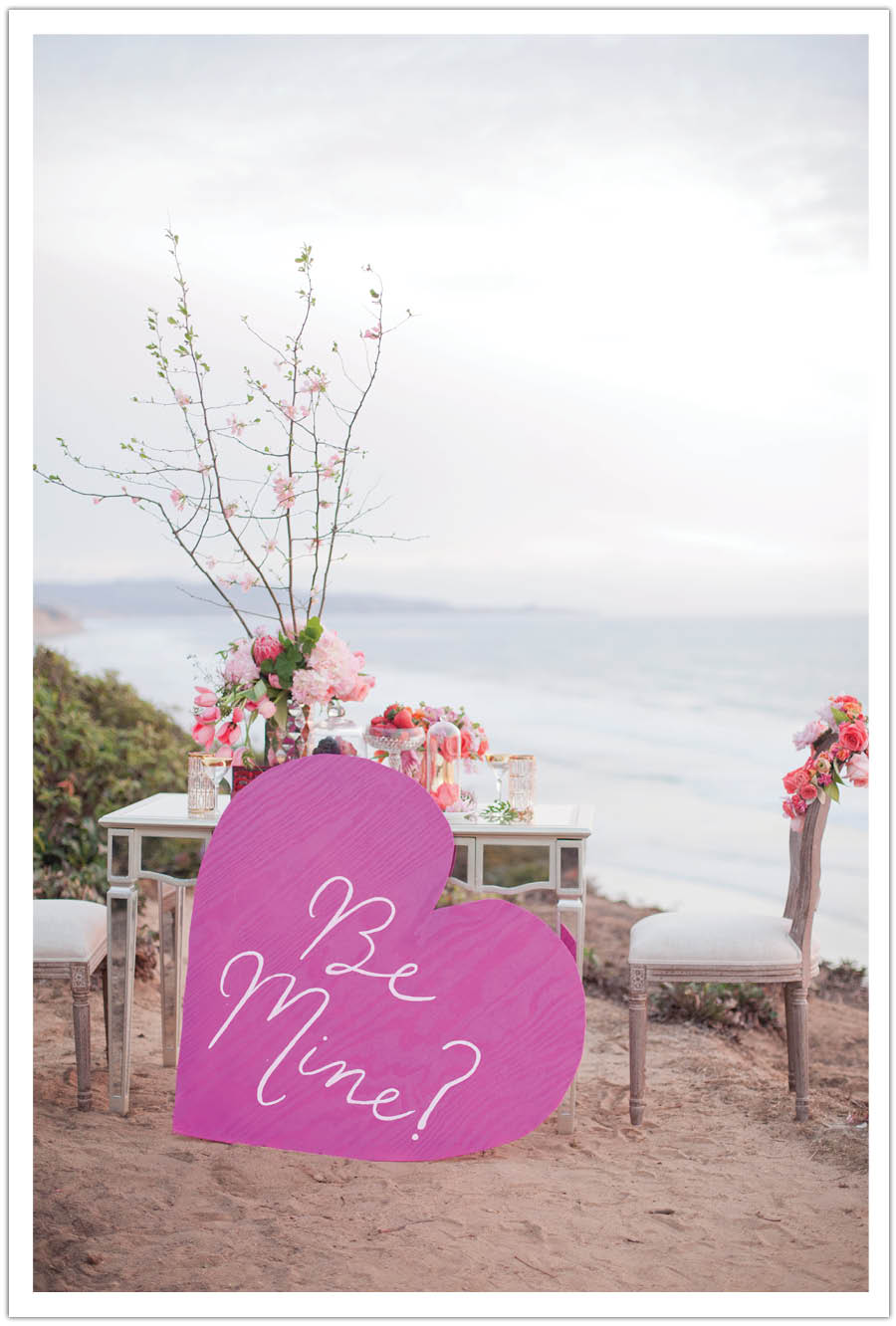 Valentine's Specials!!
***Chuao Chocolatier Special!*** Receive 20% off your purchase at www.ChuaoChocolatier.com
Use code SAVETHEDATE at checkout
Valid 2/3- 5/31/14 only on www.ChuaoChocolatier.com. Not valid on shipping charges, alcohol or gift baskets.Not valid with any other promotion, discount or offer. No rain checks or cash value.   ***Alchemy Save the Date Special!*** Alchemy Fine Events & Invitations is offering a 15% off discount to brides that place their their save the date orders between Valentine's day until to Feb 28th when they mention this feature. *discount offered on orders above $500.      
Design, Styling & Stationery by Alchemy Fine Events & Invitations
Photography by Luna Photo
Flowers by Isari Flower Studio
Makeup and Hair by Beauty by Stacey
Chairs and tables by Hire Elegance
Chocolates by Chuao Chocolatier
Read More »
We're already onto our 3rd installment of our Art History for Brides series and with each passing time period I grow more and more in love with the next. This installment was definitely a challenge in the way that I really wanted it to look romantic and elegant and not harsh and cold like so many attribute to this beautiful art movement. From the colors of the stained glass, berry toned flowers and a stunning model, I cannot express how happy I was with the end result. I hope you feel the same!
Art History for Brides: Gothic Wedding Inspiration
The Gothic art movement was during the 12th century and was very much inspired and driven by the inspirations of the church and had touches of Romanesque architecture, Byzantine textiles, and French fashion. Often confused with Goth (think vampires, Marilyn Manson, black lipstick and chokers), Gothic was daring yet refined and richly ornate with details.
Gothic Graphics
Bold Gothic style fonts are some of the most widely spread example of this genre and were even used for the very first example of printing, the Gutenberg Bible. For this Gothic style Wedding Invitation I created a custom quatrefoil pattern, incorporated vaulted arches and a diecut stained glass inspired invitation sleeve.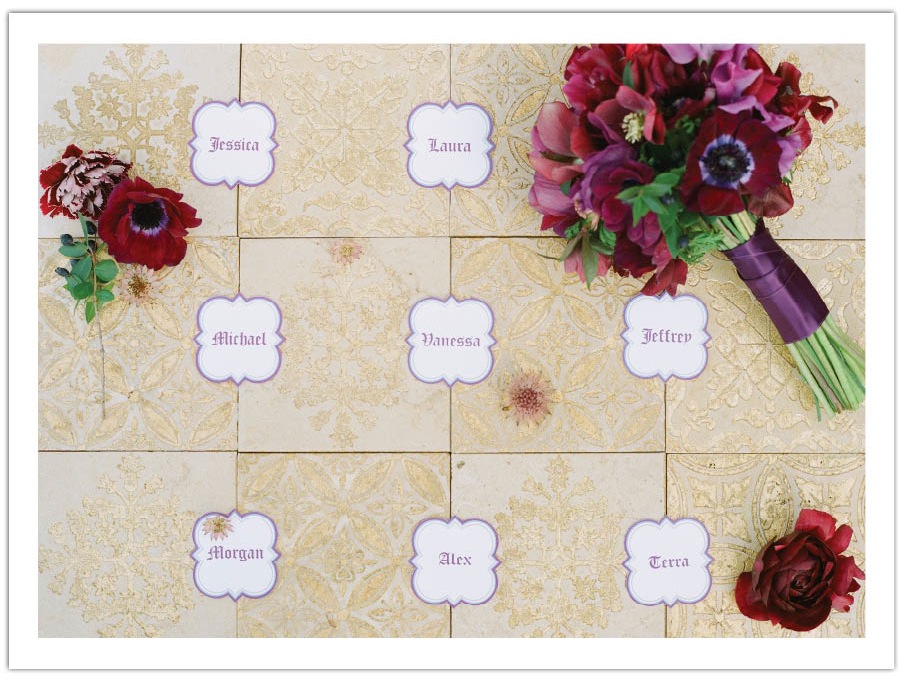 Gothic Architecture
Gothic architecture featured magnificent buildings that were built with signature pointed aches, vaulted ceilings, and flying buttresses. Some of the most notable examples of gothic architecture are Notre Dame. Reims Cathedral and Chatres Cathedral to name a few.
Gothic Symbols
Quatrefoils were a popular symbolic shape that was seen in the stained glass, ornate windows and other architectural elements that was widely repeated and gave a royal and majestic feeling. For our Gothic inspired table we used a rich gold velvet quatrefoil patterned as a runner layered on top of a rich berry stained wool. For an opulent and unique place setting we featured ornate marble tiles that featured golden scrollwork that could be seen through our cut crystal plates.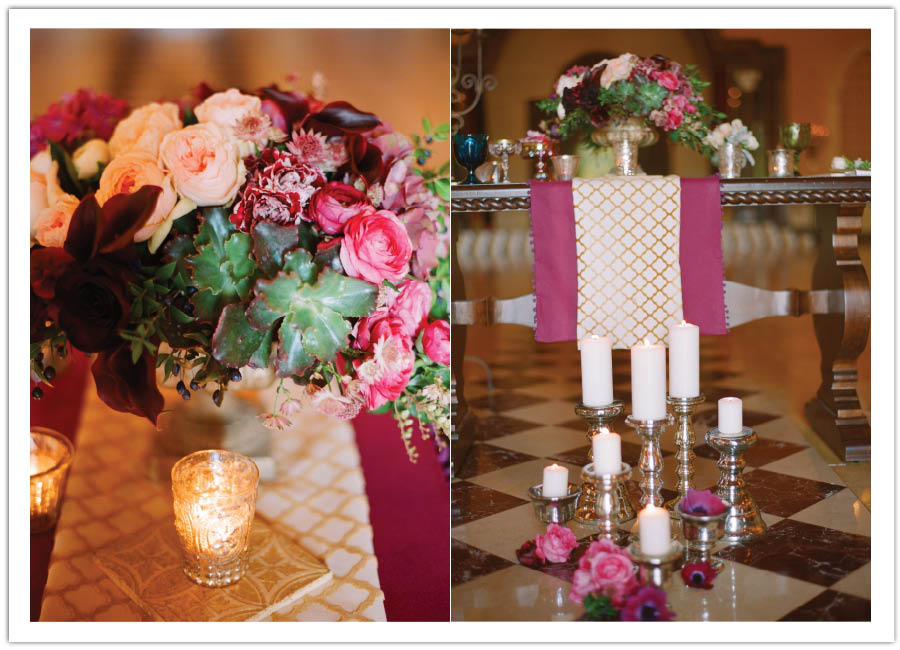 Flowers
For a bold yet romantic take on Gothic inspired flowers, Isari Flower Studio created a stunning yet delicate berry toned bridal bouquet composed of purples transitioning to merlot kissed Sweetpeas, dark burgundy Anemone with touches of wine hued Heleborus. The richly textured centerpiece offered a melange of  deep red and cream ranunculas, schwartz mini calla lilies, succulents, black center anemones amidst astrantias, Hydrangeas and black berries. In addition to the large arrangement, the companion pieces boasted clusters of ranunculas, with grey dusty miller foliages and then topped each place setting a single cream ranunculas, and dusty miler leaves.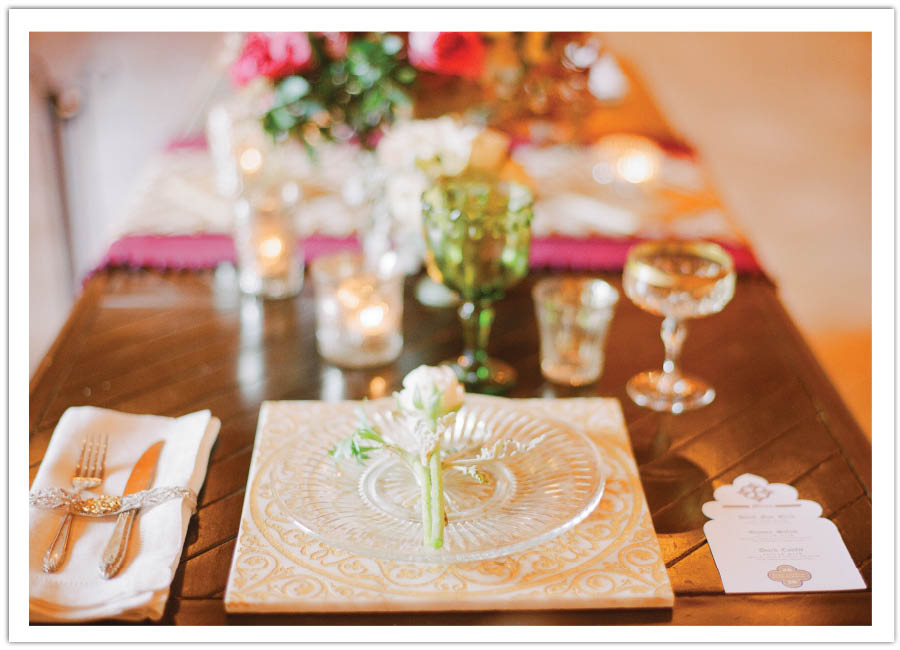 Stained Glass

Cathedrals boasted giant windows adorned with ornate stain glass that let light shine through in rich reds, blues, and yellows. Shapes including quatrefoils, floral inspired and geometric elements were combined to create these stunning light-filled windows from which the cathedrals patrons would gaze into from the pews. We brought the colorful glass from the windows onto the table with our bold and colorful goblets.
This vintage church chair by OC Prop Girl is a perfect example of Gothic style furniture with Gothic arches and detailing.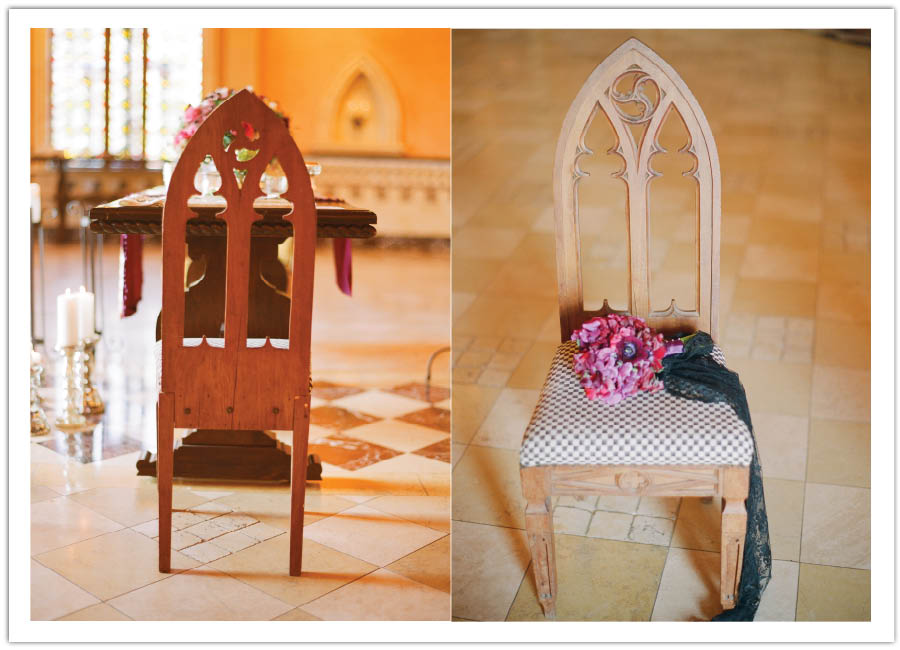 Gothic Fashion
The wealthy brought in expensive silks from Byzantium and wore them as long draping tunics with flared sleeves, a French fashion known as a bliaut. Blue and ruby red were popular colors accented with gold pieces such as a loosely worn belt with gold tassels. Women wore veils draped over their long braided hair to signify marriage. This was wonderful fashion during the 12th century but we opted for a stunning sand colored gown by Monique Lhullier and from M Bride for our bride to be.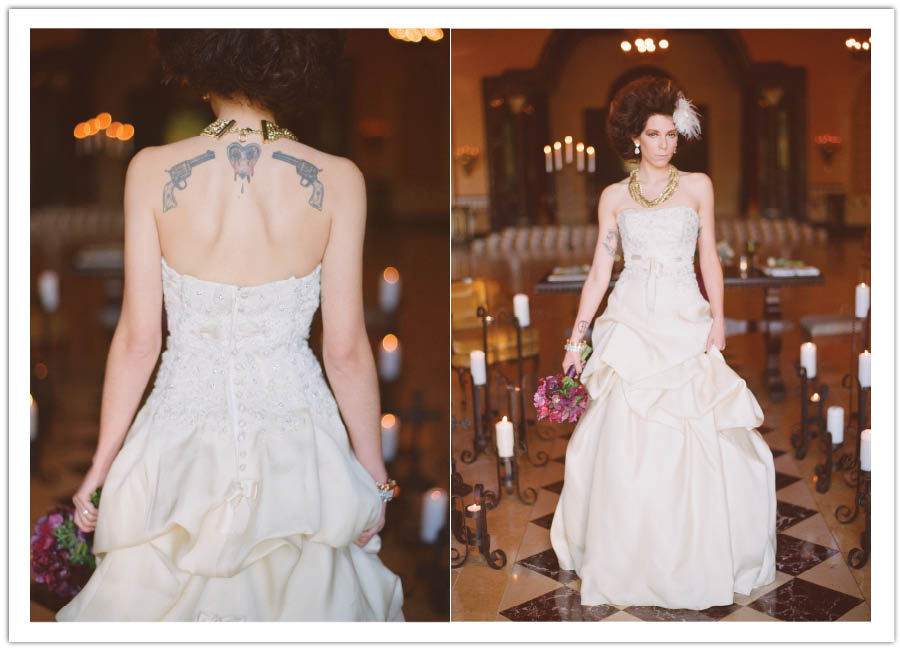 Gothic Art
Triptychs are wonderful examples of Gothic art that featured three panels of settings framed by ornate vaulted arches. I was inspired by these classical pieces of art when I created a trifold wedding invitation in the same style showcasing the notable vaulted arch, quatrefoil and a stained glass inspired belly band.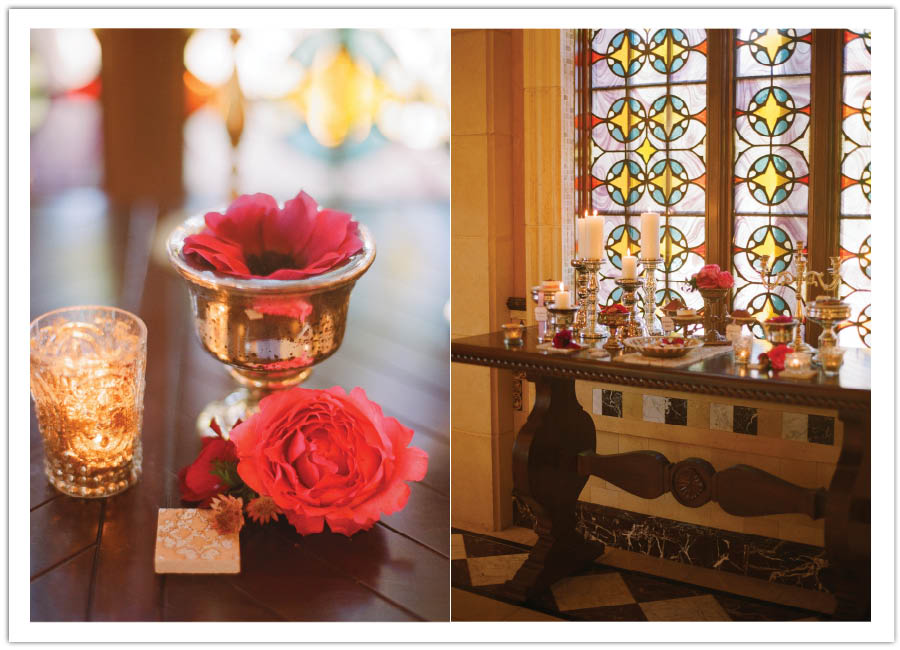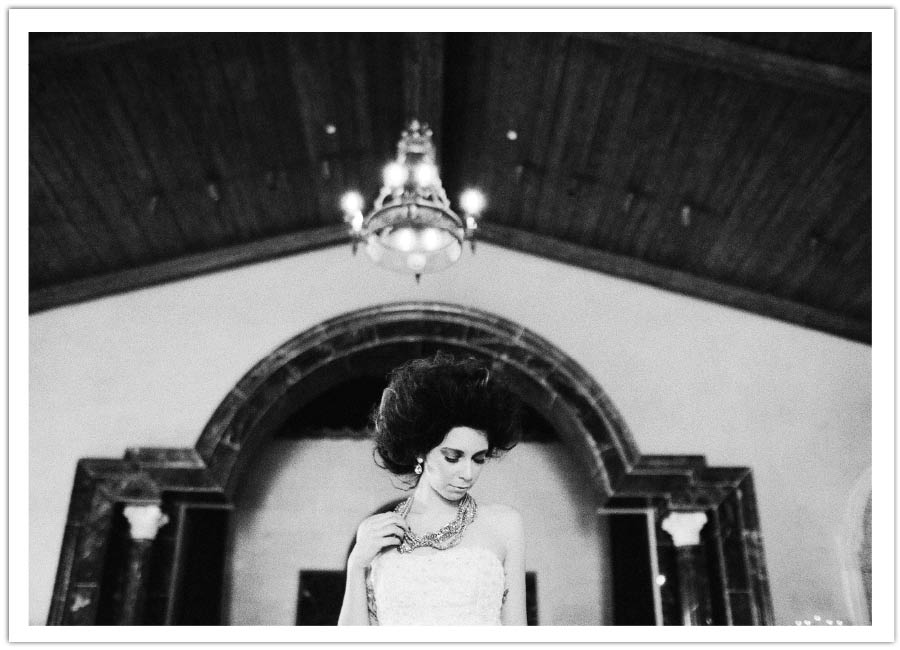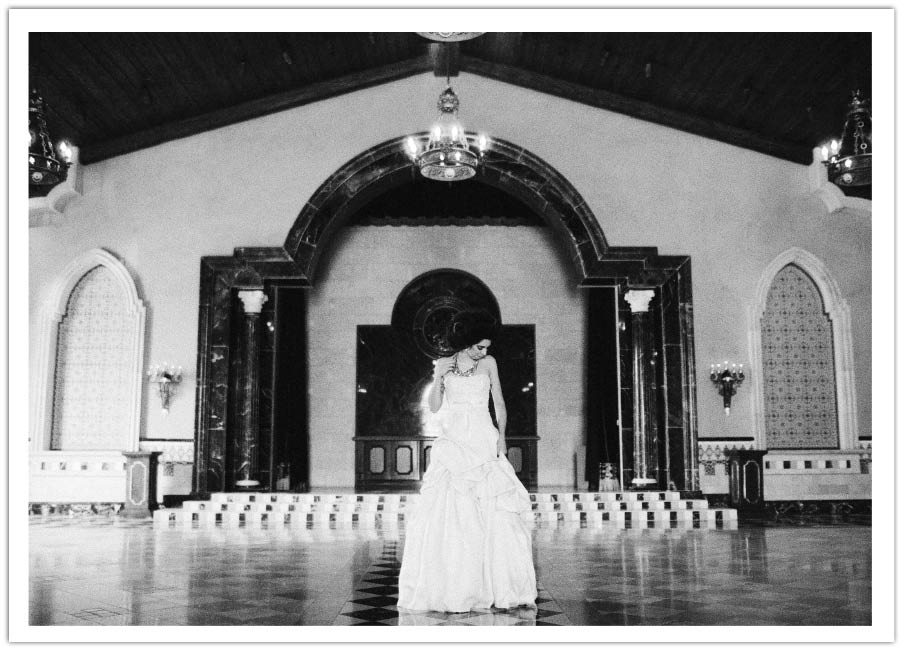 With so many beautiful and meaningful artful elements to be inspired by this powerful artistic movement in history, Gothic is a wonderful genre to get inspiration for your wedding day. Whether it be Gothic inspired wedding invitations, stained glass inspired décor or even jewelry, Gothic design would be a great way to add drama and intrigue to your wedding.
Design & Styling by Alchemy Fine Events & Invitations
Photography by Jill Thomas
Invitation & Stationery Design by Alchemy Fine Events & Invitations
Flowers by Isari Flower Studio
Props by OC Prop Girl
Hair and Make Up by Katwalk Styling
Dress & Jewelry by M Bride
Venue The Capella at The Grand Del Mar
Pastries by Opera Patisserie

Read More »
Greco Roman Wedding Fashion Inspiration
When in Rome do as the Romans do… Especially dress like them! And as we all know, the Romans have been setting the trends worldwide from the Greco Roman times until now. For our Greco Roman installment of our Art History for Brides series featured over on Style Unveiled we really wanted to portray the romantic and ethereal vibe that we all feel from those toga wearing eras. Soft and flowy light colored fabrics, gold and silver adornments and strappy gladiator sandals… not just for our styled bride, this was part of their daily garb! Don't be afraid of infusing your wedding fasion with color via baubles, bold rings, bracelets and especially some bling braided into your flowing mane.  With a little help from the ladies on Mount Olympus you're sure to make a statement on your big day!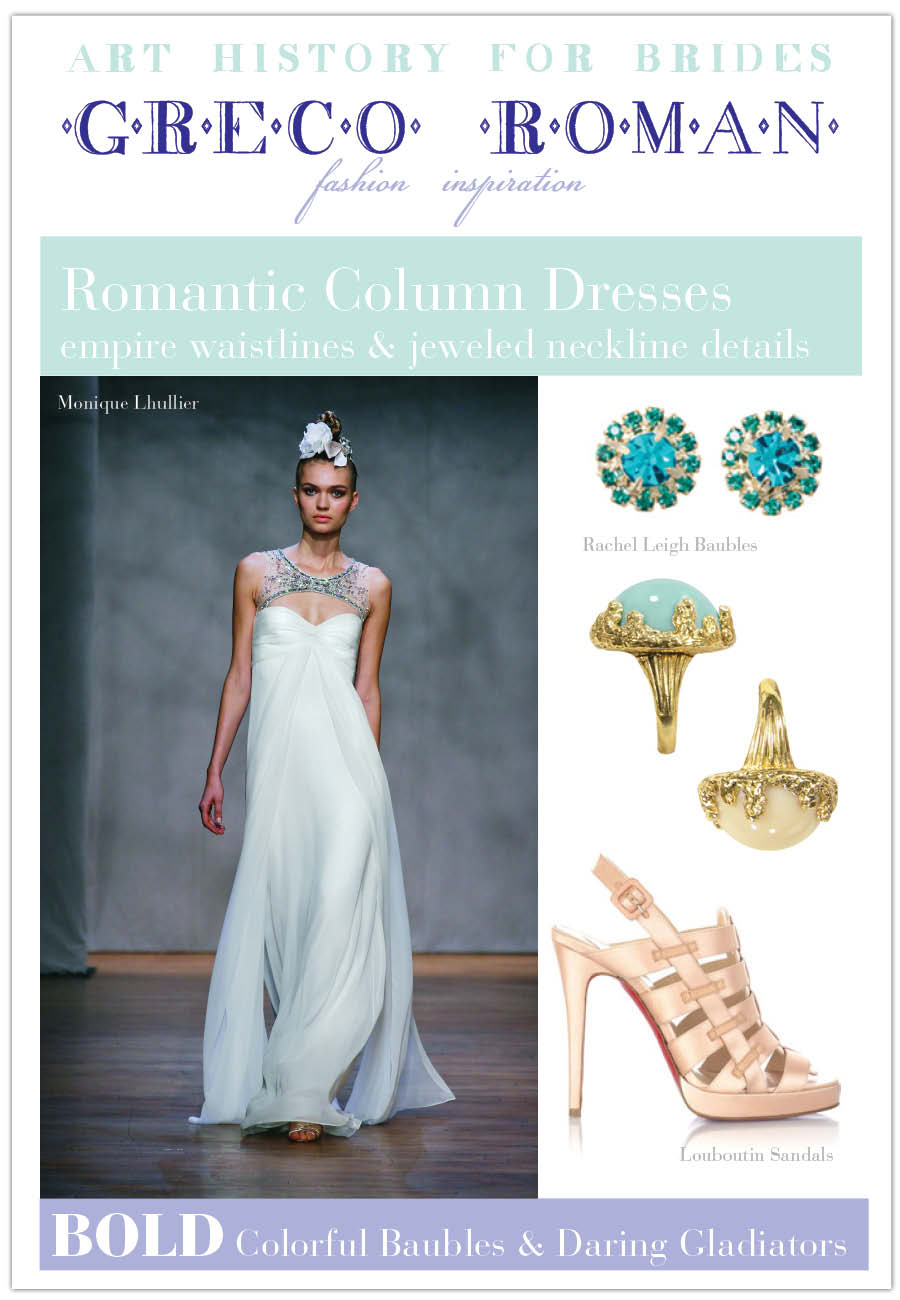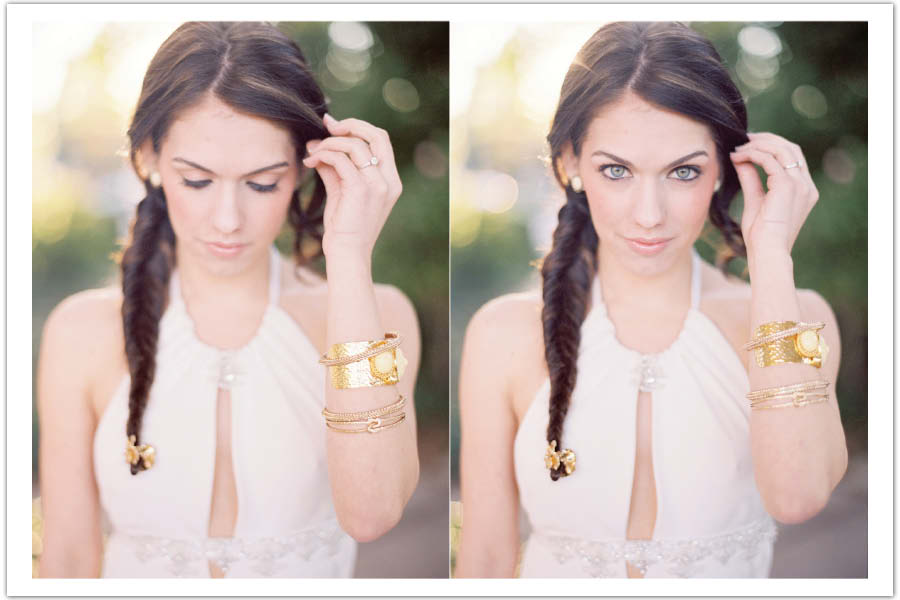 For a dramatic effect we stacked Rachel Leigh's gold cuffs and bangles. Mixing metals isn't a don't anymore, experiment with this DO jewelry trend!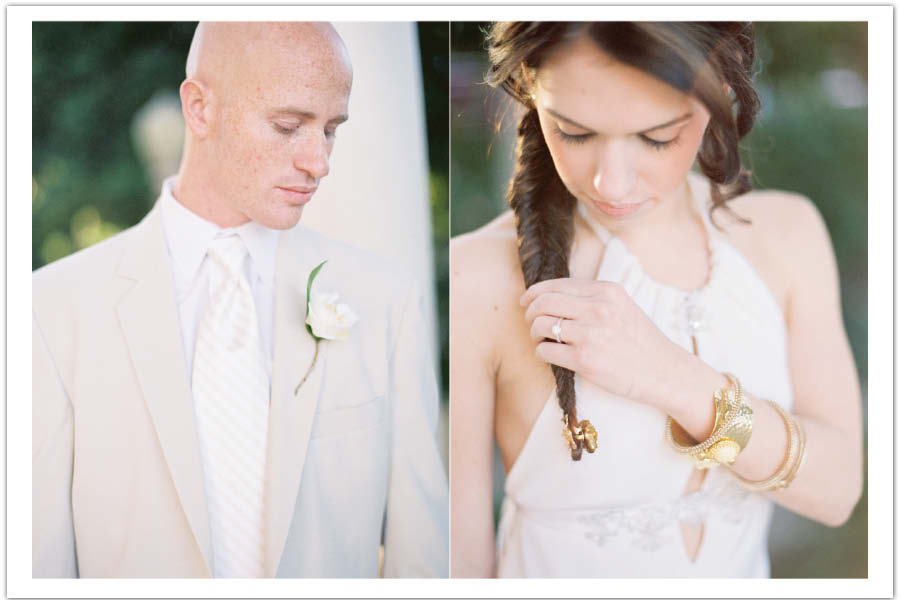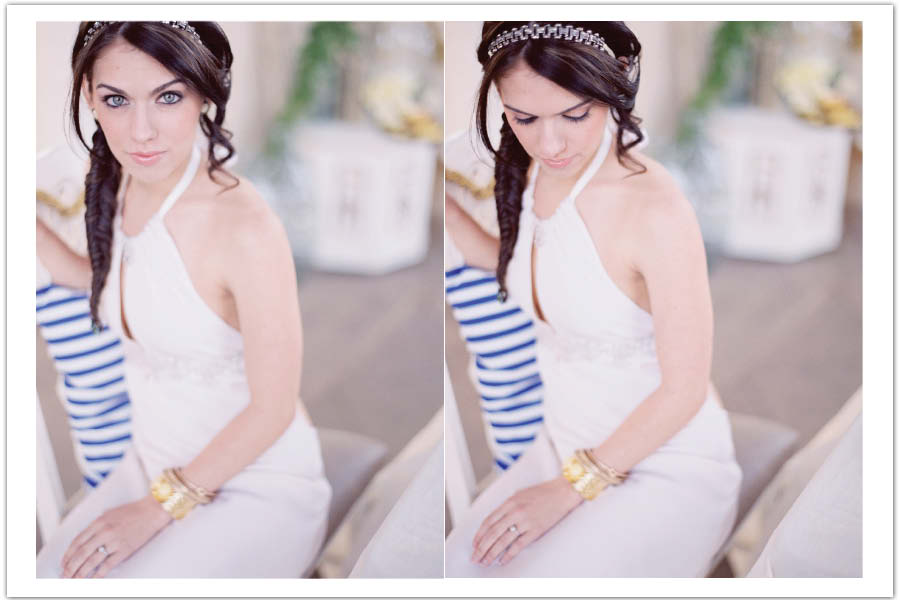 We dressed up our Greek goddesses hair with a silver toned jeweled headband by Rachel Leigh. The Allyson Simone halter neck wedding gown our bride is wearing features a delicate keyhole neckline with gorgeous silver beading for a wonderful way to bring your eyes up to our beautiful brides face.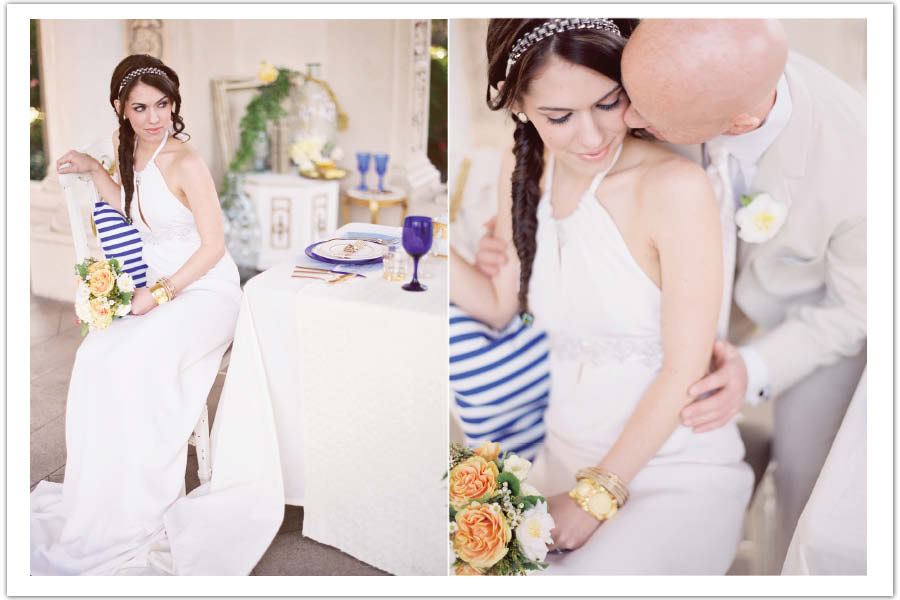 This soft orange and peach bridal bouquet by Isari Flower Studio was the perfect compliment to her gold and silver toned jewelry.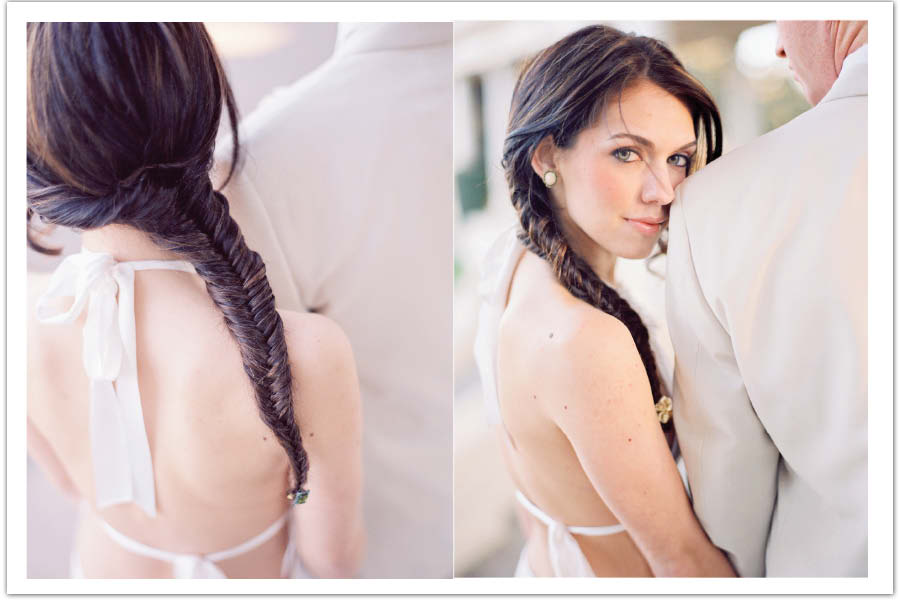 Kat of Katwalk Styling created a gorgeous and ethereal fish tail braid and secured the end with a jeweled earring. Soft loose braids create such a beautiful and romantic look. We are also LOVING the daring back on this Allyson Simone bridal dress. Allyson Simone is an amazingly talented wedding gown designer with a new (few months old) bridal boutique located in Carlsbad, San Diego. They sell not only Allyon's custom designs but many other amazing designers so if you're in the Southern California area you must make this a stop on your wedding dress quest.
Photography by Jill Thomas
Bridal Styling by Stylish Silhouette & Alchemy Fine Events & Invitations
Wedding Dress by Allyson Simone of Provence Bride
Hair & Makeup by Katwalk Styling
Bridal Bouquet by Isari Flower Studio

Read More »

Alchemy Fine Events & Invitations' Goals for 2011 that I would like to share with you…
It's barely 2011 and the exciting possibility of starting off with a clean slate of goals lie ahead of us. All of the opportunities that we can imagine for this year are still a possibility and with this post and a positive attitude they can become a probability. The year can be full of wonderful dreams and aspirations that we create for it and make for a wonderfully successful and stylish 2011 where we can not only grow but forge wonderful relationships with other creative people in the event design industry and reach out to brides and clients to make their wedding dreams come true.
It seems as if  just imagining these wonderful goals sets them into action and have already had a wonderful start to 2011. With even more goals to conquer then ever, I wanted to share them all with you.
To work with other planners to design and style their clients weddings and special events.
With a background in interior design and art direction our love of design is what drives us in this industry.  We of course love to plan as well and bring all of the components such as catering and music and coordination together but our heart is driven by style. We love to focus on the small details, one-of-a-kind ideas, custom made linens, hand ombre dyed napkins, embellished and intricate styled dessert bars. We can oversee and direct all of the creative design aspects including floral, lighting, linens, and detailed site plans or even just take over specific areas such as tablescapes, lounges and dessert bars. Being able to work with other planners as their go-to designer not only allows us to focus solely on the design that we love but also allows the planner to focus on all of the other intricate details involved in planning while knowing that their clients event design will be
To work with other planners to design their clients invitations and wedding stationery & to design even more gorgeous custom luxury wedding invitations.
We believe that great event design starts with the invitation and should be just as beautiful and luxurious as the linens and the flowers that you put on your table. Great invitations and stationery is like another design accessory in your overall creation. We love to collaborate with other great planners to create custom wedding stationery suites for their clients events. We don't just look at invitations as a single element but as part of a whole. Being able to work with other planners and learn about how we can incorporate their clients inspirations  into the stationery including invitations, welcome booklets, dessert tags is a wonderful way to add our design value into another planners work.
As an event designer in addition to stationery designer we know how the creative process works and know how to bring in unique paper elements that add to the overall decor of an event. Custom illustrations, unique embellishments such as chain and stone and new techniques such as laser cutting allow us to create one-of-a-kind custom invitations and stationery that serve as fashionable accessories to your clients special day.

To plan and design weddings and celebrations in Italy and throughout Europe.
While living in Florence for my masters in graphic design I also worked with a boutique luxury travel company as a personal concierge. I would coordinate castle rentals, villa rentals, wine tours, truffle hunts and gallery visits for weddings and holidays for clients throughout Europe. With so many wonderful connections in Tuscany and throughout Italy and Europe, planning events there would be the perfect transition into being known as a luxury destination wedding planner. My Italian is starting to get a bit rusty so would love the excuse to 'parla Italiano'.  Whether it be an intimate wedding in your own private villa in Tuscany,  a 4 day trip to Monaco with your closest friends gambling along side you in Monte Carlo, a private perfume tour of Fragonard in Eze or taking a cruise on a yacht for your 1 day anniversary party around the Mediterranean, we can make it all happen while still having the high level of design that you can expect with Alchemy Fine Events.
To plan and design weddings and celebrations in San Diego.
As ironic as it may sound, we haven't had the opportunity to do many events in our own back yard! We love to travel and because of our blog and other blogs that have been kind enough to post our work, the majority of our events have been out of county and out of state. From Santa Barbara to San Francisco, New Orleans, Hawaii, Miami, New York and New Jersey, we have worked with many wonderful clients, but it would also be so amazing to do more events in the city that we're so proud to be from! San Diego was voted the #1 Destination Wedding location last year and who better to show you all that our wonderful city has to offer then a born and bred local.

To collaborate with talented Chefs and to grow my passion for food into a large part of the events that I design.
For as long as I can remember I have been one of food's biggest fans. With and Italian/Spanish/Mexican/Dutch family food always played a huge part in our lives and this passion has only grown larger and larger every year. Even in high school I toyed with the idea of culinary school but art school won. What some people don't appreciate is that food is such an art form that shouldn't have to be sacrificed for budget or design. I have such a high respect for chefs and love to collaborate with them to create unique recipes, menus and desserts for my clients events. When I see brides that have amazing decor, stunning flowers and extraordinary invitations only to server their guests dry chicken with rice pilaf I'm shocked at how this huge element of celebrating is overlooked. I believe that the food should be the star on the table and that it doesn't have to be boring when catering a large group of people. In 2011 my goal is not only to bring more daring and gourmet cuisine into my events but hopefully work work with clients that appreciate the art of dining as I do.
To get my work published in top design magazines and to work with publications themselves to show their readers new possibilities in combining event design, fashion, food and the luxury lifestyle.
Working with top magazines, blogs and other publications is such an exciting and great way to show readers what we're made of and what we can really do. We're already off to a great start with such wonderful publications as Style Me Pretty, Style Unveiled, Utterly Engaged, Hostess Blog and San Diego's Riviera Magazine! Creating styled and designed shoots is such a great way to 'show off' a bit and test the limits in design while also inspiring brides for their own big days. What I would love to do is not only contribute design ideas but fashion, food, traveling and music which also play such an important role in weddings and celebrations in addition to an overall stylish luxury lifestyle.
Oh, and to add a lot more Missoni to my closet wouldn't hurt.

Read More »