The ultimate Valentine's Day Engagement Design
With the day of love approaching fast we wanted to share a Valentine's Day engagement shoot we designed with some gorgeous friends of ours that are on their way to say "I do!"
We present the ultimate luxury Valentine's Day inspiration with a collaboration of design, stationery and styling by us, Alchemy Fine Events,  Chuao Chocolatiers and Isari Flower Studio. Follow a bride-to-be on her scavenger hunt for love from clue to clue discovering sweet notes, a fab outfit, chocolates and even a piñata to bust open to discover the final clue leading her to a stunning cliffside proposal and a 5 carat bauble hiding in a rose. Chock full of lush flowers, chocolates and champagne, we deliver a gorgeous modern glam setting capture by Luna Photo sure to leave you dreaming about the day-of-love to come. Whether it be for a super special Valentine's Day engagement celebration, or even for a Valentine's Day wedding, this colorful palette is sure to inspire!
Read our poem below to follow our bride to be Cachel from clue to clue that eventually led her to this stunning cliff-side proposal site below.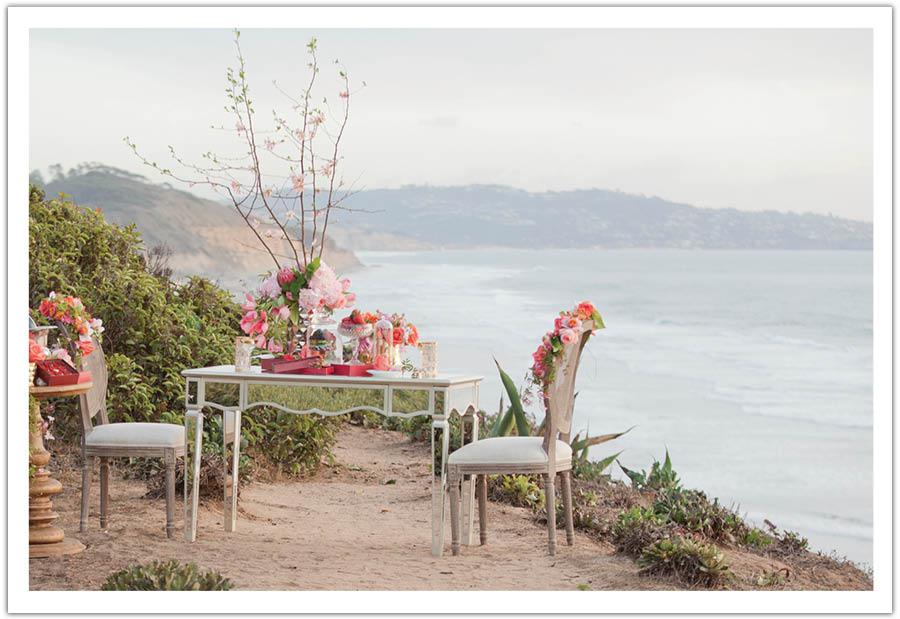 The day started off with our stunning bride-to-be finding a colorful new dress with a tag that read "Wear Me."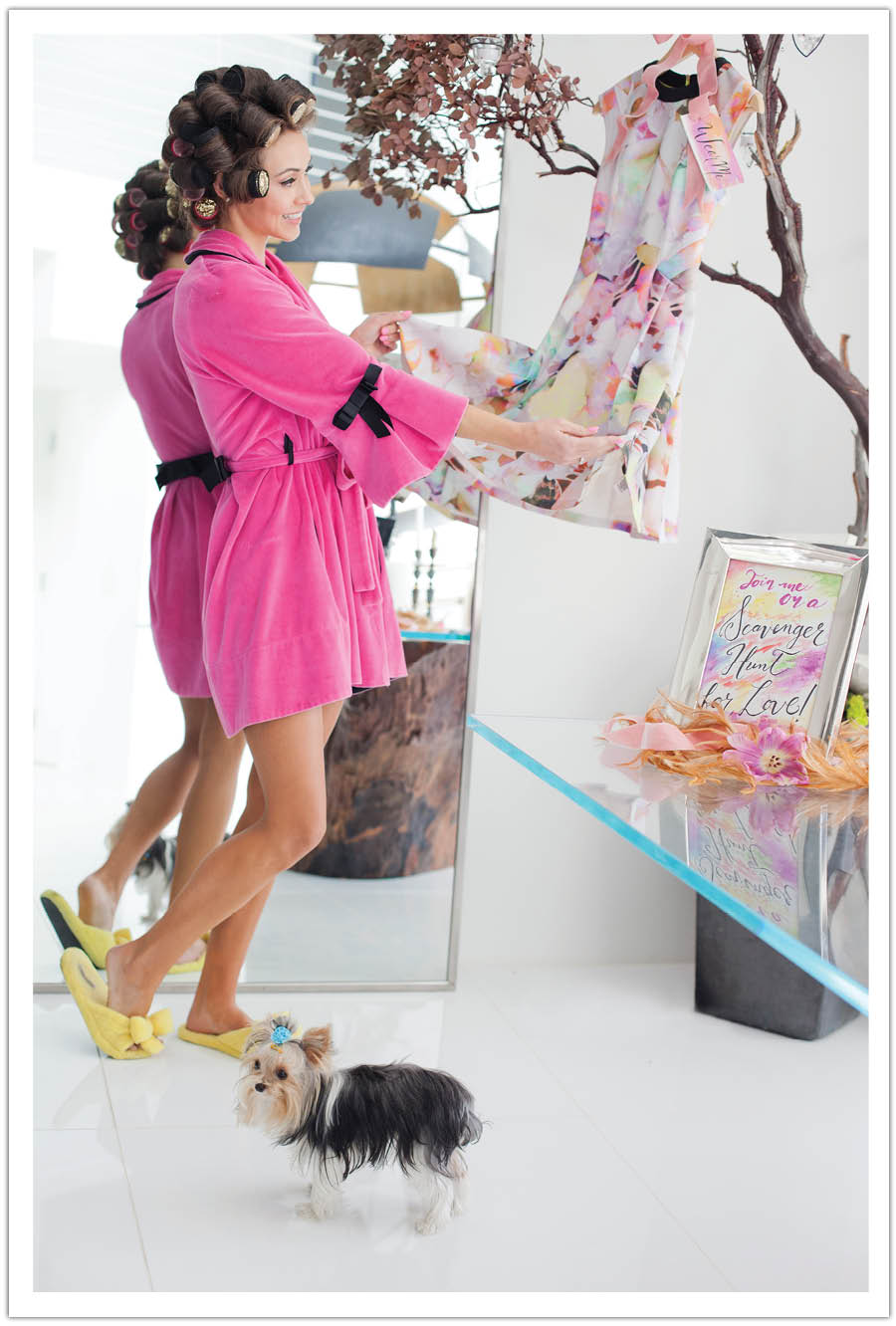 Clue #1 was framed nearby, that she read as she sipped bubbles and held onto her darling pooch Little Guy.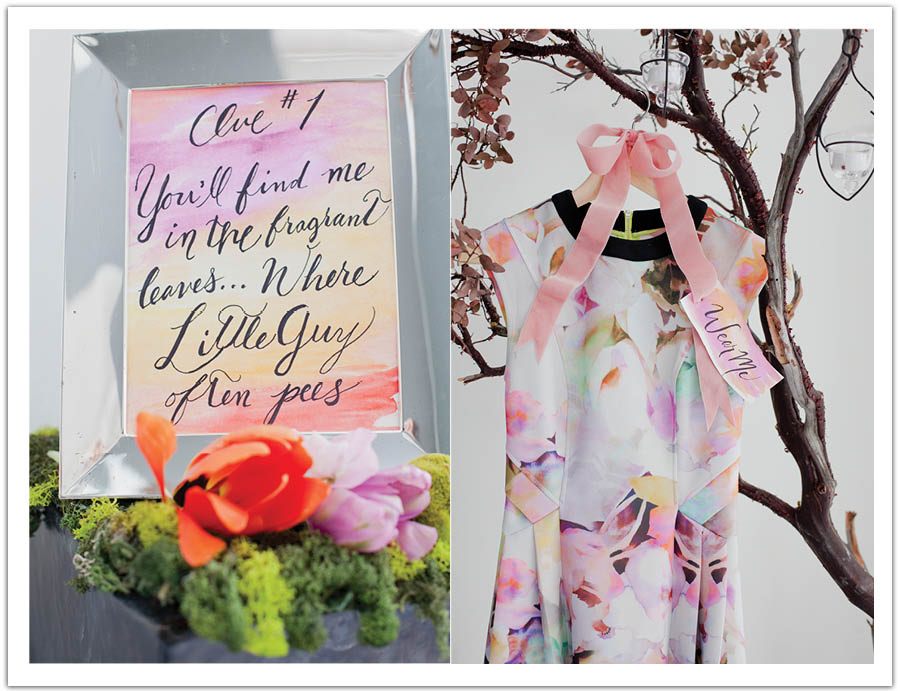 "You'll find me in in the fragrant leaves.. Where Little Guy often pees" read clue #1, she smiled as she knew this day was going to be fun!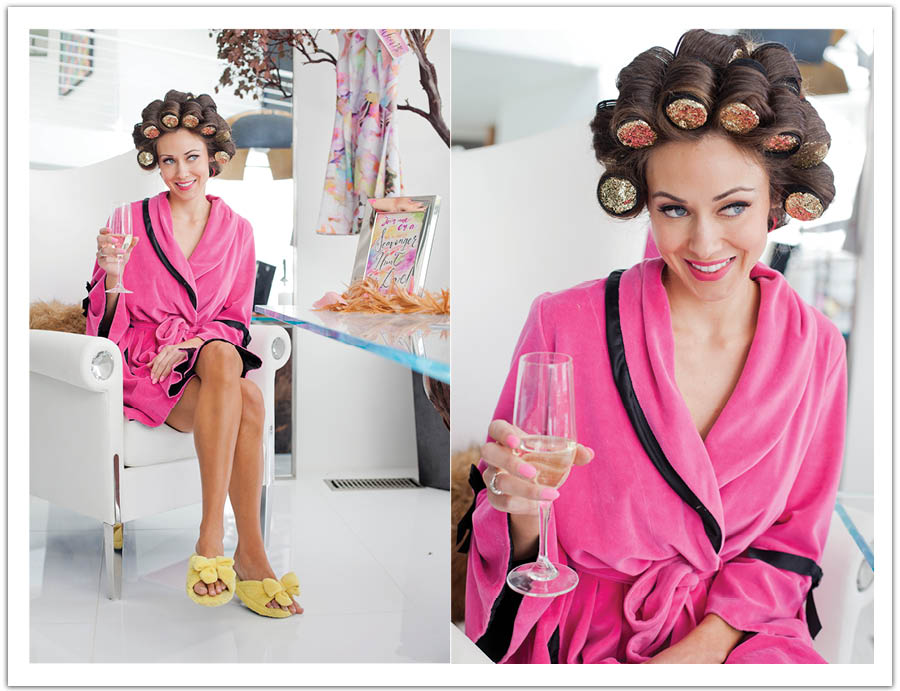 After finding Clue #2 amongst the 'fragrant leaves', she discovered it was exactly what she was told.. It WAS where Little Guy  often  pees!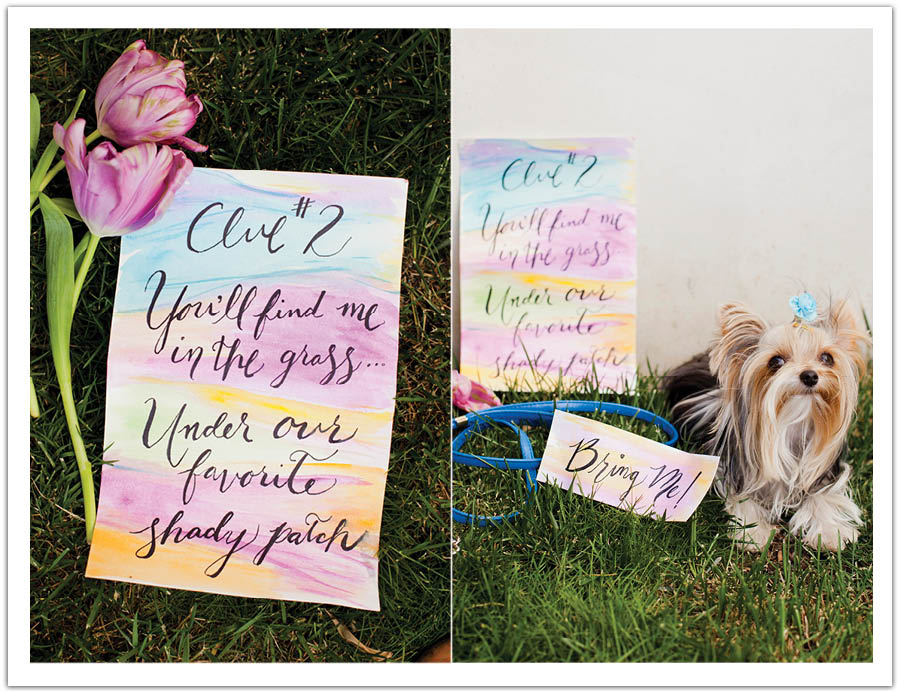 With a quick change, and a coif and a spritz and a spray, Cachel was off and on her Scavenger Hunting way!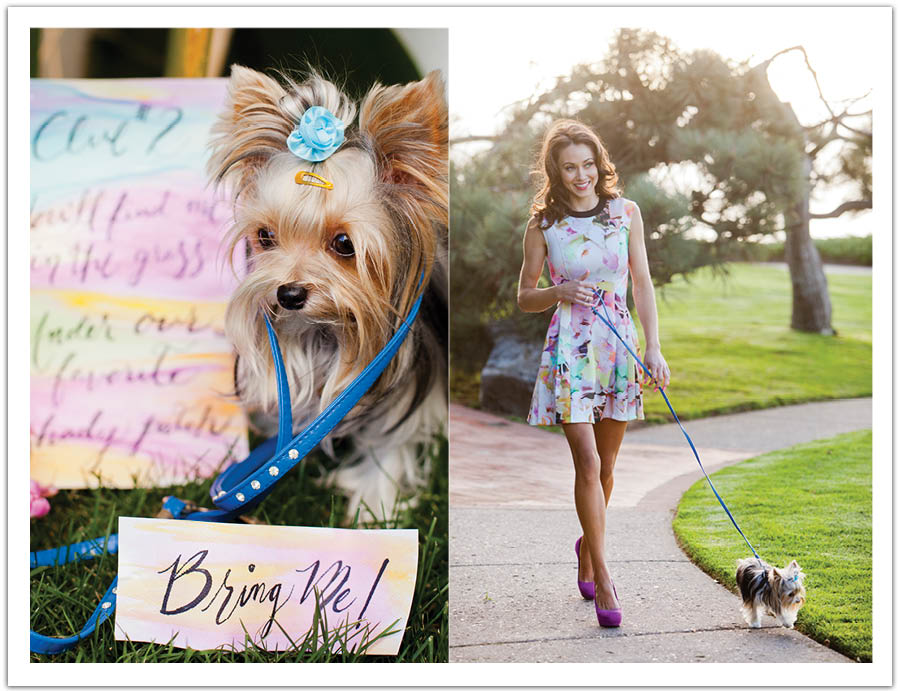 "You'll find me in the grass.. under our favorite shady patch" read the clue, so with the snap of a leash, off to park they jetted to!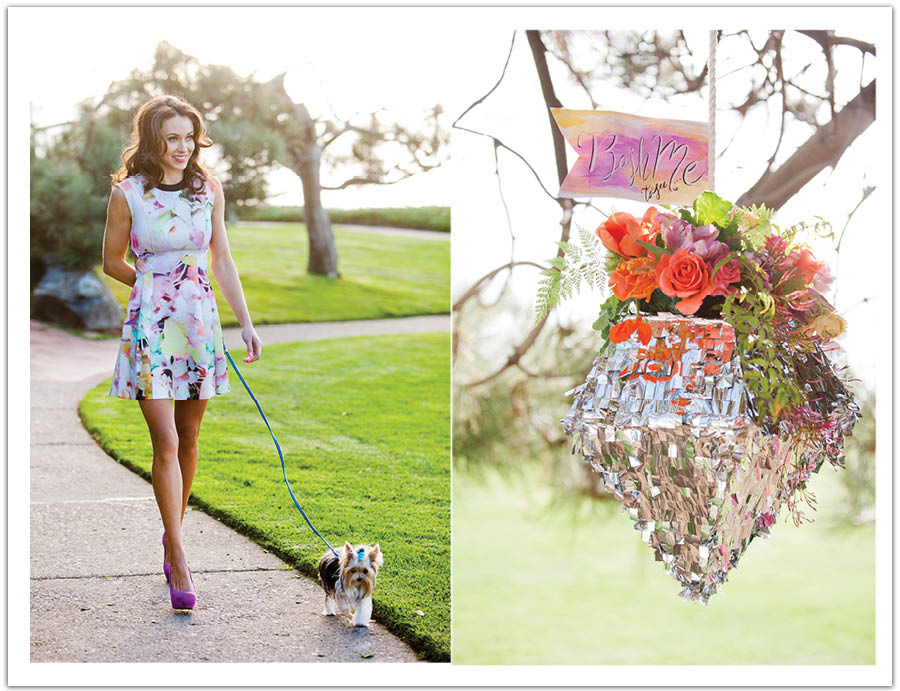 At the seaside park she discovered a pinata overflowing with flowers that read "Bash me to See…" and on a side table the note continued "… The Reasons Why I Love You and Clue #3!"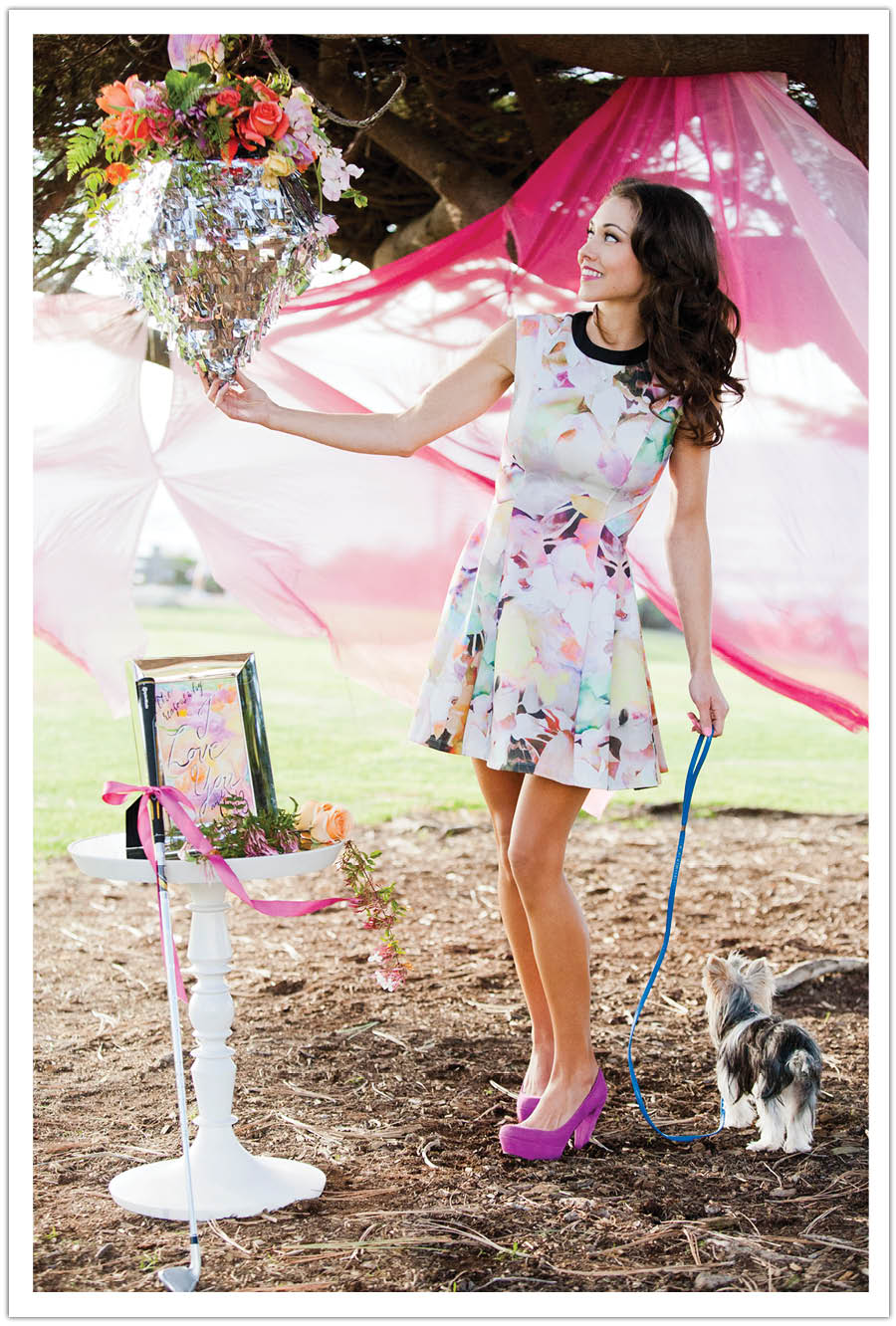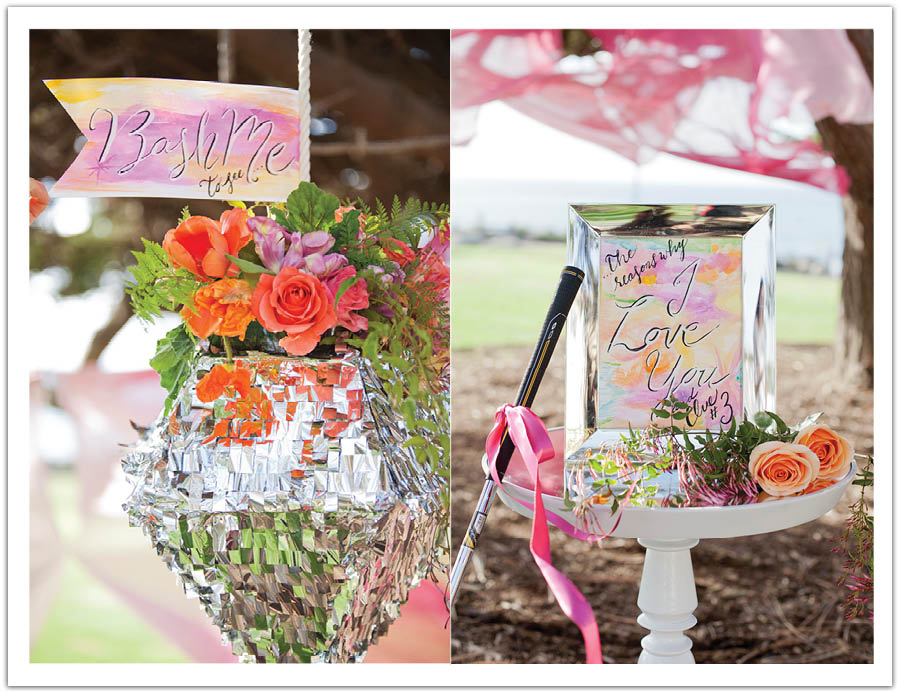 She swung and she swung with all of her might, to see what her future held, fight or flight!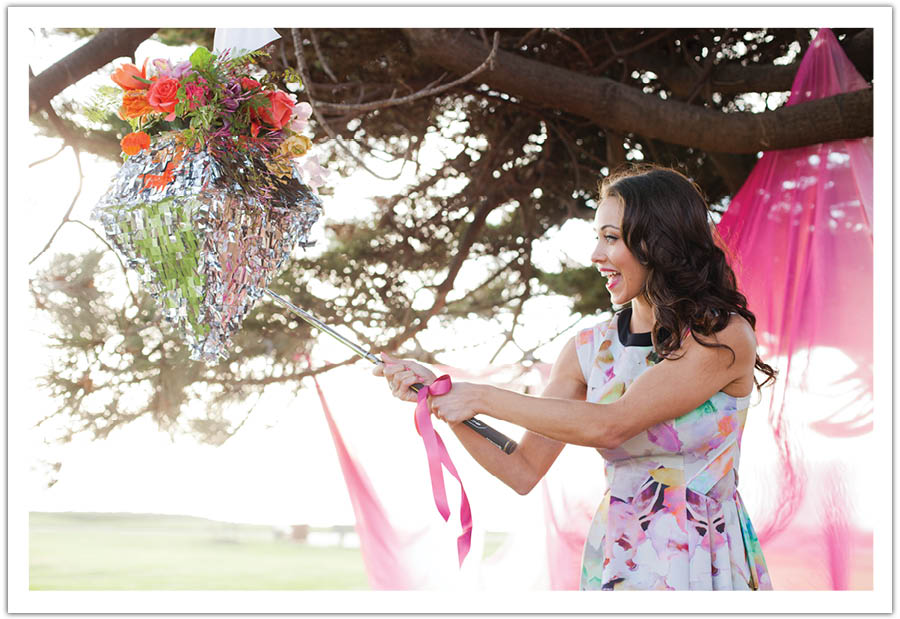 When bashed open, inside the pinata she found the reasons why "he loved her", some fragrant blooms, and a bunch of scrumptious chocolates, which she immediately consumed.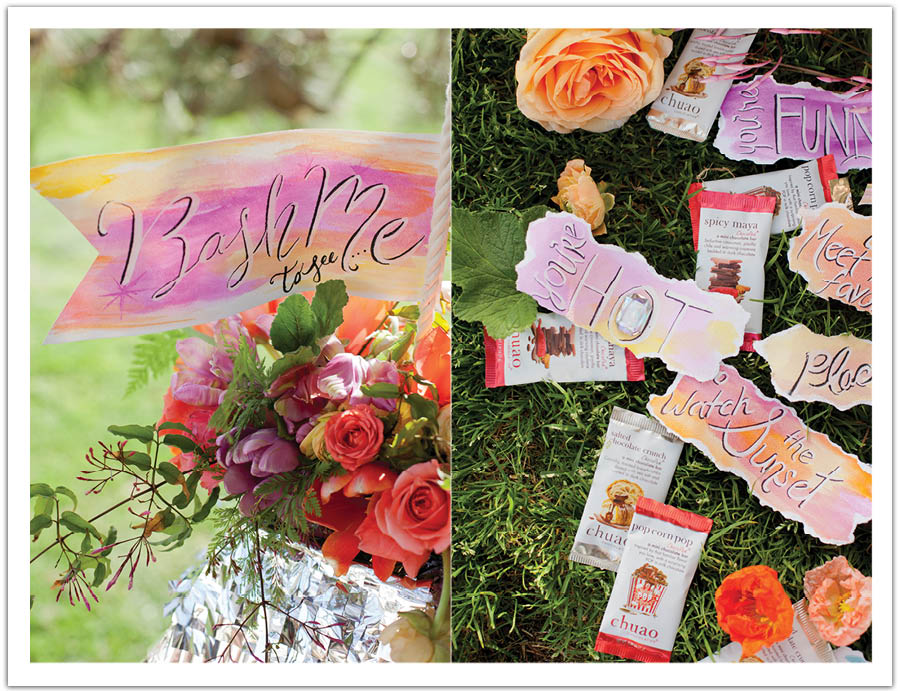 Amidst the notes she read that landed on the ground, "Meet me at our favorite place to watch the sunset" and clue #3 was found.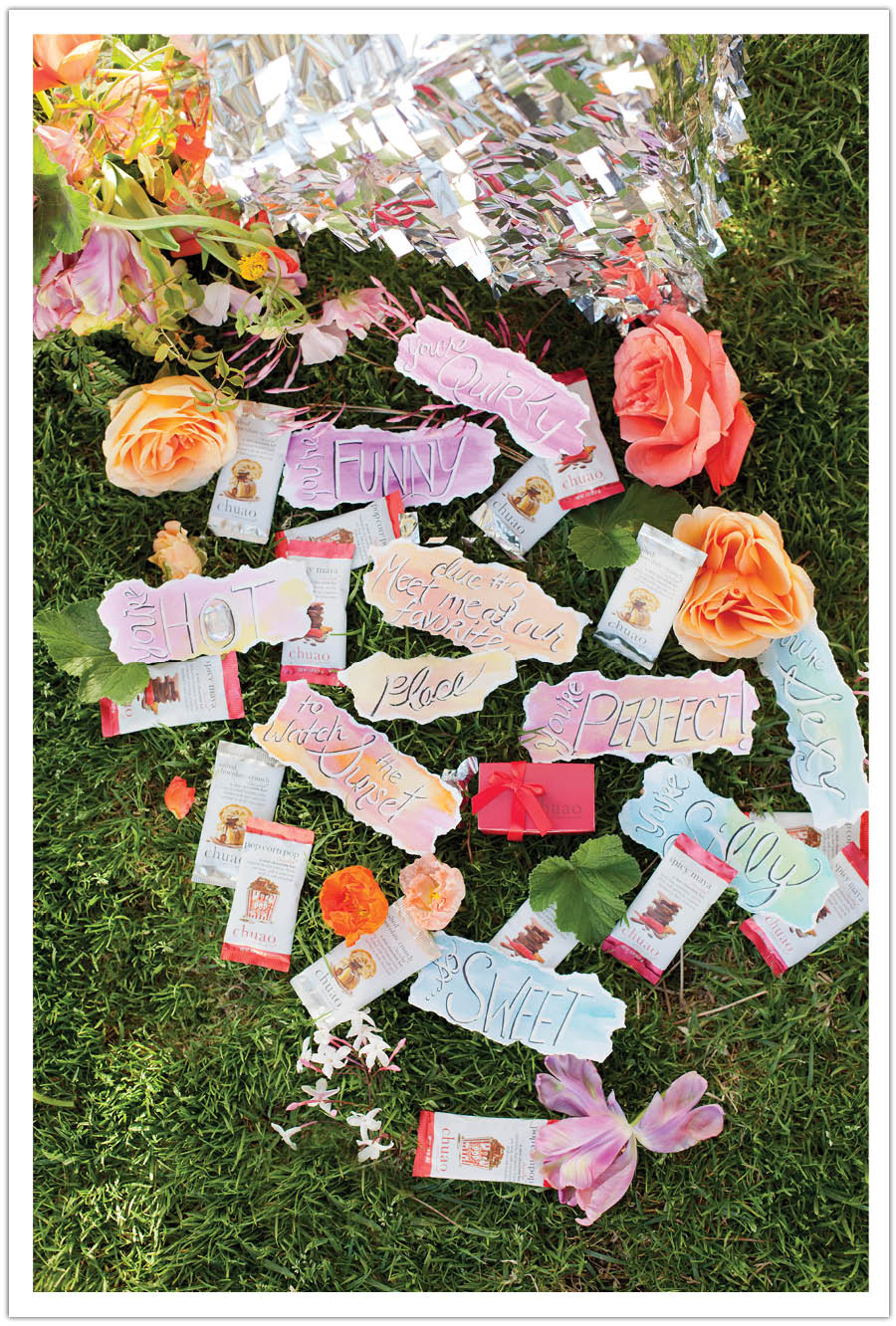 They skipped off to the bluff in Del Mar overlooking the sea, where she found her love, her man, and her fiance to be.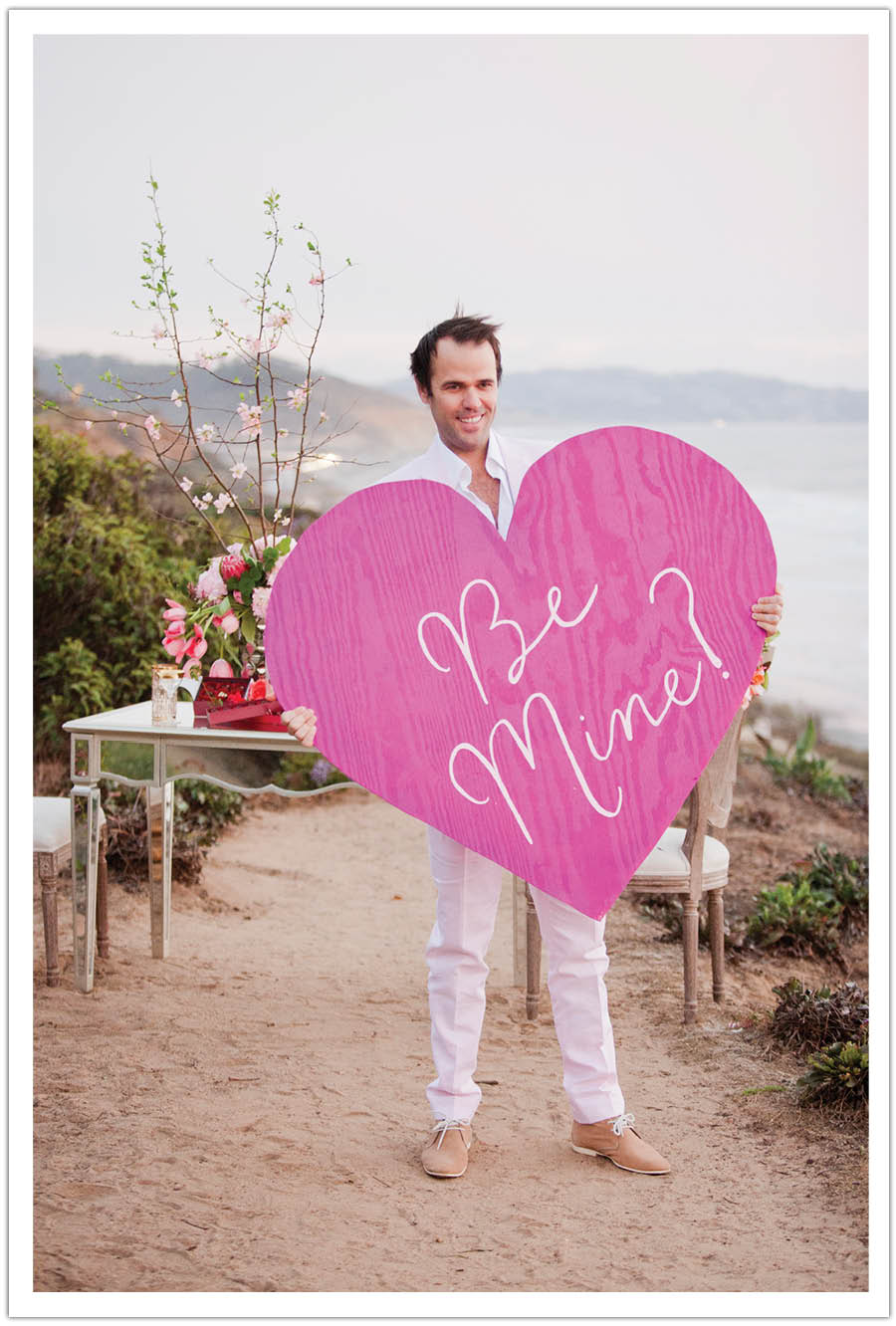 In the distance she spotted him holding an over sized heart reading "Be Mine?" Her heart set a flutter, she ran, almost leaving Little Guy behind!

Behind him stood a gorgeous table set for two that boasted beautiful flowers, heart shaped chocolates, and then after spotting the beautiful bauble we heard a loud "I DOOOOOOOO!!!!"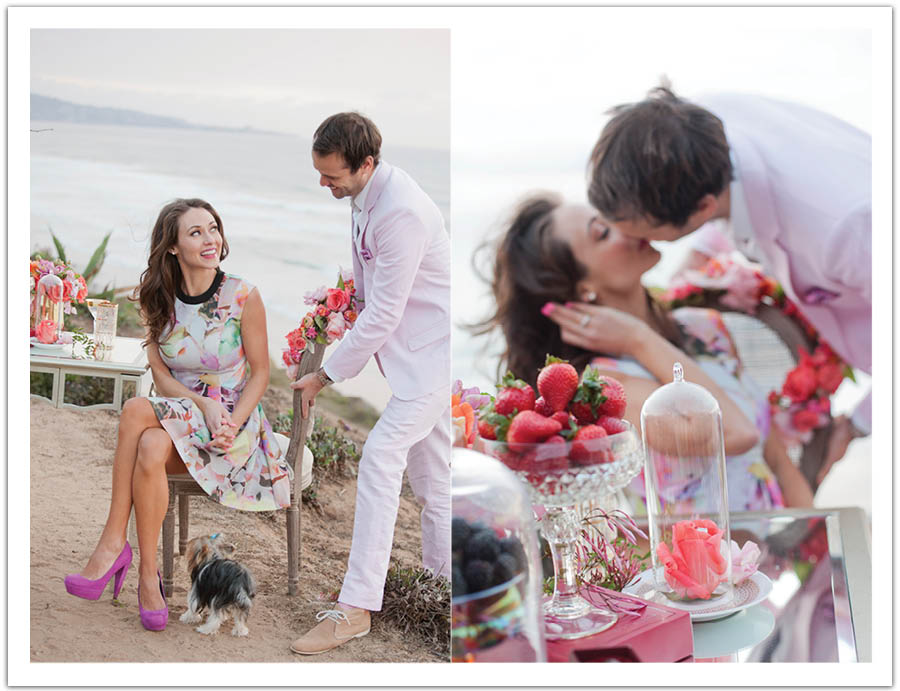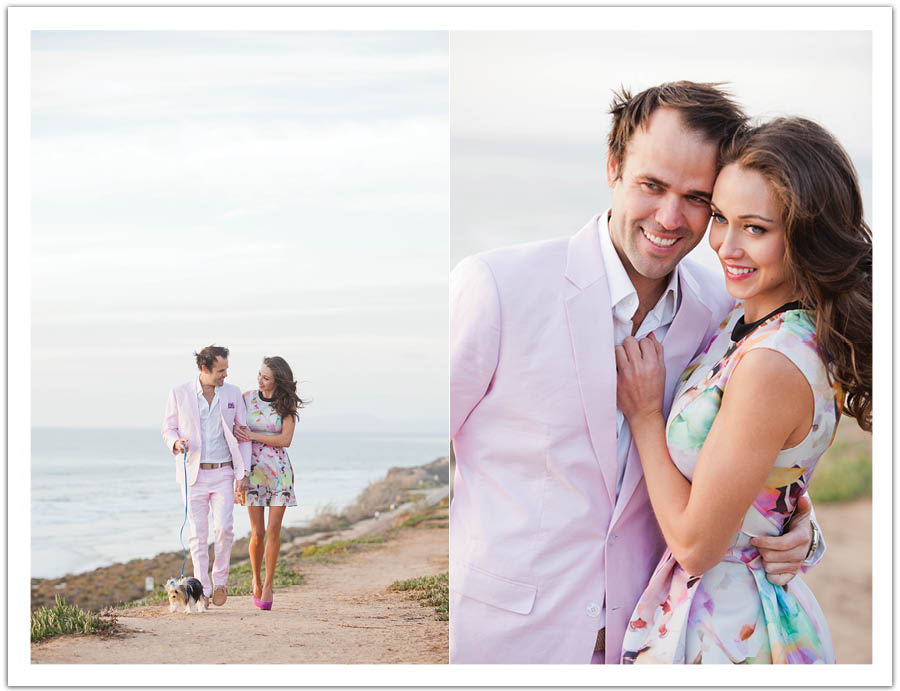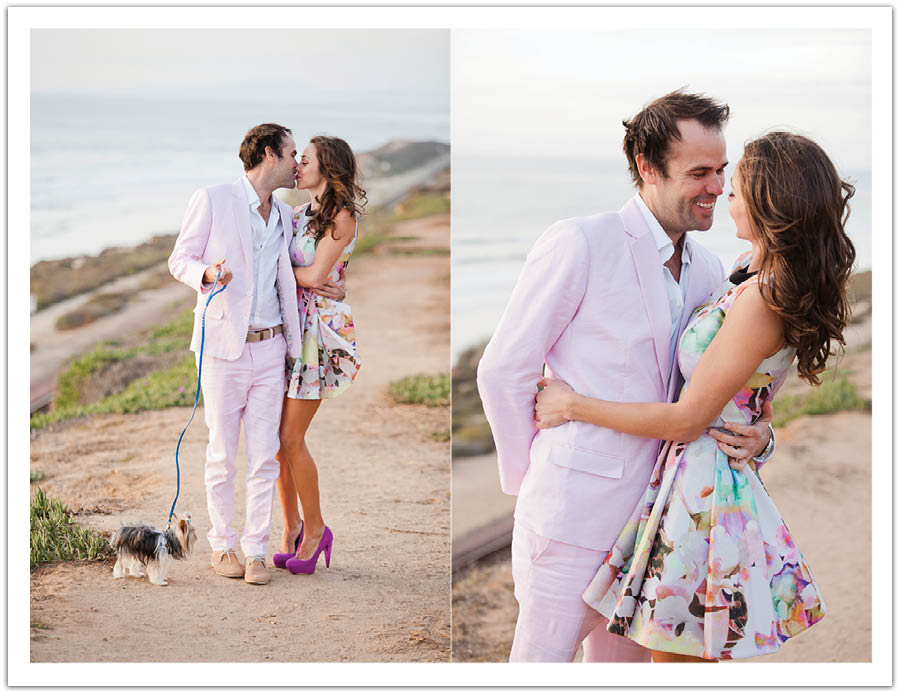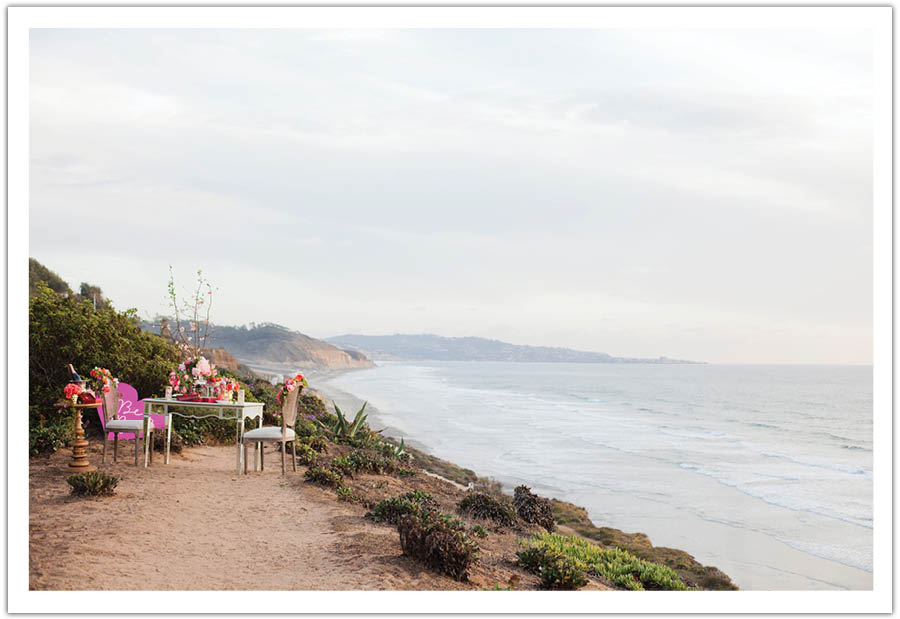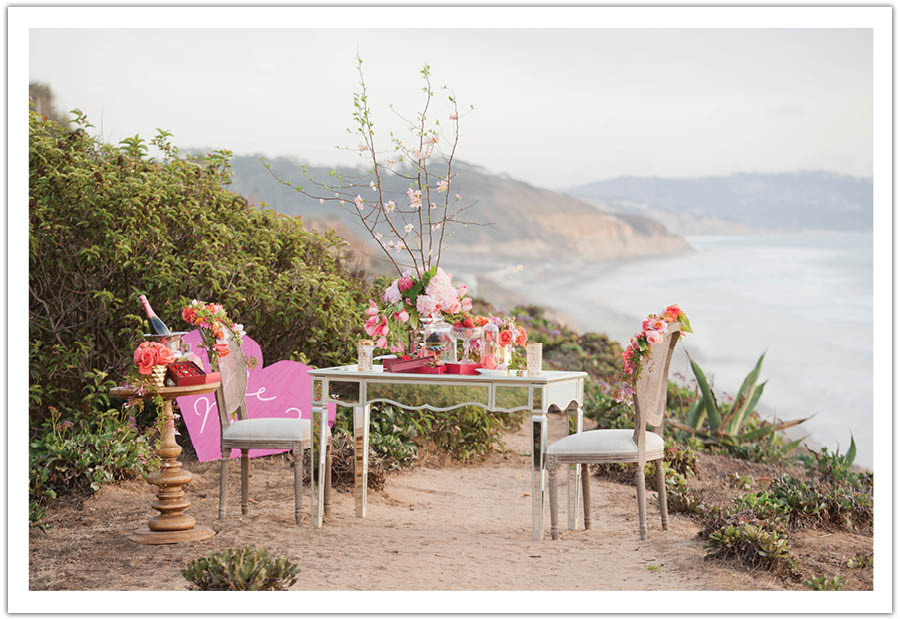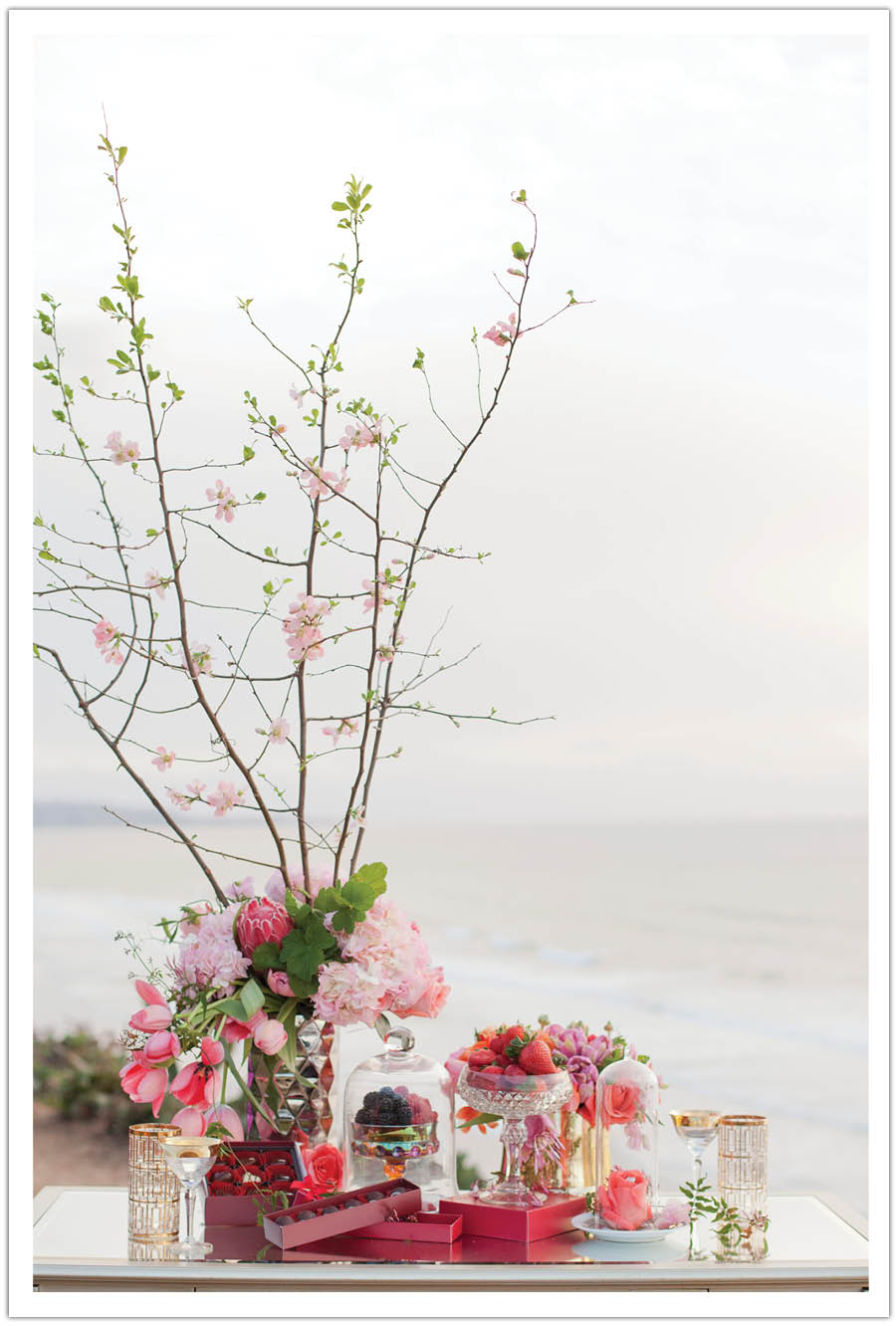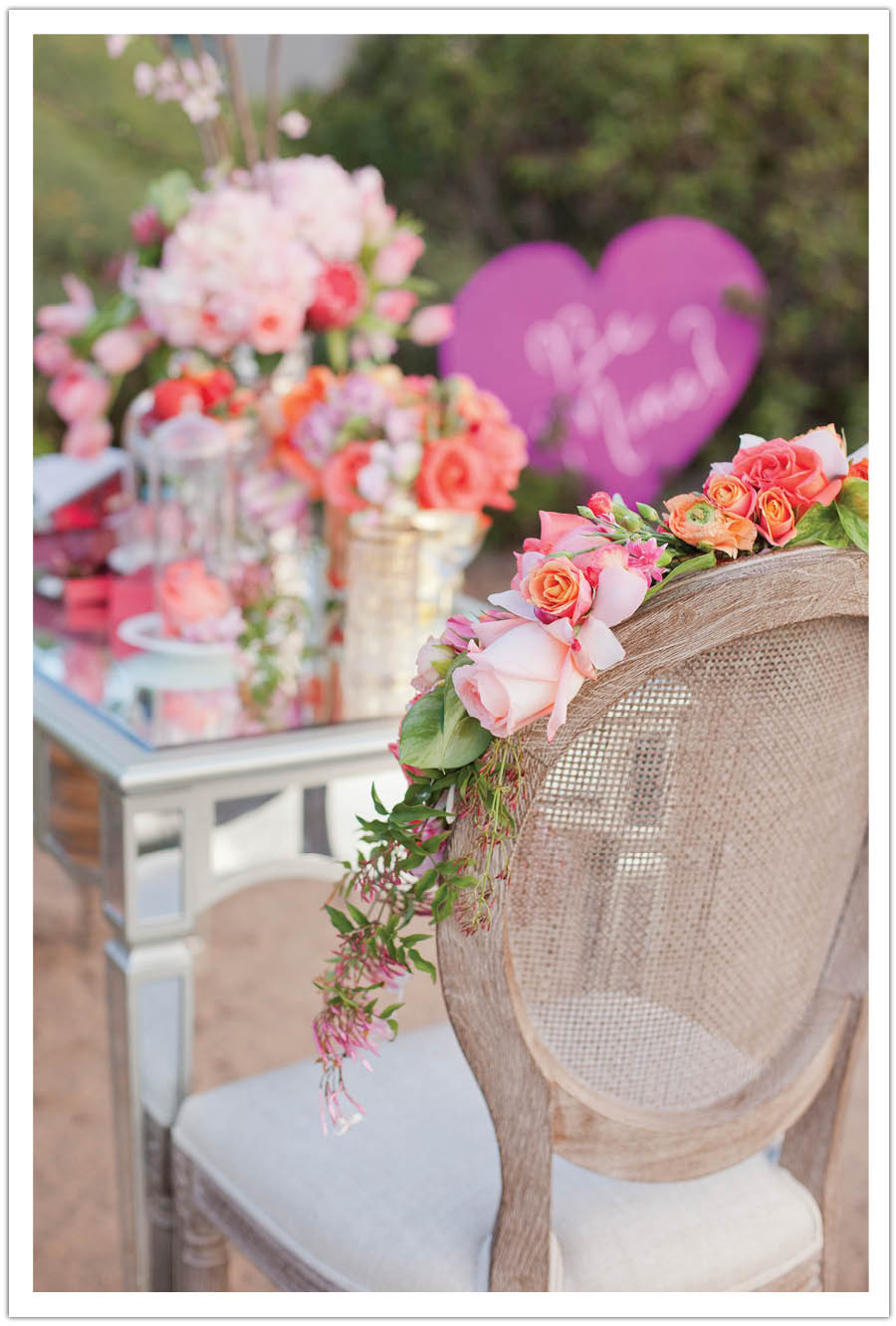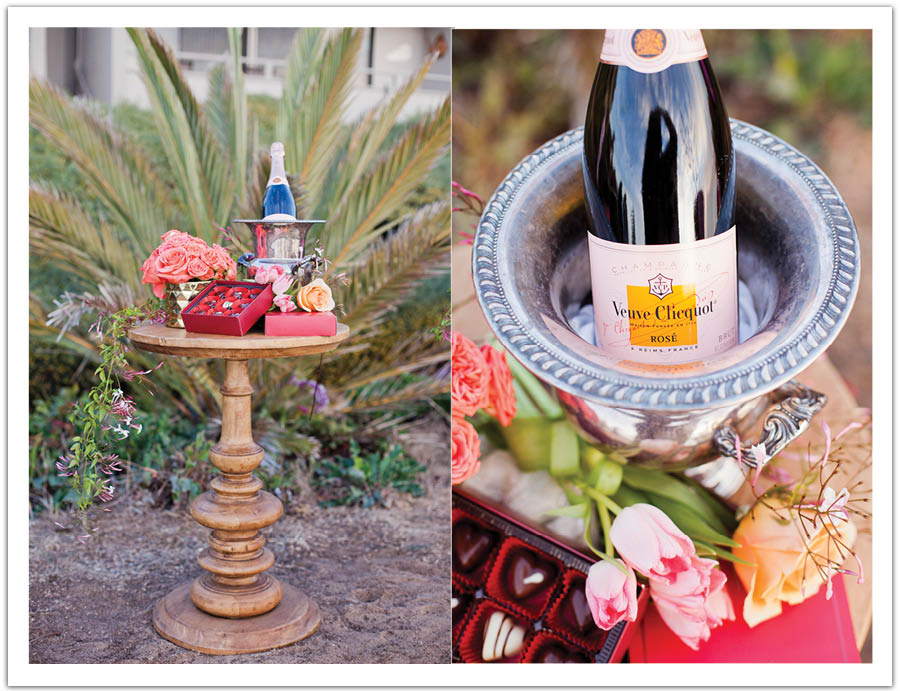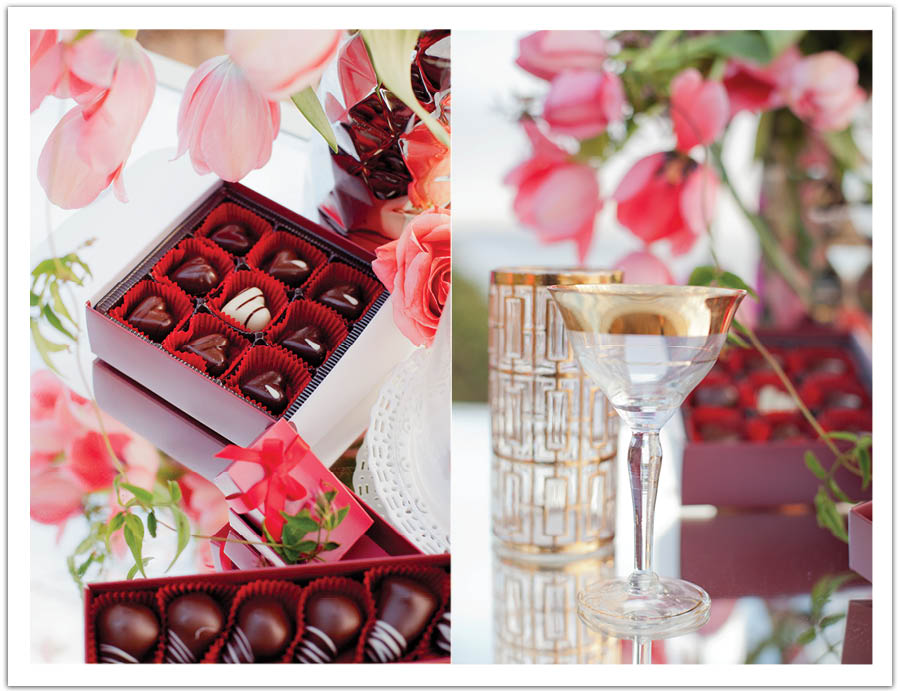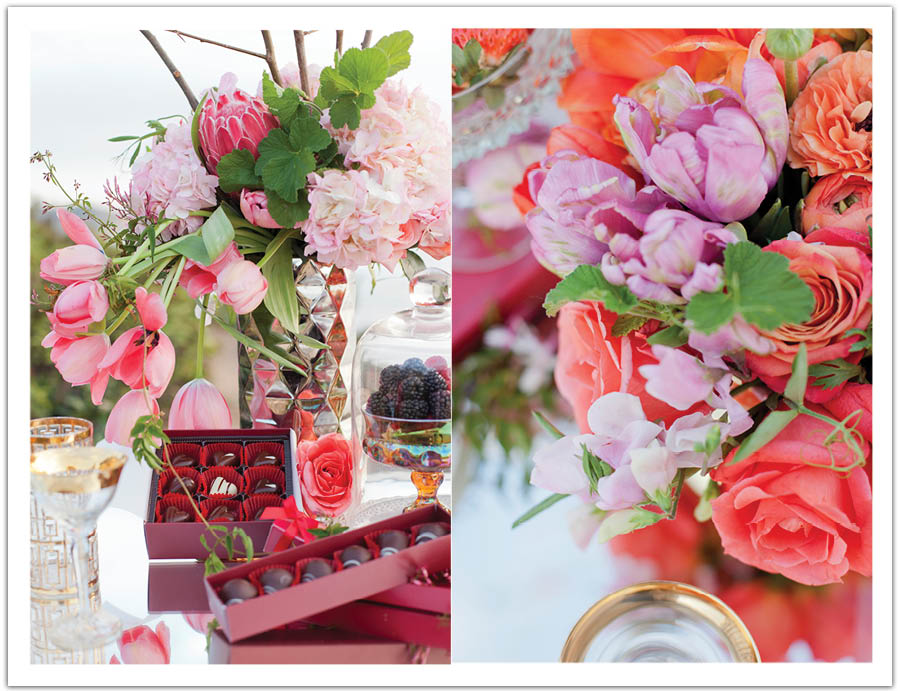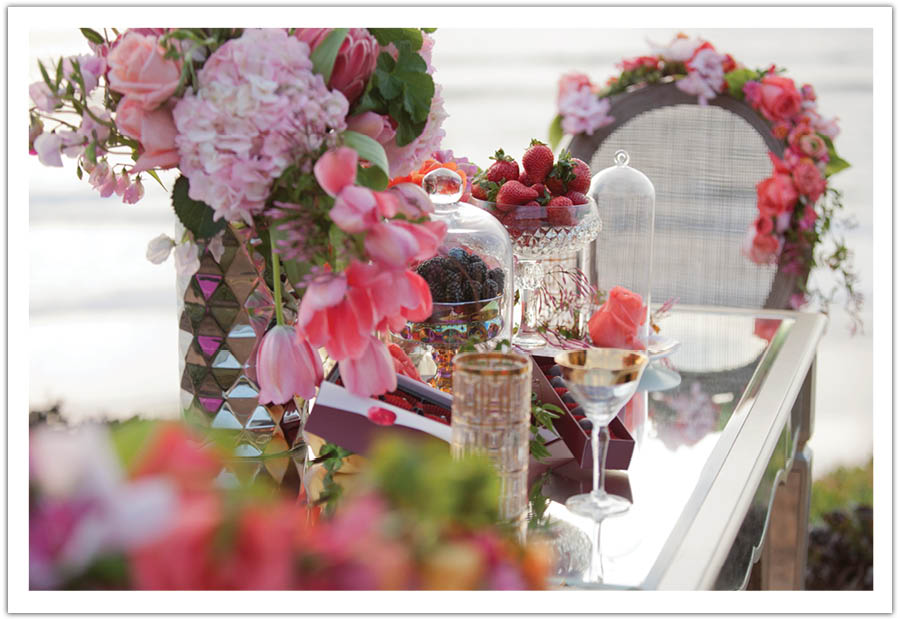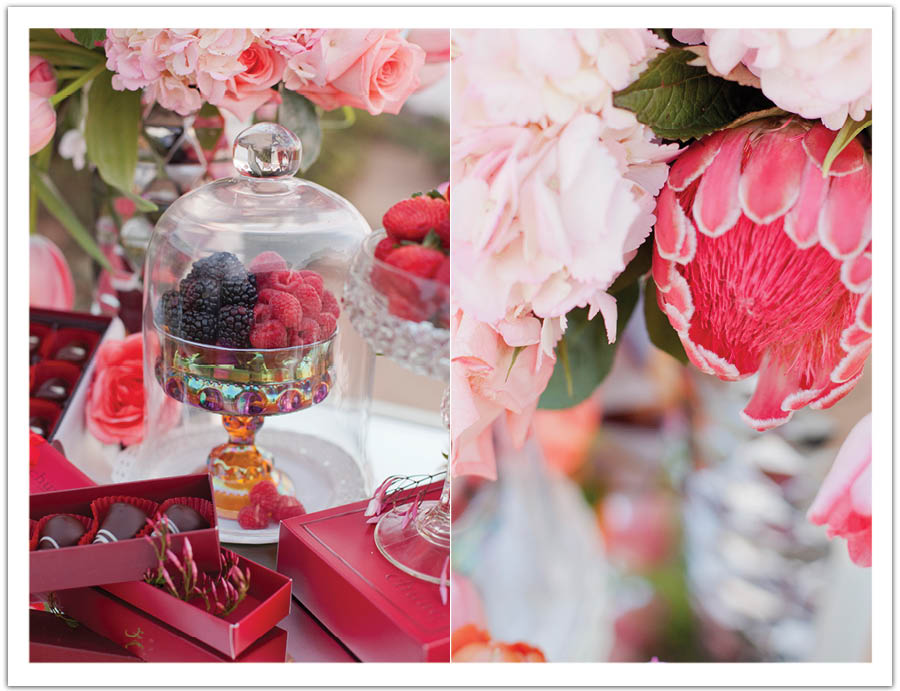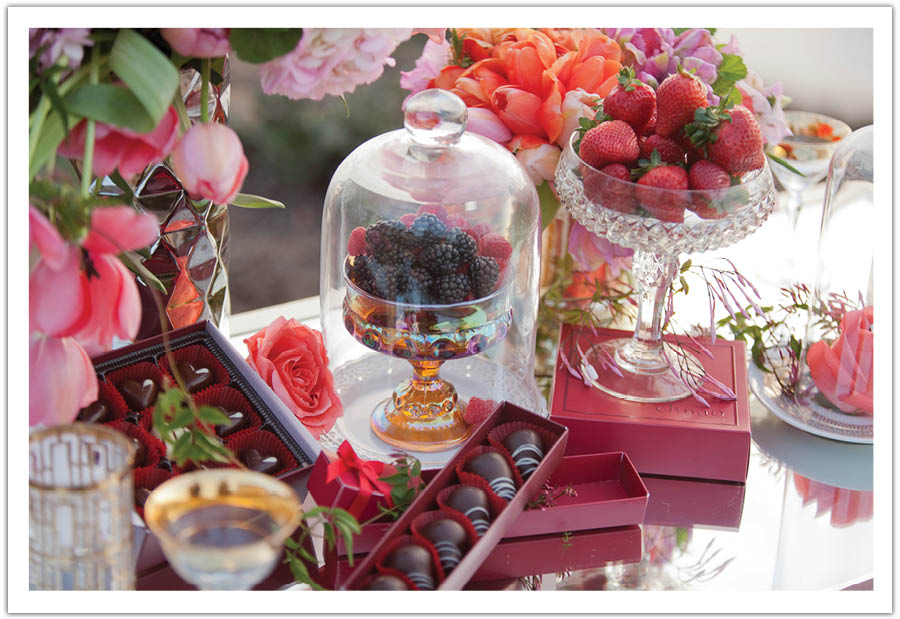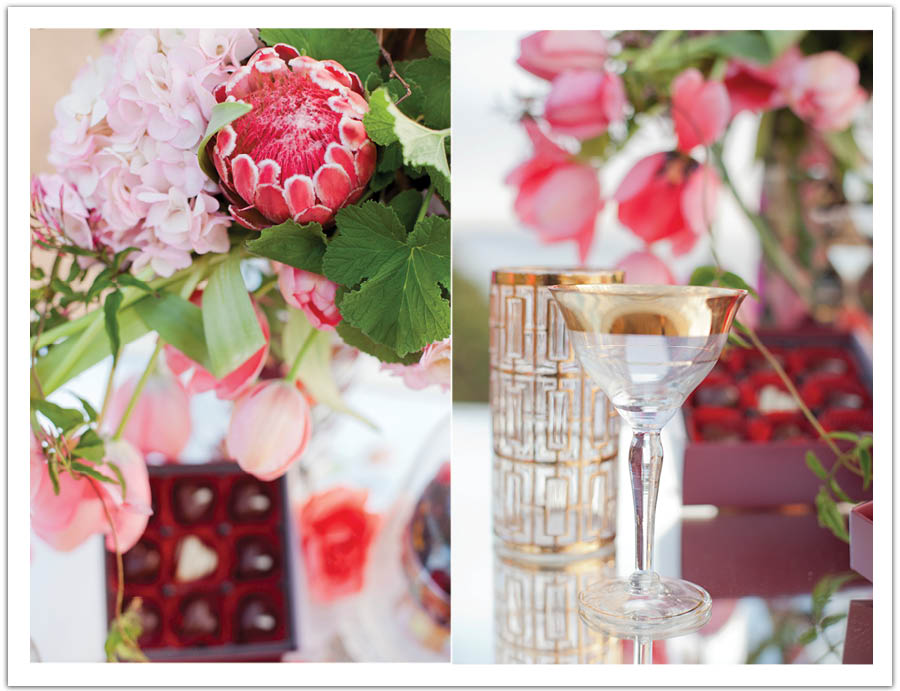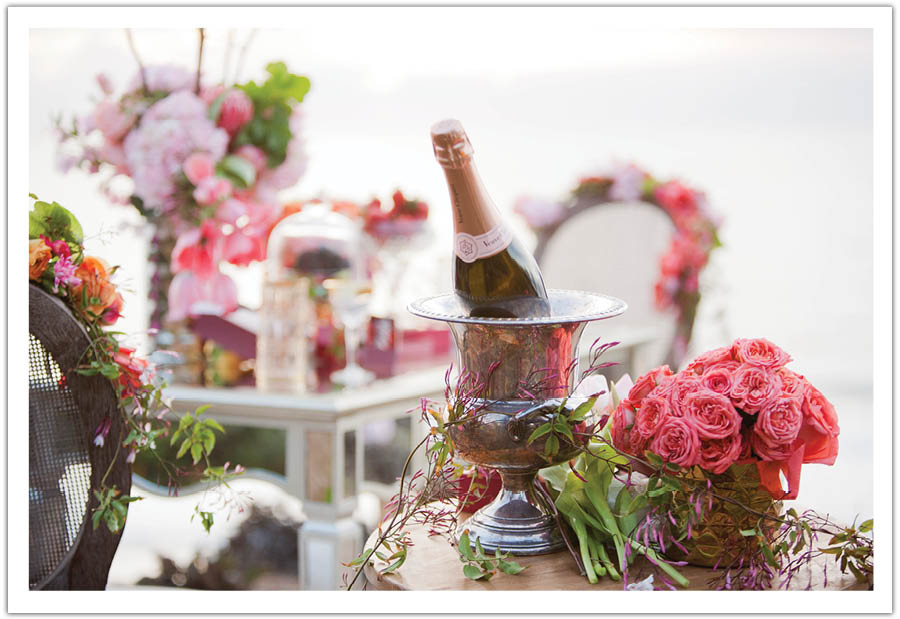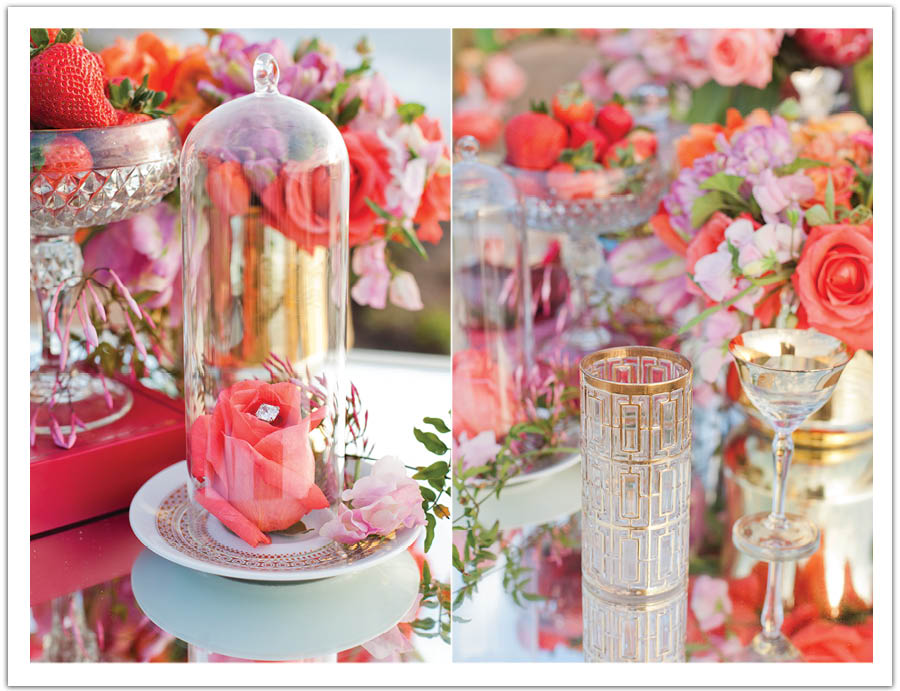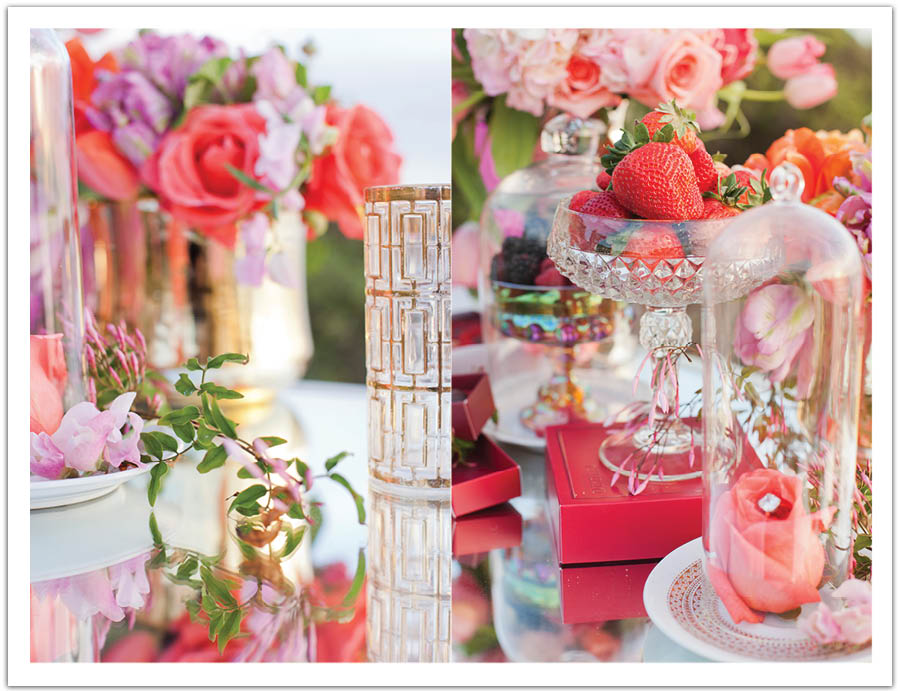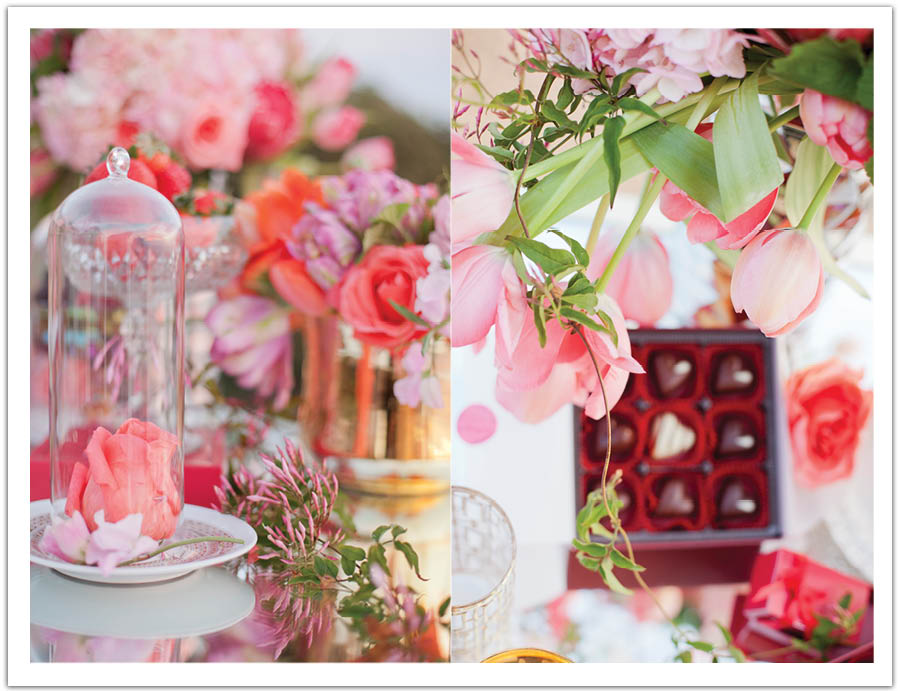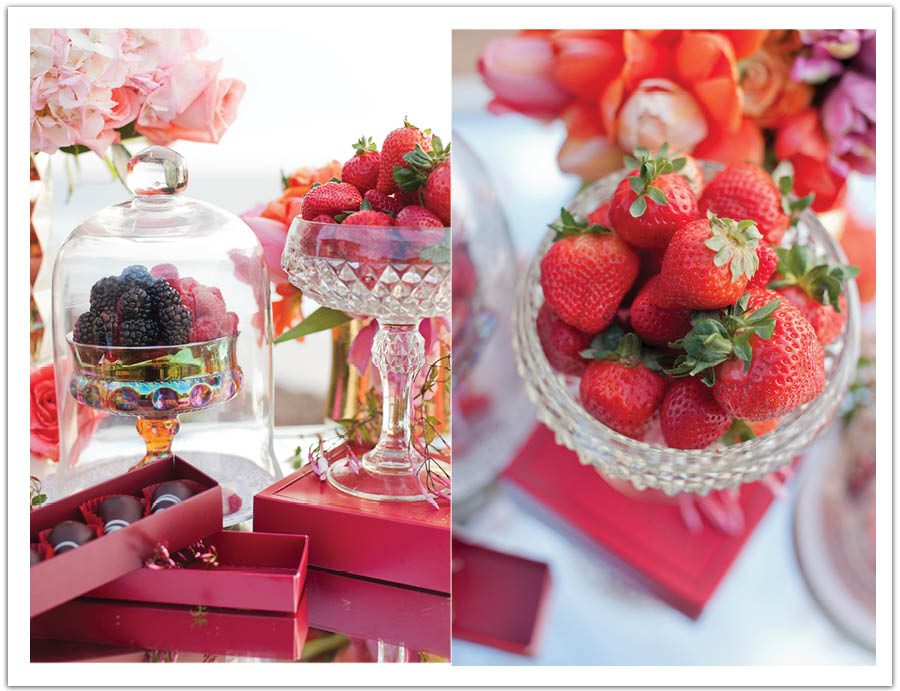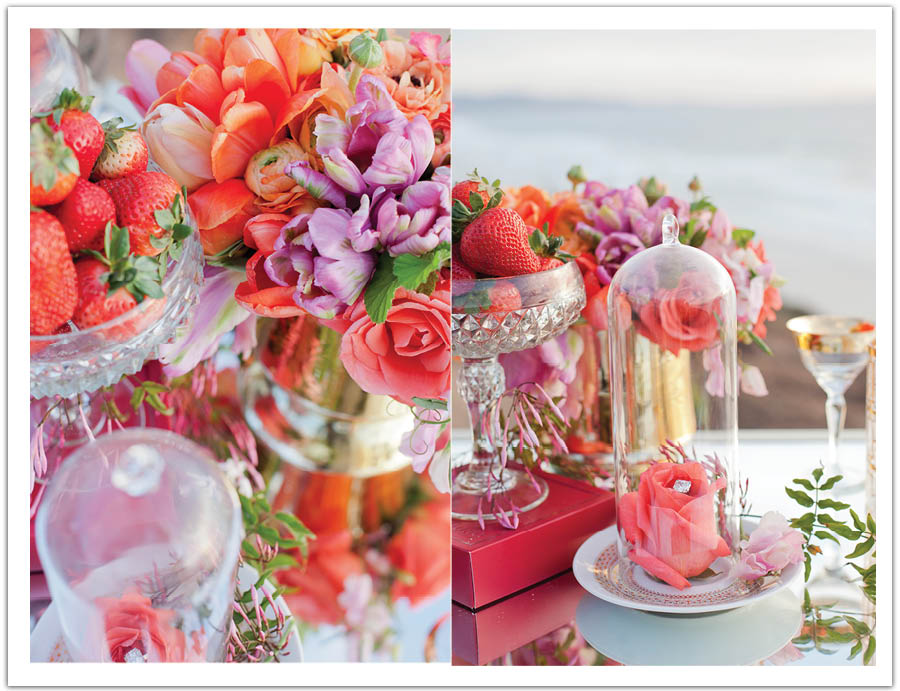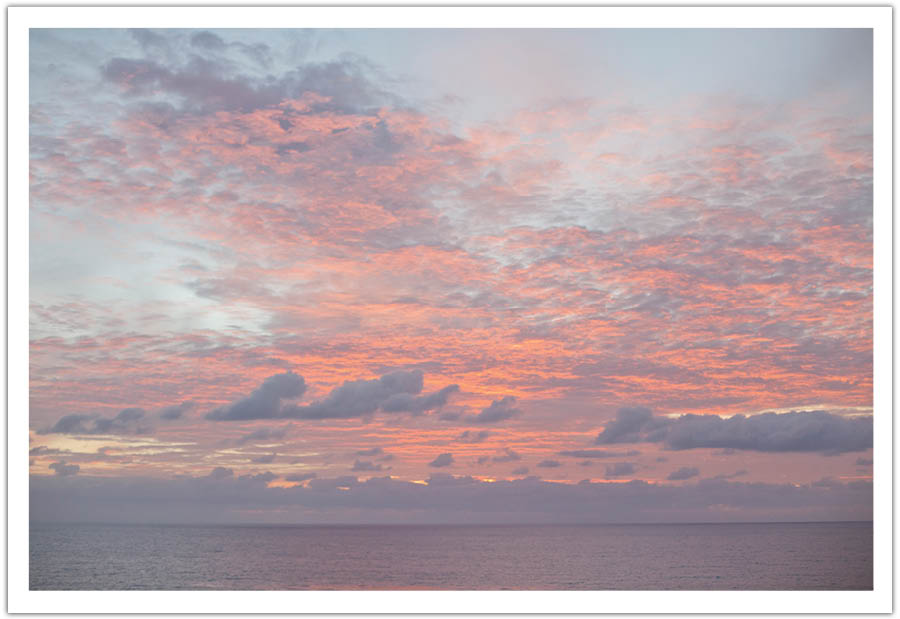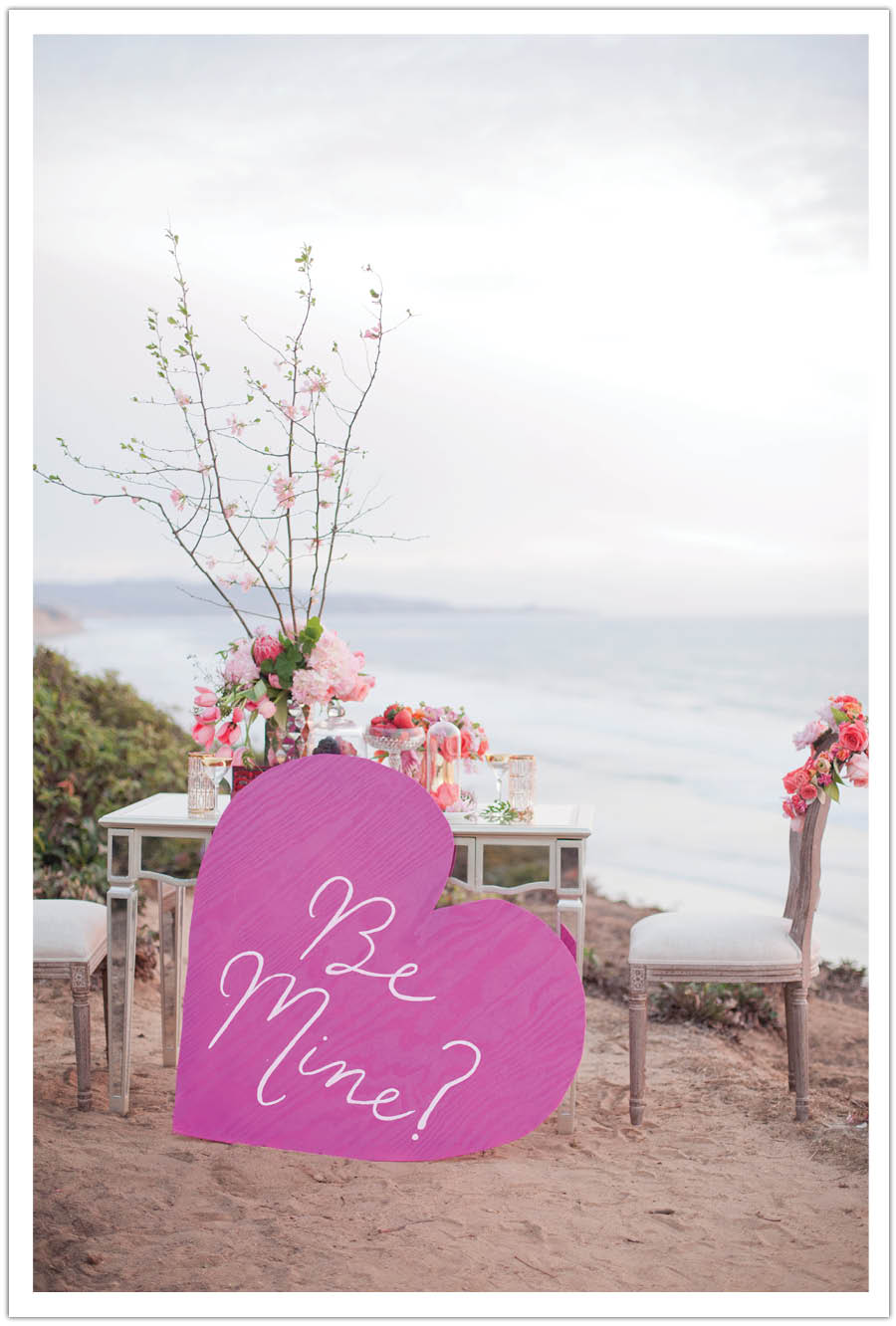 Valentine's Specials!!
***Chuao Chocolatier Special!*** Receive 20% off your purchase at www.ChuaoChocolatier.com
Use code SAVETHEDATE at checkout
Valid 2/3- 5/31/14 only on www.ChuaoChocolatier.com. Not valid on shipping charges, alcohol or gift baskets.Not valid with any other promotion, discount or offer. No rain checks or cash value.   ***Alchemy Save the Date Special!*** Alchemy Fine Events & Invitations is offering a 15% off discount to brides that place their their save the date orders between Valentine's day until to Feb 28th when they mention this feature. *discount offered on orders above $500.      
Design, Styling & Stationery by Alchemy Fine Events & Invitations
Photography by Luna Photo
Flowers by Isari Flower Studio
Makeup and Hair by Beauty by Stacey
Chairs and tables by Hire Elegance
Chocolates by Chuao Chocolatier
Read More »
Alchemy Fine Events' 2013 Year End Wrap Up
2013 was an incredible whirlwind of a year! We got to work with some amazing clients, travel to some incredible locations around the globe, get our feet wet filming our first videos for E-how and push our boundaries even further. I even got the chance to fulfill my lifelong dream of becoming an art teacher by volunteering to teach drawing classes to kids at the Monarch School of San Diego with the After-School All-Stars.  I am so blessed by the challenges that have come my way as they are making me so much more inspired and motivated to push even harder in 2014.
I am super excited about the adventures to come in 2014 including speaking in the Netherlands, working on a home decor line and really exploring my passion for modern, unique, fresh, colorful ways to make your life and it's special celebrations full of style, beauty and grace.
Here's a look back at some of our favorite moments of 2013.
Alchemy Studio Shoot
Ashley Keleman was kind enough to take some wonderful photos of me and Jill, as well as my girly-glam studio. I have yet to share these for some reason and must share soon!  She is an incredible photographer if you haven't seen her work yet, you must!
The US Grant Bridal Show
Our interpretation of a Boho-Glam California Winter Wedding. See the blog post here.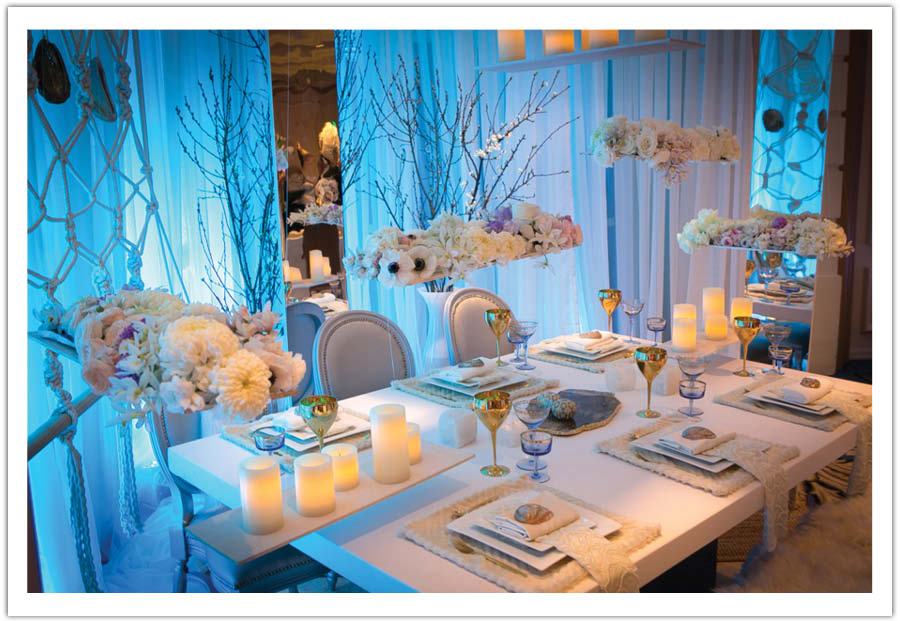 Hollywood Meets Bollywood at La Costa Resort
Blog feature coming soon!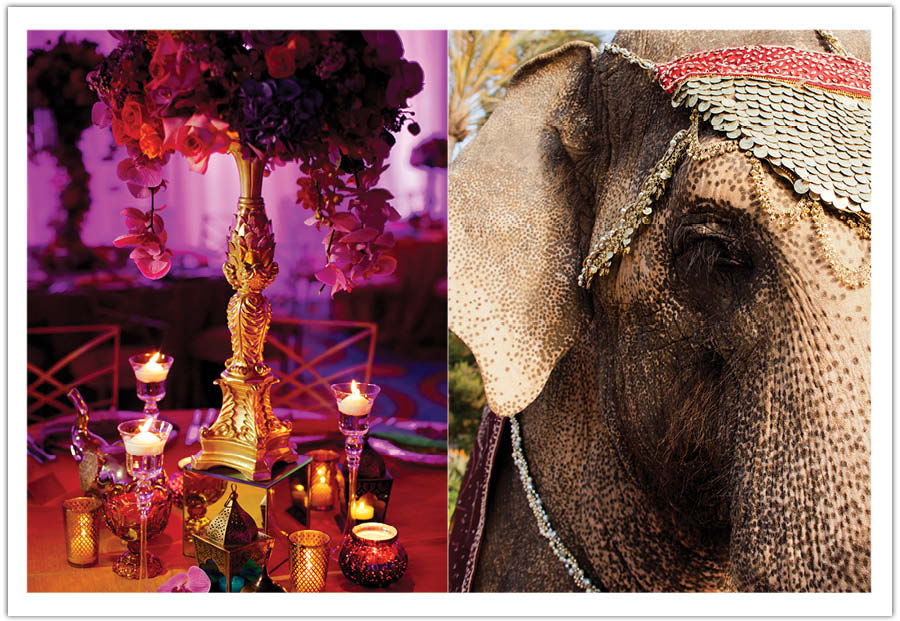 DREAM 2013 at The W Hotel San Diego
See our feature in Exquisite Weddings Here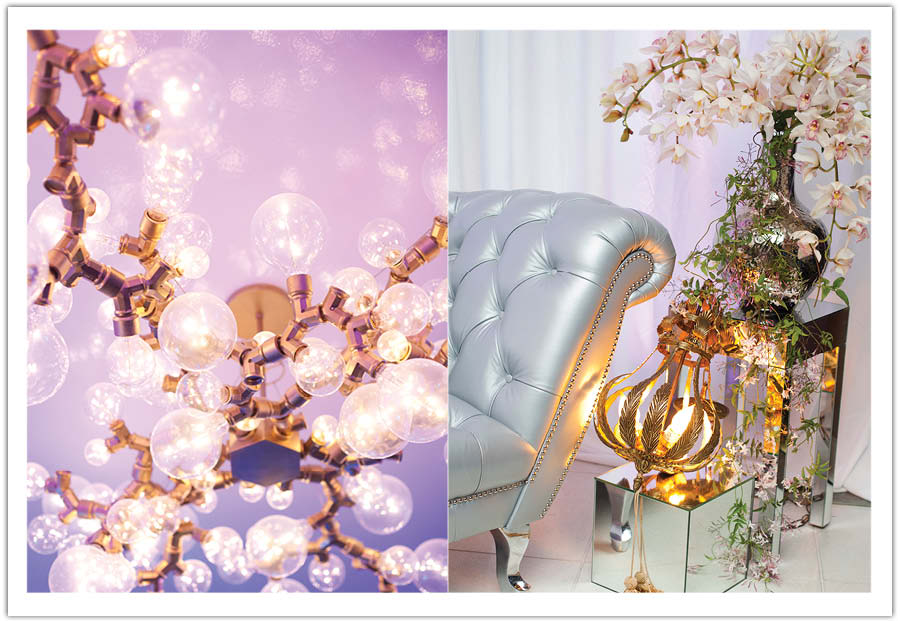 Deserted Ocean Scottsdale Wedding
Feature coming out in March!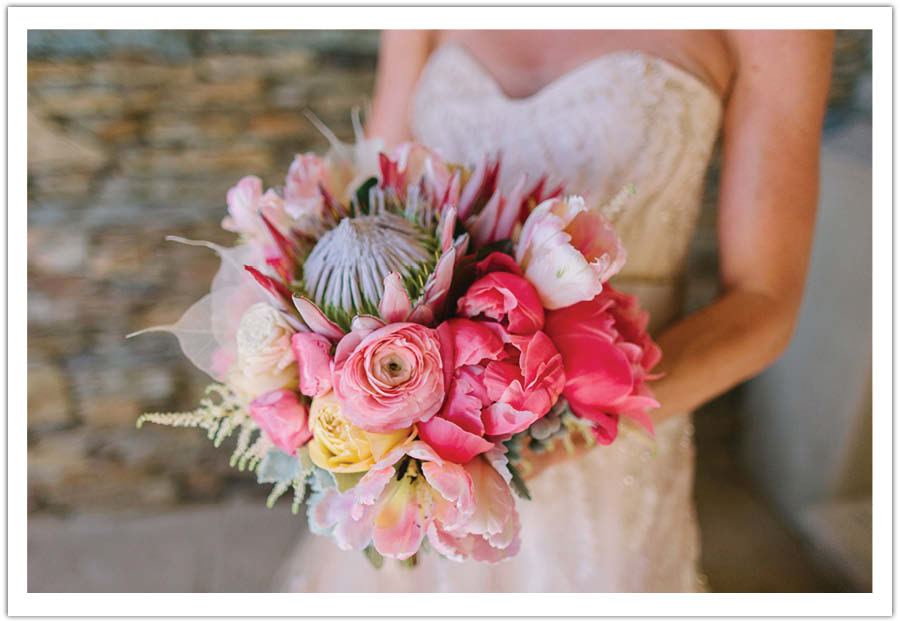 Garden Glam Baby Shower with Lounge Appeal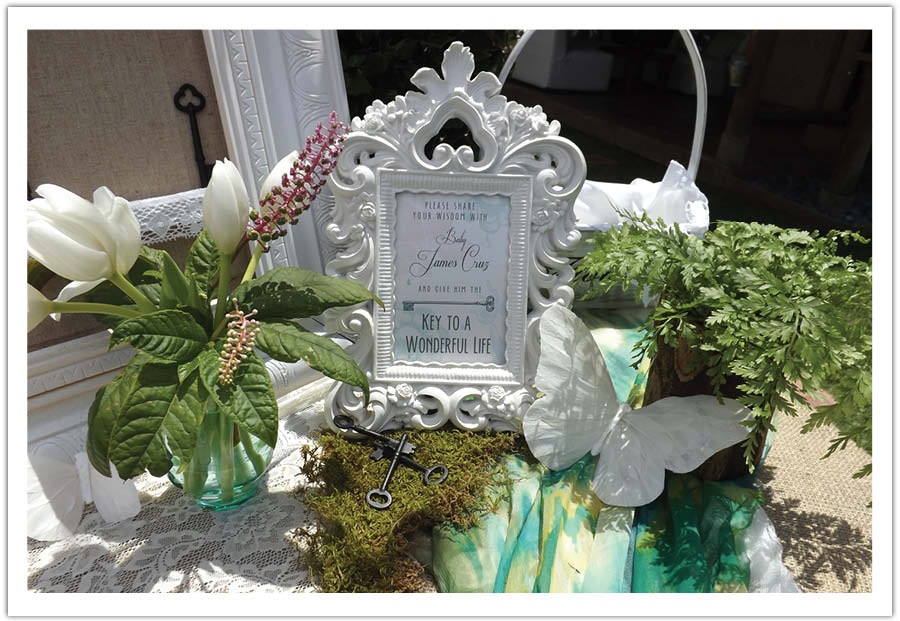 Ibiza Collection for our partnership with Bonder & Co in Ibiza, Spain
See our Style Me Pretty feature here and a ton more details on our own blog:  El Sol here, El Mar here and El Cielo here!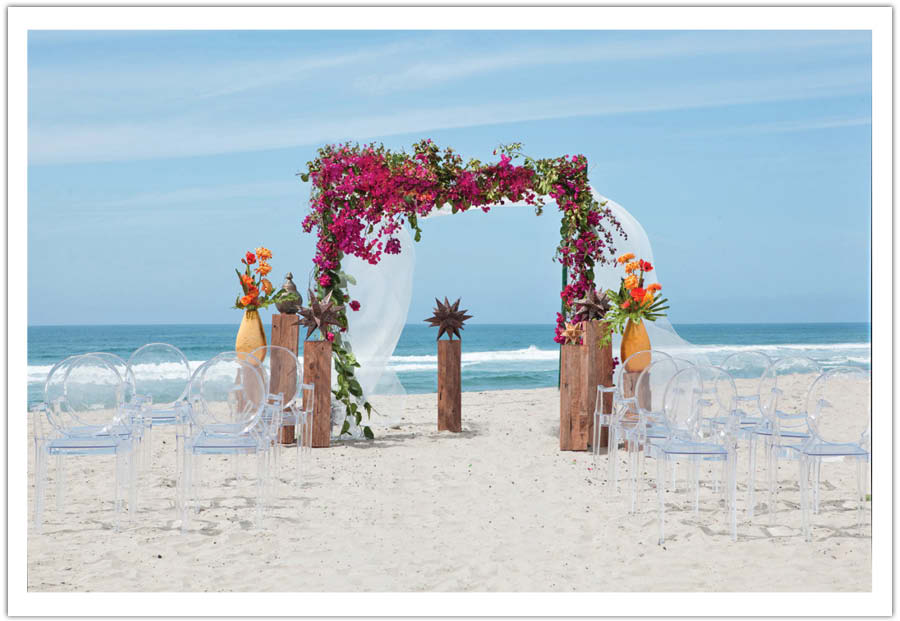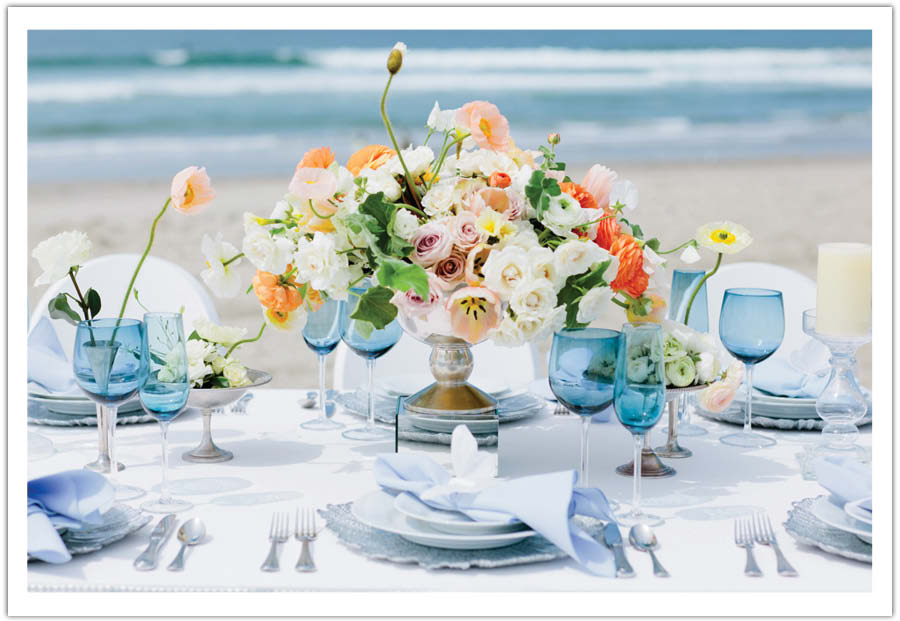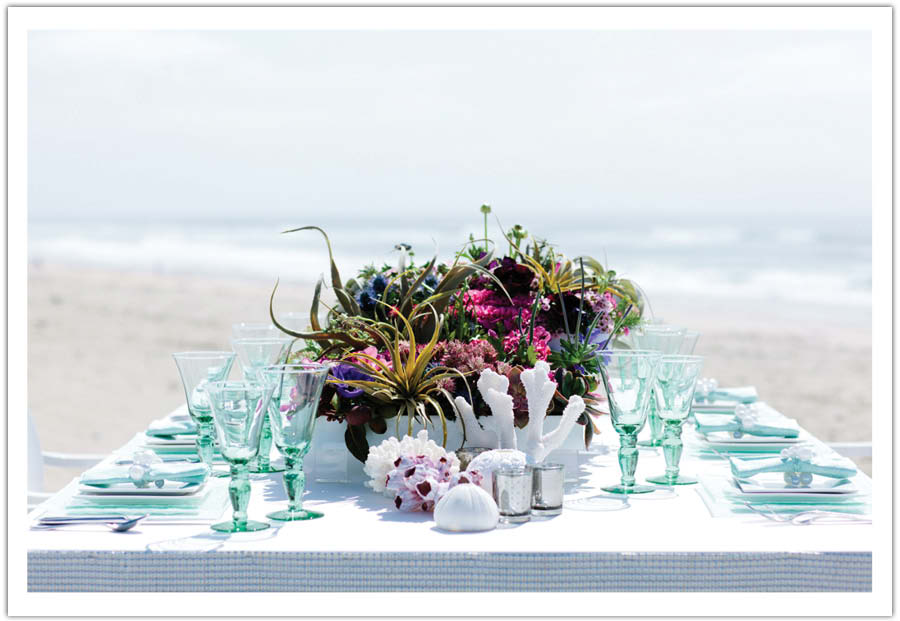 Luxury Picnic Shoot for Riviera Magazine in Rancho Santa Fe
Riviera magazine teamed us up with the amazing Chef Andrew Spurgin for a collaboration of our interpretation of the ultimate luxury picnic and interviewed us for all the happenings in the world of Alchemy Fine Events. See the article and post here!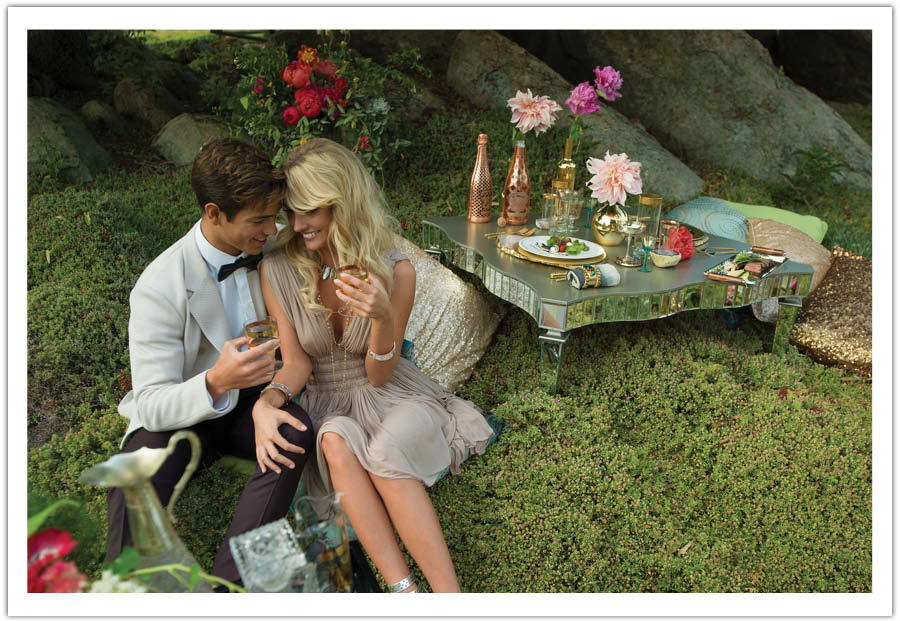 Styled a 70′s Glam Inspired Dine + Design vignette with Roche Bobois for a Riviera Magazine competition
See the article and post here!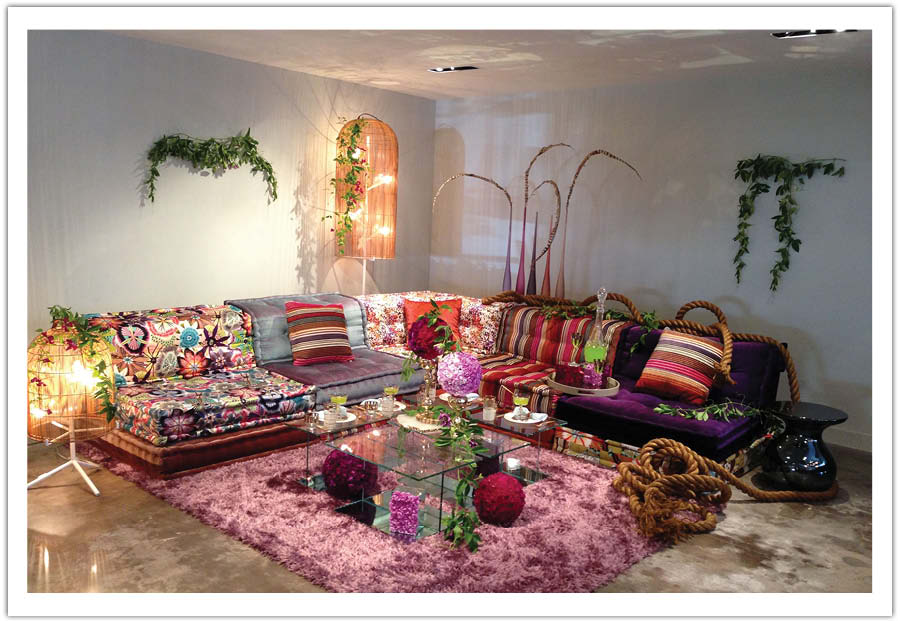 Garden Glam Wedding at Ponte Winery in Temecula
A fragrant garden of herbs and flowers mixed with sparkle for a gorgeous winery affair. See the feature coming soon!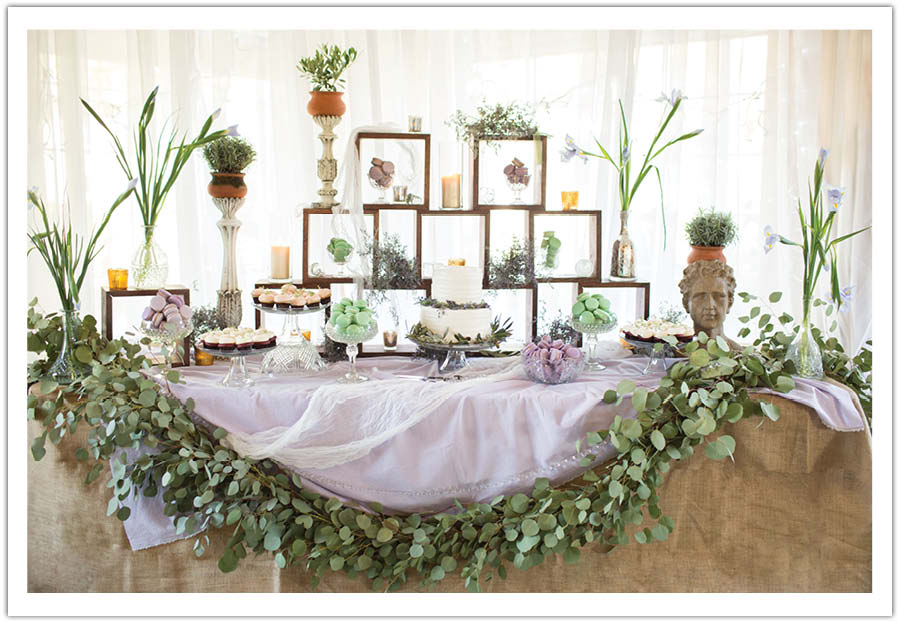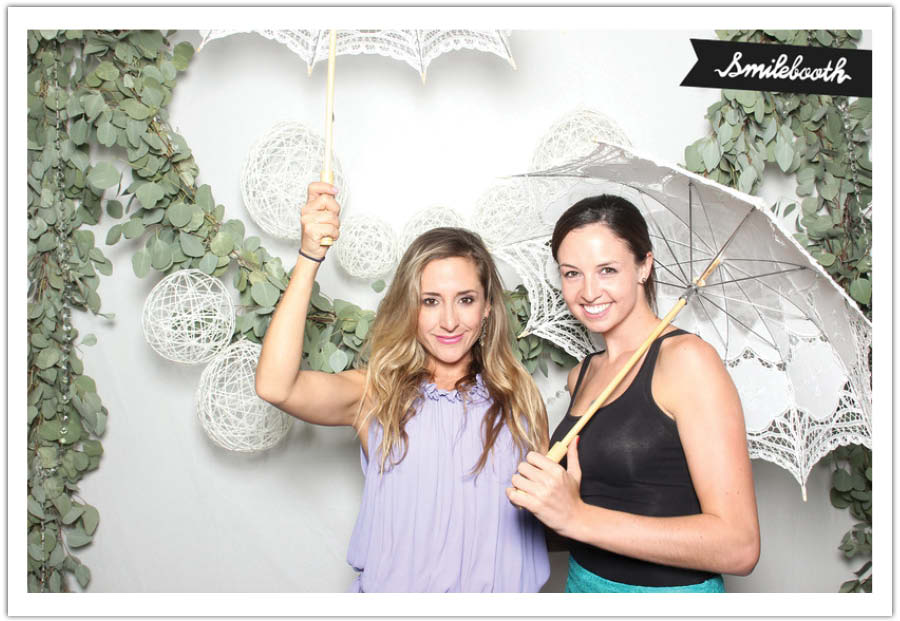 Since 1955 Birthday Party at Rancho Valencia
The best Rat Pack and Marilyn came out to visit our Drive-In Movie Theater style mid-century dinner party in Rancho Santa Fe.  See the video from this event here. Blog post and feature coming soon!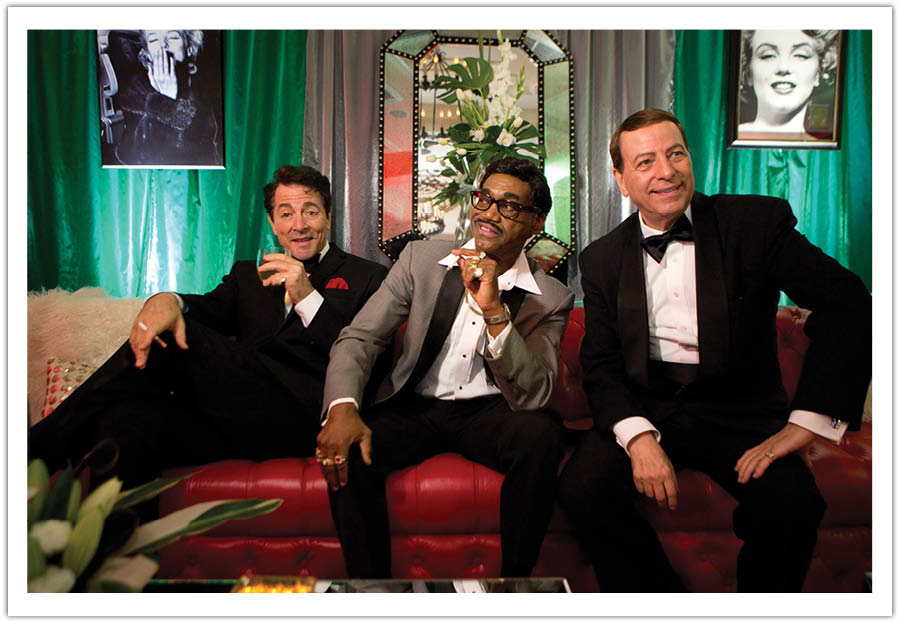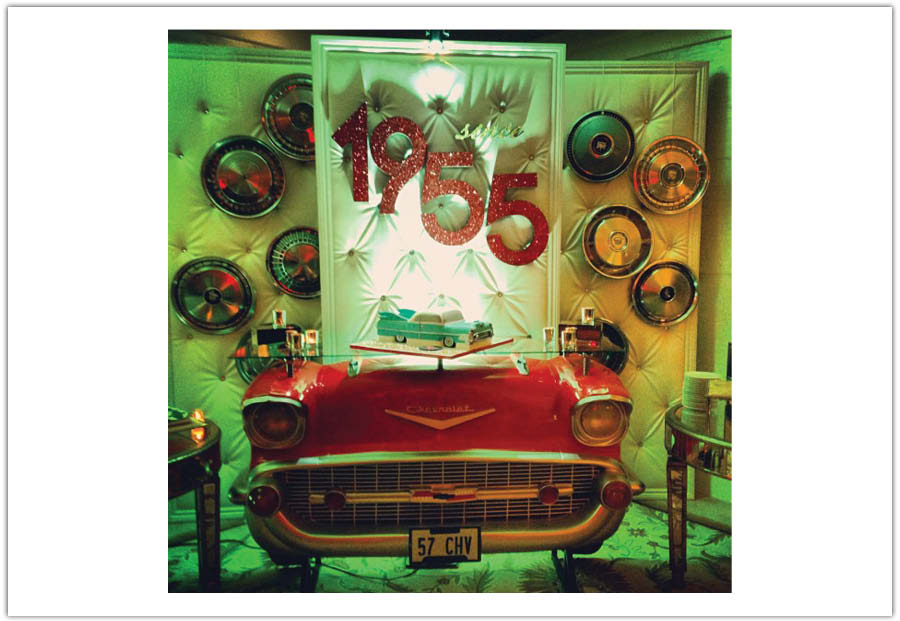 A Modern Glam Wedding in Mascota, Mexico
An absolutely amazingly beautiful modern, unique and romantic wedding at a small lake resort inland of Puerto Vallarta. I can't wait to share this one with you!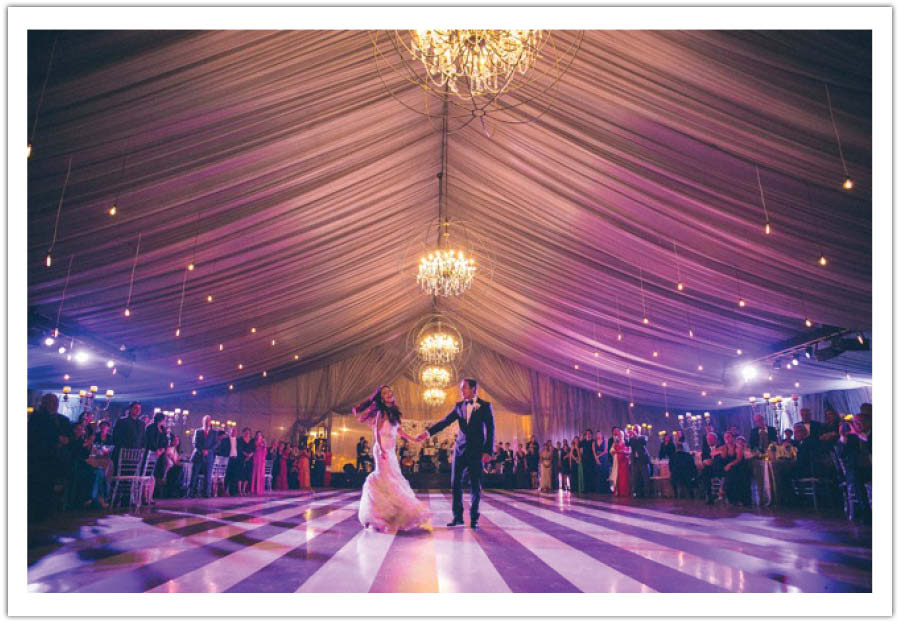 Thanksgiving Glam at Cucina Enoteca in Del Mar
See the Hostess Blog post here and even more detail on Alchemy Blog here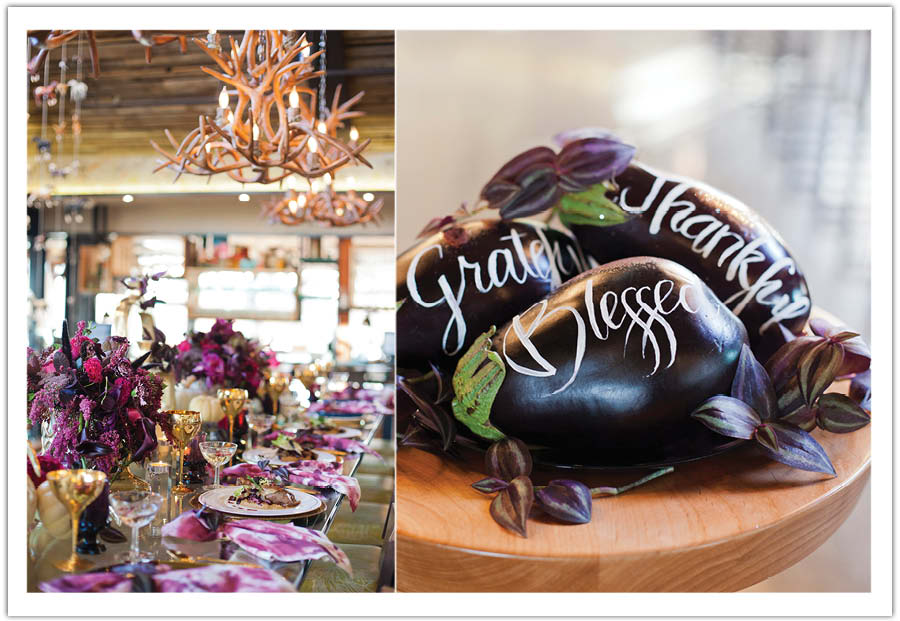 Butterflies and Besos Santa Monica Wedding
Look for this one coming out in 2014. We used the 2014 Pantone of the Year and didnt even know it! We are so ahead of the trend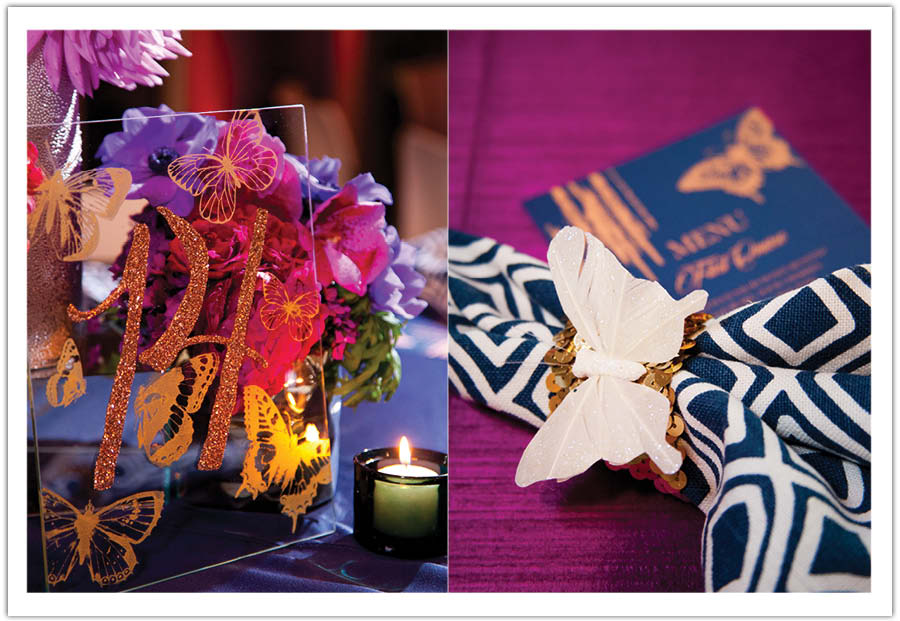 Gen Next Midnight in Paris Holiday Party at the Carondelet House
Feature coming soon!
Cirque du Cates Sexy Circus Party in San Diego's Gaslamp District
Feature coming soon! This one was incredible… So many amazing details to show off!!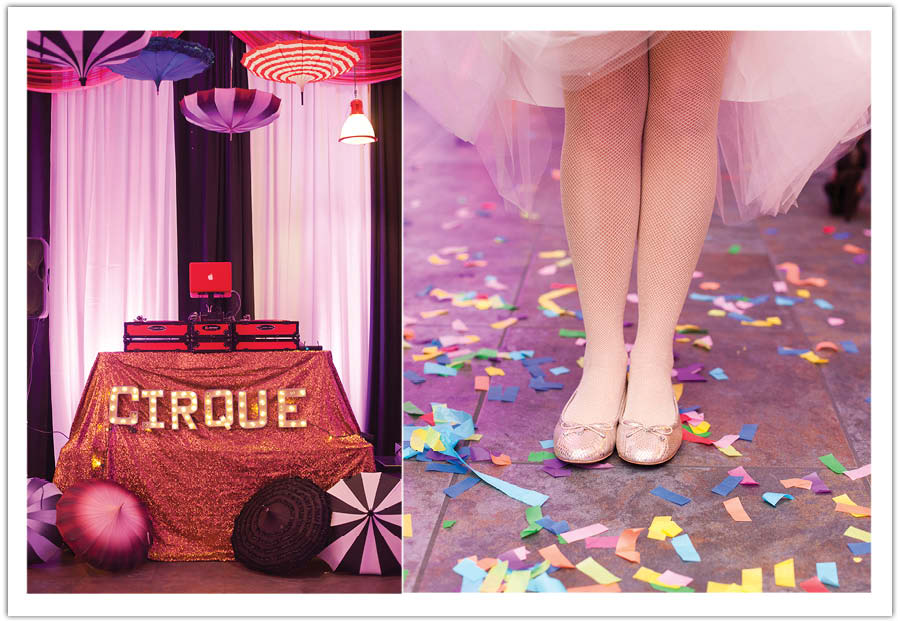 Nutcracker 1st Birthday Party at Mr. C in Beverly Hills
A Korean 1st birthday party for a previous client who we designed the Monopoly 1st birthday party for seen here.  Photo of this precious event coming soon!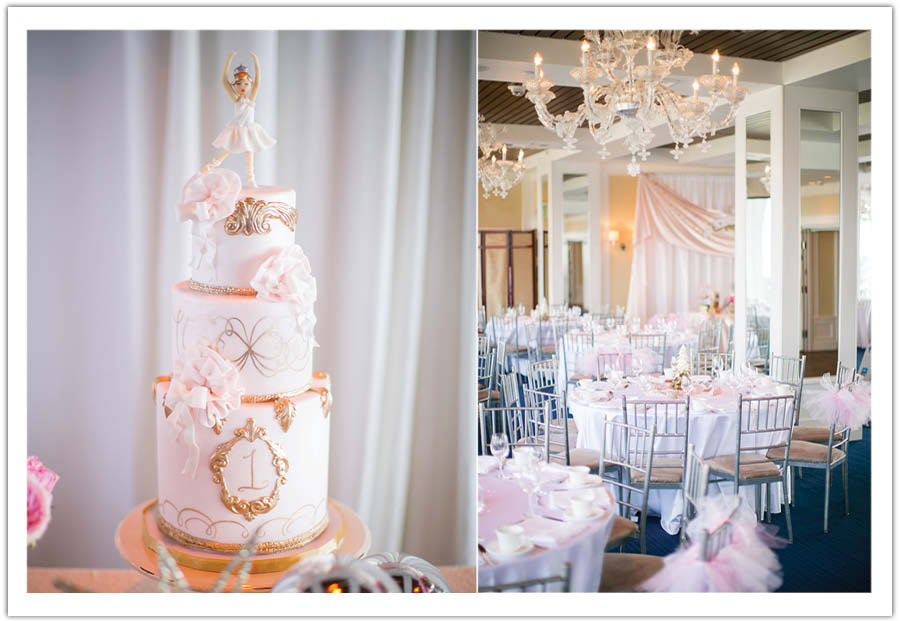 What a year! We are so excited to see what 2014 brings. Cheers to a fabulous new year, a fresh start and even more room to soar! Wishing you lots of love and luck in 2014. xoxo
Read More »
Modern Thanksgiving Decor Inspiration at Cucina Enoteca

With time flying faster than ever, Thanksgiving snuck up on us once again. With the cold weather and long nights, my passion for food and wine emerge stronger than ever. What better way to celebrate a day full of feasting than with a super stylish table?  Along with Cucina Enoteca at their fabulous new Del Mar location, we wanted to create our version of a modern glam Thanksgiving tablescape + updated gourmet menu showing you how you can ditch the traditional for an even more fabulous affair. Paula Luna of Luna Photo never fails to get the most gorgeous photos and was there to capture all of this sparkle and delicious food beautifully.
We started by layering on gorgeous gold, cobalt and white vintage china by Hostess Haven and served champs, wine and water in her to-die-for amethyst, crystal and gold goblets. In lieu of the more traditional reds/rusts/oranges you tend to see this time of year, we wanted to go plum/purple/raspberry and black for a more updated, striking and savvy style. Isari Flower Studio helped us bring this vision to life with their lush full blooms full of texture and style, including peonies, dahlias, black mini calla lilies and exotic leaves for a super lush and decadent design.
We then layered on white pumpkins, modern gold vases and horns with super sleek lucite to accessorize the ultra long feasting style table scape. For a fun twist and reminder on what the holiday is all about, we even hand-painted eggplants with the words 'Grateful,' 'Thankful' and 'Blessed' to mix into the design. In lieu of traditional place cards, we created custom wire place cards for a modern yet fun twist!
For a super wine-infused modern Thanksgiving dinner, we even created an awesome DIY you can easily re-create at home! We started with a canvas napkin and then splattered on 2 tones of raspberry and plum dye and even stenciled on wine rings for a realistic effect.
With the menu and decor set, the only thing left to decide on is what to wear?! Don't fret.. Hall & Saks has you covered.. or at least inspired! See this and our Napkin DIY coming soon!
Happy Thanksgiving from Alchemy Fine Events & Invitations!!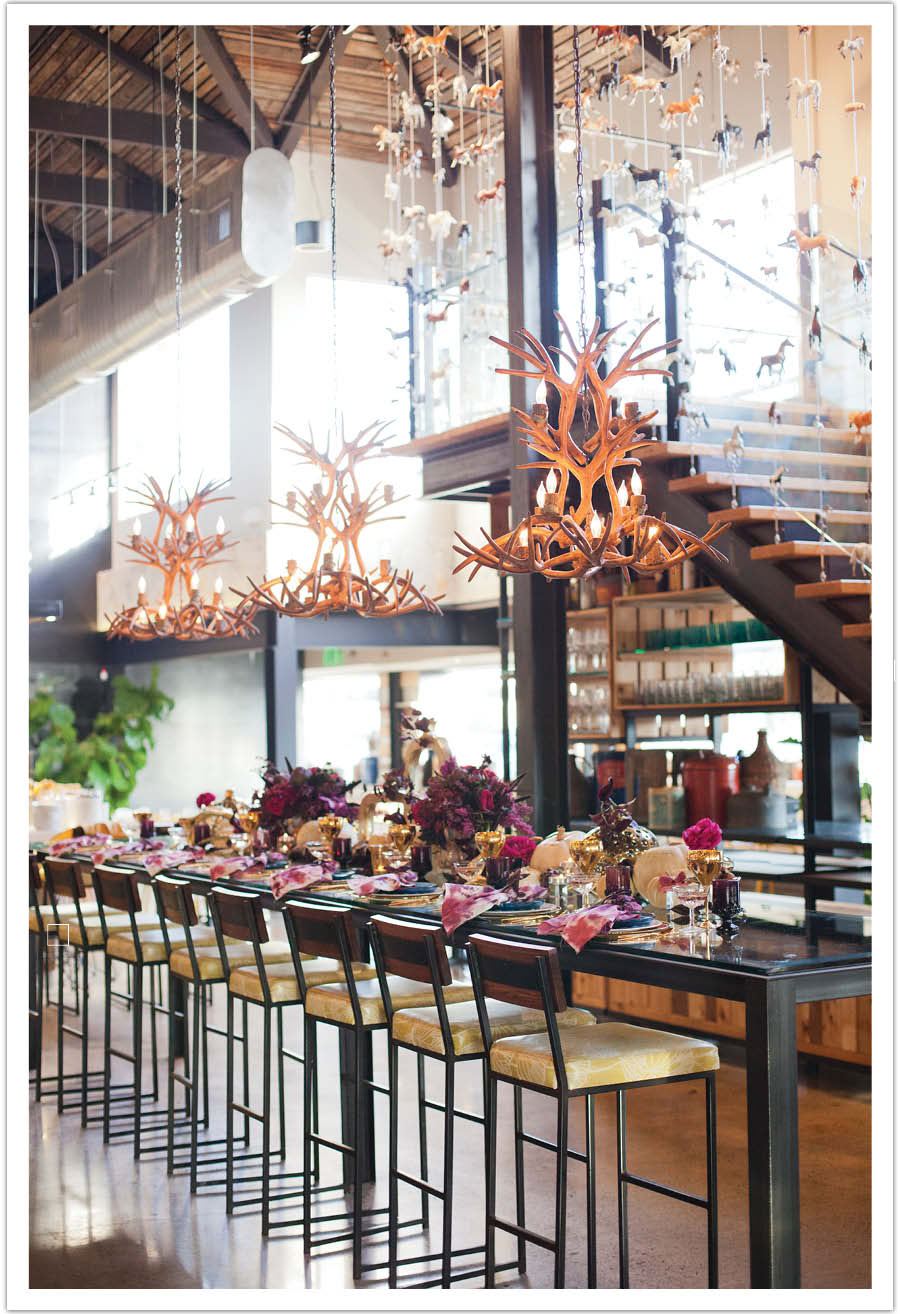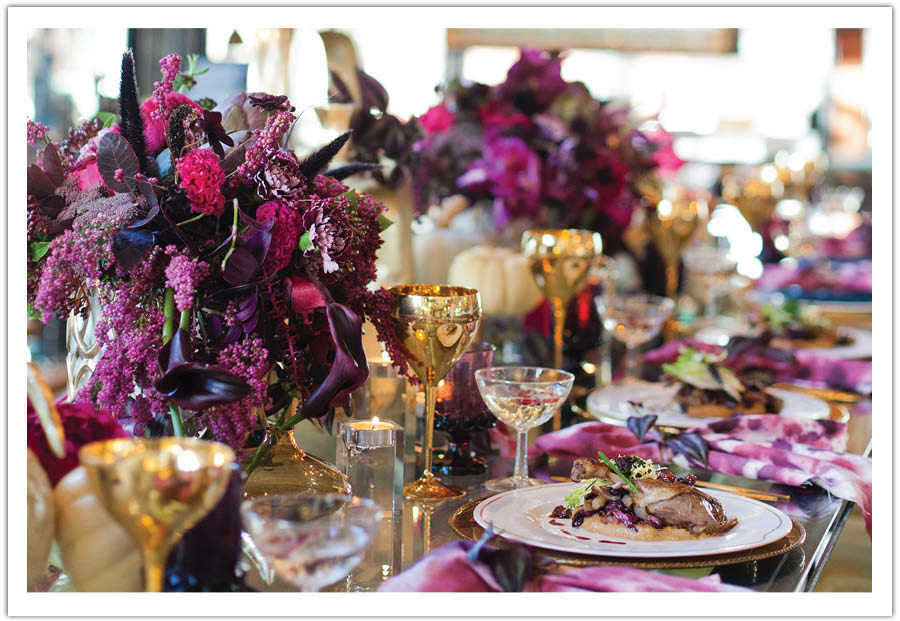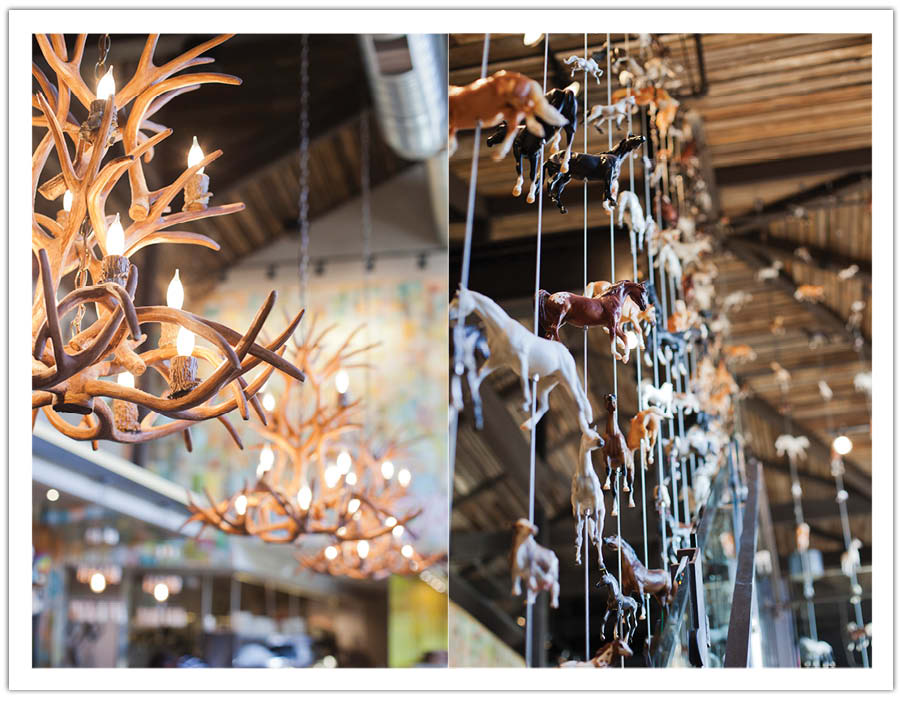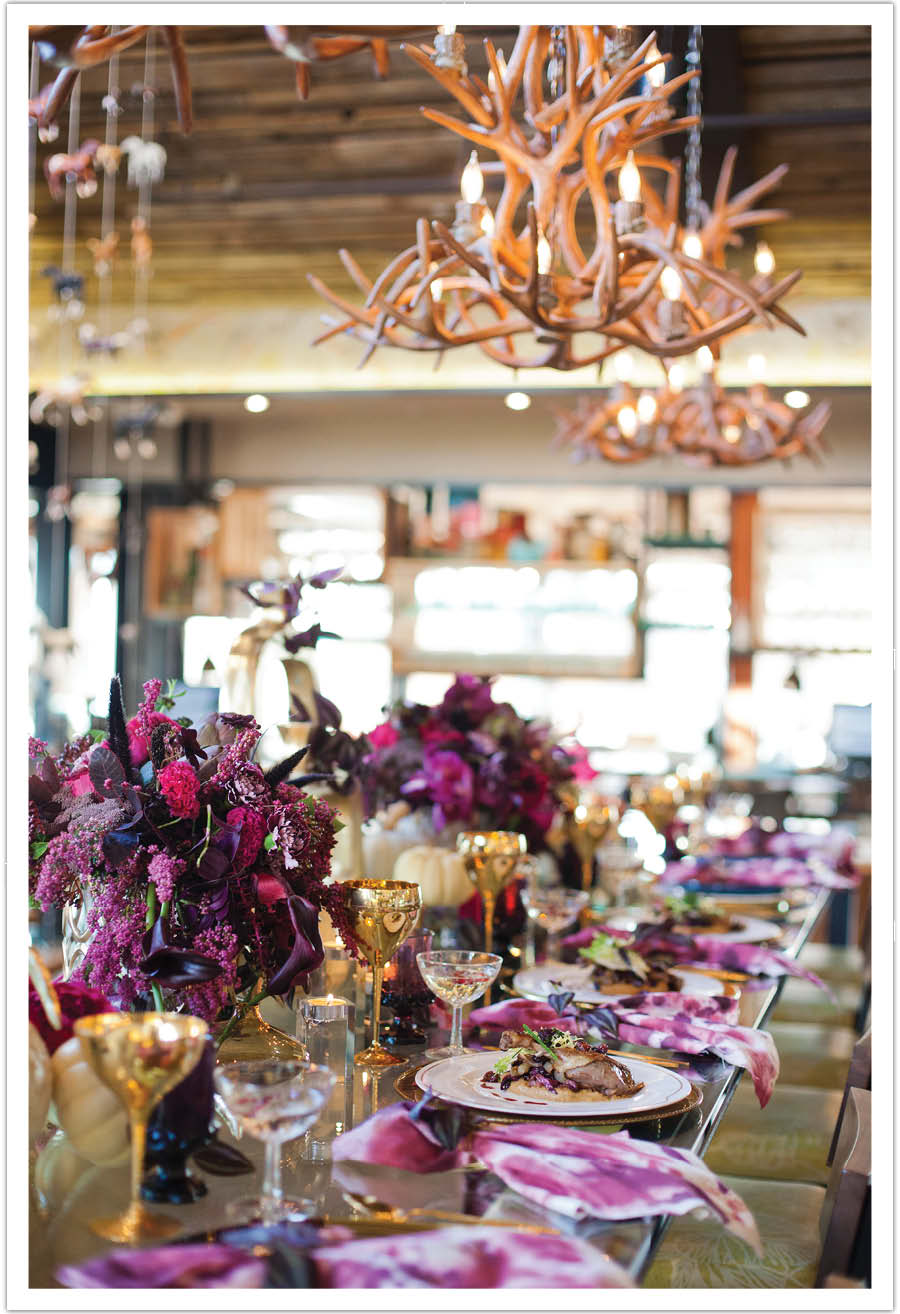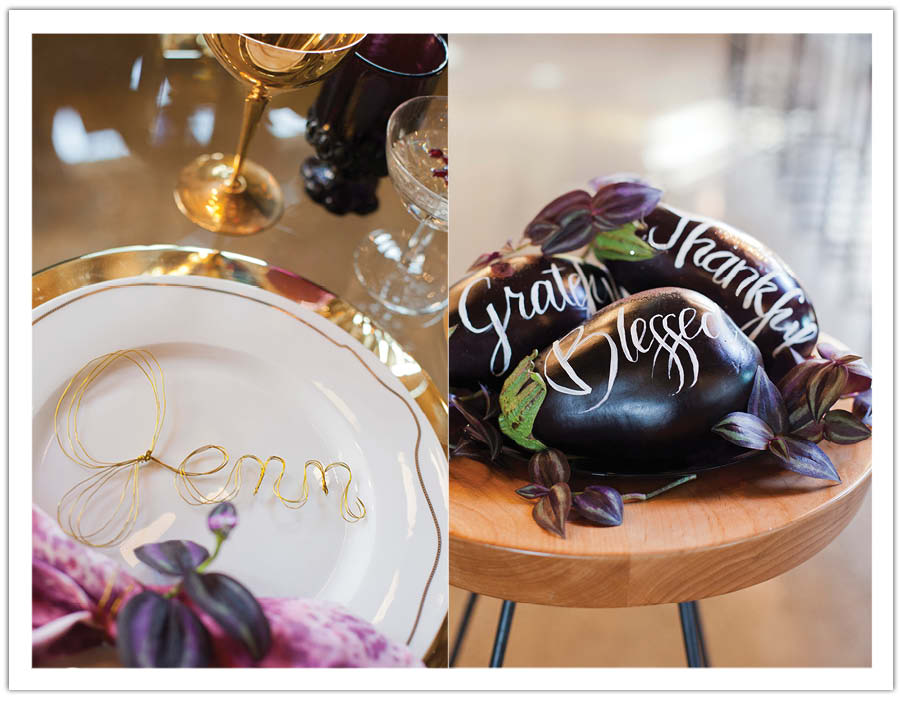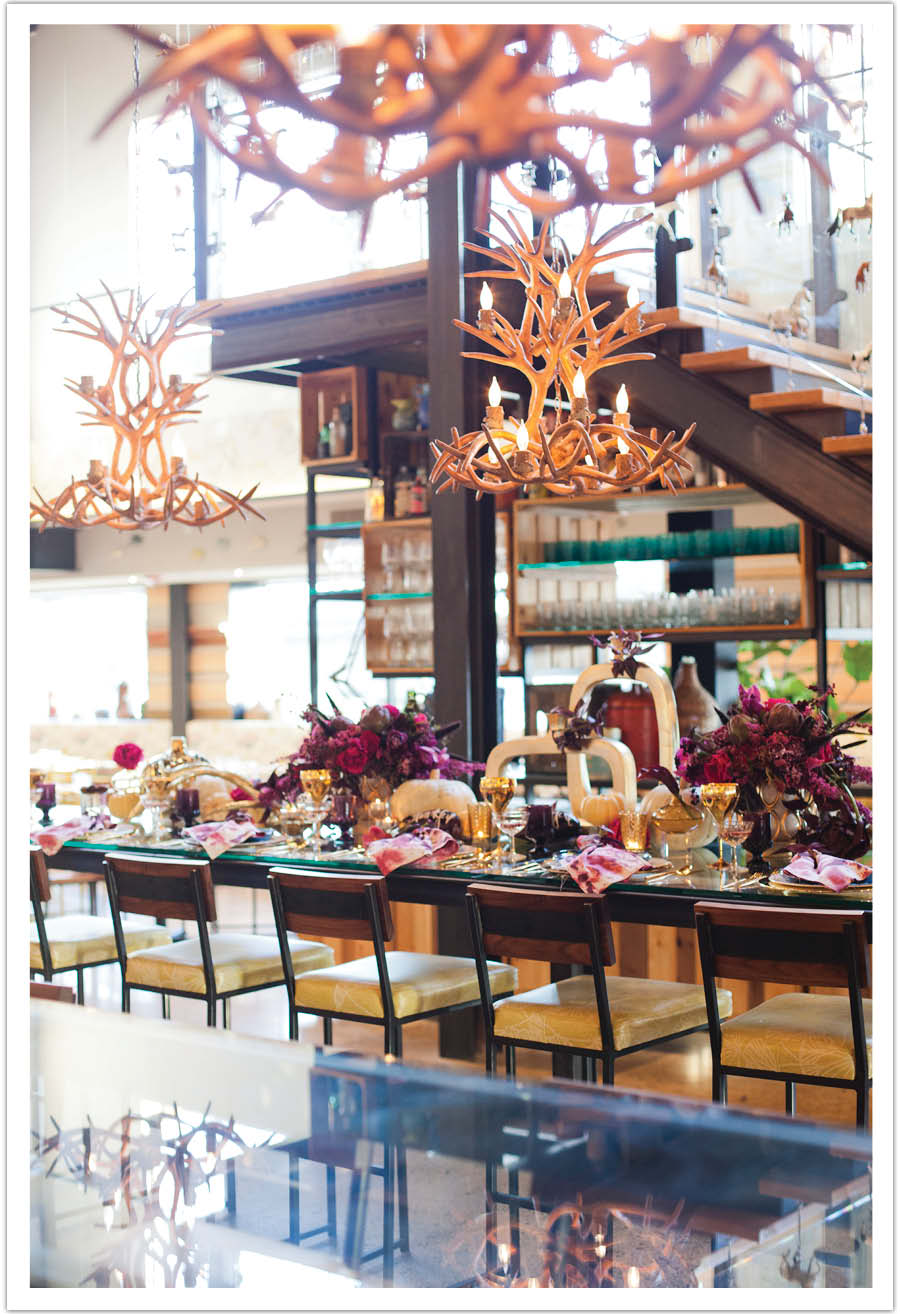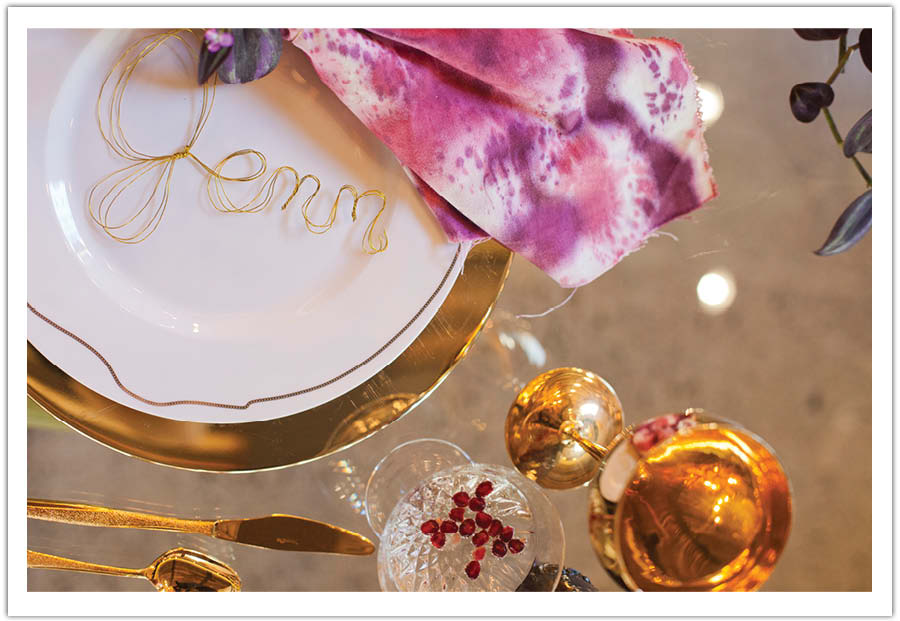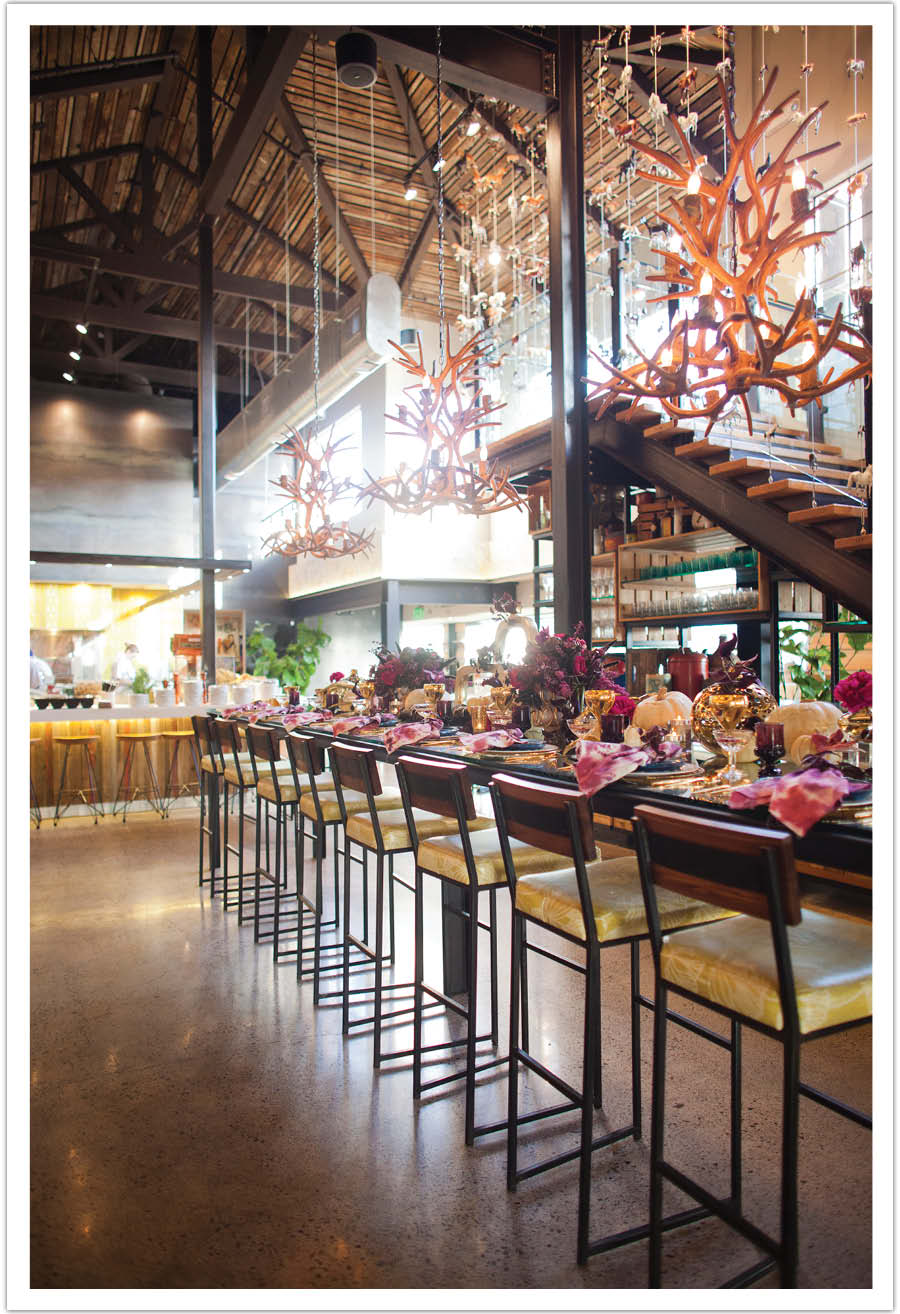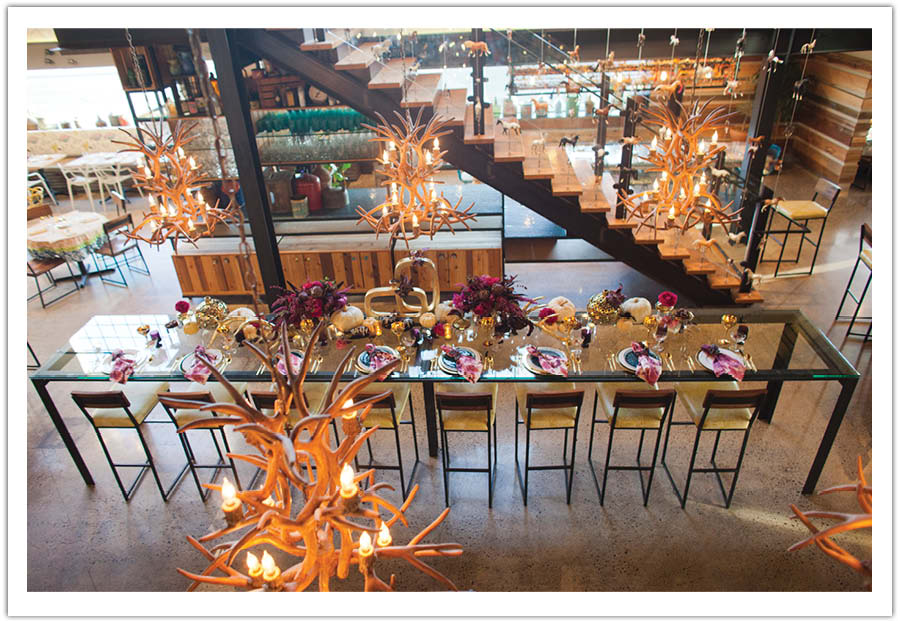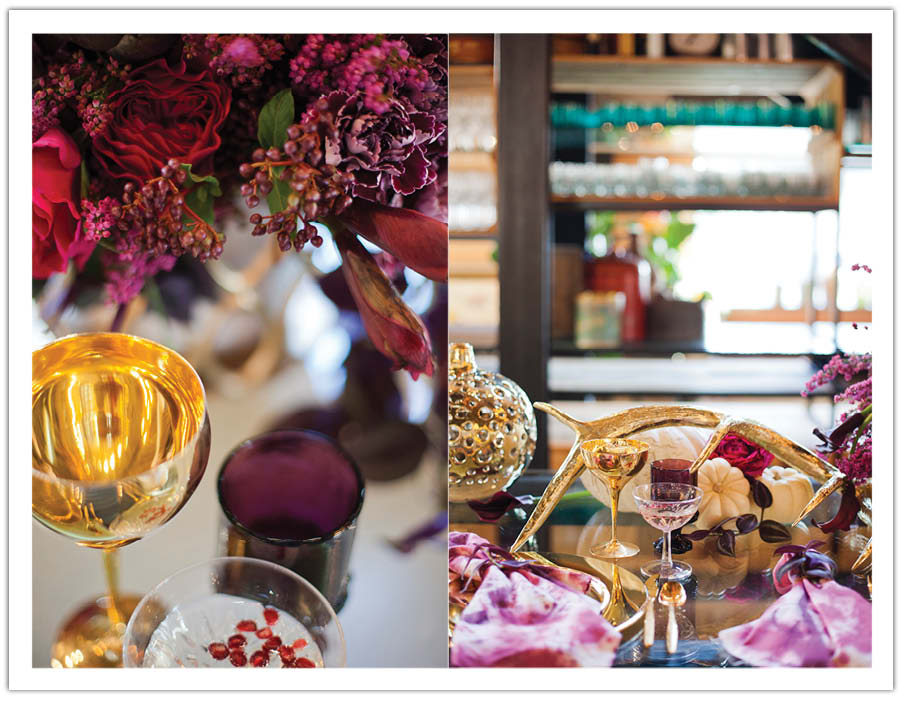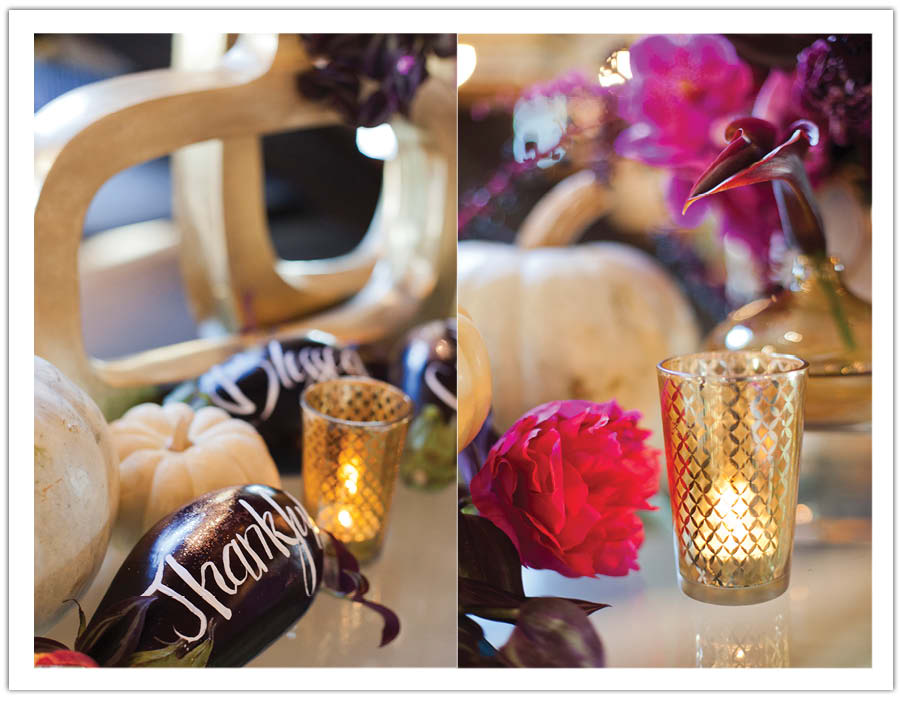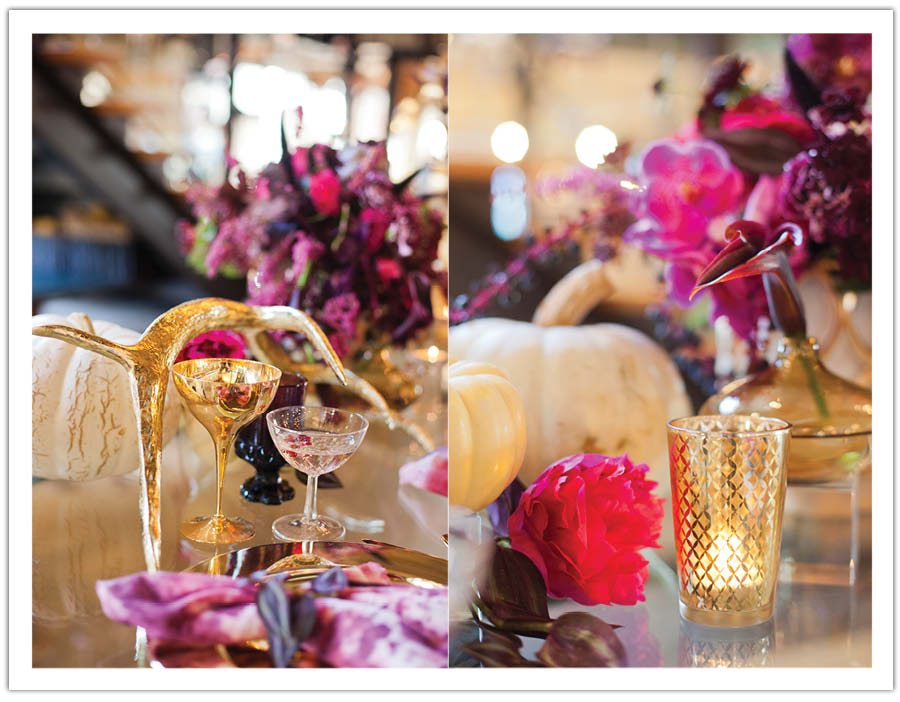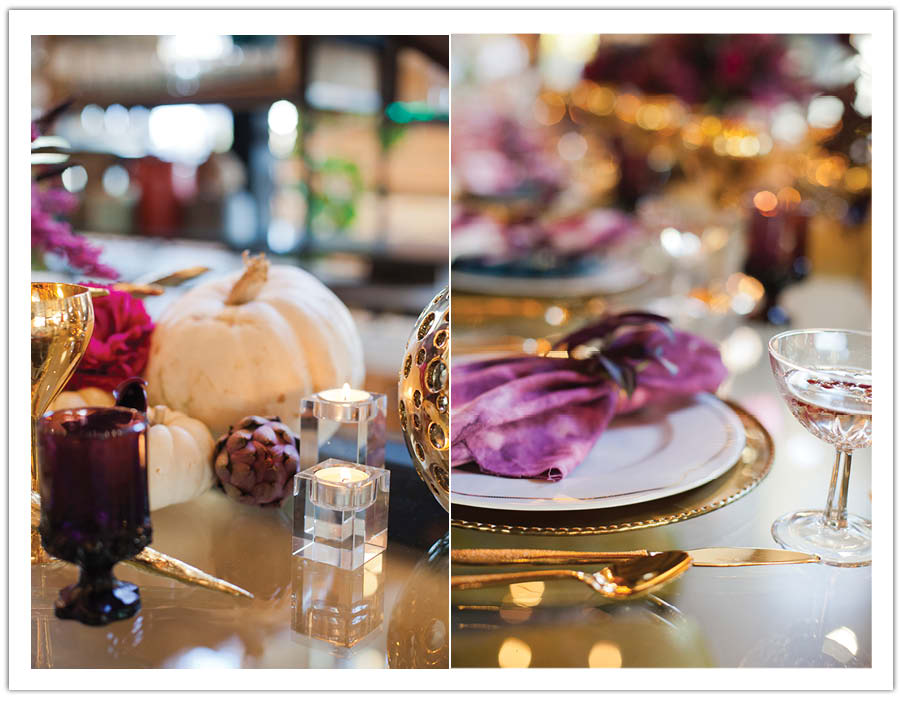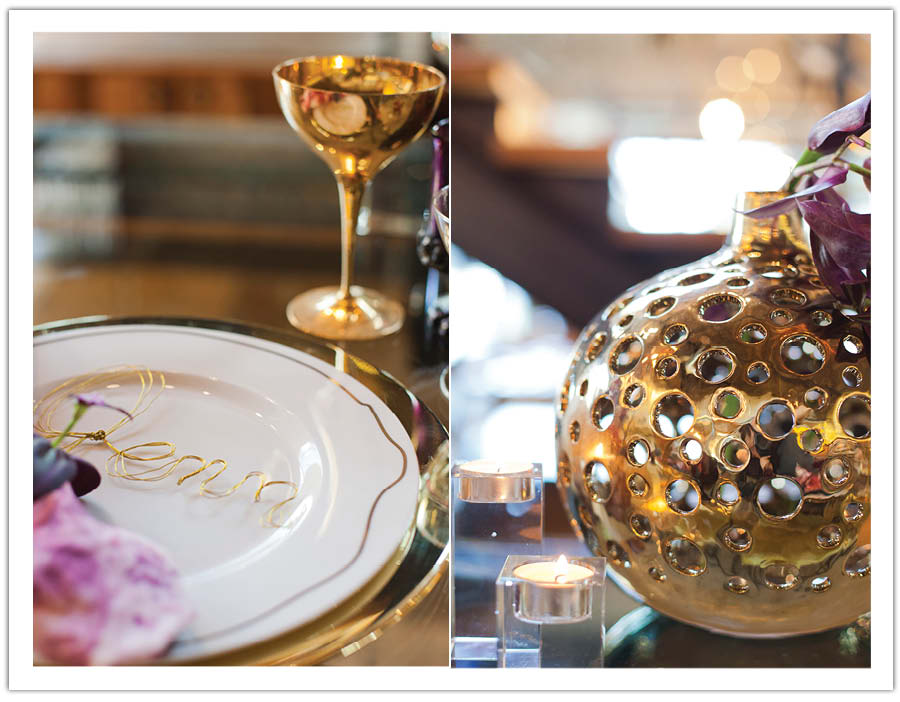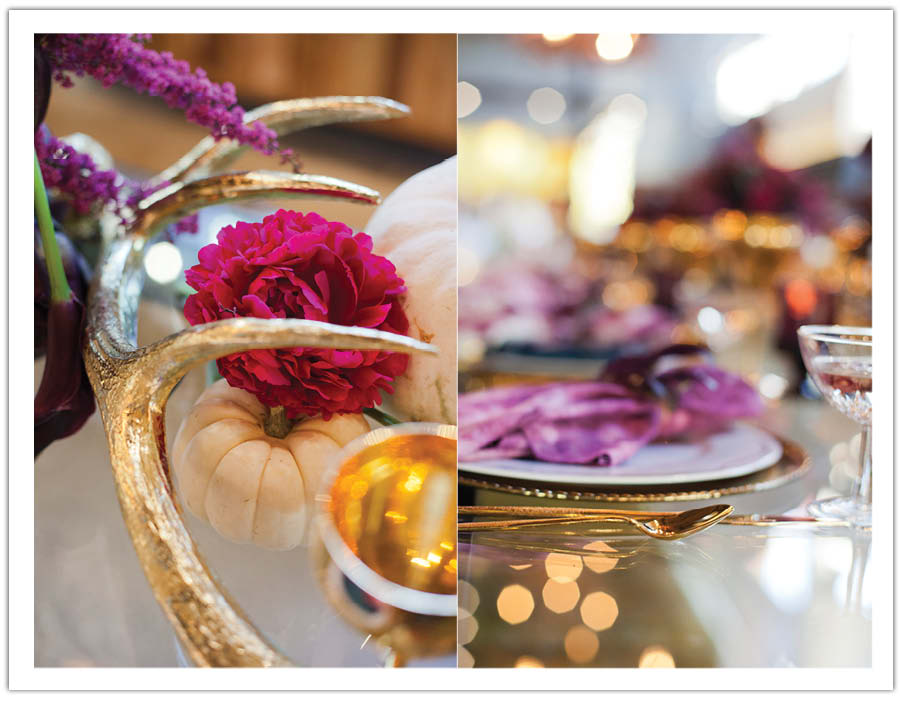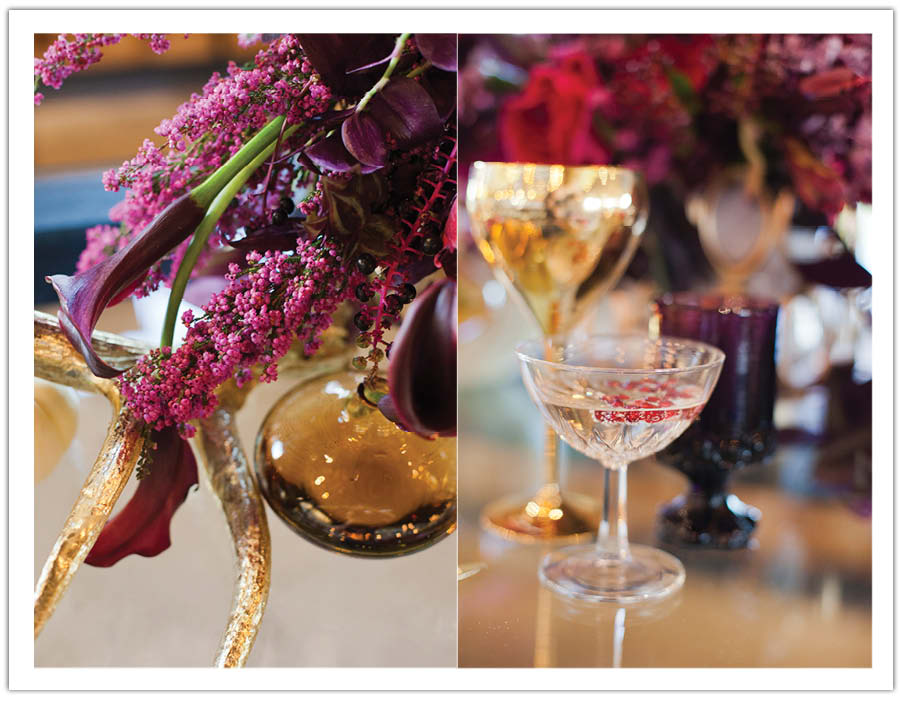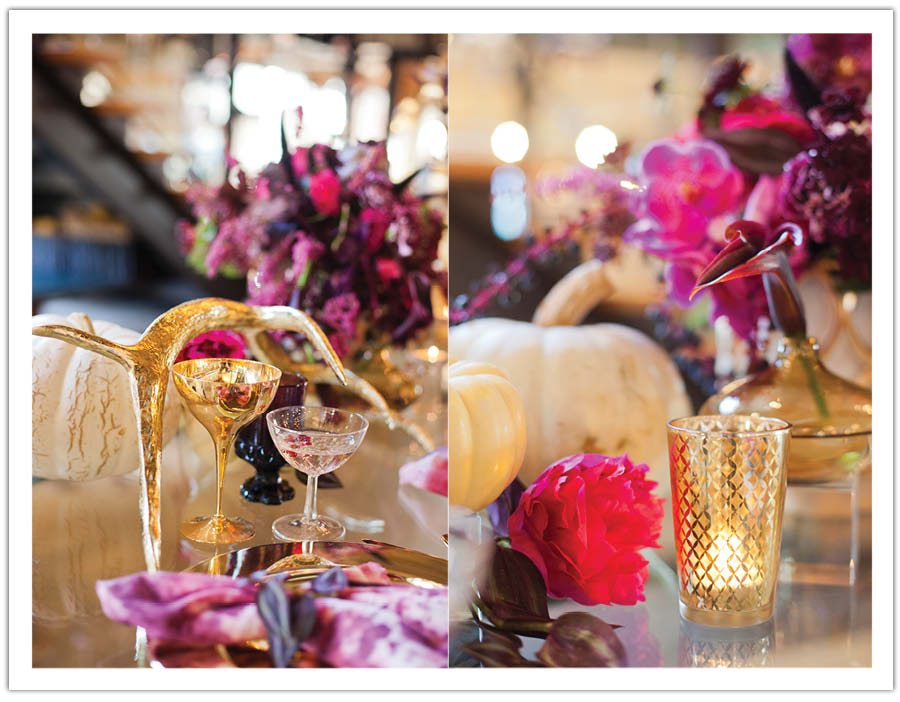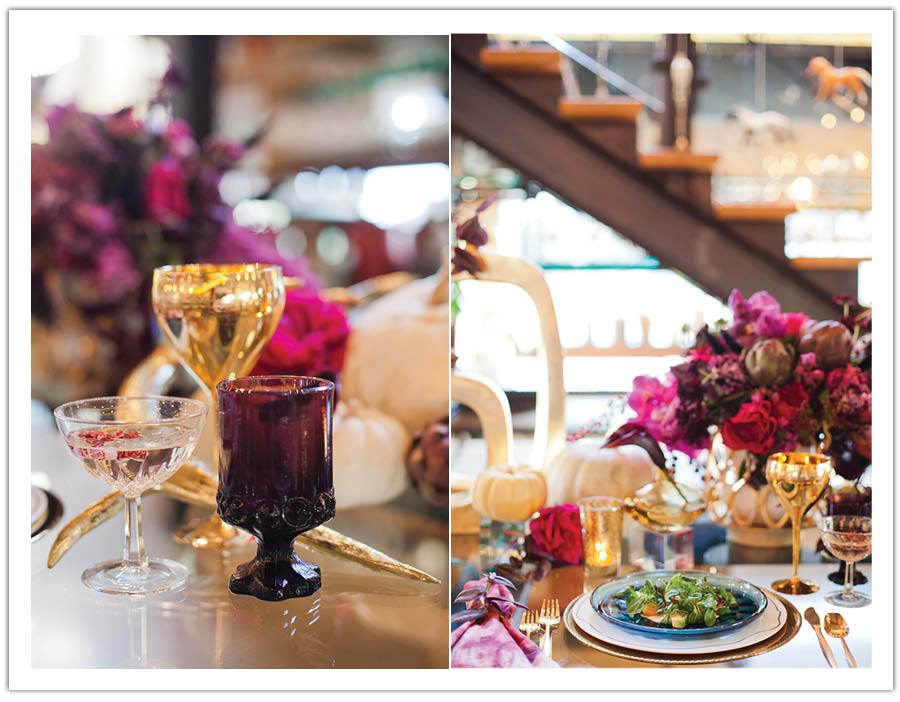 pomegranite reviver
gin + cocchi americano + cointreau + pomegranite juice
Formaggi + salumi
Baby chioggia beet + mache
avocado + balsamic reduction + horseradish crema

  Butternut squash soup + white truffle oil drizzle

Liberty Farms Duck Conserva
gingerbread polenta + braised chicory + sour cherry sugo
  Rosemary + honey pine nut tart
Fig jam + yogurt gelato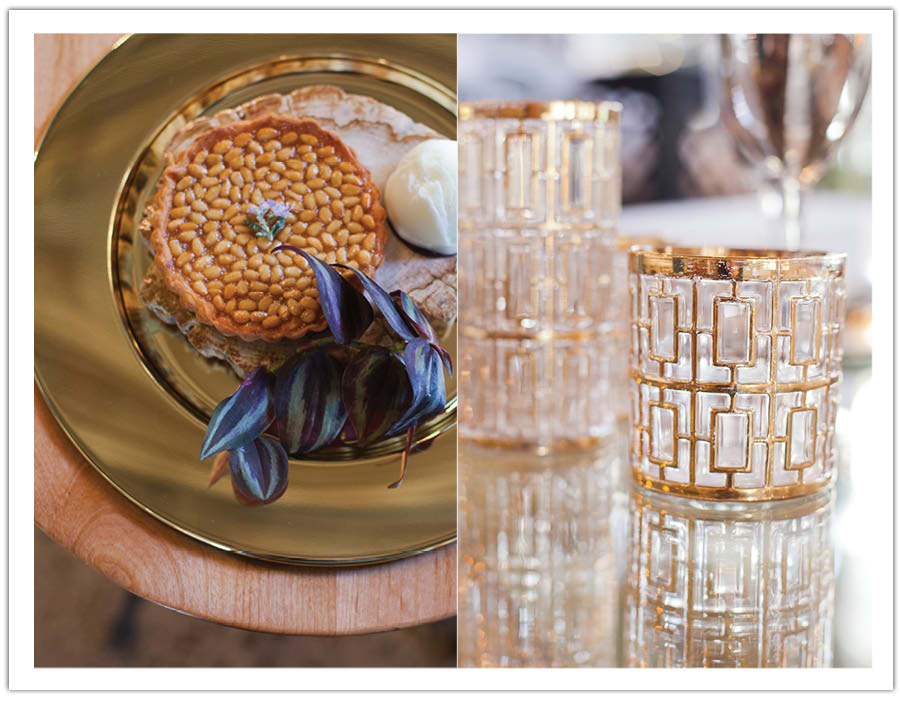 And to end off your delicious meal sip on this delicious,
del duomo COCKTAIL - a personal favorite!
zucca + gin + grapefruit juice + fresh pressed lemon + simple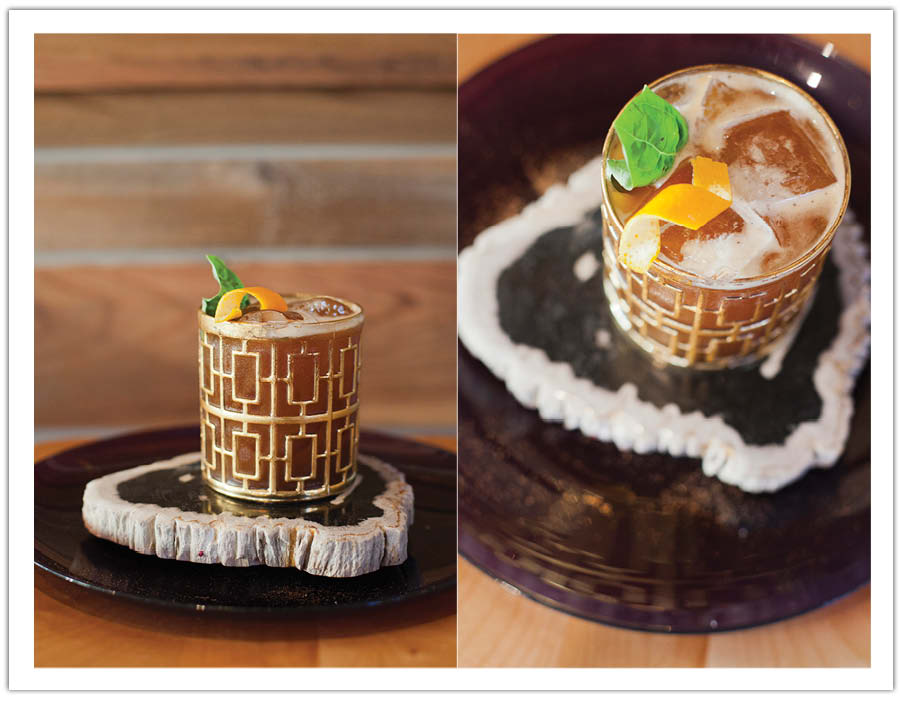 Don't miss part 2 coming next with the DIY wine splattered napkins & What to Wear by our friends and fabulous fashion stylists Hall & Saks!
Event Design & Styling: Alchemy Fine Events & Invitations
Location & Menu: Cucina Enoteca
Photos: Luna Photo
Flowers: Isari Flower Studio
Vintage China & Glassware: Hostess Haven
Read More »
Under the Sea Asian Zen La Jolla Beach Wedding: The Reception
With the vision of an 'under the sea' inspired Asian zen ocean, we created a magical setting to completely transform Scripps Forum into a  living aquarium where coral reefs were recreated onto each table and waves lapped above their heads on the waving ceiling. Lights sparkled all around them and danced about as the sequin and grey silk curtains brought a modern seaweed influence around them as they dine on canvas covered tables and danced on grey-washed floors.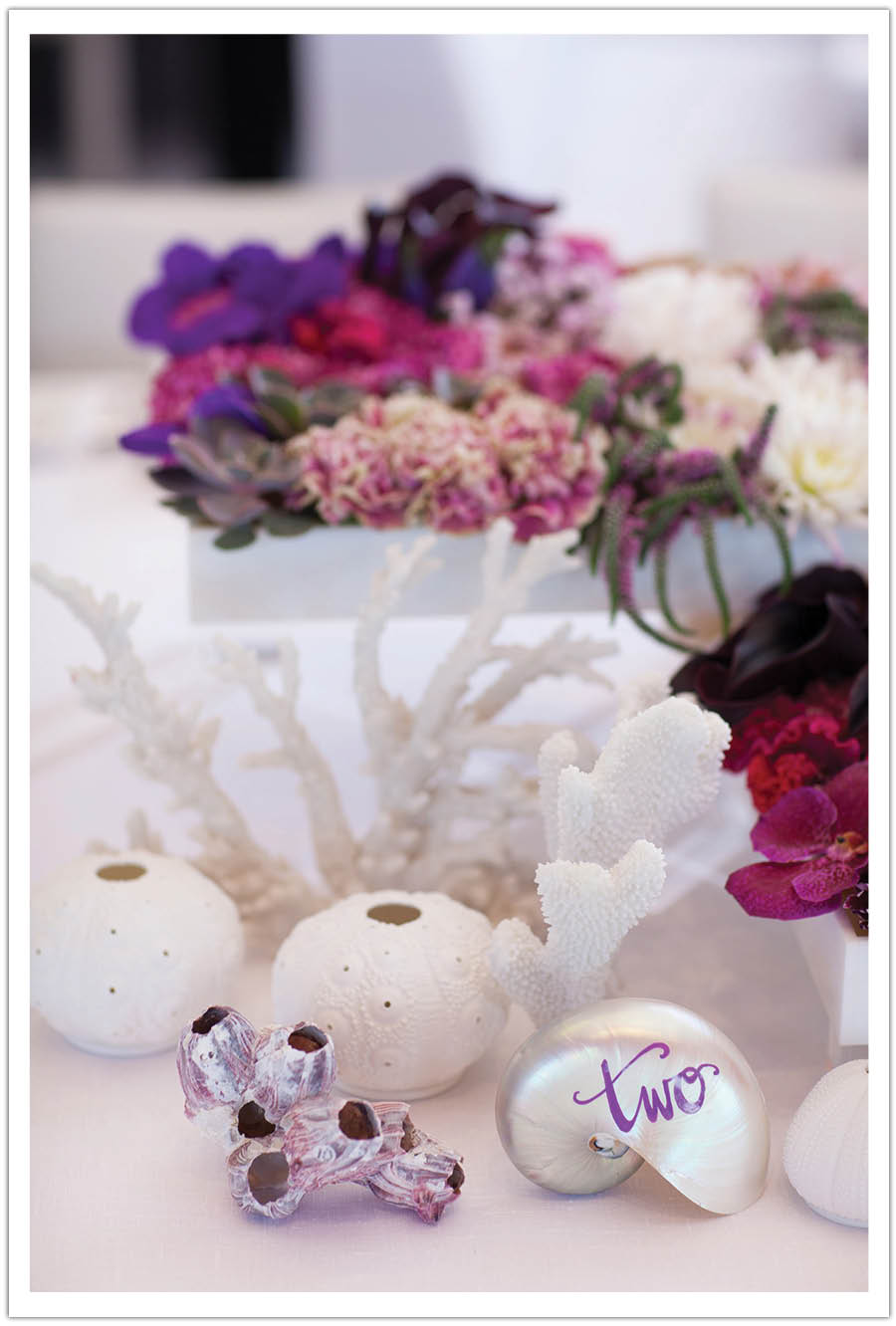 An Under the Sea La Jolla Beach Wedding worthy of being held at Scripps Aquarium
As guests entered the reception they were greeted by over sized floating origami cranes that led them to a custom seating card table made out of rustic beach wood bases and layered lucite which housed hundreds of colorful flowers and succulents.  Guests were escorted to their seats by a miniature origami cranes with purple calligraphy by Kathryn Murray.
To completely transform the room from an auditorium to WOW we re-carpeted the entire room in a soft gray and created a gray-washed wood dance floor to follow the curvature of the room which we draped in a custom designed grey and white drapery with a splash of silver sequins to create the 'under the sea' feeling. In lieu of traditional tables and linens we custom wrapped square tables in white canvas and grey silk bases for an ultra clean and zen vibe and then paired them with canvas benches and sleek leather chairs. For a completely unique centerpiece idea wanted to replicate the ocean floor by designing flowers that would emulate gorgeous coral and sea life on a reef. To do so and also stay in line with the recurring square theme (square table, plates, centerpiece, menus) on the table I custom designed square lucite trays which overlapped each other in a cantilever position which boasted the bright blooms and succulents Isari Flower Studio so impressively created. White matte sea urchin votives, white coral and nautilus shells created a textural ambiance and accented the purple coral napkins we also had custom designed which presented a polished abalone shell for each guest and a letterpressed menu.
For just a touch of vintage guests dined on their 5 course meal including a bread cart, 2 salad choices, sorbet intermezzo served on Chinese soup spoons and cornish game hens on heritage silverware as well.  Guests danced to the R&B sounds of Ground Control and then were surprised by the groom's pick of Freeze Frame, an awesome 80's band that took over later in the evening.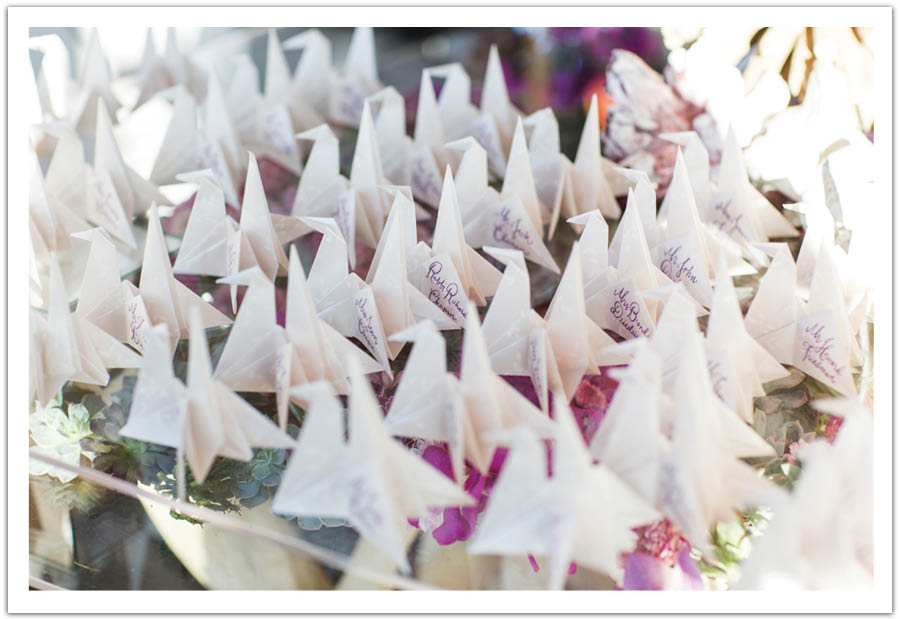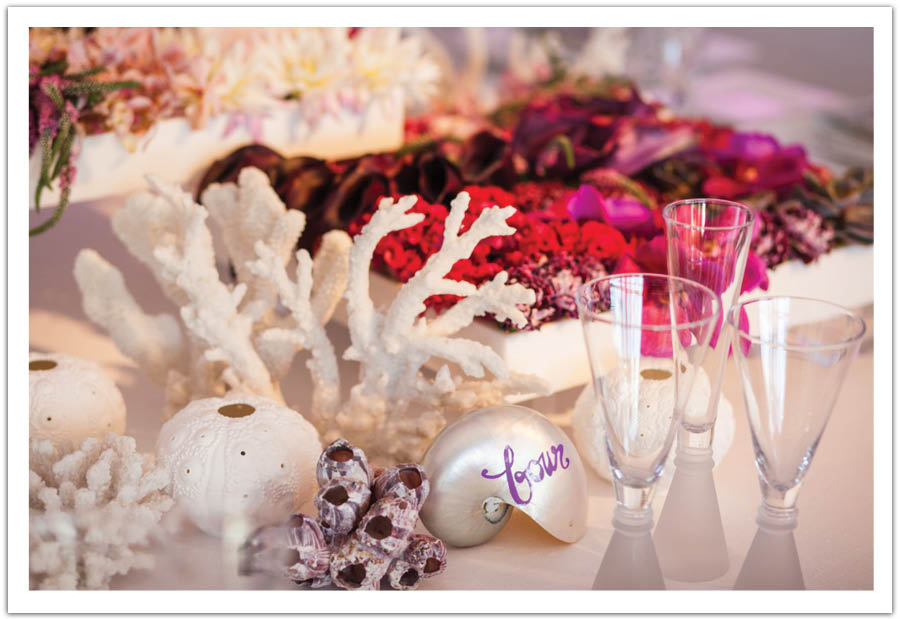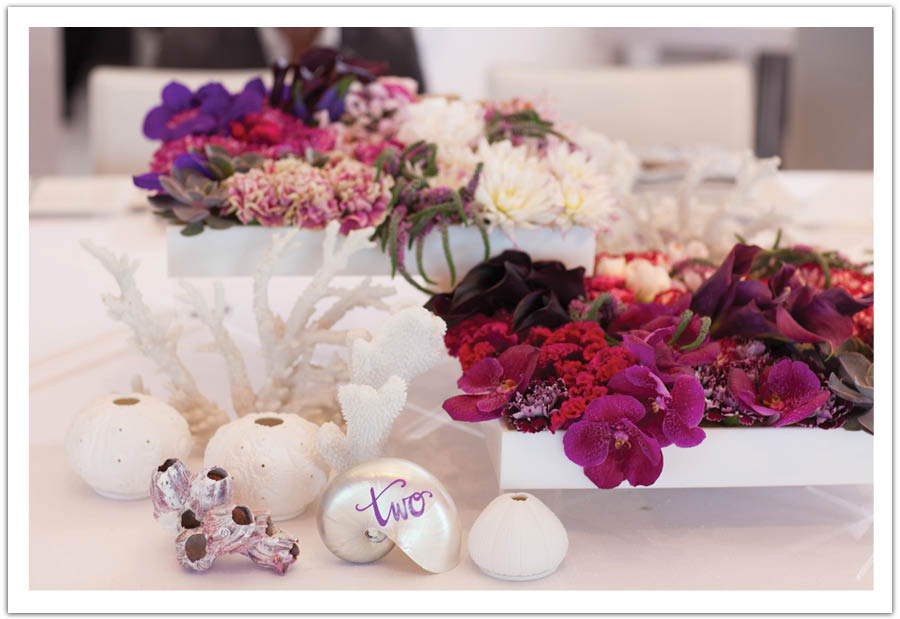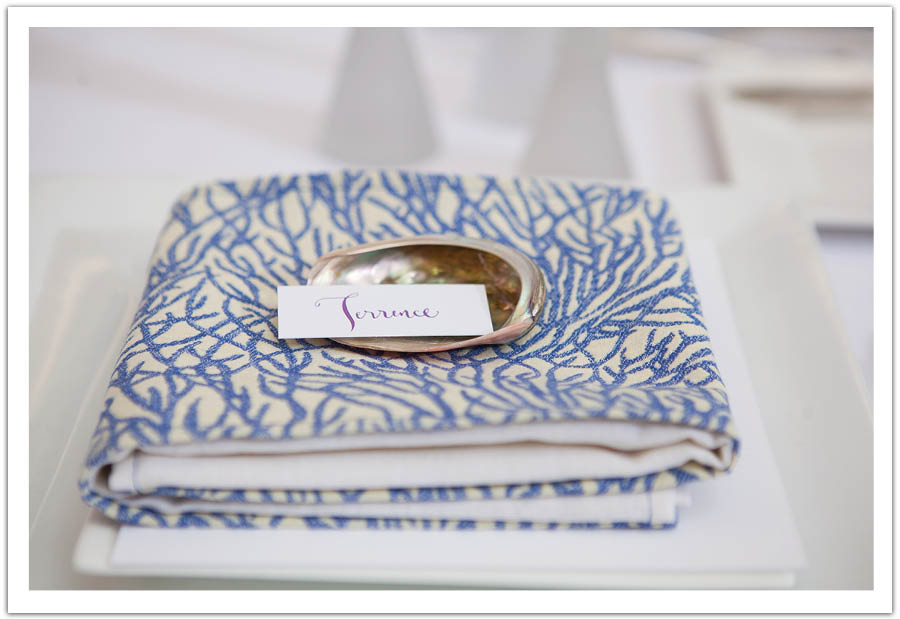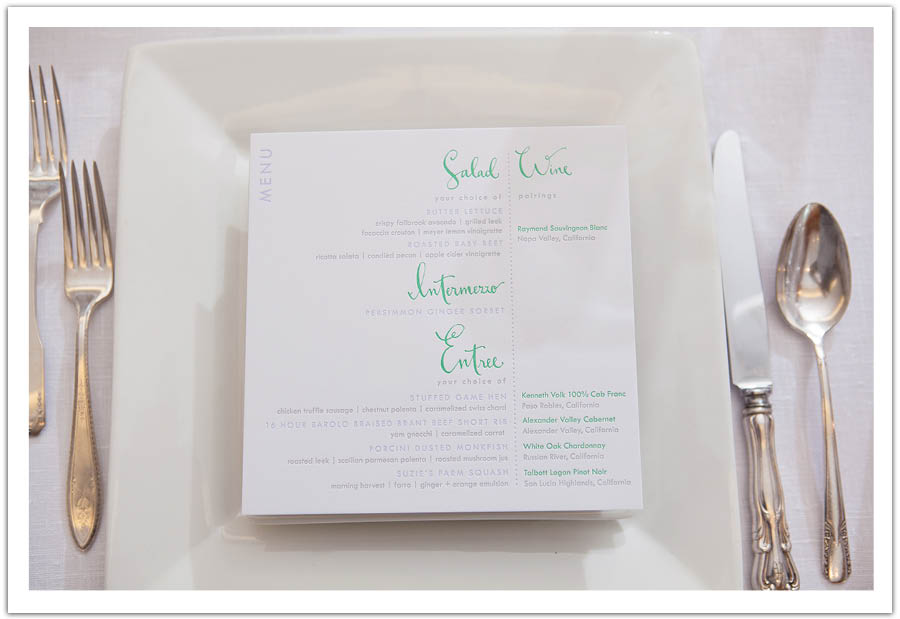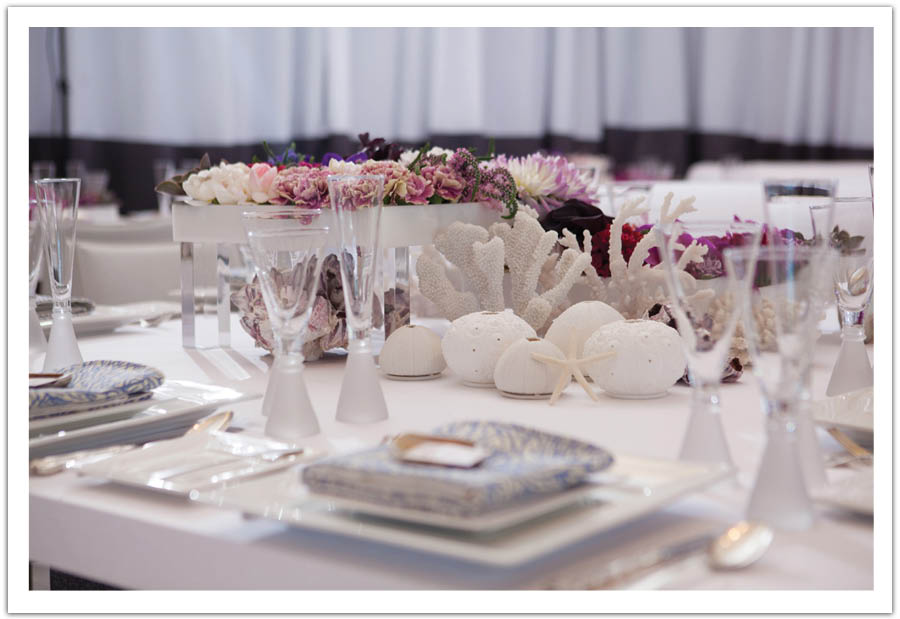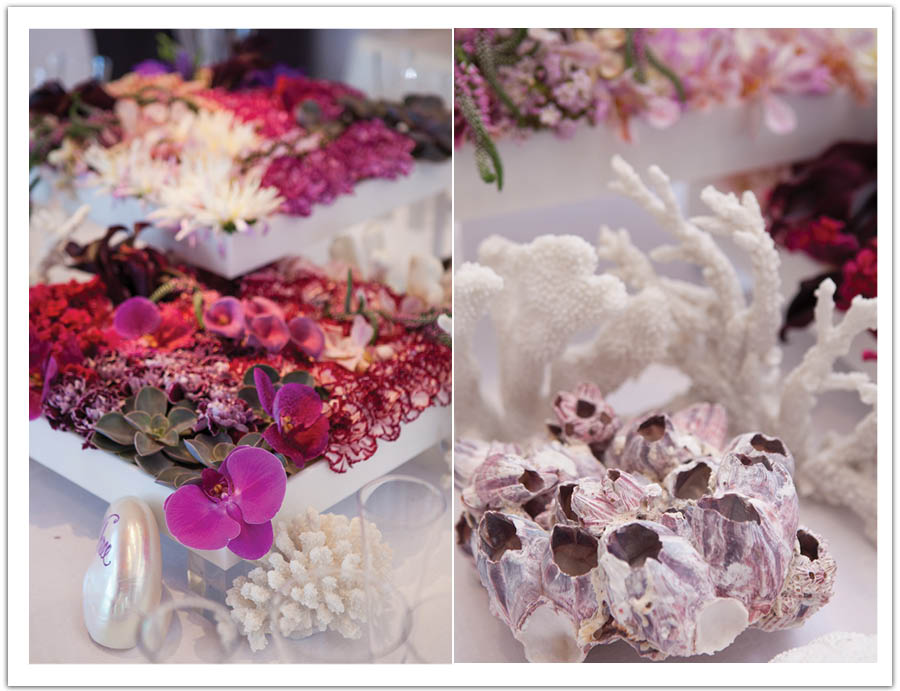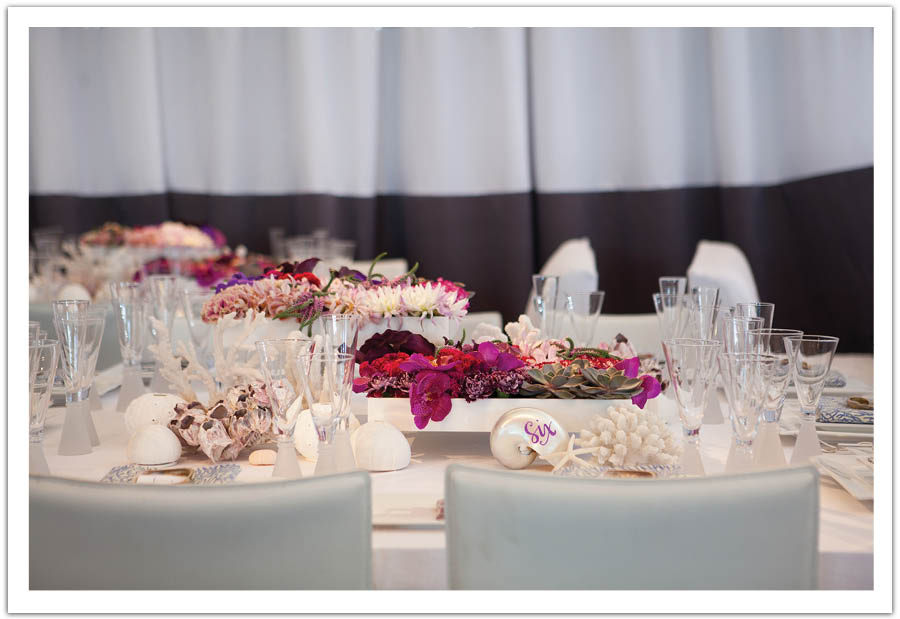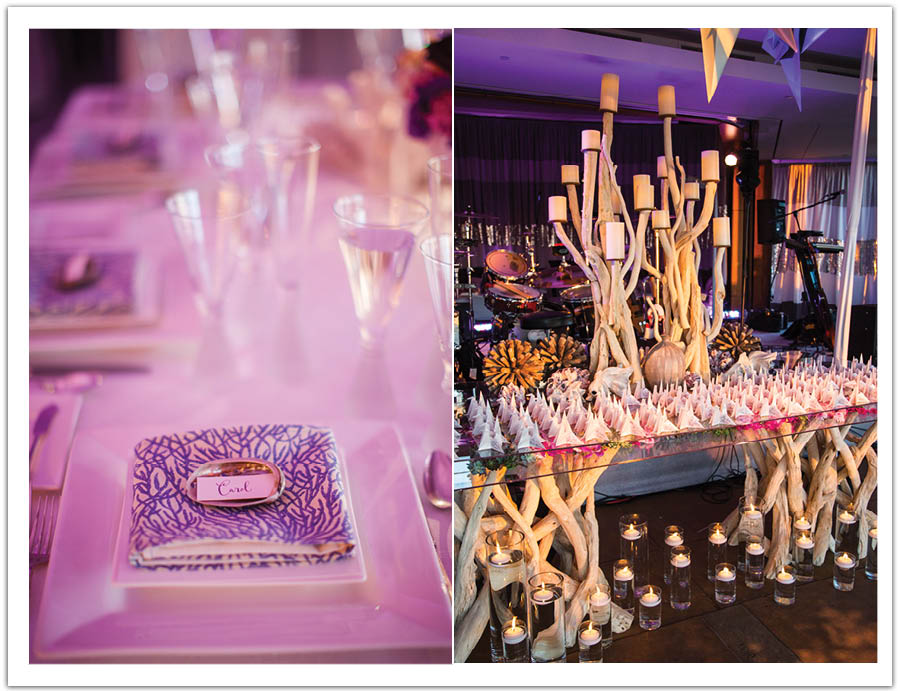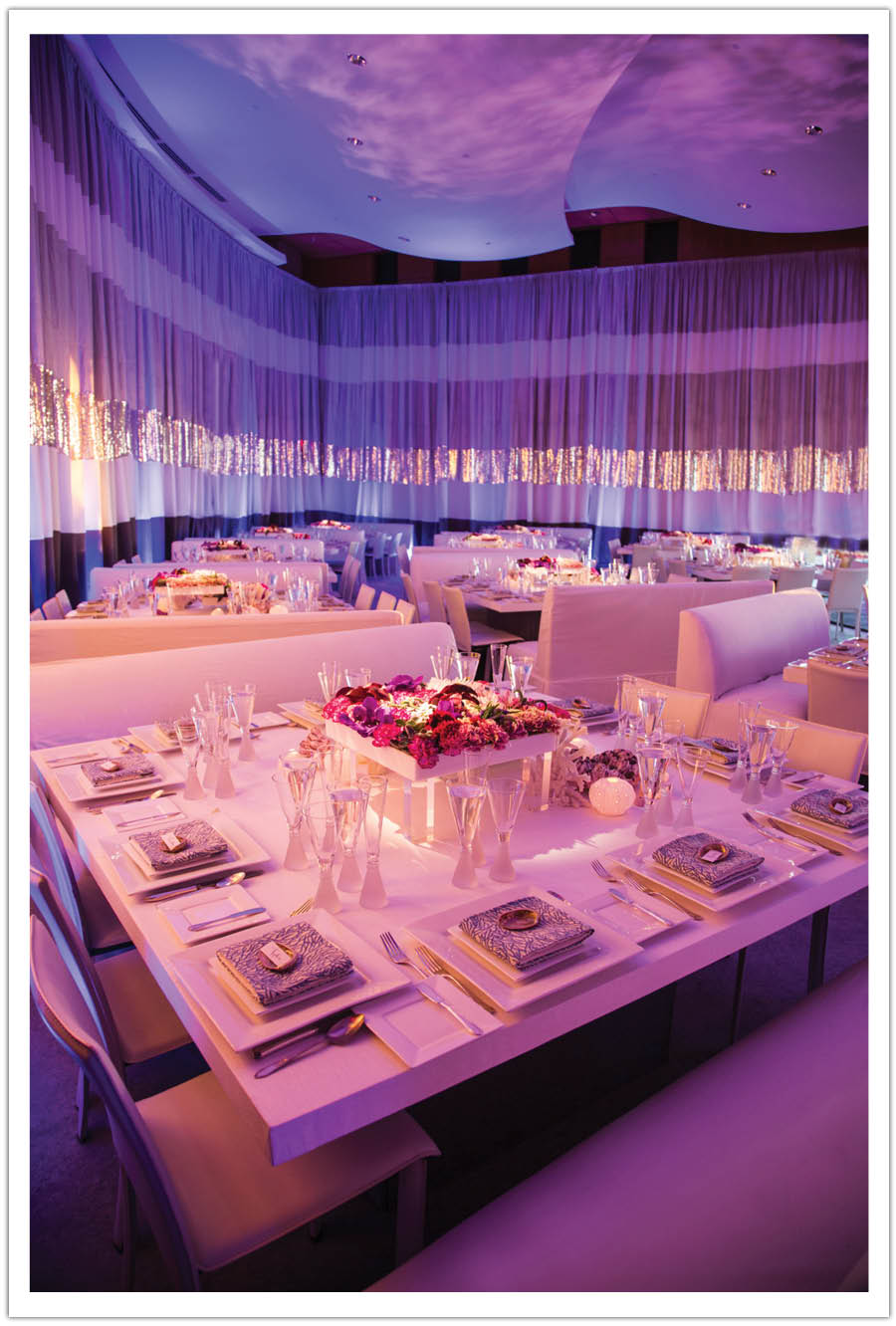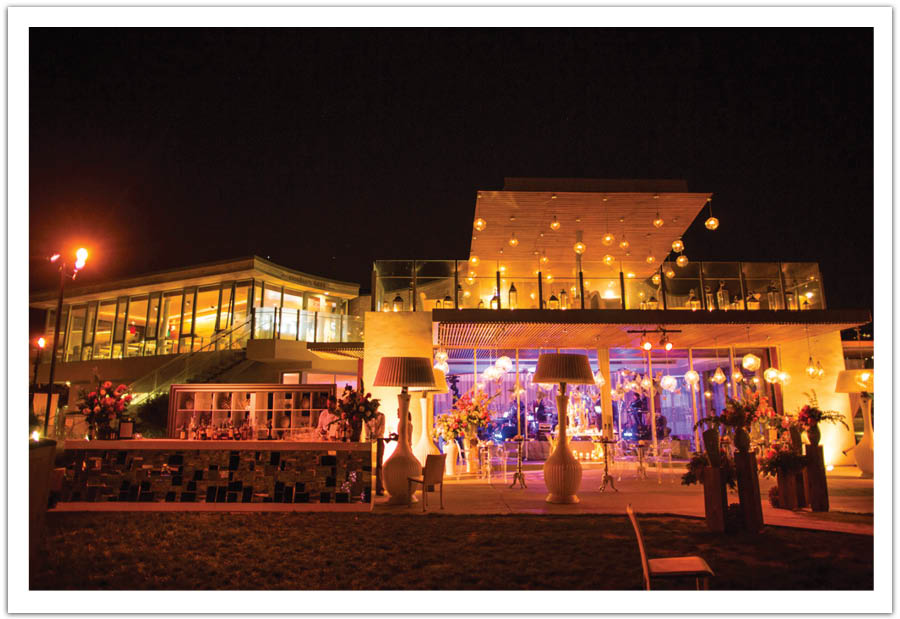 Wedding Photography: Photography: Samuel Lippke Studios | Wedding Venue: Scripps Forum | Event Design, Planning & Stationery: Alchemy Fine Events & Invitations| Floral Design: Isari Flower Studio | Catering: Urban Kitchen Catering | Furniture & Production: Hire Elegance | Draping, Lighting & Chuppah Production: Your Bash! | Furniture & Decor Rentals: Revelry Event Design | Tabletop Rentals: Classic Party Rentals & Casa de Perrin | Calligraphy: Kathryn Murray | Desserts: Sweet & Saucy Shop, The Cravory, Sweet Lucies, Images Printed on Chocolate, Cappuccino on Call | Entertainment: Elan Artists & Freeze Frame | Dress & Bridesmaids: Monique Lhuillier |Beauty: Fiore Beauty

Read More »