Stone Manor Malibu Wedding with Jill Thomas
Our darling bride Andrea came to us inspired by Taylor Swift's "Enchanted" perfume ad and our very own Fairytale "Once Upon a Bride"  photo shoot we designed for Utterly Engaged. With the stunning Stone Manor as the backdrop for their December  Malibu wedding, we were extremely excited to take these inspirations and create a magical evening for her!  This property had picturesque cobblestone paths, overgrown ivy walls, an umbrella of trees and a stunning Malibu view overlooking the pacific ocean.  We played with these marvelous features and added a few finishing touches to enhance the natural beauty of this location to create an enchanting evening for our lovely couple Andrea & Jeff's Malibu Wedding.
 FASHION
Andrea donned a simple yet stunning gown by Alina Valenta of ivory silk that fit her body like a glove and carried a wild bouquet of sterling roses, lambs ear, black calas and orchids while the bridesmaids surrounding our stunning bride were dressed in a gowns in a gorgeous array of purples, lavender and steel grey and carried dusty sage toned bouquets of all greenery.  The slightly gothic  and romantic feeling bouquet was worthy of a dark queen we joked. Her lovely maids wore silk gowns of shades of  plum, mauve and steel blue and carried bouquets of silvery greenery, lush and full of texture.
THE INVITATION
We create a blind embossed letterpress invitation showcasing a lace-like texture as well as Andrea's favorite plum purple ink. This romantic wedding invitation printed on 100% cotton paper was nestled inside of a plum hued textured envelope with white calligraphy featured on the back flap.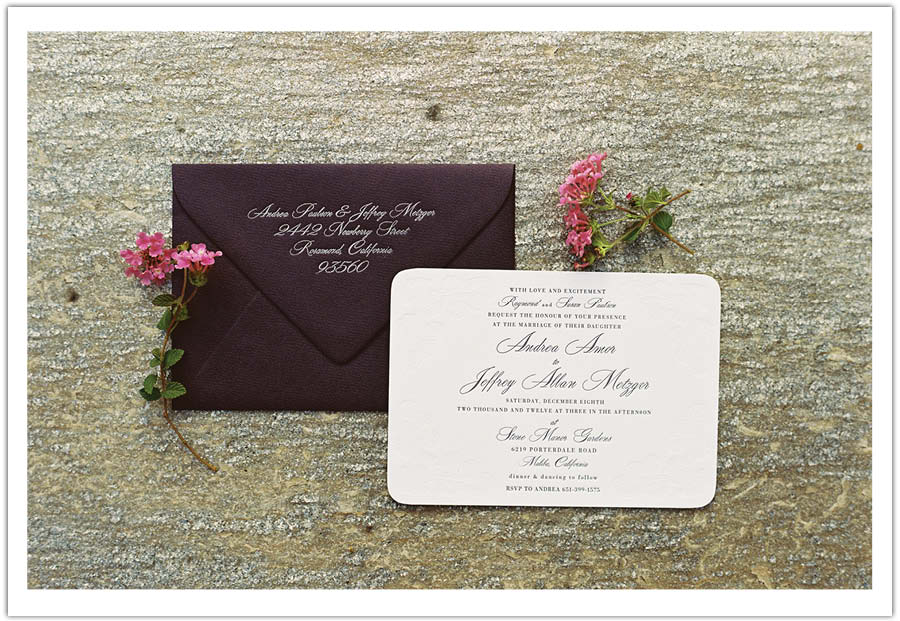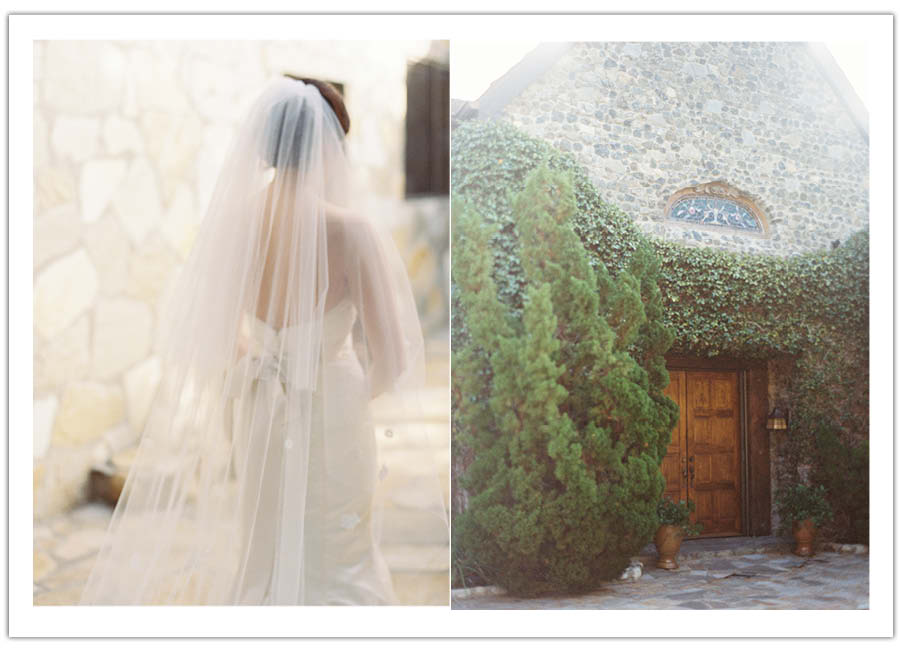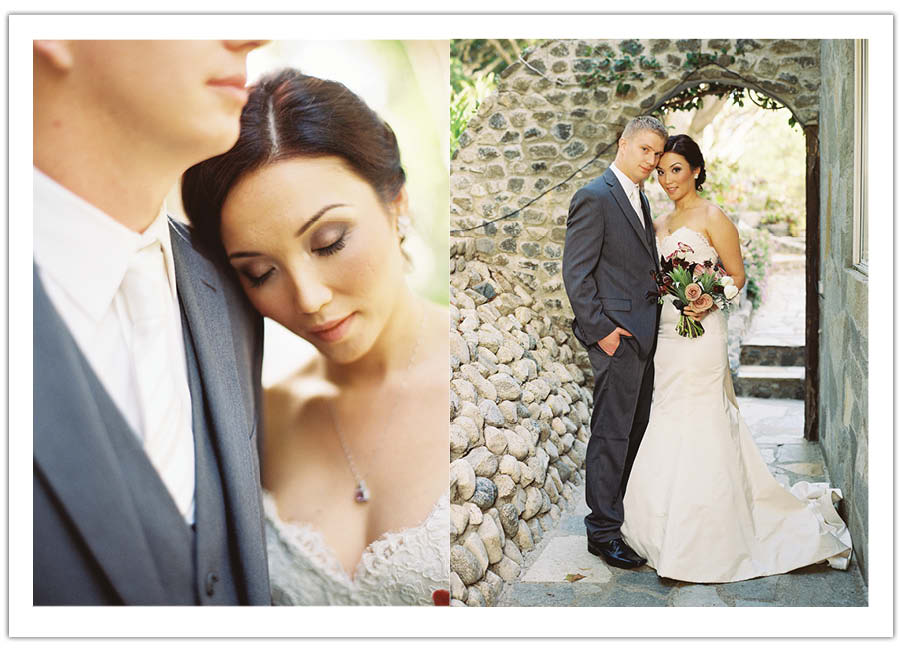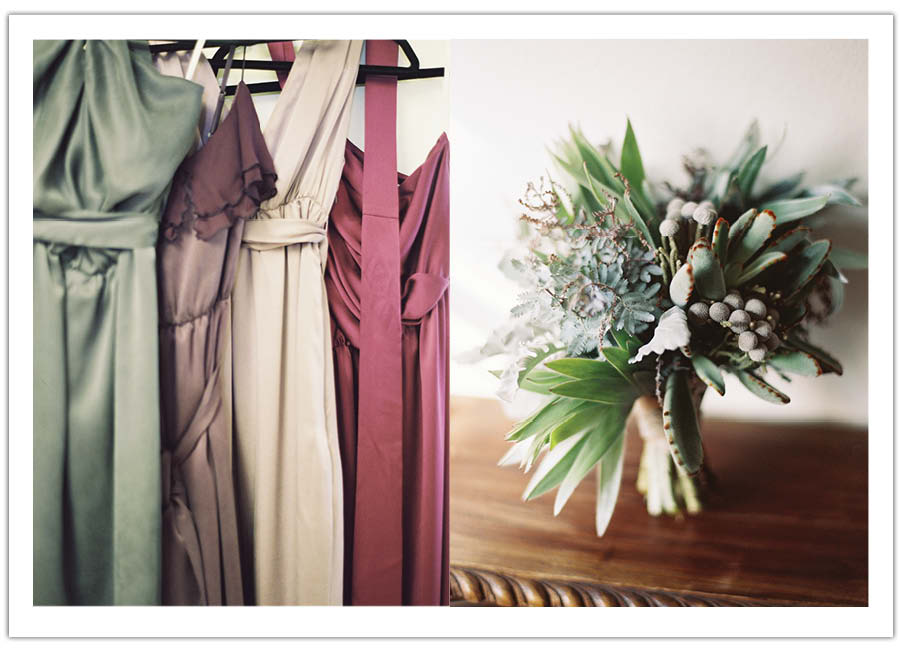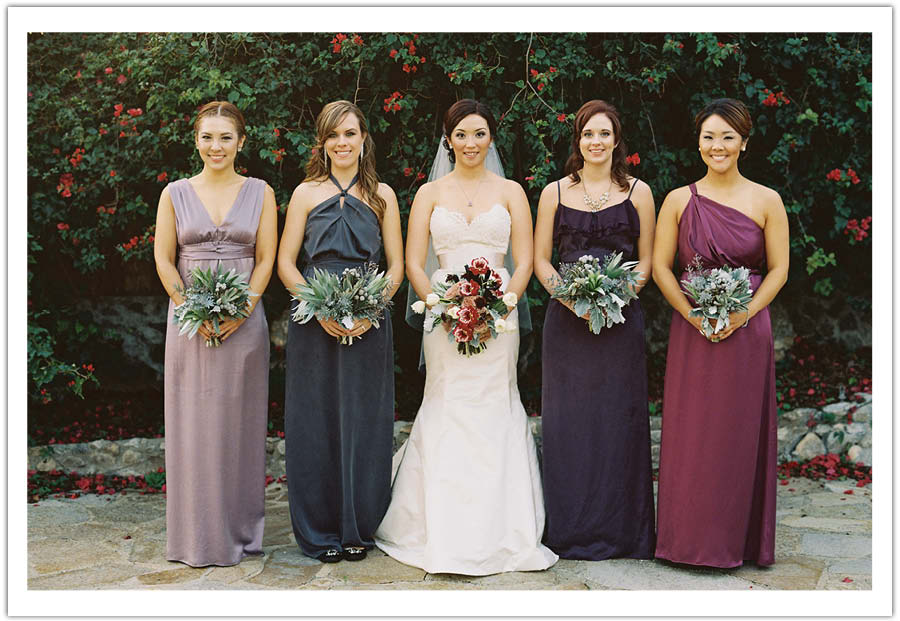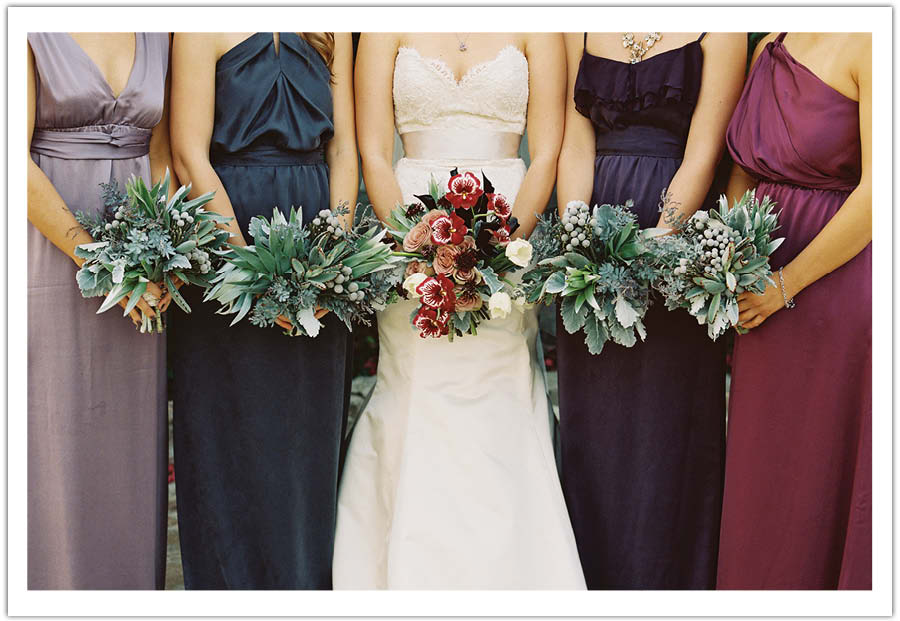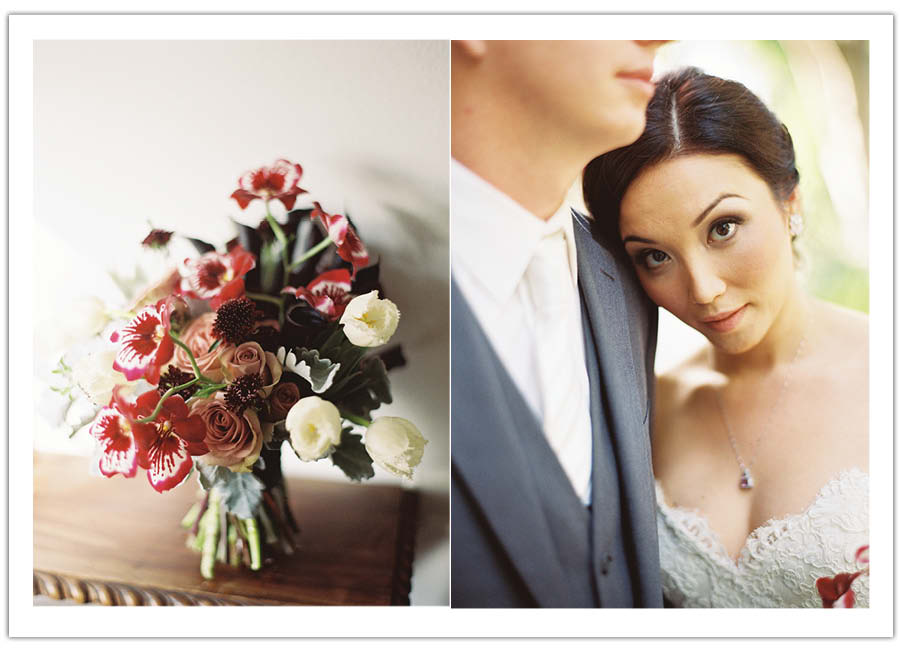 The intimate Malibu wedding ceremony took place in Stone Manor's outdoor courtyard surrounded by beautiful foliage and a striking view of Malibu's rolling hills and Pacific Ocean backdrop. We worked with Krista Jon to create a white birch arbor that we accented with a crystal chandelier and sheer draped cheesecloth for a juxtaposition of glam and with an understated organic, garden vibe.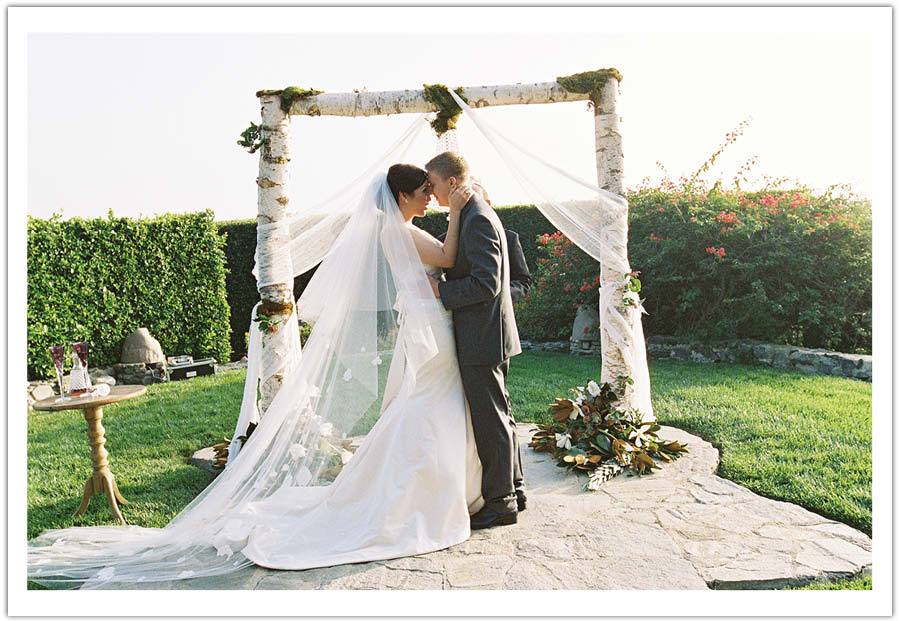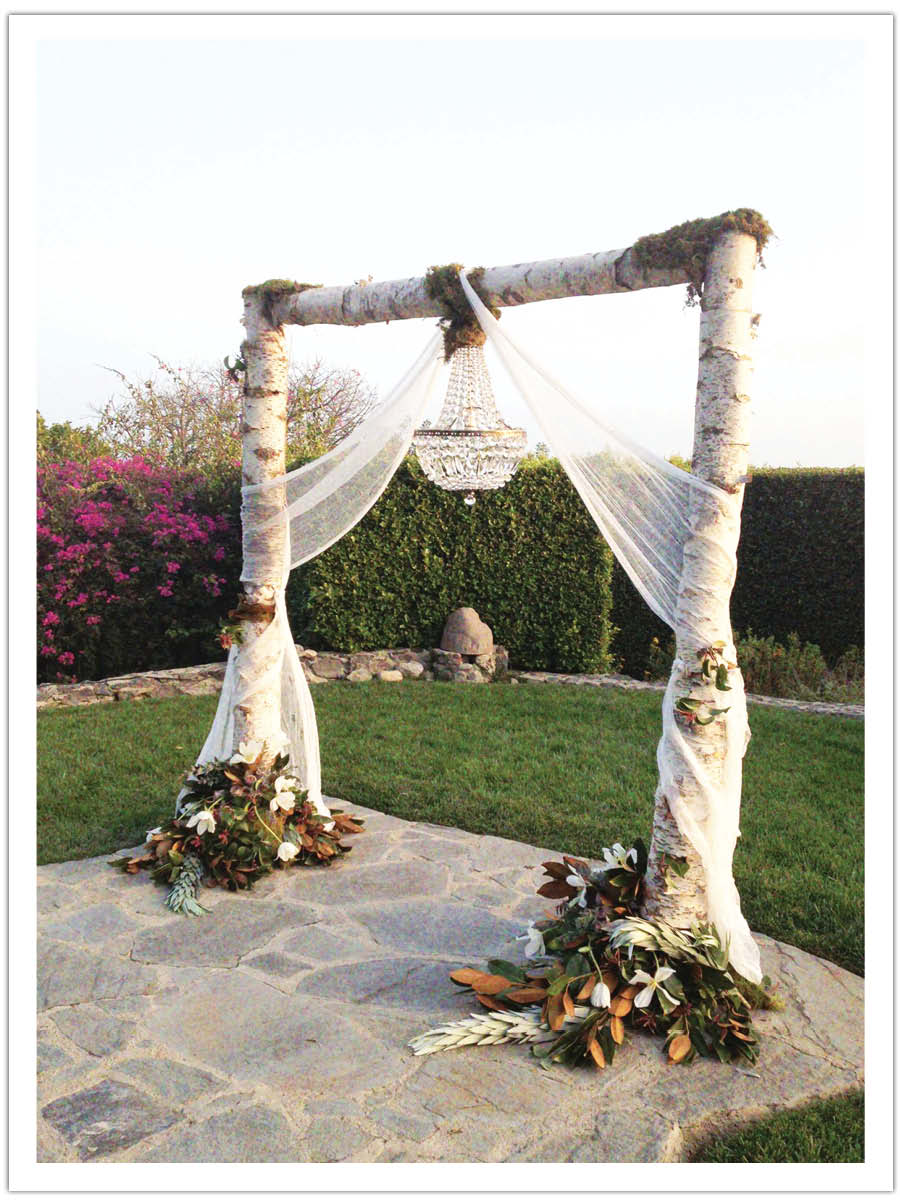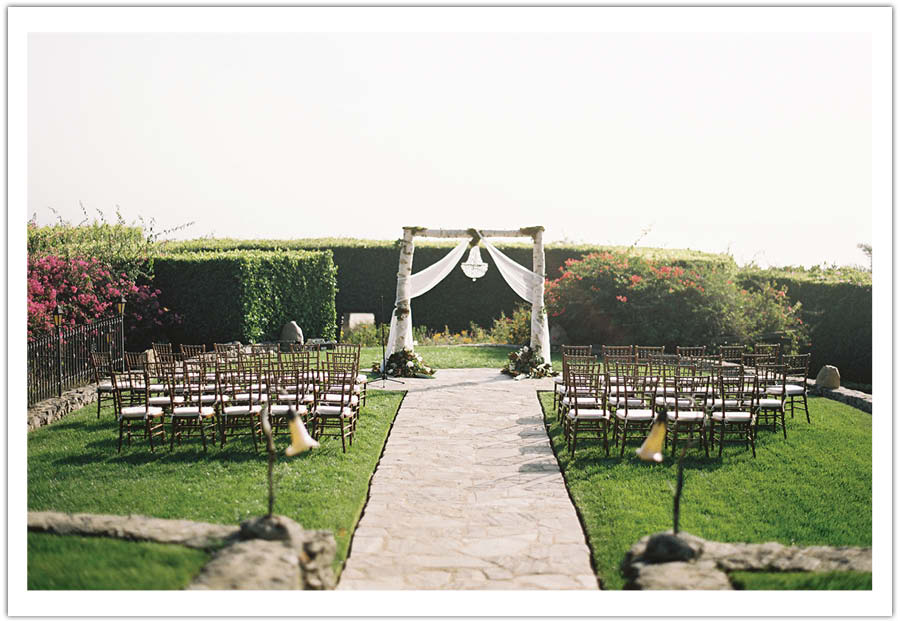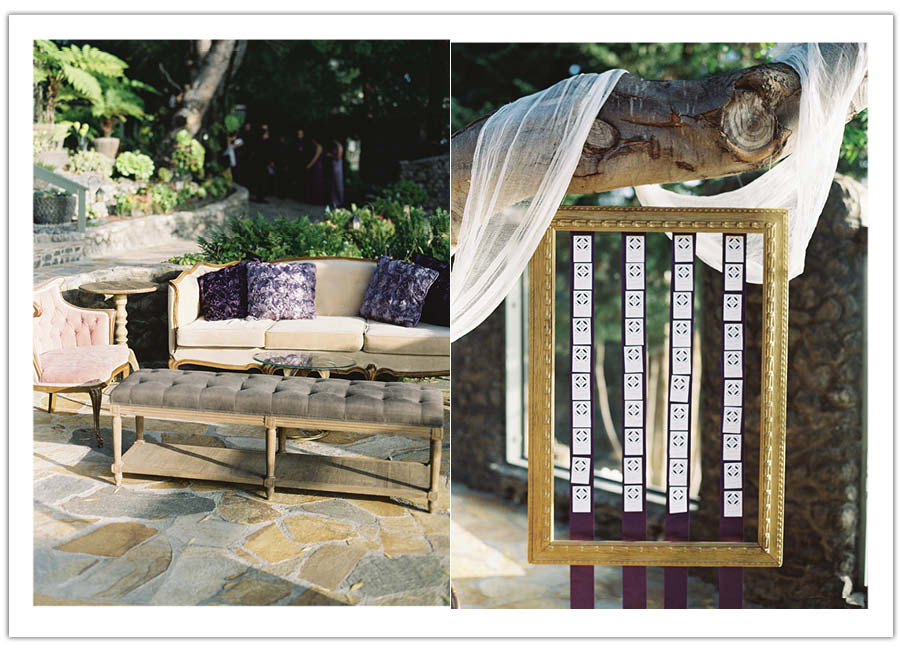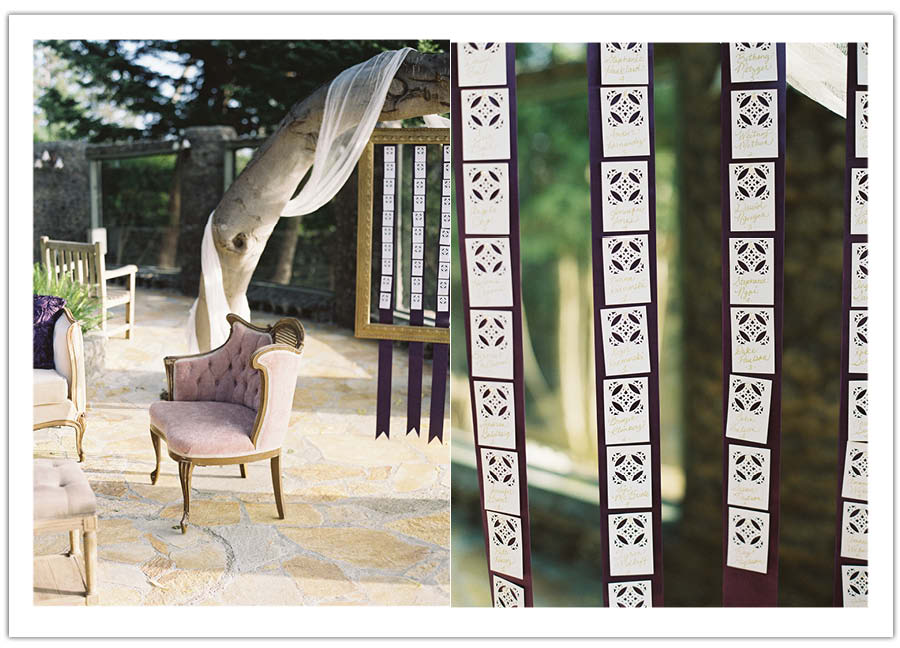 THE RECEPTION
Guests were welcomed into a stunning stone lined room with open beamed rafters from which we hung glass votive candles that glowed over feasting style tablescapes lined w glowing eggplant taper candles in brass candlesticks. Damask silver and sage linens were lined with mossy birch bark boasting sage toned greenery, white lilies and sterling roses along with heart shaped ivy for a romantic, overgrown garden feel.
For a stunning sweetheart table Krista Jon created a stunning floral installation inside of a ironed framed table flowing with a gorgeous array of greenery, vines, black baby calas and more of the brides favorite sterling roses.
Guets dined on a delectable menu by Whoa Nelly catering including arugula salad with persimmon and crushed hazelnuts,  braised shirt rib and roasted winter squashes and sweet potato mash while they sipped on rich red wines to warm their hearts and bellies.
THE DESSERT BAR
For this chilly December wedding we wanted to create a cozy and fairytale worthy dessert bar nestled into the tree lined garden. We hung various mirrors and frames behind a grey velvet covered table covered with delectable sweets & treats by Whoa Nelly and Sweet & Saucy shop. Treats such as pomegranate panna cotta, salted caramel puddings with crème fraiche whip, brownie bites & chocolate peppermint cupcakes were offered above risers boating mossy arrangements, wild greenery and loose blooms. To keep guest cozy as they nibbled on these sweet bites in our heated outdoor lounge, we also offered a hot cocoa bar with homemade flavored marshmallows, caramel nibs, candy cane stir sticks and various liquors to spike them with.
With a revived sugar buzz guests continued to dance into the night and join the bride as she shook her newly wed booty to her favorite Taylor Swift songs with her hubby and friends and family in tow.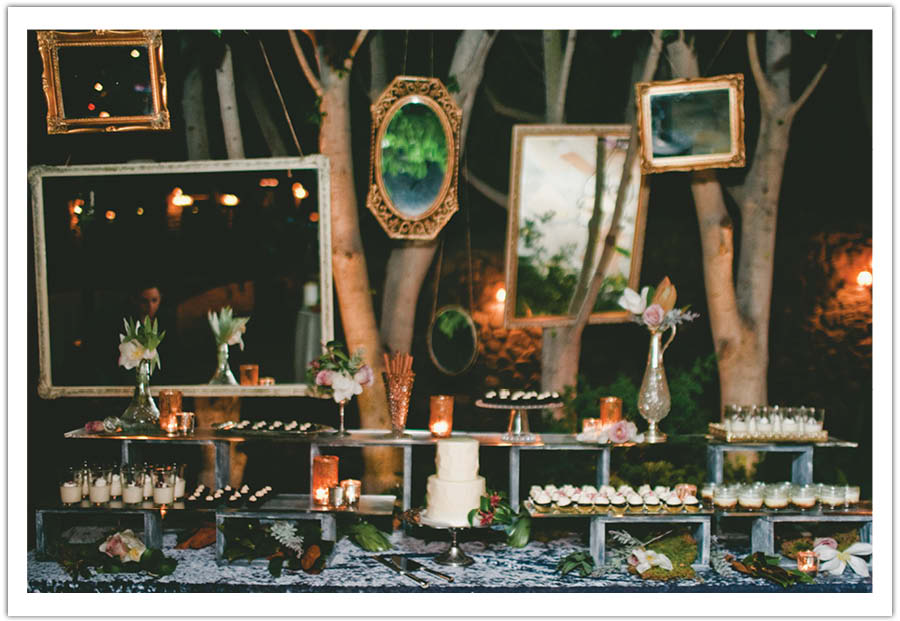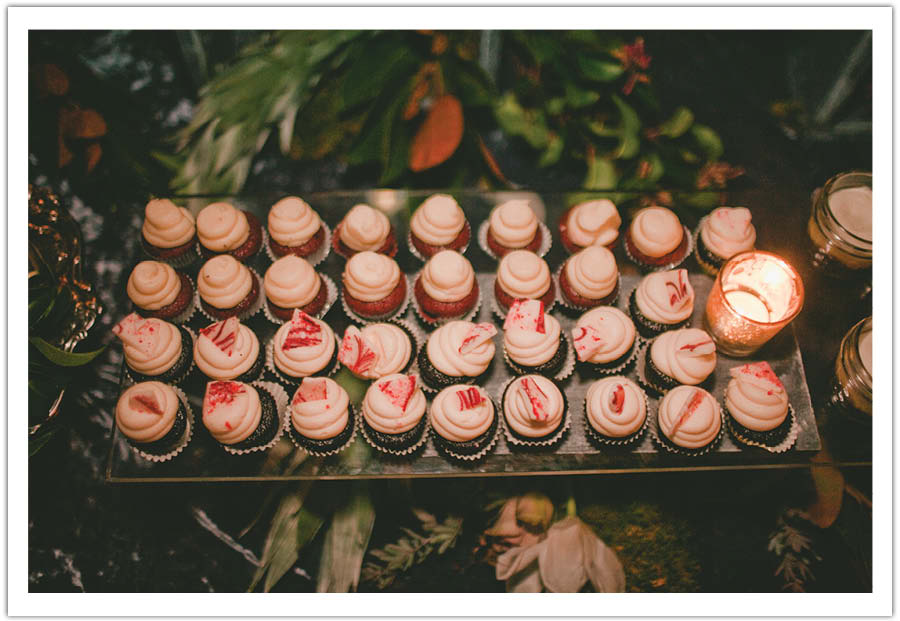 photography: Jill Thomas
venue: Stone Manor
event design, planning & invitation: Alchemy Fine Events & Invitations
floral design: Krista Jon
rentals: Archive Vintage Rentals
wedding dress: Alvina Valenta from The White Flower
bridesmaid dresses: Swoon
hair + makeup: Bekah and Nina with Brides by Brittany
catering: Whoa Nelly
cake: Sweet and Saucy Shop

Read More »