Back in my art school days at Otis, I had an installation art teacher that was one of those people you'll never forget. He probed and poked our creativity in ways we never explored that made you think in entirely new ways. One day he walked into the classroom and held up a single toothpick and asked what installations we could create with it. We all looked at each other a bit puzzled and tried to come up with wise and witty comments, but soon feel short. Then he proceeded to dump an entire garbage bag of toothpick onto the floor and then asked, what could we create with this. That lesson always resonated with me in so many ways, proving that scale and repetition is the key to create beauty in so many ways. Repetition creates pattern, and pattern creates balance and symmetry, which we find beautiful.
A single tree may be pretty, but a forest full of them is magical.
Another perfect example of this are the Anthropologie windows we all drool over. Look at their teabag installation, or their plastic bottles, it's the scale and repetition that makes them what they are. As I worked this past weekend on an installation featuring hundreds of hand dyed strips of fabric I reminded myself of these principals of design, poured myself a glass of wine, and kept on working.
Tara Donovan is an installation artist that explores exactly that with her series of installations made from common day products. You'll never look at the scotch tape on your desk the same again. From styrofoam cups, toothpicks, glue drops, and buttons, she grows organic shapes that seem to live undersea or on a mountain top, proving that repetition is part of the reason we find nature so beautiful.
The forms these cups create seem as if they could be living on the bottom of the sea.
I imagine a hectic cityscape of highrises in a future time.
The honeycomb pattern seems so intricate and delicate.
The circular patterns created in these rolls of paper feel so natural, as if grown inside of a seashell.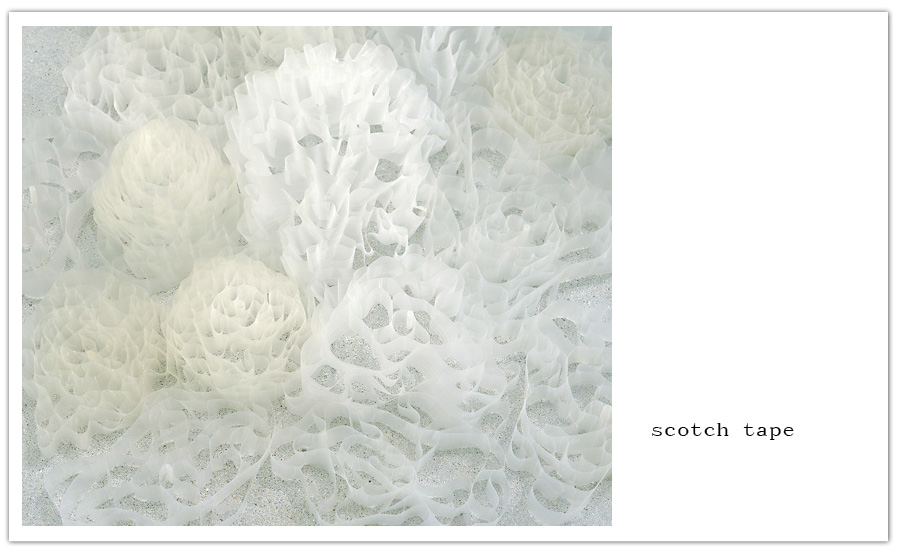 I feel as if I'm looking into a delicate garden of coral.
I imagine the black lava rocks in Hawaii from these textures.
These actually remind me of the drip sand castles I would make on the beach as a kid.
Read More »